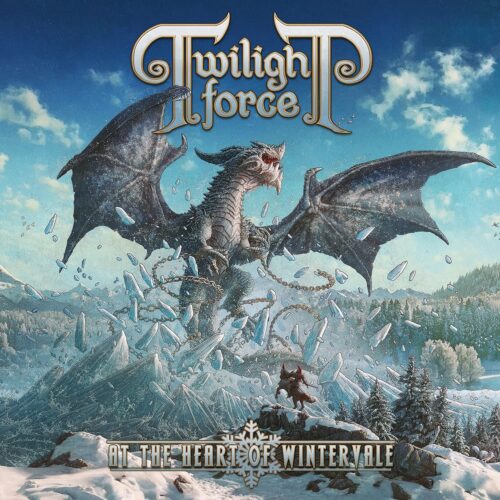 Review | Twilight Force – At The Heart Of Wintervale
Nuclear Blast Records
Twilight Force, the ultimate symphonic power metal band, hailing from Sweden, finally release their fourth full studio album called: 'At The Heart Of Wintervale'. The worthy "successor" of Rhapsody shines again with bombastic happy power metal galore and 'At The Heart Of Wintervale' is a truly worthy follow up to 'Dawn Of The Dragonstar', which was released in 2019. Again, Twilight Force overpowers their listeners with highly fantastic lyrics (based on the lore of a fictional world known as The Twilight Kingdoms), supreme musicianship, lots of orchestration, huge choruses, and double bass drums galore!
HAPPY METAL
Opening track, and lead single ,,Twilight Force" sets the tone for this incredible album, featuring awesome galloping riffs, soaring symphonics and an utterly catchy, singalong chorus to die for, and it seems that it cannot get any better than this. ,,Dragonborn" is a true happy metal song, which is again very suitable as a singalong track, while the two epic tracks, clocking in over ten minutes, are the definite highlights of this album! ,,Highlands Of The Elder Dragon" and ,,The Last Crystal Bearer" have it all; symphonic high melodic Euro power metal at its best. The Italian legend vocalist Alessandro Conti (Luca Turilli's Rhapsody), who is the lead singer of Twilight Force since their previous album, really shines on this album with his typical opera-like singing, adding an extra orchestral feel to the music.
TWILIGHT FORCE DID IT AGAIN
The last track on this album called ,,The Sapphire Dragon Of Arcane Might Is Back Again" (what a title…) is an "attempt" to create an Irish sounding folk ballad and to me this one is the true "filler" of this album, as Allyon, does not really sound that good as in the other tracks. But overall, I would say that Twilight Force did it again as 'At The Heart Of Wintervale' is a superb symphonic power metal album with a couple of larger-than-life anthems, but then again I think 'Dawn Of The Dragonstar' was slightly better! Play at maximum volume and enjoy!!
Release date: 20 January 2023