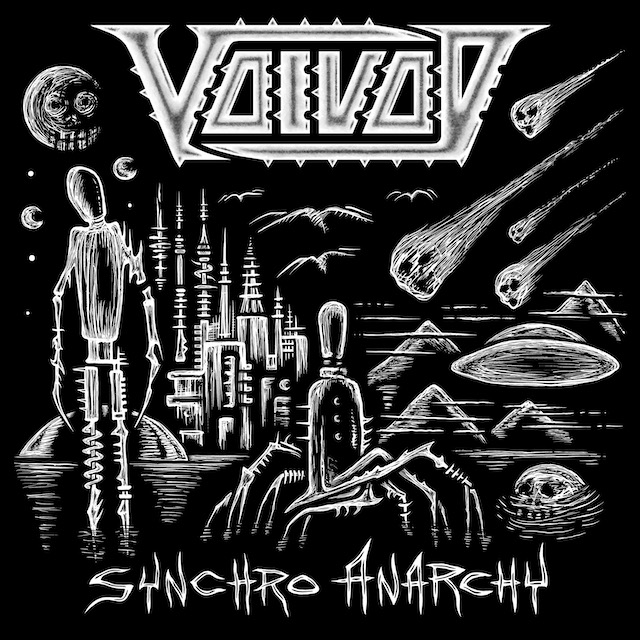 Review | Voivod – Synchro Anarchy
Century Media Records
'Synchro Anarchy' is the 15th studio album of Canadian technical prog thrash rockers Voivod and these four guys (Denis 'Snake' Belanger, Daniel 'Chewy' Mongrain, Dominic 'Rocky' Laroche and Michel 'Away' Langevin) also known as the progressive sci-fi metal innovators, have been making albums now for nearly forty years: quite an achievement indeed. Their previous album 'The Wake' (2018) was a striking one to me, a metal masterpiece and Voivod has done it again with 'Synchro Anarchy'. A 100% pure Voivod album, featuring nine new wildly imaginative heavy tracks.
COSMOS-OBSESSED LYRICS
,,Paranormalium" is the fascinating opening track that starts with the very last guitar melody of the song ,,Sonic Mycellum", the final song from their previous album 'The Wake'. ,,Paranormalium" is a heavy song, complex and the guitar melody comes back many times during this thrashy, bombastic opener. ,,Planet Eaters", being the lead single of this album, kind of refers to Voivod's 1988/1989 albums and this, again a heavy one, features almost typical Voivod penned cosmos-obsessed lyrics: check it out!
The opening riff of ,,Holographic Thinking", one of my favourite tracks on the album, has an obvious resemblance with the opening riff of the classic Black Sabbath track ,,Children Of The Grave''. This track then evolves into a real technical thrash metal song featuring all the outstanding Voivod characteristics: catchy hooks, pumping bass lines, monstrous drumming and lots of variety and complexity, so play it f… LOUD.
DARK AND SPOOKY
Another outstanding track is ,,Mind Clock". Besides being the longest one it is also the darkest song with lots of atmosphere, bombast and almost spooky hooks and riffs. So, conclusion: Voivod did it again as I think that they even topped their previous album 'The Wake', which I thought was almost impossible to do. The album's Deluxe CD/Digital edition will come with a special live bonus disc entitled 'Return To Morgoth – live 2018', featuring a playing time of more than an hour, covering Voivod's 35th anniversary concert with 11 tracks; so be sure to get that version if you can!
Release date: 11 February 2022