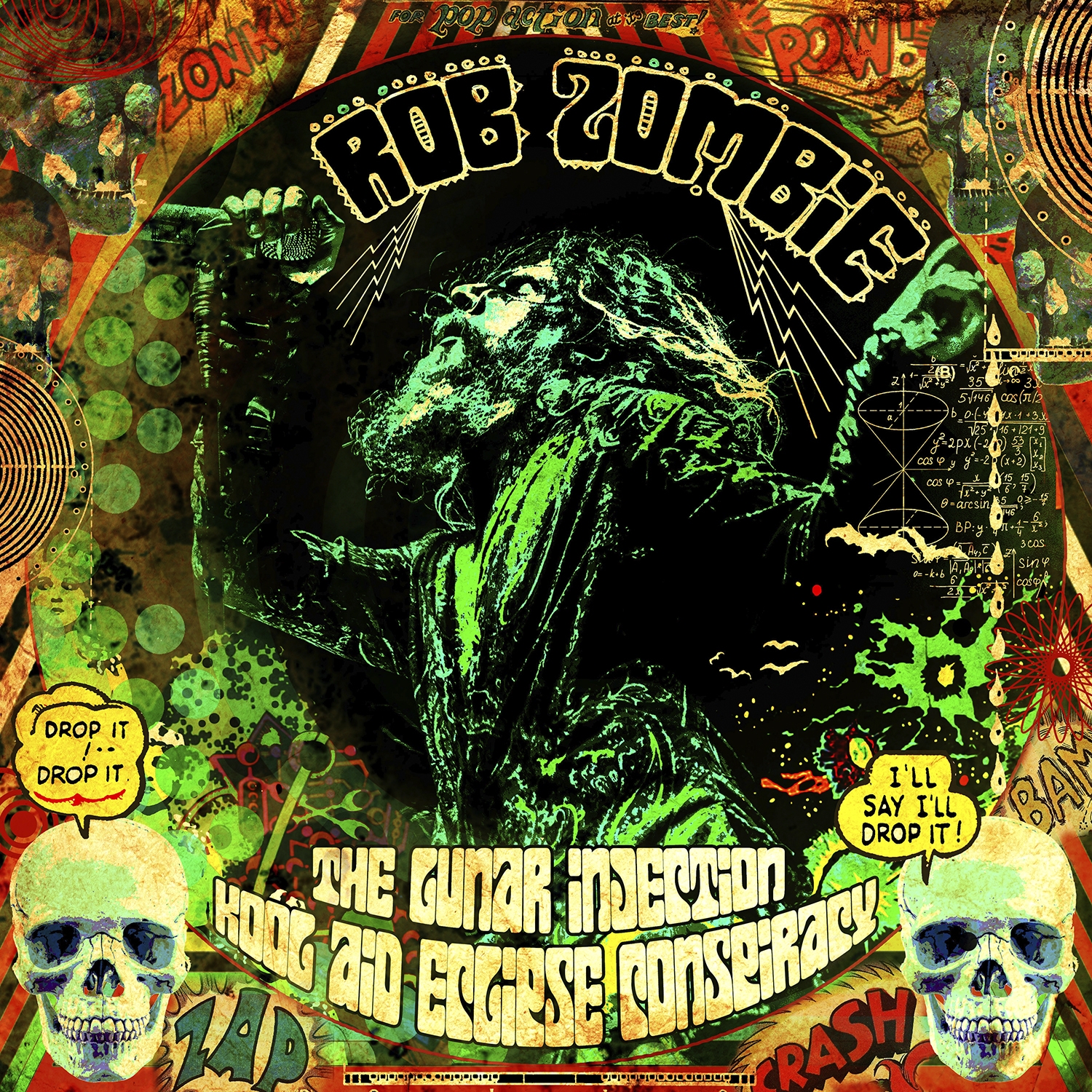 ROB ZOMBIE-The Lunar Injection Kool Aid
Eclipse Conspiracy-Nuclear Blast Records
Let me set this straight from the beginning: I am a fan of Rob Zombie, or White Zombie since I first heard 'Astro Creep: 2000' in 1995, so this review might be filled with historical prejudices. But nevertheless, I can also listen critically to Rob Zombie's brand new record.

Whoever has never heard of the mighty Rob Zombie should go and do their homework. You'll figure out that he's not only a master in creating horror themed-skull grinding-gut ripping-metal music but is also gifted in doing horror movies, graphic art, you name it. Since you did your homework by now, lets start with the title of the new album, Zombie's 7th solo record (if you don't count the remix albums).
`The Lunar Injection Kool Aid Eclipse Conspiracy' follows the tradition of extremely long and weird album titles (with the exception of 'The Sinister Urge' and 'Educated Horses'). I would give my left pinky toe to be part of a band meeting to witness on how these guys come up with album titles like this.
Secondly and more important, the music. After my very first spin of this record, it felt like a compilation mix of new traditional Rob Zombie songs and a couple instrumental leftovers by guitar mastermind John 5. On a second rotation it all came together so perfectly. Its definitely a benefit to have such a talented and diverse guitarist in the band like John 5 and it gives the whole album the feeling of a soundtrack to a movie never made (so far). Old school Zombie meets country-banjo-diddles like in ,,18th Century Cannibals, Excitable Morlocks and a One way ticket on the ghost train" (what an epic song title), a return of the firefly family feeling in a song like ,,Boom Boom Boom" or an absolute banger in ,,Get Loose". All in all, you'll find everything you want to hear on this new Zombie album.

The one bad thing that I complain with every new album is the length. 36 minutes that include a lot of instrumental snippets is done way too fast. Two things though I have to point out: the review version only came with 15 tracks, the album itself has 17 track plus…it hasn't to be over after half an hour as this record will spin on heavy rotation anyway.
Welcome to the spook show 2021, baby.