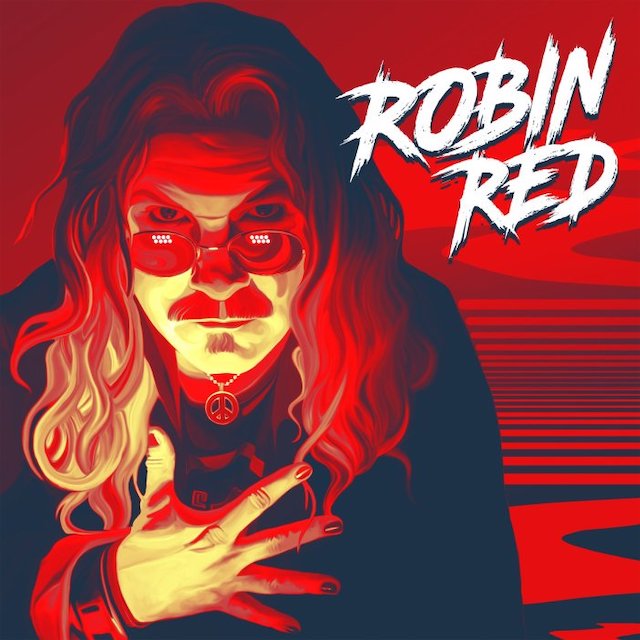 Review | ROBIN RED-Robin Red
Frontiers Music srl
Robin Ericsson might be known by some melodic rockers as the singer/bass player of the Swedish band Degreed. A group that already released a handful of albums since 2005 and recently signed a deal with Frontiers Records for a release towards the end of 2021.
AMBITIONS
Robin had some of his own ambitions as well. He started to write material for his own record together with H.E.A.T.-guitarist Dave Dalone, who also agreed to produce Robin's album. And it will see the light under the banner of Robin Red. Accompanied by some other Swedish musicians, including H.E.A.T.-keyboardist Jona Tee, Robin Red presents a bunch of up-beat melodic rock songs. And like he does with Degreed, Robin also handles the bass duties here.
Listening to the efforts of Robin Red and his crew is quite pleasant. His vocals are quite good. It sounds melodic and certainly not wimpy although certainly not all songs are as strong as each other. The energetic opener ,,Don't Leave Me (With A Broken Heart)'' brings you straight away in the right mood but further on a track like ,,Reason To Survive'' sounds more like a piece that is being sung around a cosy campfire, if you catch my drift.
INFLUENCES
The whole album gives you the feeling that Robin Red has got his influences from some more classic names like Bryan Adams while also Australian rocker Jimmy Barnes is according to Robin himself a main influence. It Must be a personal taste of the man, as I am very well acquainted with the Barnes catalogue. I personally do not hear anything on this album that gives me the impression that this living legend from Down Under has been influential for the music on this CD.
US ROCK
The songs of Robin Red are more aimed at the American market as it existed many years ago. ,,Head Over Heels'' is a typical US rocker. It has a melodic touch but also a nice drive direction Stan Bush and Drive, She Said. And there are more songs in that vein to be found like ,,Livin' Dead'' with a big chorus and a ballsy character. Simple but in a way effective. Do not expect too much originality from 'Robin Red' but all in all it rocks along nicely with a certain smoothness (the ballad ,,Living For'') but enough heavy elements in there. Let us see if Degreed can match the level that their front man displays here on their new CD.