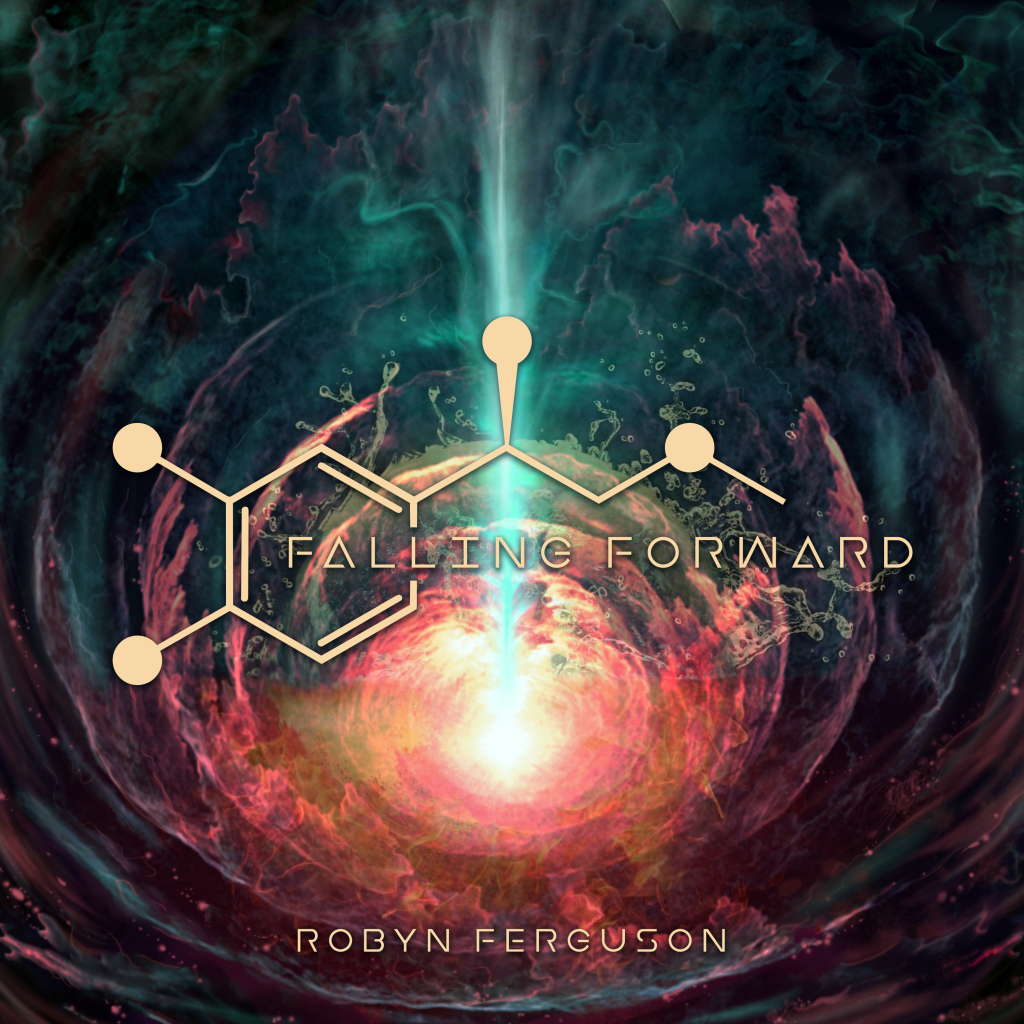 ROBYN FERGUSON-Falling Forward
Independent
South African Robyn Ferguson is quite an inspiring shredder, to say the least. With her bands Sistas Of Metal and death thrash metal band Adorned In Ash, she drew attention with her intrinsic guitar style and performances. The highly skilled and talented lady recorded her debut album/EP `Alizarin' little over a year ago, leading to appraise in the community. Especially the phrase "work hard and play hard" applies to Robyn.

`Falling Forward' fuses shred elemental technique and skills with a fluent penning style. All 6 songs are keenly crafted metal tracks with progressive signature. It is impressive Robyn manages to fire notes at this high velocity knowing she is still struggling nerve damage and partial paralyses. Her left hand in 2/5th modus operandi frequently, she calls the recording of the E.P. liberating and exiting. WOW!
And exciting it is. ,,Gravity" hits hammer hard with tremendous pace and fluent MacAlpine-styled hooks. Shifting into overdrive firing towering arpeggios, Robyn burns the fretboard frequently. ,,Oxygen" starts with fierce towering high-pitched fretboard magic before it suddenly breaks into slower pace. Remember ,,Phallus Tractor" from Racer X? Over this progressive drive she lays down some impressive swirling legato solos and switches alternate picking and sweep picking in the best Satriani tradition, pulled forward by staccato metal riffs. Her style yields with fluent and flowing runs over the board with exquisite melodies surfacing. The way Robyn fuses Satriani specific techniques with compelling metal drive in the vein of Skolnick is excellent. When Ferguson pulls the breaks on pace like on ,,Carbon" and the (short) ethereal ,,Petrichor", she reveals an entirely different fragile side to her playing. ,,Carbon" is oozing confidence and the song wells with emotion and power. The exquisite lush picking over the sturdy pumping drums enhance contrast and impose melancholic stride, where ,,Petrichor" evokes more frailty. In between both tunes Ferguson nested the turmoil and driven ,,Cloud" which links to the previous song with an emotion driven slow melodic solo combusting. Midway Robyn fires up the engine and starts to spark the metal flame with powerful riffing and paraphrasing. Switching back and forth between loud prog metal blasts and the mellowness of its opening, the song bridges perfectly to ,,Petrichor". Closing the album Robyn once more goes all in with ,,The Fall". Buzzsaw heavy riffs and power chops propel the track while an emotive melody line pitches it into orbit. Some whammy bar effects and volume swells enhance the colourful soloing. The pinch harmonics and (two-handed?) tapping yield tremendous marksmanship. It makes `Falling Forward' go out with a bang!

Robyn's new album impresses. Her fluent radiant style is fused by heavy metal power chop riffing and pull forward with great thrive. The songs are well crafted and the entire album is coherent and eloquent. The sound is clean and clear spotlighting Robyn's intense playing. The only minor in this album is the clinical drums. Organic drums would certainly benefit the songs and make the performances flourish. Nevertheless; shred fans should certainly check out Mrs. Ferguson!



#robynferguson #headbangerslifestyle #hbls #awayoflife #independent #shredding