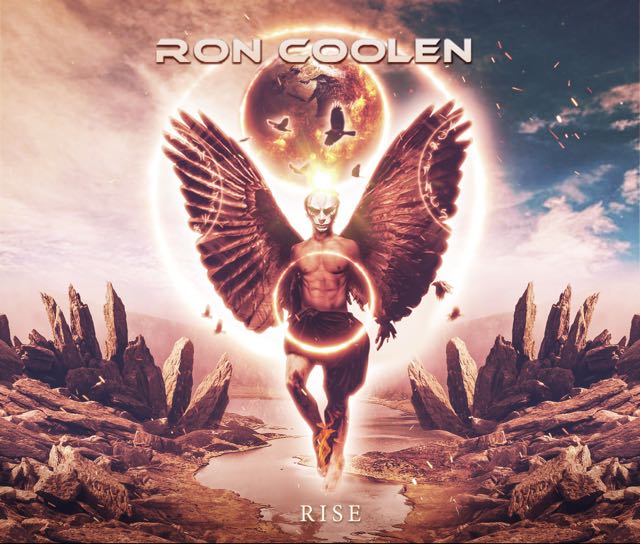 RON COOLEN-Rise
Rockshots Records
Ron Coolen is a respected Dutch musician. Known mostly for his drumming with numerous Dutch acts and projects, he has more tricks up his sleeve I wasn't aware of. Not only does he prove to be a gifted multi instrumentalist, the man also knows how to pen a good rock song. On this debut album he proves his abilities laying down 10 solid rockers with a wide variety revealing his personal influences. For the executing Coolen dug himself in in his studio recording and reaching out to many of his actual heroes gladly helping him out with the recording of this dream.

One of the pillars of Coolen's record is the amazing Keith St. John featured on no less than 6 tracks displaying his range and vocal abilities. It adds the needed lustre to the tracks and provides an overall recognisability benefiting the outcome. Making it easier to get squinted with `Rise' and oozing a band feeling rather than a one off project. With St. John being mentioned as one of his all-time favourite vocalists, Ron seems well aware of his exceptional range as proven on the first video single ,,Big Devil Data". The song is a classic straightforward hard rocker and fist puncher immediately shooting the album into orbit. On the following ,,White Summer" Coolen reveals to inflict St. John to belt his most impressive deliverance in years. The ,,Kashmir" evoking song switches between the Zep-esque tinged middle eastern scales and impressive progressive patterns with Coolen laying down some insane groundworks. Solid as a drum computer almost he hammers the track solid and immediately delivers one of the highlights and better songs of this year. For ,,Too Late To Surrender" he blends the previous two styles and again makes St. John switch registers. The mid section features an impressive action packed solo from Johannes Person with intense drumming in the Simon Philips (times 2) vein and St. John moaning and whaling like Plant himself. It is needed to inflame the lyrical content with panache, as it isn't the simple feel good tradition Coolen aimed for. The song handles about modern day mass shooting and idiocy, and the sound clips used on the intro add to the overall execution. One of Coolen's guitar heroes is Mr. Scary George Lynch who is featured on ,,Sin City" spicing the song with an intro solo and some excellent licks. The song enrols as a bluesy rocker in the best Great White vein. ,,Gotta Shoot Your Devils Down" is an action packed rocker with some great guitar hooks leading us to the short ,,Ashes To Ashes" about the Ca. city's burning. Short and pointy, enforced by sound clips bringing us to the ominous ,,Paradise" itself, an ominous slow mover enhancing the story. ,,Kill Kill Kill" sang by Sam Walters (Driven Mad) is an almost Neo-classical thrash track with (very clinical) double kicked drums, shifting gears up and down. The song breaks from the previous tracks to bluntly but takes Ron Coolen's `Rise' to another dimension of his playing. The line is picked up with the short drum title track that opens to the prog metal track ,,Stories" that leans more towards Dream Theater and sees Chris Clancy (Mutiny Within, Wearing Scars) at the helm shouting it with great panache matching the song's prog outbursts. Pitch perfect are the intense keyboard swirls and its guitar solos from Joey Concepcion (Armageddon, Sanctuary, a.o.) and Stéphan Forté (Adagio). On the following track Concepcion and Steve Lamb (Tygers of Pantang) add a spun of diversity on the solo. ,,From Your Mouth" is another metal infused track with Clancy belting metal prose and grunting wild. The album's closer is the vivid ,,Selfishness" sung by Göran Edman (Malmsteen, Madison, Glory, Charm, Vindictive, a.o.). The song evolves in the vein of the opening tracks with Zep-esque signature guitars and another wonderful shredded solo from Concepcion. Though the song would have better fitted the first section of the album, it is a solid closer for `Rise'.

Ron Coolen reveals some exquisite skills as songwriter and multi instrumentalist on this fierce debut. The album's song writing is very consistent but it breaks a bit at the root when Coolen switches styles to go all brutal and metal. The album would have benefitted if Coolen followed the strong opening with more bluesy and powerhouse rockers. The metal tracks are displaying his wide variety of influences and add to his personal biography rather than to the consistency of the album.
Great tracks that would have shined on a consecutive release rather than on this one. Another (minor) point of attention for Coolen is the clinical/clean drum sound in the production which somewhat strays from the organic production.
But by all means: check out this album and hear a stellar rock squad topping off the high quality rock tracks penned by Coolen, who clearly made the dream he envisioned come true with `Rise'. He surely made St. John work for it and flex his most amazing performance. Plus of all sales Ron will make a donation of 1$ to the Jason Becker Charity foundation.


#roncoolen #keithstjohn #headbangerslifestyle #hbls #awayoflife