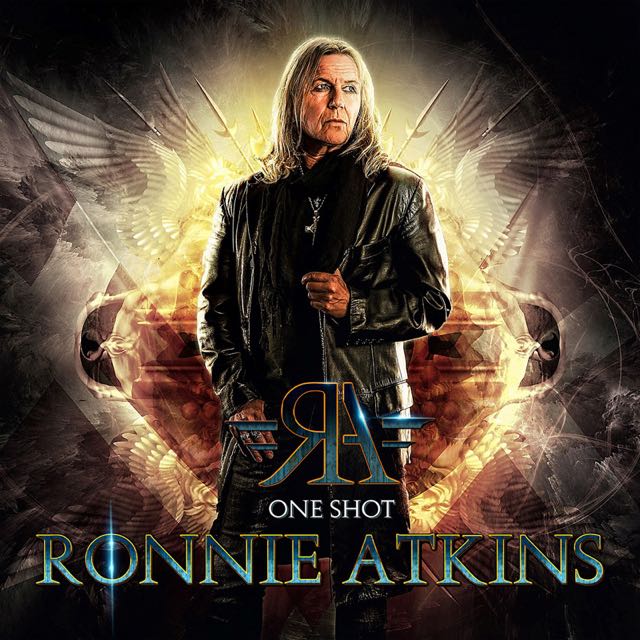 RONNIE ATKINS-One Shot
Frontiers Music srl
Ronnie Atkins is one hell of a singer who made his official entrance in the metal scene in 1984, with his band Pretty Maids by releasing the steaming debut `Red Hot And Heavy'. Pretty Maids became a household name, one of the ambassadors of the Danish hard rock and metal community and released 16 studio albums so far. About 8 years ago Ronnie also became part Tobias Sammet's Avantasia, which gave him a new platform and a great career boost. He also teamed up with Swedish musician, songwriter and producer Erik Martensson (Eclipse and W.E.T.), under the banner Nordic Union, releasing the more melodic albums `Nordic Union' and `Second Coming'. Over the years Ronnie definitely established himself as a characterful, powerful and recognizable vocalist but apparently he never had the ambition to make a solo record, until now…

Because of various reasons, like the pandemic situation that made it impossible to promote the latest Pretty Maids album `Undress Your Madness' (2019) with a tour, but particular his own health situation (battling lung cancer) Ronnie Atkins decided to make a solo album after all. Needless to say this is sadly a bitter reason to do so, but the Danish rocker decided to make the best out of the situation. Together with Pretty Maids band mate and producer Chris Laney he translated ideas into 12 songs and invited a few colleagues to record drums (Allan Sørensen), keyboards (Morten Sandager) bass (Pontus Egberg), acoustic guitar (Anders Ringman), lead guitar solo's (Pontus Norgren, Kee Marcello, Olliver Hartmann, John Berg, Chris Laney) and additional backing vocals (Chris Laney, Linnea Vikström Egg, Olliver Hartmann, Bjørn Strid) and mixed by Jacob Hansen.

`One Shot' is a melodic hard rock album with a slightly heavy edge that truly comes from the heart. No rock 'n roll attitude here, but an album with personal lyrics, reflecting what goes on in the mind of Ronnie and a collection of good songs that are varied, well recorded and performed and in which Ronnie's vocal qualities fully bloom. The songs themselves are easy on the ear, with appealing hooks, accessible choruses and sparkling guitar solo's that fit the strong melodic vibe perfect. While opener ,,Real'' is actually slightly melancholic and calm, the next track ,,Scorpio'' has a more dynamic and louder presence. The title track ,,One Shot'' goes to a very intimate level and is a strong, beautiful power ballad touching deep. ,,Subjugated'' somehow reminds me in the chorus a little bit of Avantasia. ,,Frequency Of Love'' is a powerful piece with very strong melodies and again guitar melodies that reinforce Ronnie's vocals. In the energetic pomp rocker ,,Before The Rise Of An Empire'' Ronnie shows a lot of vocal power and strength, while ,,Miles Away'' takes us on a calmer, more AOR trip and in which the Hammond Organ and gospel like choir parts are important elements in the laid back feel of the song. ,,Picture Yourself'' also captures very appealing melodies, especially in the chorus and this one fits perfect with the rest of the songs. To me a true star on the album is ,,I Prophesize'' that has awesome different kind of melodies and rocking, roaring guitars that boost Ronnie's vocal performance and he gives it all. ,,One By One'' is a good sing-along rocker and with the last song ,,When Dreams Are Not Enough'' Ronnie takes a deep bow again to a slightly more AOR direction.

`One Shot' is a very well balanced album and definitely a must have for fans of Ronnie and fans of strong melodic hard rock in general. There are no weak offerings and while listening you can hear this album is made in all honesty and with sincere emotions. Hats off to Ronnie to accomplish this album during such tough times and let's hope for the best.