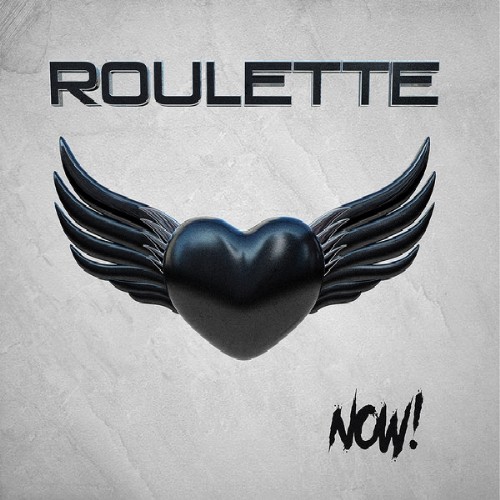 ROULETTE-Now!
Black Lodge Records
Indeed, this is the Swedish band that rose in the late 80s of the last decade, reporting back with their new album `Now!'. Back in the days the band was well respected, especially amongst musicians throughout the scene and the band lifted along on the rise of Scandinavian rock. `Now!' is their new album and it proves their music to be timeless.

Propelled by excellent riffs and melodies the songs still feature the appeal of the heydays and prove that a great performance and production still matter to uplift from the masses. The music is radio friendly and highly melodic, but it is the performance that makes it shine. It is Thomas Lundgren who manages to take the band forward with his excellent vocal performance. His raspy and powerful voice makes the band shine and it paves the way for ditto guitar arrangements that breathe fire. Just spin the immaculate high tech injected ,,Secret Room", oozing comfort. The chorus is sticky and predictable, but the keyboards pump it into orbit, while lush guitars and piano interaction paste an intimate wildly appealing outline. It is just one of many highlights on this melodic joyride. The interaction is flawless, the songs perfectly crafted. The overall performance is powerful without losing the AOR mellowness. ,,Never Enough" opens with typical pompous melodic rock pulling forward, but it is songs like the mega melodic, yet driven ,,Soldiers Of Love" and the pitch perfect melodic ,,We Can Make It" that make the difference. 80s vibe is all over present, but the album doesn't sound dated on any track due to its impressive production. Roulette packs such great quality that the music radiates, and the inspired delivery is impeccable. Cliché-laden tracks as ,,Turn It Around" and the mega melodic ,,Another Night" benefit from the band's craftsmanship and expertise. When impact is needed the band injects a throbbing bass with thick-layered guitars buzzing along harmoniously, when songs demand to ooze comfort Roulette fuses piano and keyboards. ,,The Only Way" and ,,Keep On Dreaming" are two of my favourite tracks and stick with you upon first spin. It's tracks summing up the band's qualities and abilities. Simple and typical elements perfectly used and executed by seasoned musicians, reviving the grandiose melodic rock days of Treat, Strangeways, and likewise standout melodic acts.

`Now!' is an impressive album that brings together the best of melodic rock's heydays glued with a modern approach and ditto [loud and vibrant] production. A powerful vocal performance and excellent guitar work pull it forward, making it fire on the sophisticated subtle running AOR engines. No weak tracks found, and the average of the tunes is so high it will appeal to a wide varied audience.
`Now!' is a must have for melodic rockers and hard rockers that are on the lookout for quality.


#roulette #now #headbangerslifestyle #hbls #awayoflife #aor #melodic #rock