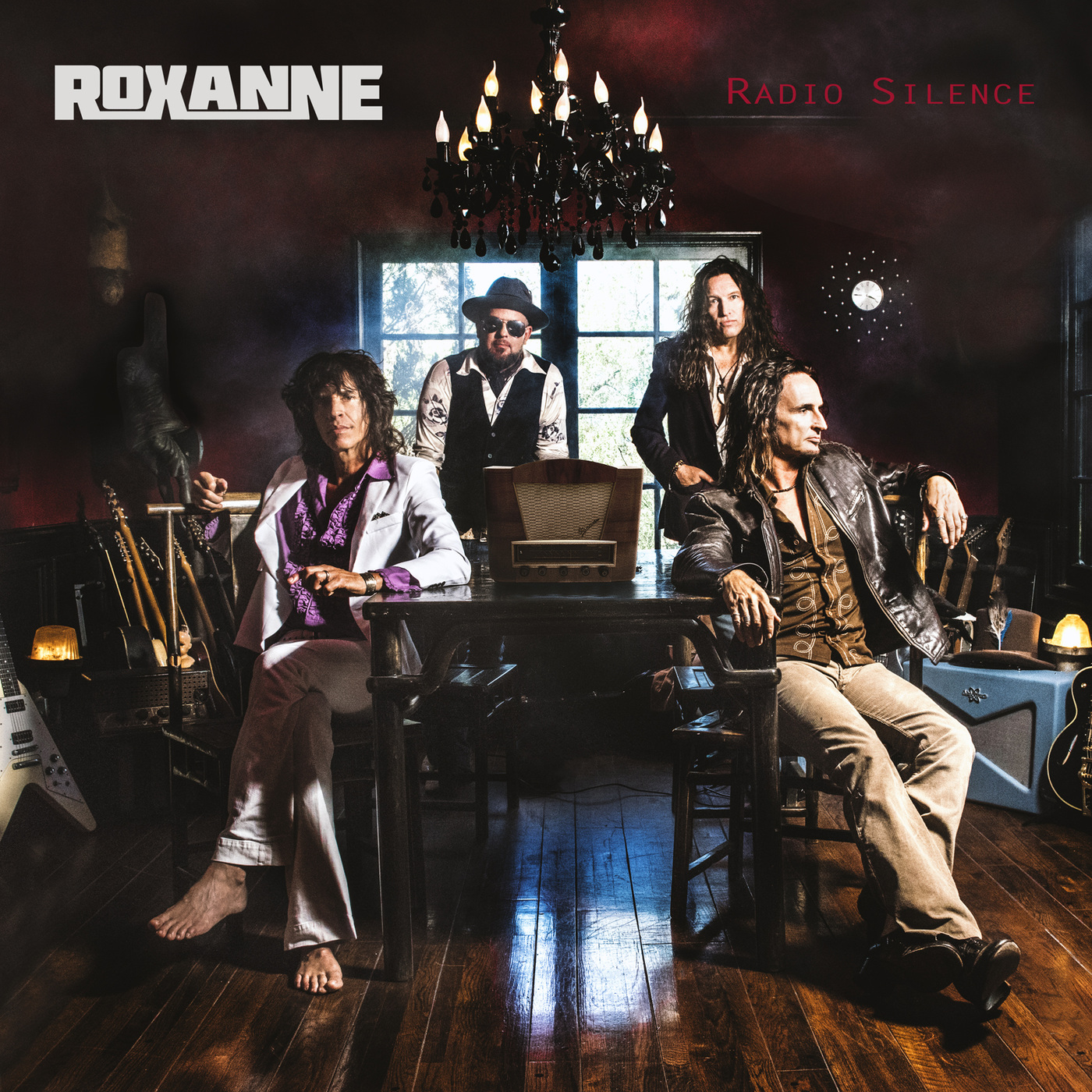 ROXANNE-Radio Silence
Rat Pak Records
Unknown to the vast majority of rockers, Roxanne released an impressive debut in the late eighties, which remains one of rock's most searched for Gems. With grunge lurking in the dark, just behind the threshold, the band managed to garner some attention with their melodic rock songs build around excellent hooks and melodies. They even landed radio play with no less than 3 songs before the band vanished as many others. Melodic drought lasted for years and finally melodic rock is on the rise, taking a lot of those old time classic bands like Roxanne along in its wake.

And I am glad it did. `Radio Silence', the album title, blinks an eye to the sudden demise of the genre and the band's long absence. Upon its opening track ,,Someone To Kill" I did however have no high expectation until the track suddenly kicks in with its larger than life chorus. All of a sudden the band shoots into melodic gear with towering melodies over raw riffs. Three layered chorus and vocal sections warping us back to the Styx heydays as well, but the band manages to keep it all fresh and modern sounding, with powerful low pitched drive and staccato guitar fiddles. It's unique and daring, with me being out of balance throughout the entire listening session. Roxanne sounds uplifting and driven, but also has a darker edge implemented, differing from their debuting days. It unites past and present toning perfectly. It's organic and old school, yet has a modern and fresh crunch. The balance is just perfect and it keeps you on edge. Riff galore and a Grande opening lead us into the retrospective sounding ,,Girls Alright", which title does justice to the depth and quality of the song as one expects a tacky simple tune. Again it is larger than life and Styx' influences are present, and it paws deep in your head with its impressive drum and guitar interaction. Twin guitars fire with impressive thrive and pull forward the vehicle. Jamie Brown shifts shape and sheds skin on the album with star-studded attitude, not compromising. Soulful and funky he injects the songs with heartfelt emotion and power like on the following ,,Super Bad", also featuring guest shredder George Lynch! A low-balled groove pitched into gear with Lynch and Butler anteing up. It's not the only track the Mobster of Rock shines on as he also lends him impressive skills and loud hammer-ons to the tentative and raw ,,Go Fuck Yourself", featuring King's X' dUg Pinnick as well. The song brings persistence and power to the plate, with great soul and power. The stellar swing inside features King's X typical multi layered [jaw dropping] vocal interaction with Roxanne's fine tuned feeling for melody and soul. It is just stellar and the production radiates greatness all over.
With Lynch's loud guitar hooks implemented for just the right amount of bite the track spits grit and gravel. Loudmouth-lyrics, precisely matching the tenor of the song, add up. Pinnick also takes the acoustic opened ,,Man In The Moon" to a higher level with his backing vocals. Adding to the skills of the other guest, Mr. Ray Luzier [Korn, 9.0] on drums, the songs fluctuates tempo. It's just another highlight track on this impressive album. Spotlight moment is the majestic ,,Broken Chandelier" with its organic and soulful thrives. Towering with melodic mayhem in a sensitive mood set. Whammy echoing guitars and slides pull it through 3-layered choruses with sticky sweet but powerful emotive overhaul. The guitar solo is simply astonishing. ,,Thin Blue Line" hits full frontal with blues grit and impressive vocals. Butler lays down his groove with Landry kicking sludge paced drive in G. ,,Quarter To Four" is bluesier with slide guitars riding the track's lyrics, and ,,I don't want to live this way" propels with more intimate melodic intensions. Its guitar work is spectacular and lines up perfectly with the driven drum performance. Slow paced, with Infante's plucking bass taking the spotlight, the more taunting ,,First Mistake" reveals a different side to the band's provocative melodic sound. Again it has the distinct bluesy and soulful Paul Rodgers' grandeur, but tings slightly progressive. Its pretentious intensions are 70's rooted with an organic melodic power packing and ethereal combusting. The sci-fi voice at the end hints a deeper meaning, and does have you reach for repeat, and not only for this track.
The genre-mandatory semi ballad is yet another impressive work of art. ,,Without Us" packs power but is emotionally driven and rests on the same impressive vocal interaction, which makes this album such a standout high quality record.

With the sting in the tail clearly applying to this year's releases in melodic rock and metal, I'm now confronted with filling my personal top 3. Roxanne managed to sprint forward with one of rock's most compelling releases of this year and is on par with Styx's stellar `The Mission' release of last year. But where Styx put in their dose of trademark theatrics, Roxanne delightfully choses to opt for the unexpected blues and soul note. Without making it all too bluesy or soulful, it is a lethal potion easily nesting in the head, but challenging listeners for multiple spins to explore. Compelling pieces to a melodic rock puzzle all falling into place and the result is absolutely stunning. `Radio Silence' is the perfect example of how heartfelt passionate rock can be vibrant and very alive in the present.

A MUST HAVE ALBUM!