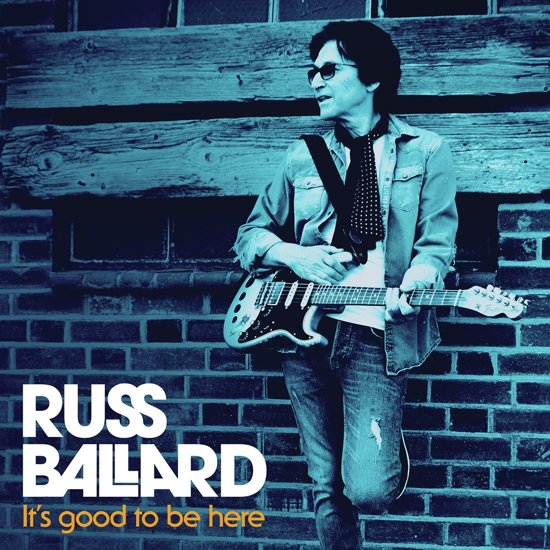 RUSS BALLARD-It's Good To Be Here
BMG Publishing
When I first heard ,,In the Night'' and ,,Voices'' I was sold. Not knowing at that time they were from the hand of hit penner extraordinaire Russ Ballard I got introduced to soundtrack (Miami Vice) and other movie scores, eventually buying the albums of the master. Growing squinted with his solo albums and his oeuvre of chart busting hits for others, Ballard shot up in my list of all time favourites. Still in rotation in my playlists, many of his songs are timeless masterpieces, and his hits add to the legacy. From Argent's ,,Hold Your Head Up" and Rainbow's ,,Since You've Been Gone", all the way to Hot Chocolate's ,,You Win Again" and Santana's ,,Winning", Ballard created a legacy screaming to be heard. Now Ballard reports back to the front with a re-worked and re-released edition of `It's Good To Be Here' and followed by a European tour somewhere in the future.

The album originally surfaced as a digital download through UMU Music Group in 2015 passing many music aficionados silently. Signing a deal with BMG Rights management in 2019 Russ kept working on the original tracks and revived them with his feel for perfection. Though most of the groundwork stayed intact, the songs now radiate a smoother perfectionist Ballard-touch. Though slick and polished, all tunes remain to feature true soul and appeal. His signature song writing style propelling the album and it is needless to state all 13 songs feature his benchmark-hit potential. ,,My Awakening" instantly warps me into my comfort zone. A slight bluesy edge in the opening harshly smothered by the powerful chorus, keeps returning in a whammy bar and during the clean solo. It is trademark Ballard. Throbbing bass and sturdy drum beat with some progressive breaks. 70s choral opening to ,,Time Machine" is enhanced by the organic subtle instrumentation. The 70s spirit is endured with The Beatles reminiscent vocal interaction. It is these keen musical flings that make this album outstanding. Just check out ,,Tidal Wave" and the re-recorded Ballard classic ,,New York Groove". Insanely well performance. It features the typical hook and yet sounds different. Prefer this over Space Ace's version which is also classic. Re-recording another one of his classics you never expect how Russ envisioned the hit single ,,Since You've Been Gone" which he takes down and strips to its bear essence as a piano ballad. It takes some time to get into, but it is impressive how he manages to inject so much passion into the track. Gospel-like vocals power it up without losing its frailty. America's ,,You Can Do Magic" also receives the piano change over into an inspiring gut wrecking tune. But it is variety that's key on this album. Touching Americana and roots rock Russ explores the widest of songwriter horizons on ,,It's Good To Te Here". ,,Kickin' The Can" packs some grit 'n gravel in its instrumentation with Ballard on edge. ,,Colliding" follows that kick without displaying the roots rock outline. Whammy guitars and frail vocal work before delving deep. Russ always hits the right nerve with his performances and music. Benchmark is Ballard's almost clinical (synths) orchestration combined with guitars-drum and bass, like on the exquisite ,,Annabel's Place". The choruses and bridges are perfectly (over) produced, much like ,,Voices". The song ebbs with memories and the vocal interaction (Beach Boys) and a ,,Baba O' Riley" synth perfectly matches the mood. It is just sheer perfection. ,,The First Man That Ever Danced" has an identical clinic overall feeling, but powers up with intense vocal and guitar interaction. When Russ takes the pace down, he shows is exquisite skills stripping down a track without losing its grandiose appeal. Slow moving emotional tunes such as the timid ,,Wasted (The Last Ride)'' and contemporary tinged ,,The Misunderstood" just ooze quality. ,,Proud Man" is one of the most ravishing ballads of the last decade, with heart touching lyrics. Straight to the heart, this has chart busting abilities. Russ belts an impeccable job, but just imagine Hozier singing this thing into orbit!

`It's Good To Be Here' drops 45 years after his debut release and it proves his skills as a performer and writer of timeless masterpieces. Each song on the album adds to his catalogue easily and seamless blends with the best recorded in pop and rock history. His re-recorded classics blend with the new material fluently and those tracks aren't simply left intact but also received daring makeovers. It is astounding how Russ Ballard's creations stay upright so easily in the current changed musical environment. The production, from his son Christian Ballard who is a well-respected engineer in the field, is crystal clear and powerful. My only question mark is the usage of drum machines instead or organic drums, as it would have provided the album an even more organic 70s classic sound.


#russballard #headbangerslifestyle #hbls #awayoflife