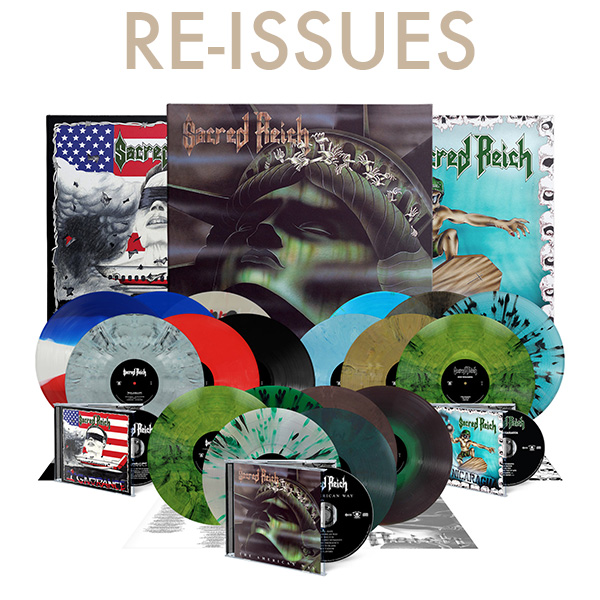 SACRED REICH-Ignorance-Surf Nicaragua-The American Way
Metal Blade Records
On February 12th, Sacred Reich will release CD and LP re-issues of their classic albums `Ignorance' (1987), `Surf Nicaragua' (1988) and `The American Way' (1990) via Metal Blade Records.
Personally I think Sacred Reich has always been one of the best-kept secrets of the whole 80s and 90s thrash metal movement and especially these albums are real treasures. The band never got as big as their brothers of for example bands like Slayer, Testament, Death Angel and so on, but these guys from Phoenix, Arizona, always had a noticeable sound of their own that stood out in their way of song writing skills and the recognizable vocals of Phil Rind.

I have seen this band live several times in the past and they ALWAYS delivered a great show and I think they are still as relevant as they were back in the day when they recorded these three classics. Just give their most recent work `Awakening' (2019) a listen and you know what I am talking about. If you are a true enthusiast of the thrash metal upper league, you have to have these records in your collection. ,,Death Squad", ,,Ignorance", ,,Surf Nicaragua", ,,The Way It Is", ,,The American Way" and ,,Who's To Blame" are simply timeless pearls.
The one thing that I have always appreciated is that Sacred Reich has always addressed politically sensitive topics in their lyrics and to this date some of them are still as relevant than ever.

Personally I would have appreciated if the albums would have had more bonus materials (only 3 songs on 3 records), for the fans that already have the records in their collection. But on the other hand, I hope this is a nice step in order to go into the studio and record a follow up for `Awakening'. European tour dates are announced for November and December supporting Sepultura together with Crowbar. Until then I would highly recommend playing these albums as loud as you can!!!!