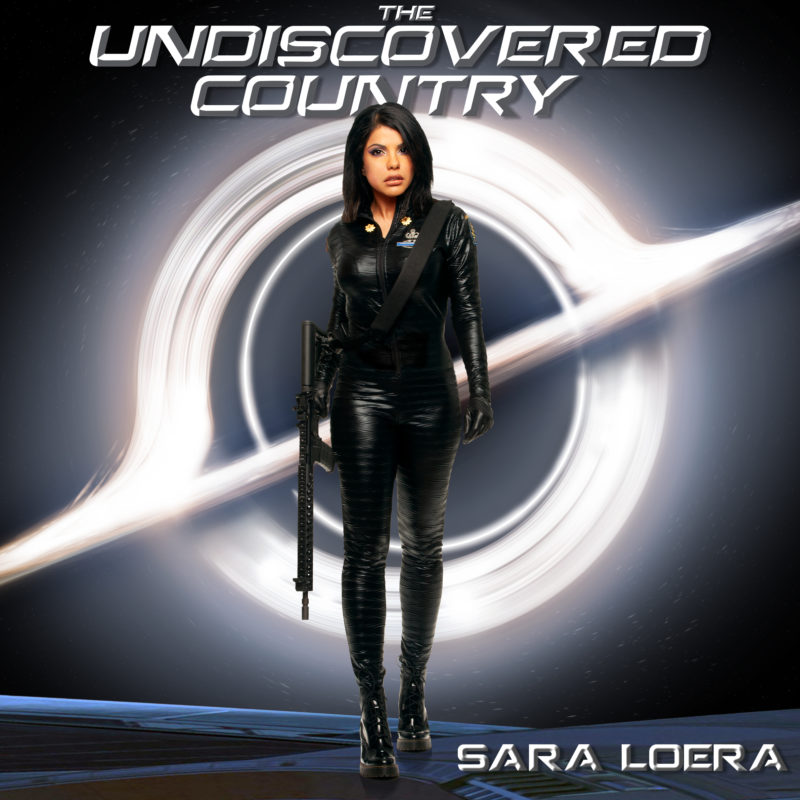 SARA LOERA-The Undiscovered Country
Rællic Systems/CDbaby
I was first made aware of Sara Loera's extraordinairy vocal capacities through Ken Tamplin's (Shout) vocal academy on YouTube. With Sara belting the most impressive live version of Heart's ,,Barracuda" I have ever heard, including the impossible to copy high Wilson pitch halfway in, I since kept an eye open for her videos frequently featured on Tamplin's channel. It soon proved Loera not only able to sing Ann Wilson't parts easily, she also emphasized her wide varied interests in music in general, connected to her equally wide range and flexible voice. Sara's wicked vocal gymnastics on ,,Chandelier" are as easily performed pitch perfect as Journey's ,,Don't Stop Believin" or Evanescence's ,,Bring Me To Life". It all just radiates perfection and oozes comfort while flexing her voice around the most impossible tunes. With this impressive set of pipes at her disposal, Sara Loera decided to bring her own melodic vision to life with the pretentious concept album 'The Undiscovered Country', following her debut album from 2016 and two band albums.
Going head first into this pretentious concept album I wonder if she is able to bring her vision to life?

Well, the answer is a full-blown YES SHE DOES. Releasing a concept album under your own banner as debut takes guts, not failing takes sheer genius. Sara Loera's debut is not 100% perfect, but it surely manages to put her on the map. I wouldn't dare to call her the female answer to Ayreon, but Loera surely impresses with this tasteful debut that evokes the grandeur of Ayreon's stories and musical trips. Less hard rocking progressive Sara takes her music in a more classic prog direction oozing the subtlety of 70s prog bands. Pink Floyd's welling and tasteful eludes linked to more Uriah Heep-ish and (mostly) classic Styx twists, clearly takes the album into a sonic explorative direction. With ,,I Am Brace" opening the introduction to the storyline of Brace, an artificially intelligent soldier living in the far future. The song immediately paints colourful scenery with Loera taking the spotlight. Clearly written on piano it also hints the skills of the young singer as a songwriter adding to the craft of composers John Allen and Mario Rossi. It is a perfect opening to the proggie tracks following. The songs really grip without firing on all engines. Swirling keys and sticky vibrant riffs add to the atmosphere. Throbbing progressive bass pulls forward over non-dominant drums that are performed with panache. The solid bass is never taking over but is rock solid and transparent, adding to the cinematic execution of the album. Though it often feels it lacks a real productional punch and more heavy bass pumping overall sound, ,,The Undiscovered Country" adds up with the clinical surroundings of the storyline of the concept. Due to Sara's Wilson reminiscent clean and powerful sound, the album also bears the mark of Lana Lane's best records, also memorable for it's delicacy rather than its powerful and full frontal rock sound. ,,To Be Or Not To Be" is highly progressive as where ,,The Wars Will Save Us" is an impressive jazz injected piano based track that erupts with a danceable groove in its chorus. It corks sideways and strays without losing focus of the album's overall sonic extravagance. On ,,The Fifth Dimension" we are served up an enticing prog rocker with tremendous drive in the vein of Ayreon's 'Electric Castle' classic. The song swirls with great melodies and powerful reminiscent hooks, putting you in the middle of the unfolding story. With the first 4 tracks being mandatory as an introduction to Sara Loera's talents, ,,Shine (You Can Upload Your Mind)" fuses the grandeur of Styx' most eponymous and best compositions injected with tasteful guitar work straight of the Hackett & Howe book. With the concept flourishing musically and lyrically it is Loera herself who keeps the listener on edge for the entire journey. Her voice stretches crystal from the high register all the way to the lower and heartfelt soulful register without falling short. Especially her pristine high register is breathing elegance. But that is also one of the album's constraints moving forward; The crystal clear sound and its clinical outline, in combination with Loera's vocals mainly nesting in the higher regions, make this a tougher album to instantly find its way into your heart. With Sara as the focal point of this solo-album, they pulled her vocals to the front of the mix and that also downgrades the overall experience. It is too frontal and isolated emphasizing her vocal capacities too much. Luckily the musical magnitude is of the same towering elegance and it is this [aside Loera's voice] that saves the overall outcome. ,,Testify" is an impressive power ballad deeply rooted in the 70s, without missing a modern vibe radiating through. Sara speaks right to the heart and touches with her bedazzling charisma. Towards the end the song goes all Yes-ish with towering swirls over powerful arranged symphonic elements and typical Howe-infused guitar work. ,,Requiem For My Simulated Friend" is another track touching deep with Sara occasionally tinging like Lady GaGa and musical it remotely reminds me of The Sign's better tunes. More classic rocking are the blues stoked ,,The Stars Don't Shine" and ,,Infinite Half-Life" with its stop 'n go motion, opening to the waltzing piano driven ,,Low Energy Prison" erupting with cinematic shuffles that suddenly puming into an edgy ¾ paced rocker. Coloured brightly by Loera's comforting vocals ,,Heaven And Hell" again fuses the progressive gigantic sound of the 70s, with an ominous undertone. Swirling piano eludes takes us into the extraordinary final chapter of Brace's trip through the universe. It is Sara again radiating perfection and passion belting an impressive vocal job, making the album orbit.
'The Undiscovered Country' is an album of alluring proportion. It links the heydays of symphonic progressive rock bands in the vein of Yes, Kansas and Styx with the modern approach of today's conceptual writers and composers like Arjen 'Ayreon' Lucassen and Neal Morse. The entire album is tastefully arranged with swirling keys and pompous Hammond swirls, powerful orchestral arrangements, while it combusts with an almost withheld attitude only set ablaze by Sara Loera's impressive vocals. Loera really colours the songs with her voice, touching deep with emotional gripping performances and crystal clear angelic vocal delivery that ooze perfection. The sonic delivery is magnificent and the music allows her to radiate charisma. It all adds up keenly moulded into a gripping storyline pasting the outline of the album. An outline which (at first glance) is somewhat clean and clinical, but it suits the project just perfectly. I urge to add it might scare a vast majority of listeners off and they would benefit from a more powerful mastering. It took me two spins to get all excited about 'The Undiscovered Country', but once it pawed into my brain, it hasn't left my car stereo. And to close the review I only can add my daughter's comment: "Why isn't she world famous?"
Make sure to check out Sara Loera on YouTube as well as all leading music platforms featuring this magnificent showcase of skills and talent.


#saraloera #kentamplin #headbangerslifestyle #hbls #awayoflife #cdbaby