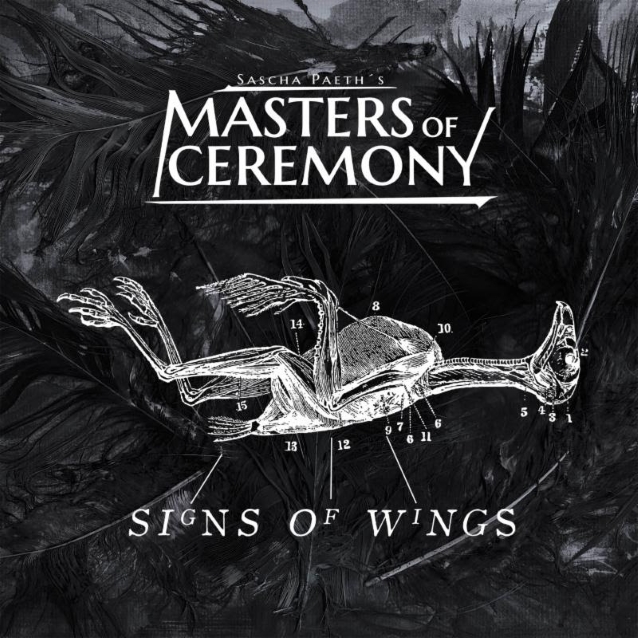 SASCHA PAETH'S MASTERS OF CEREMONY-Signs Of Wings
Frontiers Music srl
Sascha Paeth is definitely one of metal's most treasured composers and hardest working producers of the modern times. The man has established his name in the early nineties with his band Heaven's Gate but more dominantly adding his compositional skills on Gamma Ray, Running Wild and Angra releases. Attracting many in the field he soon landed producer credits for many in the power metal field like Kamelot, Rhapsody (of Fire), Edguy, Luca Turilli, Avantasia, Epica and many others. His signature sound is the dense and features action packed wallop with pompous (dramatic) orchestration and high paced drums and riff-rage. Though dubbed clinical, he certainly changed the genre. In between all of his production duties he also finds time to crystalize his own vision and mould his ideas into form. Masters of Ceremony is his new project and obviously links to the bands mentioned above.

Sascha put together a group of musicians including Avantasia's rhythm section Felix Bohnke (drums) and André Neygenfind (bass), Corvin Bahn on keyboards, and the American singer Adrienne Cowan (Seven Spires). The outcome is as expected… or…
Opening ,,The Time Has Come" certainly adds to the producer's catalogue. Bombastic it storms forward and it is heavy on orchestration as expected. Obviously this is Paeth's terrain he so intensely redesigned over the last 30 years. Tracks like the driven ,,Where Would It Be", ,,My Anarchy" (with furious guitar opening) fuse the typical dense clean tracks with slick melodies and choruses. ,,Sick" shakes of the symphonic trademarks and fuses the heavy roaring metal outbursts with frustrated vocals and kicking grit. Not completely discarding the clinical approach the song frequently grips back to the typical melody – riff –vocals construction known from recent Kamelot releases. Signature is also the Celtic influences on ,,Bound In Vertigo" easily fitting the Edguy and Avantasia albums. Slick and very nesting, but also pretty over the top. ,,Weight Of The World" could have been featured on Kamelot's `Kharma' release with its gripping bridge and over the top chorus.
It is however the tracks that are outside of his regular scope which are much more appealing. ,,Die Just A Little" is a dramatic heavy metal track. Slow paced it displays a tender agony vividly brought to life by Cowan's impressive vocals. She spreads comfort and discomfort easily and roars powerful if needed. It gives face to the track that dies out with Led Zeppelin like wailing chants to spit us into the mid eastern tinging ,,Radar". A heavy rocker with Cowan roaring wildly, unexpectedly picking up the Avantasia signature sing along choruses, slightly ruining the overall outcome. ,,Wide Awake" also has the Paeth mark imprinted, but is more classic metal oriented before it moves to its slick chorus. Recurring soloing offers an also intensity that adds to the songs stealth. More of this would have benefitted the effort, which hints too much on Paeth's archetypical trademark sound. ,,The Path" is an exceptionally beautiful ballad with serenity radiating off of its edges. Piano provides a frail base and strings are adding to the overwhelming ebbing emotional coaster with Adrienne displaying her impressive operatic side. Her frail vocal delivery is perfectly in line with the pasted framework of the track and it grips deeply. She repeats this gripping performance on the title track, which suddenly explodes with great symphonic pace. Galloping drums pick up speed and the riffs are sticky and intense with the song unravelling as one of the best tracks of the album. Not straying from the benchmark Paeth and his team do redefine the paved paths of his past and take it one step beyond. Overly intense and with dramatic melodies towering, it certainly is the best track of the album. The song fuses genres and fuses Sascha's entire past together instantly.

Needless to say this is a top shelf album from the hand of one of metal's most interesting producers. Paeth steps from the paved paths of his brainchild Euro metal sound. During these moments he certainly creates interesting moments, but the overall outcome is close to that of his many productions (as expected). I would have been on edge if he recorded the album in a genuine band setting and stepped away from his generic Protools board for this one. It is that KXM vibe I miss on this record. But fans of the genre Paeth redeveloped most likely love this record.


#saschapaeth #mastersofceremony #headbangerslifestyle #hbls #awayoflife #frontiersrecords