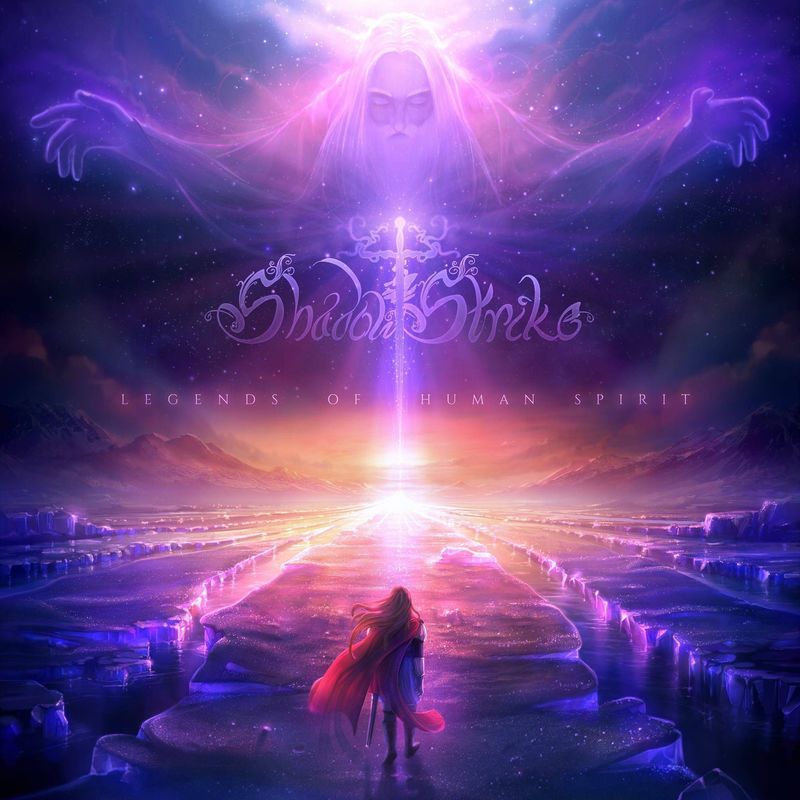 SHADOWSTRIKE-Legends Of Human Spirit
Independent
"ShadowStrike, from Long Island, New York, delivers a melodic, fast-paced, and grandiose sound to the local music scene. The band's main objective is to deliver a fully immersive musical experience that includes an entertaining stage show and utilizes both musical and extra-musical thematic content to draw from pre-established tropes within the fantasy genre. "
Their bio hints specific elements of greatness enticing me to dip my pen in blood and crush the illusion. Seriously; no! It did trigger my prejudice and made me hesitative playing the album, for sure.
Little did I know…

Over all the tales of wonder and the grand projections of up and rising young bands, I got disappointed more generally than frequently. Pitching immediately their a-game ,,Heart for Yearning Journey" packs tremendous pace and wallop, with sheer magnificent guitars and keyboard interaction. Melodies are towering throughout and the epic pen is drenched in fantasy tales underlined by neo-classical grandiose orchestration. Especially during the solo section the band keeps pushing the envelope with Ryan Patane's sterling keyboard presence firing up the engine for blistering solos executed by Sean Walls and vocalist Matt Krais. Together they swirl upwards to a grand finale with Krais belting impressive high registers. The cinematic symphonic music is emphasized by his excellent vocal delivery that is enhanced furthermore by the falsetto opera chant in the back. ,,Ascension" is a glorious intro with victorious narrative storytelling taking us into the Teutonic ,,Fly With Me" that flourishes with heroic choruses towards epic solos with tons of arpeggios fired upon us with sniper precision. The overall presence of Italian power metal ingredients blend perfectly with the US power metal sub notes as heard on the impressive ,,Fields Of Valour". Galloping drums pull it forward over Jon Krais' crooning bass onto progressive packed terrain. Blunt keyboard breaks intertwine with impressive riff action and short lived solos into Middle eastern scales suddenly unleashing great strive with solos of all three firing from left to right, leaving neo-classical stone unturned. Edvard Grieg could have written the serene section following as it delves into an up rise of harmonies to go out with a pompous bang as if it was created by Antonin Dvorák. On a more gothic epic note the band turns their sonically key on ,,The Fiery Seas and Icy Winds" with soprano chants pasting an outline for some of the best neo-classical exercises ever heard. With Krais' vocals again summoning the heroism of the listener's spirit the song progresses with ravishing power. Double bass wallop, intense breaks lighting the fire for an impressive keyboard swirls that take us to the centre of melodic metal's finest. Guitars again shooting up and down the ladder with keyboards dosed in extravagant quantities. The solos shift from Malmsteen through Impellitteri into shreds finest like Becker and Friedman. 5 minutes in Petrucci is hinted shortly before some Lynch hammer-ons shoot back and forth unloading into MacAlpine like scale dominance. Returning to neo-classical form shortly after tensions builds up with sonic landscapes unravelling in scenic wonder. Taken to the end by exquisite keyboard arrangements the song dies out in style to open the door for the following ,,Where Sleeping Gods Wait". Again the musical scenery is vividly brought to life with Grieg's legacy done justice. The oozing comfort is slowly transformed by welling prog elements with choirs and chants enrolling slowly into enticing dense epic power metal disrupted frequently by harmonic, almost narrative vocals. Soprano and falsetto vocals pitch up high with glorious chants pasting the atmosphere solid. The song goes over the top without tilting displaying the band's musical craftsmanship. Going all in with the Teutonic and ravishing high paced ,,Forever As One" ShadowStrike keeps pushing the envelope with Adagio and classic ,,Angel's Cry" Angra reminiscent classical note-storms. With Matt's vocals adding a videogame like midi note, the song is one of the tracks that need time to nest deeper. ,,Voice Of The Night" operates on that same level yet it has more progressive US-metal elements embedded. Close harmony musical interaction keenly laced with classical chants and tons of musical mood swings it shifts frequently between classical neo acts as well as gothic tinged bands and more progressive driven bands. The pompous overhaul however is impressive and the song fuses Italian power metal with Euro-scene acts such as Gamma Ray morphing into classic US band Virgin Steele. Going all in on ,,S Dream Of Stars" the band keeps their high pace unloading in the epic grand finale ,,Gates Of Winter". More epic than any of the previous songs the band delves deep with impressive musical interaction as they blast their way through the fantasy landscape. Intensely progressive they morph the song from scenic into an atmospheric melodic pompous chanting tale. It's glorious and uprising with epic spirit. Halfway in it shifts form with throbbing bass and raw riffs propelling it forward for an intense musical breakdown with classic metal solos unloading over power metal poise.

Mixed and mastered by Linus Corneliusson and Jens Bogren at Fascination Street studios providing a dense production with little to no room to move, adding to the density of the songs. Perhaps the album would have benefitted from a more open and transparent sound to make it more accessible, but that we'll never know. ShadowStrike caught me by surprise with this first full-length album, and they caught me at exactly the right time. Lingering for some of these neo-classical heroic executed grandiose sounds, I am glad I stumbled across the US metallers. Though this will not fly for me all the time, ShadowStrike pitched in perfect. Admitting Matt Krais' vocals need time to nest, as they don't always intertwine with the music, `Legends Of Human Spirit' is definitely an album to check out.
If Timo Tolkki's last album feels like a disappointment, and Dragonforce as well as Sonata Artica have seriously halted in their challenges, then it is time for you to check out Long Island's answer to disappointment: ShadowStrike.



#shadowstrike #independent #headbangerslifestyle #hbls #awayoflife