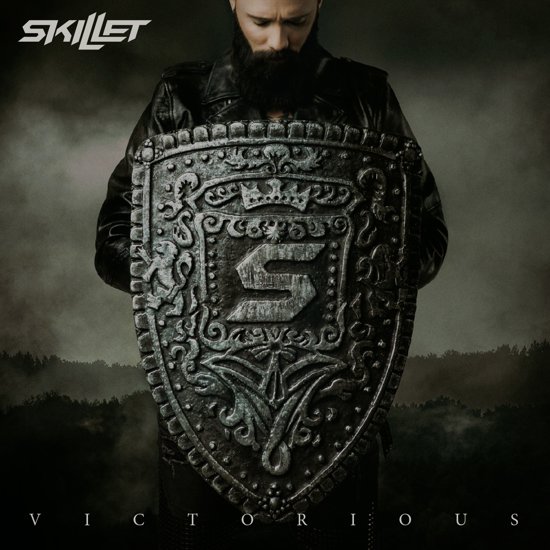 SKILLET-Victorious
Atlantic Records
Skillet somehow seems to pass by under radar at European rock magazines. The religious band however has established a firm name in rock over the last 2 decades and their live shows are intense and impressive. Pyrotechnics and technical elements are just impressive, adding to the band's energetic shows. But why doesn't the rest of the world, and especially Europe, acknowledge their skills and talents?

The backbone of the band is compiled of John Cooper (vox & bass) and his wife Korey Cooper (guitars, keys, vocals) together with Jen Ledger (Ledger) on drums and vocals, and Seth Morrison on guitars. Though the quartet mediates in the religious metal scene, their lyrics never tend to fall into preaching of gospels. Its content is life reviewing and reflecting, with subdued religious content only for those willing to hear. Let's scratch the religious factor of the map, and focus on the music!
Skillet's finest moment (to me) was the impressive `Comatose' album, released over 10 years ago. Since then the band has progressed into an arena packing character act with great wallop. Though the album lies way behind us, recent releases all packed impressive moments, but also lacked a bit of that turmoil and fire of the `Comatose' album. `Victorious' however revives the classic sound and more than once smacks you in the face with blunt force. It is packing intense power and groove, with constraining core elements and insane melodic choruses and vocal interaction. It is the benchmark for the band that has clearly rejuvenated their appeal, with John hauling wildly. ,,Terrify In The Dark" is an insane metal track with highly recognizable melodies and choruses. An ominous piano line morphs into a hollow echoing sound effect affecting the towering intensity of the track that explodes with intense ambient vocal interaction and erupts with keenly injected guitar swagger. There's a clinical dominance subdued by the infective melody and power-drumming aligning. The interaction between Ledger and Cooper is exceptional and though it is slick as wax, the outcome if magnificent and highly effective. It features all trademarks of their infectious sound. The same elements are sued to craft the musical carcass of the even more impressive ,,Anchor". It follows the pattern but laments with even more appeal and poise and sees John pulling the vocals solo. His range is powerful and his hoarse outline adds up perfectly before he starts powering up to the chorus, oozing comfort. ,,Finish Line" hooks in with stop 'n go vocals, easily able to be hauled into action in an arena packed with spots fanatics. The track has fist pumping pace, little like ,,We Will Rock You", and it keeps pumping forward with glorious overhaul. When the band taps another vein like on the video singles ,,Legendary" and the symphonic punched ,,Victorious", the band reaches bigger accolades with more dominant guitars and jumping groove metal. ,,Victorious" handles depression and touches deep. ,,Save Me" and ,,Rise Up" are typical Skillet tracks, packing enormous drive. An intense riff dominates ,,You Ain't Ready", with drums shifting prog during the bridge and chorus. Completing the sonic evolution is the grunging ,,Never Going Back" which utilizes a Rammstein sub note to explode into roaring chanting. It packs tremendous power and enrols with intensity and glorious melody. A short solo pitches it higher and raises the metal bar. The song just keeps hitting with waves of power. It also outlines the band's impressive feeling to inject insane nesting melodies into an action packed towering track.

Skillet appeared to have frozen in format for 10 years to finally shake off the predictability. `Victorious' still packs the typical Skillet ingredients, but also picks up new swagger and strive. Injecting the classic jumpy melodic sound with new elements, the band reignited their engines and creativity. Whether or not this was subject to Ledger's recent dramatized solo offering or not, I can't guarantee, but Skillet now packs more vigour. Definitely an album to give a spin and let yourself be overthrown. Cast aside your prejudice and raise your fists!


#skillet #headbangerslifestyle #hbls #awayoflife #atlantarecords