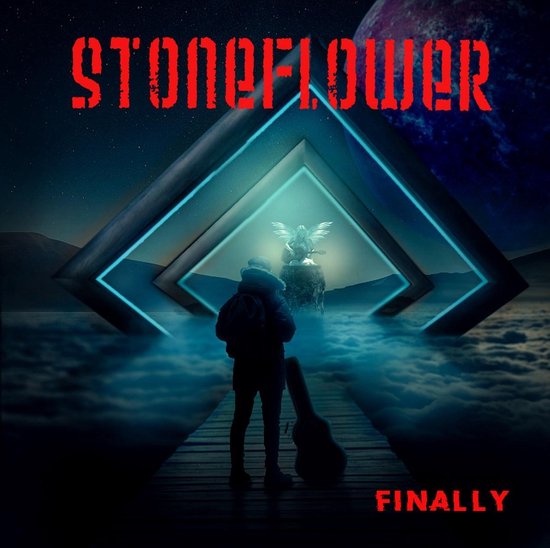 STONEFLOWER-Finally
Metal Heaven / AOR Heaven Records
Rejuvenated and fresh, Stoneflower report back after their breakup. The band/project around Svenn Huneide released their debut `Crack A Little Smile' in 2003 through the small indie label Storyteller Records. The second attempt `Destination Anywhere' was overshadowed by the departure of their vocalist. An indie self-produced release that got overlooked by the masses. Dubbed the 'best AOR album of 2014' by Sweden Rock magazine should have boosted the band's status. Unfortunate reasons however made Huneide decide to lay his band to rest….Until now!

`Finally' marks the return of Huneide's brainchild as well as it launches Stoneflower with a new energized line up. The smooth and comfortable AOR is tailor cut towards new vocalist John Mazaki, and truly ignites the spark of modern melodic rock. Much like their peers in Creye and Degreed, Stoneflower relies on slick melodies, modern pop injections and ear mingling choirs. Sugarcoated choruses around towering keys and strumming guitar licks that instantly grip. Opening with a silent humming riff building to climaxing altitude when keys impact in the same strut, ,,Gonna Let You Go" pitches to the top ranks of melodic rock. The chorus is rich and packs tremendous appeal. Mazaki, who was one of the revelations of Norway's Idol, has a clear voice that is typical for the new wave of melodic rock. The radio friendly melodies and nesting choirs are a standalone force, but it's the piercing solos that add to the posture of the songs. Welling in unexpectedly, they make the overall sound packing enough power to appeal to a wide audience of rockers. The band switches in stride frequently and draws from classic influences like on the following ,,What Can Be Done", which is clearly more eighties oriented. Signal comes to mind, but every time the chorus comes knocking, there's this typical fresh new approach. Slick melodic, comfortable and nesting. Mazaki switches registers accordingly, and his performance matches the song's tenure. ,,Believing" is what became typical for the new wave of AOR bands; modern keys in the Degreed vein building towards a classic TOTO transferal and jazzy rich structure. Rhythmic it totally catches on with classics like ,,Africa" and ,,Stop Lovin' You", but it packs such immense power and appeal. The mark is dominant, yet also embodies Stoneflower unique elements. Tom Sennerud's impressive solo is borrowed directly from Lukather, making it an obvious homage to their iconic idols. The execution of the track is simply astonishing.
Tracks like ,,Calling All Stations" with its forceful drive and impeccable riffs and solos, or the more classic rooted ,,The Devil Never Cries" display the bands abilities to switch between sounds and pace. Always connected with the key elements of Stoneflowers sound, they pull forward with great momentum. ,,Finally" itself is brought to live with raving riffs and bass but contrasts in its approach. Geir Johnny Huneide's (Svenn's brother) drums add a solid drive and punch. Verse and chorus are almost interwoven, and the choirs added in the back are sugarcoated without missing the punch. Adding to the melodic cocktail, Denander-like riffs and solos propel it until the massive breakdown in its towering solo. Keys in 80s pomp tradition overthrow it with a proggy sauce before it goes all modern and dance-like and eventually returning to form. A schmuck laugh enhances a corky obnoxious attitude.
Slower movers like the sticky sweet ,,Kaylee" and the intense pitched ,,Through The Fire" are mandatory to balance out the classic album craft. It gels well and with ,,How Does It Feel" the band implements an acoustic (guitar – piano) enhanced opening before going all in. The song really enrolls with oohs and awes for the listener. Slick it fuses a widely appealing chorus blunt riff-driven force over swirling keys and grandiose guitar outings. Luke's signature sound comes floating by with a Neal Schon-typical pitch upward. It is a warm homage to all I love in this genre, and Stoneflower fires on all tarnished and polished melodic engines. The album is rounded by the mandatory piano ballad ,,Fall". An emotional gripping performance from Mazaki give the smoothening song a melancholic edge topped of by exquisite string arrangements. The solo is intensely adding to the lyrical pain and the track dies out with an elemental piano tingle. Press repeat to sooth the pain…

If I am ever quarantined, this album will most definitely be in my playlist sided by many classics. The album is exquisitely slick, yet it packs tremendous power and drive. The riffs are prominent in the action packed polished overall sound. Its solos touch base with every elemental player of the genre. With a host of Scandi rock's finest added to the lineup (Tommy Denander, Secret Garden's Bjørn Ole Rash, Stage Dolls' Steinar Krokstad, Da Vinci's Gunnar Westlie), the album is a salute to the genre as well as it lights the spark of the new wave. Let's introduce the NWOSMR (New Wave Of Scandi Melodic Rock) with frontrunners Creye and Stoneflower. Don't I have anything to complain?
Yes, the cover art doesn't align with the album's grandiose melodic sound and impressive features, and it might cause fans to miss this gem! LISTEN IN!


#stoneflower #headbangerslifestyle #hbls #awayoflife #metalheaven #aorheavenrecords