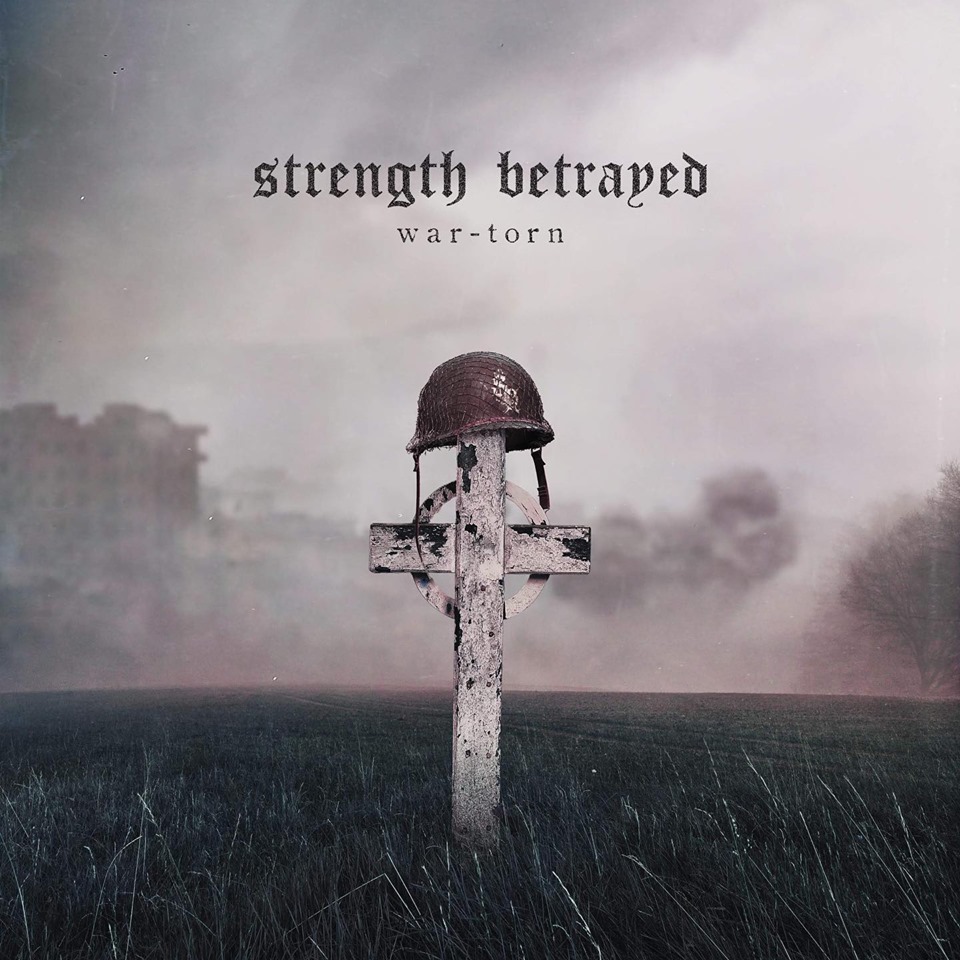 STRENGTH BETRAYED-War-Torn
Amazon Music
Christian metal band Strength Betrayed has a message to carry out. The Clayton (NC) based band combines their guitar driven hard rock with a message without preaching a gospel. Their name hails from the biblical story of Samson whose strength is betrayed, and the band name becomes the cornerstone of their message. But it is not where it ends; the band's mission is to offer hope to those suffering inside and letting them know they are not alone. The messages are revealing and uplifting, and the music is intense. `War-Torn' is the follow up to their debut EP `Into the Soul' and we need to spin it without prejudice.

Prejudice isn't in place as the band simply delivers their music with insanely drive and poise. As much as the word "War-Torn" evokes images of battle and ruin, of bloodshed and death, the word also evokes the human element of emotion. Brother to brother, man to man, in an environment fighting each other or standing tall beside one another. Opening with an acoustic version, somewhat distanced version, of Cash' ,,God's Gonna Cut You Down", Strength Betrayed paste an ominous dimension to fire their strangulating music upon you. The dark scenery and disarray from the opening is a breeding ground to enhance their gripping message. Right off the bat they hit it out of the ballpark with the title track. Intense riffs push forward with fierce force. Loud bass strokes from Seth Altman plough forward and Taylor Smith's drumming add to the incredible dynamics. The jumpy groove spits fire and the vocals are intense and powerful, scattering with agony and anger. It perfectly matches the lyrical content and the song keeps gripping with every spin. However they roll, they set the place on fire. The ingredients of the title track are used as blueprint for the album with vocalist delving deep and occasionally also reminding me of Volbeat's Michael Poulson with his trademark timbre and gut wrecking soul. On ,,My Fight" singer Thomas fuses this timbre with an edge close to Blacktop Mojo's Matt James. Impressive range, scattering off the pallet. Emotionally and soulful, with a grungy edge, overthrown by the typical Volbeat edge, Thomas Smith holds a fine middle of agony and emotion. A wall of riff-rage hits us on the following ,,Vainity" (you read it correctly), shooting forward with anger-laden vocals accompanied by triggered double bass, intense kicks and perpetual ignition of rage and anger. A whammy guitar solo blooms with towering arpeggios with Thomas again switching registers. Soothing and harmonious, switching to and anger and growling madness, throughout the turbulence of the track. ,,Waiting" links more to Volbeat's better tracks, nut with a groove metal-ish underscore. The song is mega melodic with towering harmonies and gripping musical interaction. The double kicked drums fire it up high, while guitars fire forward with intensity. Again it is a joy to hear the vocals with gripping emotion and loaded with powerful howls. When the band shoots into higher gear, they lean strongly towards thrash metal, with double kicked thunder unleashed. (,,Audio Warfare") The same persistent thrive is backing the intense ,,Playing With Hearts" predominantly pulled forward by the adjective riffing guitars. Gripping vocals and jaw dropping melodies are delivered at full swing and even the ohohooooh" fits the track. A low throbbing bass line puts us in the middle of the turmoil blasting ,,Sour" that turns extremely jumpy and fierce. The vocal anger outbursts are extremely well captured and contrast deeply with the overall impressive melody of the bridge and chorus. The ardent album is brought to an end with the even more stunning ,,Worshipping A Monster". Packed with all previously mentioned ingredients times two, it storms forward with awesome drive.

Strength Betrayed put their mark on the present with their debuting EP, but somehow managed to kick the tracks into gear on this `War-Torn' release. It is spitting anger and radiates star-studded magnitude. All songs are delivered with intensity and fire on all engines. Though you hear a lot of it before, you have probably never witnessed it performed with the intensity of Strength Betrayed. By all means, this album is a monster with pawing claws. Overall packed with tremendous power, and even the slickest of melodies display razor-sharp claws. `War-Torn' is in my top 10 of this year's most impressive releases!


#strengthbetrayed #wartorn #headbangerslifestyle #hbls #awayoflife