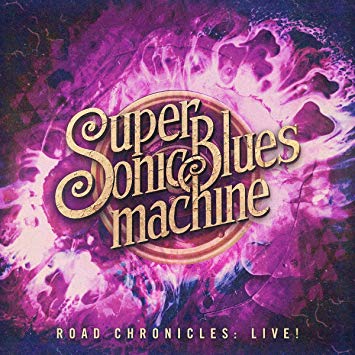 SUPERSONIC BLUES MACHINE-Road Chronicles Live!
Provogue/Mascot Label Group
The blues power trio of Supersonic Blues Machine has this far delivered two excellent blues rock album entitled 'West Of Flushing, South Of Frisco' and 'Californisoul'. Drummer Kenny Aronoff, bass player Fabrizio Grossi and guitarist/vocalist Lance Lopez really made an impression under the guidance of ZZ Top's Billy Gibbons who was the man who suggested Aronoff and Grossi to work with Texan guitar slinger Lance Lopez. But in January 2018 Lopez left the band to work on his solo-career and Englishman guitarist/singer Kris Barras (also signed to the Provogue label) stepped into the void. The band toured in Europe and USA and decided to record a live-album while doing that. The good thing about this band has always been the involvement of several guests and friends like Warren Haynes, Walter Trout and Billy Gibbons. On this 14-track album the first part is the band plus a couple of extra's like singer/guitarist Serge Simic, keyboardist Alex Alessandroni, Fabio Treves (harmonica), Fabio Drusin (harmonica and tambourine) plus Andrea Grossi-Benitez and Francis Benitez as background singers performing mainly songs from the first two albums. Obviously Kris Barras is a different singer, he does not have the real grit in his voice like Lance Lopez has, but he has other vocal elements that he brings to the table that fit within the style plus his excellent guitar work making sure that this band sounds as bluesy as can be but there are also soul, R&B, funk and even some (very slight) alternative influences in the total sound. That makes songs like ,,Remedy'', ,,Can't Take It No More'', ,,I Am Done Missing You'' and ,,Bad Boys'' really pleasant to hear. But when Billy Gibbons enters the arena for a smoking version of ZZ Top's ,,La Grange'' things just gear up and although the other songs like ,,Dust My Broom'', ,,Got My Mojo Working'' and ,,Going Down'' are evergreens with the exception of ,,Running Whiskey'' (that was featured as the first single for the first CD) this album just gets an extra dimension. Real cool swinging rock and blues are the main ingredients on this inspiring and sometimes thrilling record. If you have the first two studio albums in your collection 'Road Chronicles Live!' is a no brainer!


#supersonicbluesmachine #mascot #headbangerslifestyle #hbls #awayoflife