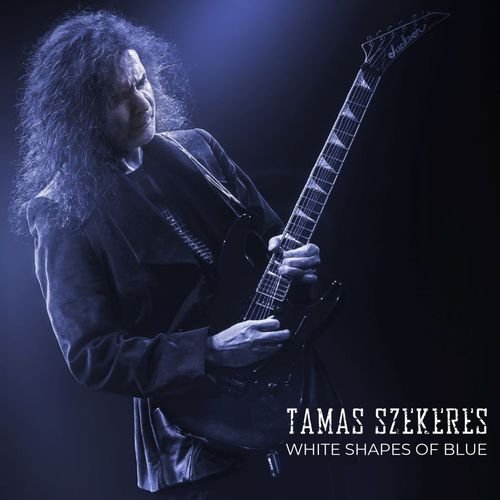 TAMÁS SZEKERES -White Shapes Of Blue
Grund Records
He is one of rock's hidden gems and best-kept secrets. A rock star in his native country of Hungary where he plays to sold out arenas with Omega, and Omen in the past, Tamás Szekeres managed to claim fame in the early nineties when he embarked onto solo terrain. His solo efforts `Guitarmania' and follow up `Guitar Tales' garnished a wide following, especially in The Netherlands, where he played to packed venues with his star rising. Following the varied stream of shred releases, classically trained guitarist Tamás added weight to the scene with his impeccable feeling for melody and emotion, embedded in his razor shap sophisticated playing and shreds ahead. He appealed to a wide varied audience and backed by Dutch Dureco Records, a leading record company and well established name, his star shot up high. Accompanied by a famed and seasoned bunch of session musicians the always humble and friendly maestro tour relentlessly with a number of releases to follow, until… well, until we lost track of him. Tamás fell back onto familiar terrain with Omega, releasing a couple of acclaimed albums. Alongside his solo career was derailed and he (silently) released a couple of albums passing by in silence. His latest full length release `King Street Blues' dating back 2 decades, followed by a handful singles and 2 EP releases, it is time for the master to reclaim his throne as one of Europe's finest shredders of all time with the brand new `White Shapes Of Blue'.

And this new album does exactly that!
His jaw dropping skills really set this album on fire frequently and ignite the spark of the old days. But don't get me wrong here: it is not a repetitive motion or repetitive shrine of styles being unleashed. `White Shapes Of Blue' is an album showcasing the man's impressive skills and his wide varied toolbox of styles, fused with his always present feeling for drama and melody. ,,Downbelow Station" and ,,The Final Frontier" immediately come to mind when I get introduced to Szekeres' new album, especially with the emotionally charged ,,The Immigrant Identity" that instantly sends shivers up and down your spine. Impressive melodies and towering harmonies accompanied by razor-sharp sweep picking and short fired salvos of emotive notes pack tremendous power. His classical posture radiated off the edges when his piercing hammer-ons fire up higher and higher. The album however is opened by the ravishing ,,Viking Kong" gripping back to the heydays of note spitting shred. Tamás fuses his gracious melodies with some of the best neo-classical notes from the Yngwie book. And he does it with finesse and panache, almost as a homage to the fallen hero Malmsteen. Tamás outruns the fiddling master on all accounts and he fires on all engines. His tremolo screams with his humbucker elements capturing the notes and fretboard magic. The solo is shred heaven, without losing sight of the impressive melody and throbbing bass and drum towing it. 3 Way in Szekeres fires fierce piercing notes and displays his impressive skills. On ,,Irish Leg" he falls back in his comfort zone and display his feeling for melody. The song pack tremendous power, but still feels fluent and cohesive; one of his trademark ingredients. Pleasure radiates off of the albums surface and it is great to hear Tamás enjoying himself playing.
The joy truly spreads his magic and his clawed grip on the neck is dominant while he shoots back and forth unleashing his fine-tuned notes. The album keeps unravelling with mastery of notes without losing sight of the bodywork of the songs. ,,Joy Of Perspective" lives up to its title with joyful notes fired upon us. The uplifting clean riffs and hooks are just jawdropping beautiful and when Szekeres bends his strings he does justice to the neo classical elements fused with heavy rock and metal. Jazz timing interacts with crystal clear picking and the fretboard magic is pitched up a notch on the King Crimson infused funky jazz rocker ,,Dorian Example". ,,Still Loving You" is a remake of the classic Scorpions hymn. A remake taking Meine's guitar line as focal point to call out to your true at heart rock emotions. When Tamás enters the realms of classic rock and start to shake up vocal lines, he evokes a genuine and graceful side of rock in which you get lost. A minute in I tend to forget the songs gripping vocal line and I let Szekeres' playing guide me in this tribute to melody and ecstasy. The eruption of passion and emotion is powerful and shoots straight into the heart, to tap another vein on the following ,,Planned Emotions" that leans strongly on a rock and blues vibe. The track displays Tamás impressive arsenal of styles and skills, directly appealing to your fan heart. The bluesy notes are interaction with some piercing yet fine melodies that nest on the spot. Humming the melody commuting to work I immediately reckoned the return of the mast as a solid fact. And it is just one fact of many to follow, with his fingers flying over the board to unload passion rather than notes.
Taking the bluesy tone to craft it into a more bar 'n grill kinda setting Tamás infuses his playing with another type of blues and he revives the ghost of Healey's best tracks. Welling with soul and passion the song breaks forward with an impressive shuffle that also has ZZ Top's eerie presence. It all matches the mood and setting of the album and when the maestro draws from yet another register, reviving the classic rock vibes with an organic 70s title track. Mellow and slow throbbing it ebbs with melody and great musical interaction. Hammond swirling, bass pumping, and guitars picking and weeping.

Another talent of the Hungarian maestro is his ability to link two completely different songs with a short prelude, like he does with the uplifting ,,Feeling Of Well Being" that instantly connects with the previous track due to the transcending prelude. The song itself is crafted around a short biting jazzy hook line over which Tamás solos and dances with light-footed trembling undertone before he pulls the tremolo and lays down another steep hook delving into a blistering solo. Though the drums are somewhat generic, the track packs tremendous drive and power, with guitar spot lit without straying into shred-elicious mayhem. ,,Awakening" truly awakens the force inside of Tamás as he delves deep with some long stretched notes pitching higher and higher to call out to the sub-consciousness of wellbeing. Towering with a glorious set of arpeggios fired upon us 2 and a half minutes in, we are right there where the man wants us as listeners: the middle of the action. Uplifting and glorious the song evolves with cinematic pretentions and awesome emotive sequencing paving the road for a strummer packed track. Bass is ravishing and the progressive time changes add posture to Tamás' insane salute. ,,Maybe Tomorrow" sounds like a slow paced version of Van Halen's ,,Eruption" and edges with insane melodies and musical craftsmanship. It is precise and razor-sharp without lacking identity.

Reporting back with this brand new `White Shapes Of Blue' after a long absence, Tamás definitely claims his top position at the ranks of European shred-magic and he has not lost his touch and precision. His impeccable technique and phrasing are truly unique and he fuses the neo classical Malmsteen licks with melodies, in the vein of classic MacAlpine and Vinnie Moore albums, into his ultimately unique style. The melody, accuracy and precision combined with his velvet touch and crystal clear style creates another collection of instrumental (shred) classics, and this album adds to his roster. Let's cross our fingers Tamás will not take a sabbatical for this long and returns to the stages to support his solo album and revive his impressive career as a performer.
#tamasszekeres #schredder #headbangerslifestyle #hbls #awayoflife