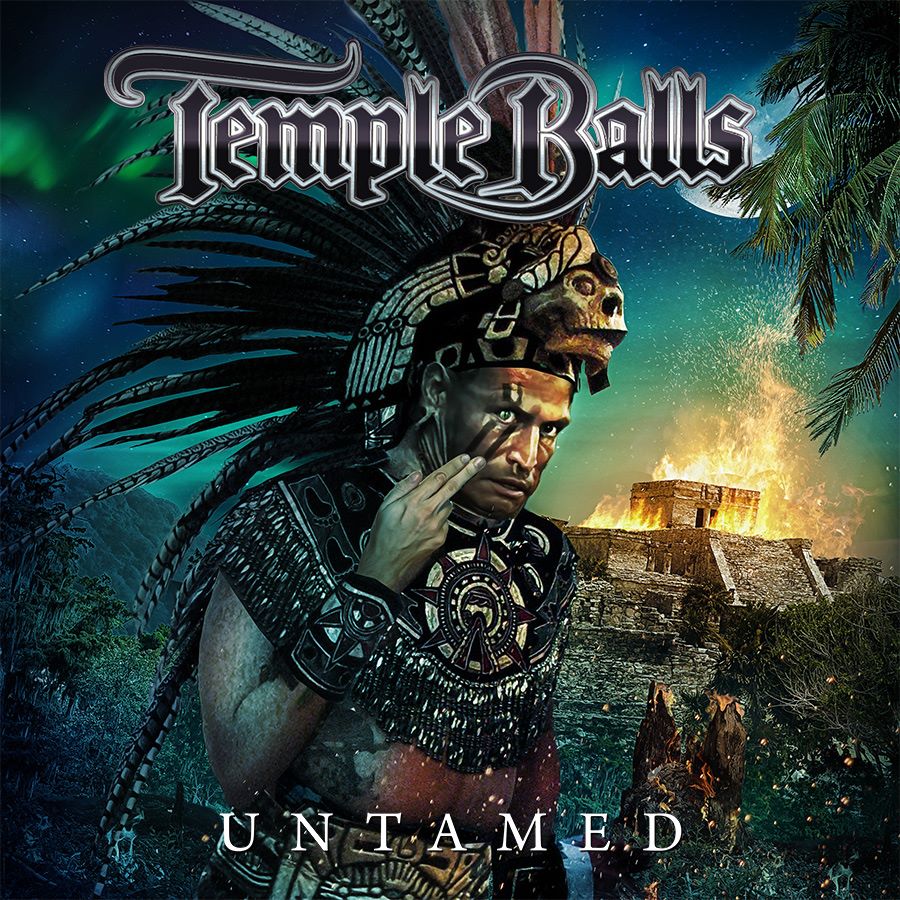 TEMPLE BALLS-Untamed
Ranka Kustannus (Finland) / Ward Records (Japan)
Finnish rockers Temple Balls aren't directly appealing due to their somewhat awkward band name, and their debut album has gone under my radar completely. Signed to Finnish label Ranka Kustannus, owned by Spinefarm Records founder and Nightwish discoverer Riku Pääkkönen, Temple Balls managed to build an enormous following in their home territory upon release of their debut `Hell And Feelin' Fine'. They even landed support slots on the biggest stages opening for genre greats such as Deep Purple, Uriah Heep and Queen. A resume to be proud of and with that being said, the expectations start running high with yours truly.

Temple Balls are blessed with an extraordinary band name, but their music is less than extraordinary. Blunt and powerful hardrock on the shoulders of heavy metal, packed with loads melody and drive, not renewing or pushing the boundaries. Nothing like that! What they do on this second album is however far from dull. The band focuses on classic hardrock grooves and riffs, with impressive melody lines hardly ever modestly delivered or subdued. What these guys do, they do pretty darn good. Temple Balls are infectious and far beyond driven. The overall feeling of the album is one of tremendous turmoil going hand in hand with slick melodies, perfect and forceful executed riffs and solos, and top-notch crafted melodic rock anthems. From ,,Infinity" onwards the album enrols with a joyous burst of perfection. Epic openings announce awesome tracks like ,,Kill The Voice" with it's taunting arpeggios and swirling keys firing it up towards the larger than life chorus, or the chopping great wallop of ,,Badlands". With a merry go round announcing the contemporary driven ,,Hoist The Colours", the band adds more harmonies to their bridge and choruses, something they keenly inject into the harder and louder tracks as well. Impressive twin guitars kick us into ,,Distorted Emotions" that reminds me of classic Gotthard on the spot. It's this band that comes to mind frequently, especially with ,,Leap Of Faith". A Hammond pumps it into shape while guitars fly back and forth in the mix. Powerhouse vocalist Arde Teronen belts a powerful job reaching highs and lows as if it doesn't cost him any effort. Powerful, somewhat hoarse, he growls and howls his band through the versatile tracks on display. More melodic and slick they roar with ,,Pauline" with its corky lyrics, to dive head down into the tremendously powerful ,,Ball And Chain" that rises as a melodic corkscrew, with Arde delivering Bonn Scott power and piercing screams. Absolutely magnificent is the power hammer ,,Seven Seas Of Wonder", though drenched in a pool of 'uuhs' and 'aahs', the song impresses with excellent melodies in both, guitars and choruses. It's slick as well as compelling and driven, with twin guitars in best Thin Lizzy tradition. Bedazzling twin guitar harmonies that also take us into the last track of the album. ,,The End" is the final chapter on this 10-track album and makes ,,Untamed" go out with power and thrive. Firing on all engines the song fuses all the best ingredients of classic heavy metal and hardrock once again into a solid track that shines and sparkles. Where most metal bands inject their music with hardrock and melodic ingredients, it appears Temple Balls do the opposite and ignite their hardrock classics with chants and heroic sounding 'warrior' elements from true metal genre. The blend served up by Temple Balls is kicked into gear with severe power and tremendous enthusiasm, perfectly captured on this second album with a loud and roaring production by Jona Tee (H.E.A.T) and engineer Paso Kauppinen (Sonata Arctica). The gorgeous artwork by Jan Yrlund/Dargrove, makes it an album hard to pass by for metalheads and rockers.

Temple Balls have fans of the genre likely frowning on their odd name, but those discarding the band because of that will be missing out on a hammer of an album. Though the band isn't here to push the boundaries of the genre, they clearly found a way to inject the best elements at hand with so much enthusiasm the songs receive a natural sparkle over their impressive powerful performances. And I can fully relay to the mark of heavy metal hopefuls placed upon them by the Japanese fans.


#templeballs #headbangerslifestyle #hbls