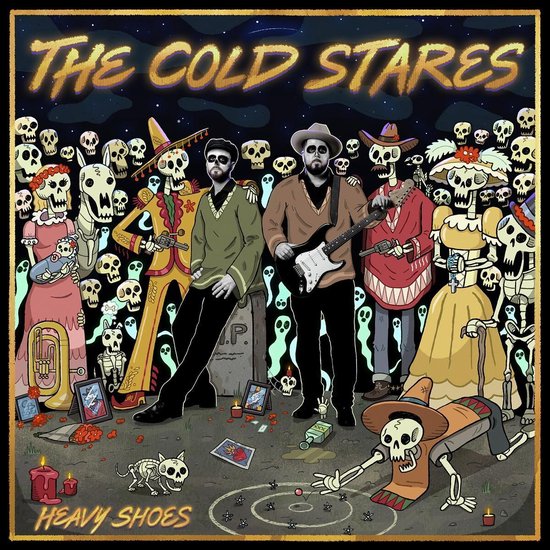 THE COLD STARES-HEAVY SHOES
MASCOT RECORDS/MLG
USA duo Chris Tapp (guitar/vocals) and drummer Brian Mullis together form the band The Cold Stares. They are around for some eleven years now releasing their fifth album 'Heavy Shoes'.
Always on more 'alternative' labels they gained a fan in Ron Burnam, the man who runs the USA division for the Dutch based Mascot label in New York. It was Ron who more or less signed this dynamic duo. After hearing 'Heavy Shoes' I can understand why. The music of this band is an intriguing mix of rock and blues where influences from Black Sabbath, Free, Soundgarden, Led Zeppelin and more classic acts run freely through the music.
A MUSICAL COCKTAIL
The Cold Stares produce a musical cocktail that is rich, heavy yet at moments modern and slightly alternative. The songs are based around the heavy riffs of Trapp and the thunderous drums of Mullins. Mullins shows off an impressive bass drum technique giving the music of The Cold Stares something like an own identity and a heavy character for sure. This is a band that can please a large audience.
,,Prosecution Blues'' is a stomping and thriving blues rocker while ,,Heavy Shoes'' is built around a riff that could have come out the cellar where Soundgarden and Black Sabbath rule the roost.
Trapp has this intriguing voice, strong, straight forward and in your face while his guitar bits are heavy yet versatile. The band can speed it up or slow it down, sound modern at times but classic for the bulk of the album. For me ,,40 Dead Men'' is the ultimate song on the album where all qualities of this duo are on showcase. To be quite honest: I had never heard of The Cold Stares before but 'Heavy Shoes' has given me a good reason to dig into the past of these guys.
Check out some videos on YouTube to see if The Cold Stares could be of interest to you and get further acquainted!