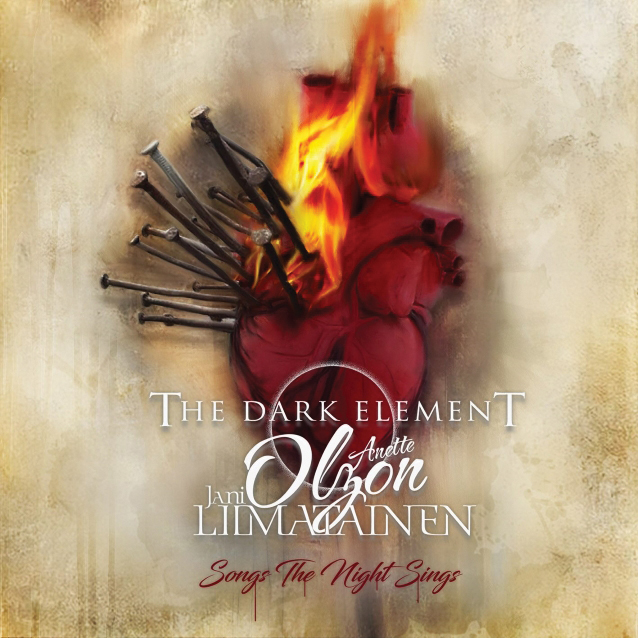 THE DARK ELEMENT-Songs The Night Sings
Frontiers Music srl
Exactly two years after the release of the self-titled debut, the second album by The Dark Element, a project by Finnish guitarist/song writer/producer Jani Liimatainen (Sonata Arctica, Cain's Offering ) and Swedish singer Anette Olzon, (Nightwish, 'Dark Passion Play' and 'Imaginareum') hit the stores.
The first cooperation went so well that there was no doubt there would be a sequel and here it is. 'Songs The Night Sings' is packed with catchy, easy on the ears, bombastic, melodic rock that is a natural continuation of the first album, the only difference is that both musicians this time know each other inside out. Liimatainen is a master in writing catchy tunes so Olzon can shine.
Opening track ,,Not Your Monster'', takes off where the debut left, and comparisons with Olzon's former band will be made again, but The Dark Element isn't as heavy on the lyrics. If one thing is clear: the cool riffs are still there. That, together with a very enjoyable clear voice and the heavy production makes it a joy to listen to. The title track continues where the opener ended; it's heavy with great bass and guitar solos. After that it is time to breathe a little with the slower ,,When It All Comes Down'' followed by ,,Pill On My Pillow'', Rammstein light but hyper melodic and catchy. Liimatainen knows exactly what Olzon's voice needs so she can steal the show. Eleven songs written in a way where she is completely at ease with what she has to sing, which makes listening to the album a pleasant exercise. Whether it is the beautiful ballad ,,To Whatever End'' (built up nicely with strings and piano), the up tempo cracker ,,The Pallbearer Walks Alone'', the melodic, catchy and driven ,,You Will Learn'' or the last song ,,I Have To Go'', that surprisingly finishes the album in a jazzy way…beautiful.
Overall, 'Songs The Night Sings' is a blueprint for things to come because I can't imagine Liimatainen and Olzon will stop after this. I'd say make this a full band and go out on tour! Impressive album.


#thedarkelement #anetteolzon #headbangerslifestyle #hbls #awayoflife #frontiersmusic