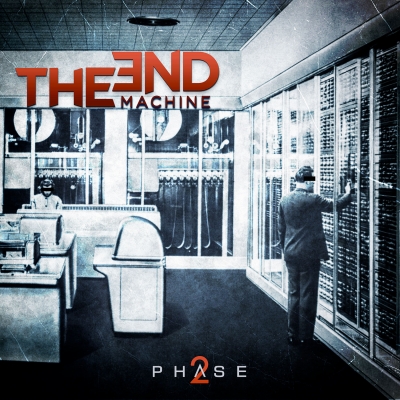 THE END MACHINE-Phase 2
Frontiers Music srl
The idea was not bad a few years ago. Gather the core of the classic Dokken line-up together and add to that a singer with a rather classic rock voice. So George Lynch (guitar), Jeff Pilson (bass) and Mick Brown (drums) joined forces once more. To ask Don Dokken to join might have been a logic step as Don had also worked for Frontiers, but I suppose there was doubt whether the four guys could work together again after their at some stages turbulent past. And also the fact that Don Dokken might not cut the vocal mustard as he used to do in the eighties might have played a role, but I admit that is just a guess of mine.
Anyway, Robert Mason (former Lynch Mob and now Warrant) became the man behind the mike stand and things worked out quite well as the first The End Machine album really rocked. We are a bit further down the track now. Mick Brown has more or less retired from the business so his younger brother Steve was asked to join this project/ super group.
Phase 2
While working on the songs Pilson and Lynch decided not to worry anymore about showing obvious influences of the old Dokken sound and style. Well, they were part of inventing that sound and style so they are very entitled to carry on with that. At stages 'Phase 2' has those familiar features indeed and in fact after the short instrumental ,,The Rising'', ,,Blood And Money'' has become by far the best 'Dokken'-like  song on the whole album, with its classic sound and gorgeous and extended Lynch solo, shortly followed by ,,Crack The Sky'' and ,,We Walk Alone'', a heavy mid-tempo rocker that could have appeared on a Last In Line album. A very classic and powerful track where Mason steals the show.
The rest of the album flares up and down. Some really cool songs like the hard rocking ,,Shine Your Light'' and the ballad ,,Scars'' are being mixed with a few 'so-so' tracks like the boring ,,Devil's Playground'' for instance.
It leaves me with the feeling that 'Phase 2' with a more critical look by the band towards some songs could or maybe even should have been better than it is now. Don't get me wrong 'Phase 2' is a good classic rock record but somehow I know that The End Machine has more in the kitty. Maybe we will hear that on the next one.