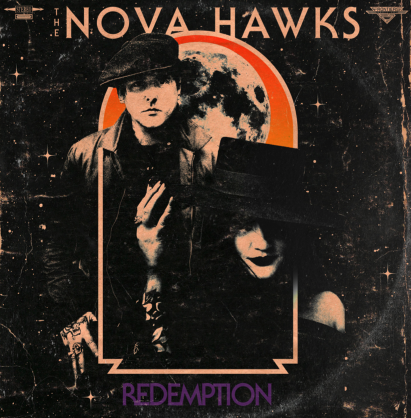 THE NOVA HAWKS-Redemption
Frontiers Music srl
And now for something different on Frontiers Records…. With their debut album English formation The Nova Hawks sounds completely different from most of their label mates. Very different indeed. This outfit hails from the English Midlands and consists of female vocalist Heather Leoni and guitarist Rex Whitehall.
Their ten song debut is a pleasant mix of bluesy heavy rock, some sensitive ballads, some 'lazy' played rockers and some furious songs like ,,Greed Or Glory''. The two opening songs ,,Voodoo'' and ,,Redemption'' already make clear that this duo does things a bit different. Some slide guitar, some very smoky vocals, an atmospheric organ, thoughtful lyrics and bluesy licks. They sound more as if they are coming from a swampy state in the USA, mixing it up with some blues. The intensity is there in the singing of Heather who has a big volume yet she brings it with feeling while Whitehall is the guy who regularly changes the dynamics of the album. On the ballad ,,Technicolor'' and the sensitive track ,,Run Wild'' the band really goes deep when you are talking about feeling and depth, while the first two songs plus the already mentioned track ,,Greed Or Glory'' show the more heavy and 'aggressive' side of The Nova Hawks. At times they sound really traditional as well. Like I said hard to believe that these people hail from the UK and not from the US.
Like something in the vein of The Black Crowes and cohorts? Well, try The Nova Hawks for size, it is quite an entertaining album that might not be super heavy but nevertheless good. And completely different in comparison with 99 percent of the other acts on this label. Slowly but surely getting hooked on 'Redemption'.