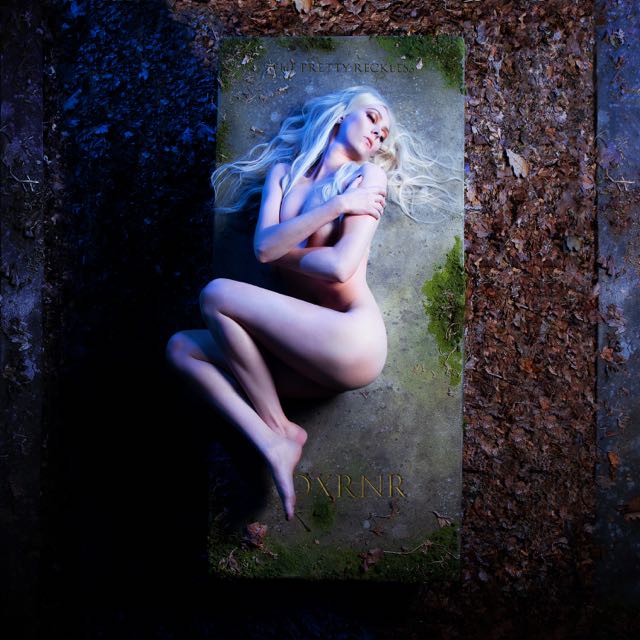 THE PRETTY RECKLESS-Death By Rock And Roll
Century Media Records
It took about five years for Taylor Momsen and her Pretty Reckless outfit, to release the successor to the 2016 released `Who You Selling For'. The first glimpse of what was about to come, was the title track ,,Death By Rock And Roll" that was already released as a single months before the actual album release date of February 12th. As a matter of fact, the band is teasing the fans already for months with new songs on all social media platforms.

The ones, who are already familiar with the band's previous work, know it is a band that cannot be fit easily into a style box. And that is exactly why I love this band! A combination of true heavy riffs, groovy licks, a touch of country and to seal the whole deal, there are Momsen's vocals, which sound super sweet at times and a moment later so drenched and raw that it feels like she just gulped down a load of whiskey. Her vocal approach is so recognizable that it has become the trademark of this band. It is the ingredient that merges all elements into a whole, so to say. And on this record she has absolutely delivered a top performance. Luckily for us, the band style is just as stubborn as we know them for. To put it succinctly, they have delivered another great product that contains all the top elements of this band.

Album opener ,,Death By Rock And Roll" was also the first single, and the groove and feel of this song is amazing. In some way this song may embrace the whole essence of the record; Groove driven rock riffs, with crunchy vocals, recognizable chorus and a great guitar solo. But The Pretty Reckless has more to offer.
The mesmerizing opening riffs of ,,Only Love Can Save Me Now" are just amazing. For this song The Reckless have teamed up with Soundgarden's Matt Cameron and Kim Thayil. Damn what a great song and as if that isn't enough, for ,,And So It Went" they joined forces with Rage Against The Machine and Audioslave guitarist Tom Morello. The next highlight of the record, that is heavy, dark and to top that feeling they added a children's choir to the chorus. Which, weird enough, makes the song even heavier. The opening of the second single ,,25" is so modest, that you know that this tension must lead to a wonderfully fat chorus. In fact, this song gives me a vibe that I think the song could have been used for a new 007 soundtrack. ,,My Bones" is yet another hard hitting heavy song, while ,,Got So High" has a touch of country/pop. Wasn't it for the vocals that had been poured over it.
The creepy intro ,,Broomsticks" that leads us to the mid tempo, stick to your brains song ,,Witches Burn" is perfect and absolutely adds to the listening experience.
The last songs on the album reveal the quieter side of The Pretty Reckless. A side fans already know of the band. ,,Standing At The Wall", ,,Turning Gold" & ,,Rock And Roll Heaven" are all slower songs in the spirit of earlier work like ,,House On A Hill" or ,,Under The Water". This is a side of The Reckless that I enjoy as much as the heavier side of them.
Album closer ,,Harley Darling" even reveals a country like vibe acoustic song. Maybe not for everyone, but I do like this, because it shows once again that this band cannot be captured in one check box.
The sound and production of this album is also top notch, so I can only conclude that the Pretty Reckless have delivered another great album. For me this one comes very close to their 2014 top effort ,,Going To Hell". When you are up for a band that can surprise you from song to song and still is recognizable for their own style, you absolutely have to check this record out. And for the fans, this is just a must add to your collection.