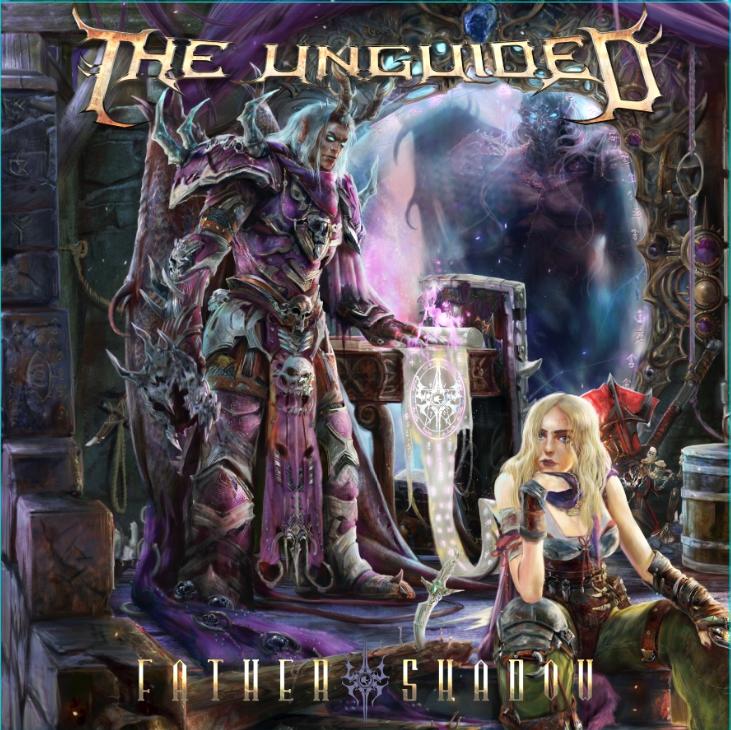 THE UNGUIDED-Father Shadow
Napalm Records
Since the release of their debut `Hell Frost' in 2011, the Swedish melodic death metal/metalcore formation The Unguided have been working very hard on crafting their sound, musical ideas, lyrics, performance and cool visual presentation and moulding it all together into a unique, exciting, dynamic experience for the listener. While facing a few bumps and hiccups along the way these Nordic guys always stick to their guns, supported by a loyal fan base and here we are today when the release of their fifth studio album `Father Shadow' is a fact. Original singer and solo guitarist Roland Johansson said goodbye for personal reasons after the third album `Lust And Loathing' [2016] and was replaced by the talented clean vocalist, lead guitarist Jonathan Thorpenberg, who already made a convincing entrance on the last album `And The Battle Royale' [2017].
`Father Shadow' features 10 new songs in which The Unguided shows a very confident, inspired, creative and focussed attitude. The overall impression is that this album has a harsher, grittier and more in your face sound and approach, but it still captures a deep connection with appealing melodic elements and electrifying electronic sounds that makes the hooks and choruses more sticky and it also encourage your body parts to move. What I like about The Unguided, besides the infectious energy and dynamics in the songs and the musical craftsmanship, is the constant Yin and Yang battle on the vocal department. So while Jonathan sings clean with an almost pop character and a light sound, Richard Sjunnesson screams and growls the lungs out of his six-pack, but always with some sort of a charming, melodic edge. These two make a great vocal team and their talent is an inseparable key to the successful sound of `Father Shadow'. But let's not forget the important input of Richard's brother Roger who handles rhythm guitar and keyboards fast, fierce and furious. His playing style is also of great support to the accelerating and luscious guitar solos of Jonathan. The rhythm section goes full force and is of great support at all times.

It is remarkable though that for the very first time The Unguided presents a beautiful and touching power ballad called ,,Where Love Comes To Die''. It is a brave move to begin with, but it also adds a meaningful dynamic to the entire album. The band also varies by adding a rock attitude in ,,Lance Of Longinus'' and ,,Never Yield'' for instance and they definitely serve a powerful anthem with ,,Fate's Hand''. Like many songs, also ,,Seth'' has quite a temper but shows mercy in the kind of sing-along chorus which is impossible to ignore. While listening to the album sometimes a dark vibe sneaks up, like in ,,Crown Prince Syndrome'' and I do not mind it at all. The final track, ,,Gaia'' features guest growler Erik Engstrand [Eyes Wide Open] and it is a pleasure to listen to.

Last but not least we are also treated with 3 bonus covers, the Sonic Syndicate classics ,,Jailbreak'', ,,Denied'' and ,,Jack Of Diamonds'', which are an immense important part of the roots of The Unguided and O Boy how great do these versions sound and fit like a glove on `Father Shadow'.
I guess by now you know what I am about to say…… I highly recommend this album to metal heads who are into harsh metal with a strong melodic appeal and are not bummed by a few synthetic sounds here and there.


#theunguided #napalmrecords #headbangerslifestyle #hbls #awayoflife