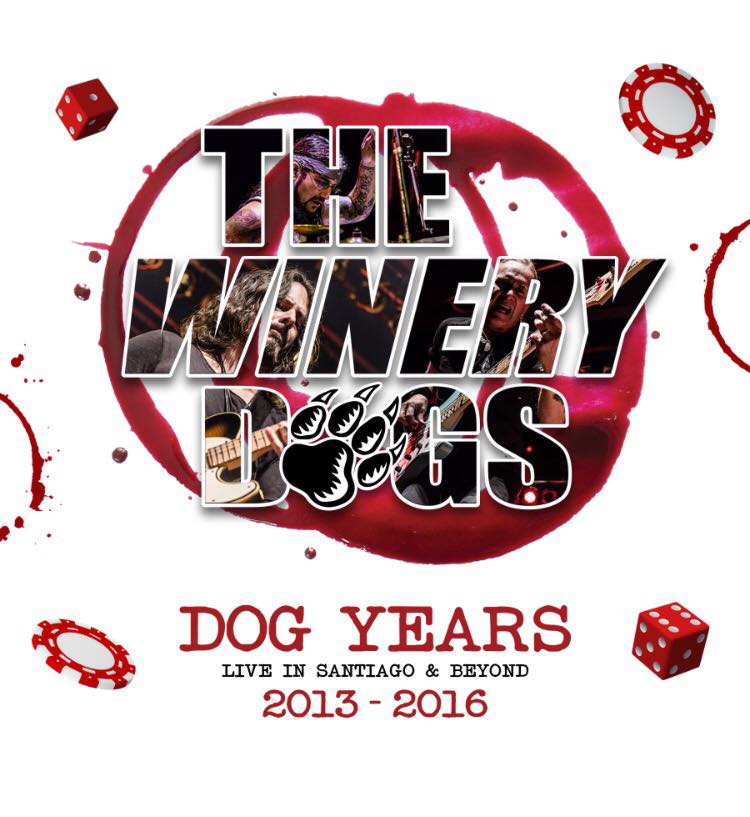 THE WINERY DOGS-Dog Years:
Live in Santiago & Beyond 2013-2016-Loud & Proud Records
The first two albums by the "new" super group The Winery Dogs, being Richie Kotzen (guitar, vocals), Billy Sheehan (bass guitar) and Mike Portnoy (drums), were truly amazing; songs filled with blues, soul and progressive nuances galore. Now you can enjoy a special five-disc edition of 'Dog Years: Live in Santiago & Beyond 2013-2016', which consists of a Blu-Ray disc, a DVD featuring the live concert material and the eight music videos, `The Dog Years EP' on CD and the two CDs of the live concert audio. What a great package it is, as you can watch and hear already notorious songs like ,,Oblivion", ,,I'm No Angel", ,,Elevate" or ,,Hot Streak". The live in Santiago set list contains 7 tracks from the debut album and 8 songs from the follow up CD 'Hot Streak'. Furthermore, for those who like bass and drum solos – I do not by the way – you can marvel with the Sheehan and Portnoy solo spots, which to me are utterly superfluous. I rather would have heard/seen tracks like ,,War Machine" or ,,The Lamb", excellent songs from 'Hot Streak' which are not being played, unfortunately… But of course, these three guys can play, we already knew that, but still you will be amazed at what these three guys can do on stage; just listen to great tracks like ,,The Other Side", ,,Empire", ,,Time Machine" or ,,Regret". Kotzen's voice is top notch, as he sometimes starts to sound like Sammy Hagar, Sheehan is the king of the bass guitar (only Geddy Lee is better…) and Portnoy is probably still the best rock drummer of this planet (Dream Theater eat your heart out!!). The 5 "new songs" being ,,Criminal" (bluesy with a catchy refrain and a nice wah wah guitar solo), ,,The Game", ,,Solid Ground" (acoustic based, was added as a bonus track on the Japanese version of 'Hot Streak') and two covers are again prove they these three guys rock like hell. The two covers are: ,,Love Is Alive", which originally was recorded by Gary Wright for the 'Dream Weaver' album and ,,Moonage Daydream", a David Bowie cover from the Ziggy Stardust album. 'Dog Years' is one of the best live albums of this year, so do not miss it!!