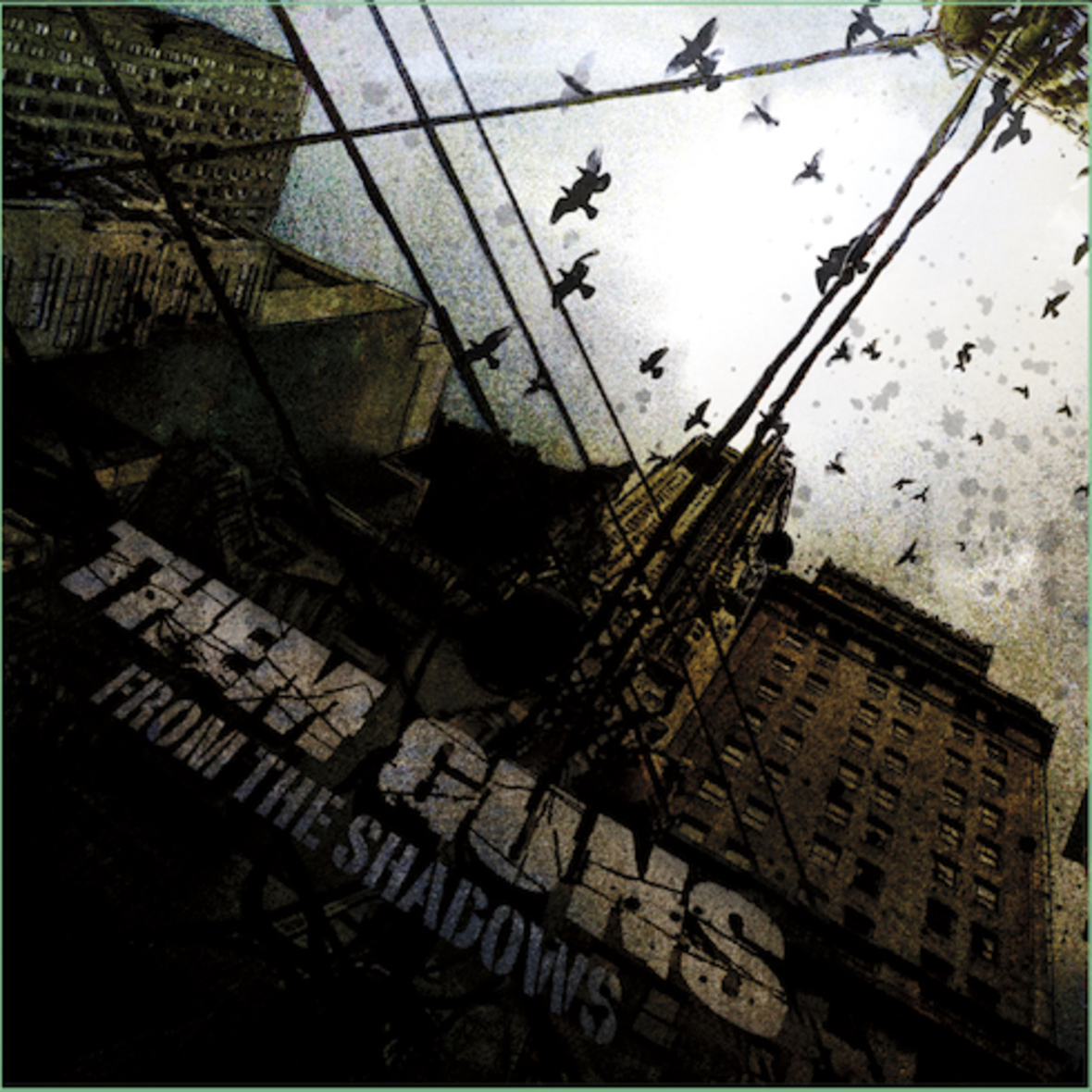 THEM GUNS-From The Shadows
The Label Group/Ingrooves
Them Guns caused a small stir with their recent video ,,Fireworks", gathering an extensive amount of plays. The Santa Cruz quartet visualizes in extremes with their music adding to the outline to present the imagery. Interestingly, the band's principal songwriter is none other than Priscilla Presley's son Navarone Garibaldi, who founded the band together with his long time friend Kyle Hamood. With Lorenzo Perez (drums) and Chuck Holiday (bass) rounding out the line up, the band quickly gathered interest in the LA scene.

`From The Shadows' is an interesting introduction to the band's extraordinary sonic mindset. Them Guns maintain their "Fireworks" thrive and draw from a wide spectrum of rock music. With industrial influences from the Marilyn Manson heydays, to the raw groove of Limp Bizkit, drenched in an appetizing poppy setting. A large chop of the music however also consists of 80s melodramatic new wave with slight gothic tinging. The Mission comes to mind while drum rhythms more than once revive Mullen's marching beats of U2 and the rousing melodies genre mates The Alarm.
Now do not let this scare you away. Them Guns inflicts the sonic cocktail with enough rock and riffs to keep everyone focused and on edge. ,,Everybody Bleeds" and ,,Fireworks" ignite the spark of rock's finest pop influenced tracks, as where the band moves sideways with the marching beat of ,,Close Your Eyes" and the dark and taunting synth pumped ,,Devil's Eye" and poppy melancholic ,,Horoscope". ,,The Right Way To Do Wrong" is loaded with melancholy and is an impressive crafted track. Modern and clean guitars pull forward the light footed ,,Heard It All Before", with swirling keys, echoing an art rock atmosphere. ,,Muffins" pushes forward with hard throbbing bass and luster of keys and classic goth vibe, much like the closing ,,The Rise", with its industrial and wave synth keys drilling your nerves. The song however also has an intriguing vocal and guitar interaction, and has 'vocoder' written all over it, holding it together. Tilting to pop with a progressive fusion outline, while it also breathes genuine 80s praise.
Less appealing to hard rockers will be the keyboard loaded ,,Hand Me Your Heart", the Ultravox reminiscent ,,Lost Boys", and the bass driven UK pop song ,,Sidewinder". It's the little vocal (vocoder) squeaks and tweaks adding up to the synth pop feeling of days long gone, as is the melancholic voice of Navarone.

I'm well aware of the fact that this band won't appeal to the heaviest of rockers, but it is well worth a listen. Them Guns manage to kick up some dust with their alluring rock tracks. The band fuses a lot of styles into an interesting cocktail which musically leans over to pop to often, but still manages to keep you on edge as there is too much going on.
Them Guns is likely to set clubs afire.


#themguns #headbangerslifestyle #hbls