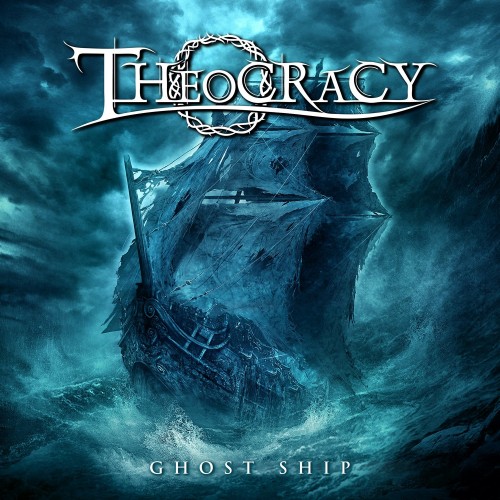 THEOCRACY-Ghost Ship
Ulterium Records
Theocracy report back with their brand new CD `Ghost Ship', most likely their most anticipated album to date. All key ingredients of the band's theatrical and powerful melodic metal are featured along a powerful production that erupts from your speakers with the opening ,,Paper Tiger''. Towering keyboards glue together the jaw dropping progressive tinged Teutonic outburst of guitars and high pace drumming. The song shoots to epical proportions when arpeggios and high pitched solos fly all over the sonic palette and drums shift back and forth in progressive pace. The dynamics of the opening track are easily matched by the following title track, one of the bands best tunes ever. The song climaxes in immeasurable drama at cinematic proportions. The slick sing-along chorus served onto us with fierce riffs and neoclassical fret board exercises is tacky but it suits the climaxing drama of the song perfectly. In the midst of all this upscaling perfection it is the polyrhythmic drum patterns that make it all more intense and spectacular, exactly what makes Theocracy stand out amongst their genre mates. Where most don't manage to keep you focused on the extravagance in their solid pasted walls of sound, Theocracy manage to maintain the listeners focus.
The pace is maintained throughout the album delivering tons of intensity and sublime moments. Every song is as intensely well crafted, oozing musical craftsmanship. Breaks are perfectly timed and the choruses are extremely melodic, executed with the utmost precision. The fine line between power metal and melodic rock is explored over and over again without crossing it. Musical boundaries are slightly stretched and the benchmark for the genre is renewed. Over all this melodic mayhem it is Matt Smith himself who shines brightly. Smith is the focal point amongst all this melodic high paced mayhem with his wide range cementing it melodically. Vocally he eases the high velocity of the bands metallic escapades rather than pitching it up further. His abilities to smoothen up the galloping pace and spitting fiery riffs is best experienced in the highly melodic ,,Around The World And Back'' and the subtle metal track ,,Currency In a Bankrupt World'' also hind sighting the bands approach on current issues affecting our modern day society. Lyrically Theocracy also stands out, discarding the fairy-tale dominance of most bands in this genre. `Ghost Ship' is closed with the band's ultimate epical tune ,,Easter'' which displays the excellence of their musical craftsmanship. Slowly working towards an intense climax in a ten-minute epic that grips like a movie with dramatic twists and plot changes. Classical arrangements and haunting riffs propelling it with Smith again displaying his fine feeling for drama. Vocally he opens all registers belting the impossible, ending the album like a gloryful exclamation point.
`Ghost Ship' is one of the best and most entertaining albums of this year and perhaps one of the very best ever to emerged in the theatrical epic metal genre. Crossing over from epic power metal to melodic rock it 's an album easily attracting a lot of fans from different genres, ranging wider than I depict in this review. It's one to explore and relive over and over again.