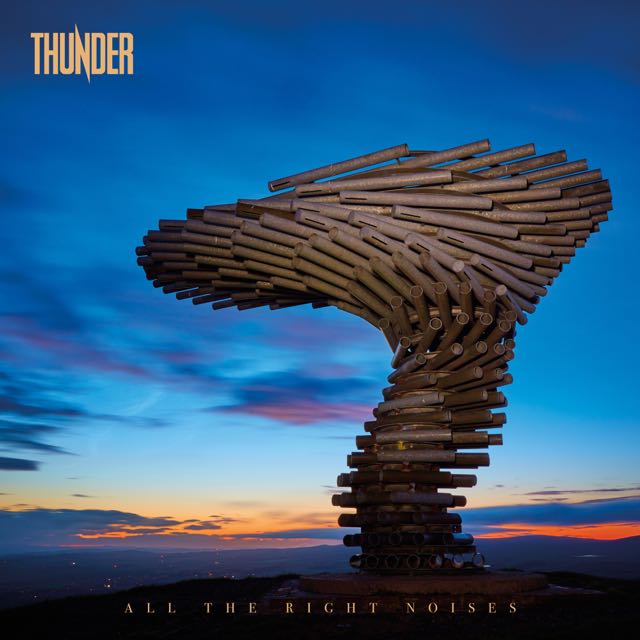 THUNDER-All The Right Noises
BMG
Once Thunder fan, always a Thunder fan, right? I have been to many Thunder gigs and I always loved their shows. Furthermore, I reviewed a couple of their amazing albums and I interviewed Luke, Danny and Gary several times, so maybe my upcoming review is not 100% objective; but who cares, right?
The small sticker on the CD cover of Thunder's new album 'All The Right Noises' says: "Turn It Up And Rock Out", and that is exactly what you should do to fully enjoy this marvellous album. Seeing the fact that two of their last albums ('Wonder Days' (2015) and 'Rip It Up' (2017)), belong to my favourite Thunder releases, I was really looking forward to their 2021 release. 'All The Right Noises', Thunder's 13th studio album, contains 11 brand new tracks, all composed by guitar picker Luke Morley. The album kicks off with ,,Last One Out Turn Off The Lights"; a classic rocker in the true Thunder tradition, meaning: catchy chorus, great guitar solo, fantastic riff, and an awesome live staple for the band in the future for sure! Follow up ,,Destruction" is the heaviest song of the album; featuring a sleazy guitar solo by Luke and Danny singing at his very best; love it man. Then the tempo and the ,,heaviness" declines with the semi-acoustic rock song ,,The Smoking Gun", a track that sometimes reminds me – do not ask me why, by the way – of Bon Jovi's ,,Wanted Dead Or Alive"… ,,Going To Sin City" is the 1st single of the album, being again a classic hard rock Thunder song, which suits almost perfectly as a single. ,,Do Not Forget To Live Before You Die" (great title, guys!) stands out due to the catchy guitar riff and the more than excellent guitar solo. This one will become a singalong Thunder anthem without any doubt. Need I say more?? Should I go on? I do not think so, as this Thunder album is a must have for the fans and for all those who love classic hard rock!!

Buy or die as 'All The Right Noises' will turn out to be one of the best rock albums of the year 2021!!