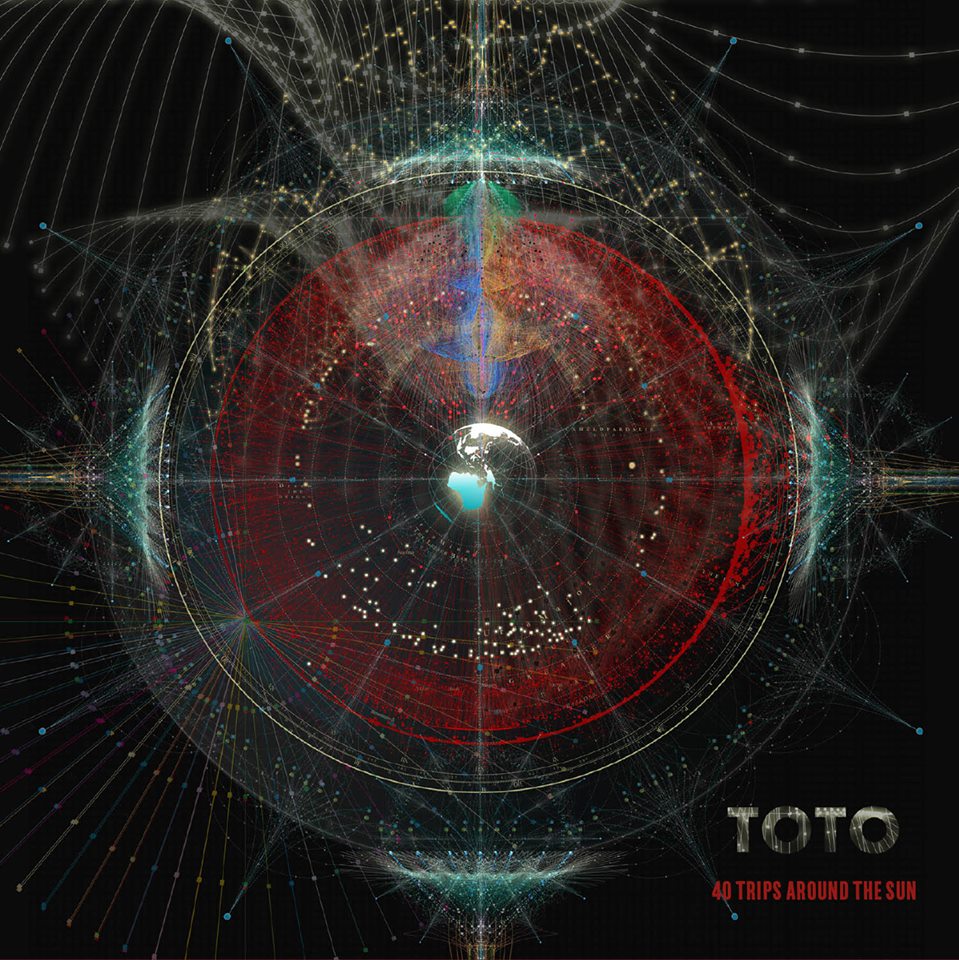 TOTO-40 Trips Around The Sun
Legacy Recordings
Is this "best of" TOTO record number 100?
Well, yes and No….
Aside the classic tracks from one of melodic rock's finest bands celebrating their 40th anniversary, `40 Trips Around The Sun' is a little more than that. Three new songs recorded by the hailed line up consisting of founding members and main songwriters David Paich and Steve Lukather, and rejoined vocalist Joseph Williams, make this album more than worthwhile.

It is rather easy to enthuse long time fans and please them with a brand new record like 2015's `Toto XIV', is appeared a lot more difficult to draw the attention of those attracted by your hits only. With that in mind Toto must have decided to attract the lingering rock lovers with a best of and make them aware of the band that never left nor disbanded. Thus `40 Trips Around The Sun' is not only a sign of life to those who might have forgotten about their existence, it is also an interesting record for fans and lovers of ultra HD melodic rock with AOR and pop injections.
Needless to say the quality at hand is beyond imaginable. Toto has never disappointed the masses, and no matter in which line up they toured or recorded, the band always managed to create sheer magical moments. Memorable tracks by the dozen, hits and successes without limitations.
Toto is Toto. Lukather's majestic guitar playing and stellar soloing still stand out after 4 decades. Paich's swirling keys and genius and intricate melodies are recognizable as always. The two bonded musically and with Joseph in their ranks they've proven to be on top of their game still. Toto leaves no room for error, and the first batch of greatest hits is preceded by two of the new songs. The crisp and vital ,,Alone" is upbeat and powerful and crafted around a remarkable riff that pulls the song forward. ,,Alone" was written by 4 core Toto members Steve Porcaro, Joseph Williams and Lukather & Paich. Williams' voice hits the highs and lows and packs enough enthusiasm to light the spark. It's typical Toto as is the following new tune. ,,Spanish Sea" proves the outstanding quality of the threesome as a hitmachine. Though Williams wasn't present on the bands Grammy winning and acclaimed ,,Toto IV", the song clearly links to the grandeur of that classic, especially links to ,,Africa" with its vibe and beat. Without disregarding the band's impressive catalogue, number 4 was and still is one of music's finest records to date and I'm psyched to hear a song of this grandeur. ,,Spanish Sea", originally written during the `Isolation' sessions, oozes the comfort of their heydays and Williams' crisp and clean voice is as impeccable as Luke's bewitching guitar playing. Pitch perfect and slick, packing enough power to be gripping and inspiring. The jazzy undertone Paich brings to the plate is captivating and makes it trademark Toto. Jazz rocker ,,I'll Supply The Love", the wonderful and slick ,,I'll Be Over You" & ,,99", and ,,Stranger In Town" open towards newbie number 3; ,,Struck By Lightning". The song is crafted around one of Lukather's most fierce riffs in years. It harks forward powerfully and the progressive breaks add up to the title. Guitars and keyboards synced to towering heights and Joseph Williams displays his pristine power. The track bridges the gap between `Fahrenheit' and the last album, which leaned more on progressive elements. The solo Steve lays down is of overwhelming magnitude and pitch perfect, the chants add more fuel to the melodic raging fire. From then on things return back to 'normal' and we get to enjoy a slice of the band's numerous classics and deeper tracks like ,,Pamela", the live classic ,,Georgy Porgy", ,,Hold The Line" and many more. All finger licking beautiful, no need to refrain about what has been written in the past.
But yes, let's put one critical note in this review: Why didn't David Paich and Steve Lukather decide to rerecord all the classics also, with Joseph at the helm? The overall balance of the album would have benefitted and it would have been interesting to hear those classics remoulded and injected with the modern techniques and sound. Remastering the classics polishes but doesn't punch them up. A missed opportunity perhaps.
Still, `40 Trips Around The Sun' is an ultimate greatest hits album and features 3 tunes that display Toto's finesse. The songwriting machine embarks onto a world tour once again to celebrate their 40th anniversary, backed by this greatest hits album. I'm looking forward to that.