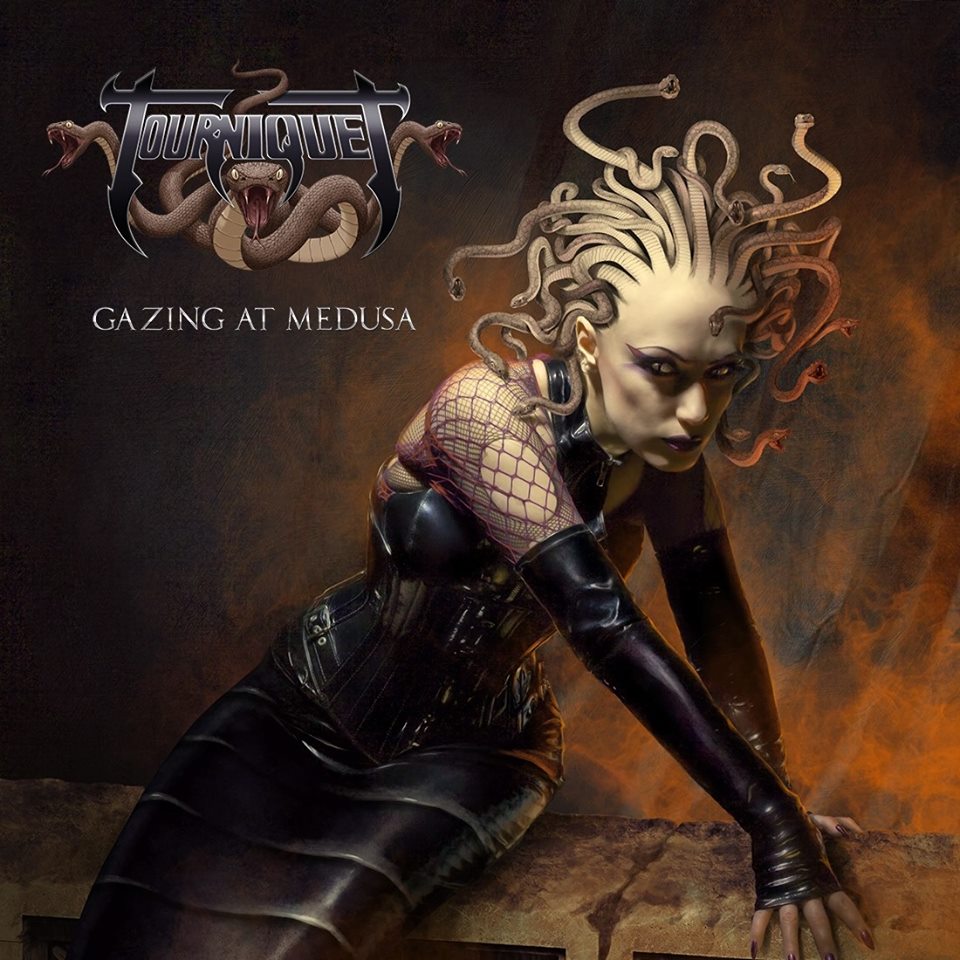 TOURNIQUET-Gazing at Medusa
Pathogenic Records
`Gazing at Medusa' is the tenth consecutive album by Tourniquet, and what an album this is. With only founding father Ted Kirkpatrick present alongside long time member Aaron Guerra, the band has morphed into one of the most compelling line-ups ever. With none other than Tim 'Ripper' Owens at the helm, the band reinforced its steel to storm to the front once again. Aside Owens, the band is nowadays blessed with the talents of Chris Poland [Megadeth, Damn The Machine] on guitars, and Deen Castonovo [Bad English, Ozzy, GZR]. The result is phenomenal and spectacular.

Tourniquet's loud blend of heavy metal and techno thrash has flourished into a modern loud potion with progressive elements and layered structures appealing to a wide audience. On top, Kirkpatrick twisted the knobs and realized a power-packing wall of sound, crisp and razor sharp, with tremendous power, doing justice to the talents at hand. The atmosphere is not specifically dense, but intensely gripping, adding up to the melodic lustre of the 9 well crafted tracks. With ,,Sinister Scherzo" unleashing it's 80s trademark heavy riffs and tempo changes, the better of the best come to mind. The tempo is intense and Owens feels right at home. There's a lot going on as the song progresses with progressive hooks, while both guitar players release lush riffs and sharp bedazzling solos. Midway the song reveals Poland's past as the song twists and turns in Damn The Machine fashion. The solo is high pitched and the drums shoot back and forth in pace, to gain momentum for a blissful ending. At times it feels as if Testament's ,,The New Order" was dropped in between a young Dream Theater line up, inflicting it's progressive and melodic geniality into the powerful Bay Area thrash. ,,Longing for Gondwanaland" thunders from your speakers with Owens chanting impressive vocal lines, pitching up in Halford-ish fashion [without the leather and studs]. Compelling and harsh the song spits rampage. Underneath the power and drive of drum and bass is as impressive as the on-going guitar interaction that is flawless and inspired. It's this interaction that is perhaps the most compelling ingredient of the album. The band clearly found each other in challenging their musical craftsmanship, rising to inspiring high ground. Between al the fire breathing fury the band lowers the pace in ,,Memento Mori" and ,,Can't Make Me Hate You" with its spell casting and hypnotizing grounded riffs and doom drum pace. Even more impressive is ,,The Peaceful Beauty of Brutal Justice" with it's melancholic opening that suddenly implodes releasing it's fury held within. Old school thrash is delivered with ,,All Good Things Died Here" and the crushing melodic and double kicked ,,One Foot in Forever". More heavy metal rooted with impressive progressive hooks is ,,The Crushing Weight of Eternity" exploding with harsh anger laden rants from Guerra. The title track bursts with impressive riffs and challenging drum fills over Bay Area signature double bass. It's a swansong, impressive and driven. The vocal variety of old school trash rants and grunts keenly diversified from 'Ripper' Owens' heavy metal pitches and melodic lines, creates and intensifies the band's thriving sound. And do check out the dying notes of the song with its impressive tempo slots and riff interaction.

Tourniquet's `Gazing at Medusa' is more than likely their best album to date. It unifies their classic techno thrash sound with an intense and driven heavy metal melodies. The all-star line up enhances and outlines the perfection with intensely driven performances. Challenging one another is perhaps the key in this inspiring new chapter as we hear Guerra and Poland both given more than their best, with Kirkpatrick controlling the atmosphere and pace. Jason Juta [DeviantArt] drawn up one brilliant piece of art [Medusa] to cover one of the best albums of 2018, adding to the grim and impressive atmosphere.
Fans of classic Bay Area thrash, intense heavy metal and progressive metal may not leave this album untouched.