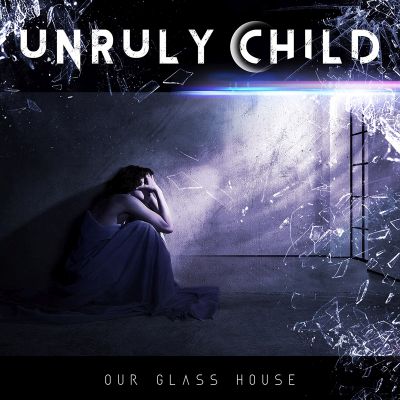 UNRULY CHILD-Our Glass House
Frontiers Music srl
When Unruly Child released 'Unhinged Live In Milan' some time ago I was very surprised to find that the songs on that live-registration CD/DVD were coming of that beautiful 1992 debut album. A request from the record company it seemed but strange as the band at that moment just had released their studio effort 'Can't Go Home' for Frontiers. You would like to treat the audience at least on a few new songs?
The story continues with 'Our Glass House' as core members Guy Allison (keyboards), Marcie Michelle Free (vocals) and Bruce Gowdy (guitar/keyboards) have re-recorded two songs of that debut album. ,,To Be Your Everything'' and ,,Let's Talk About Love'' are stripped down and recorded semi-acoustic and in a more orchestral manner. Quite interesting to hear actually as both songs are absolutely top notch. These tracks close off the album. But it is more interesting to hear the first ten new songs on 'Our Glass House'. Unruly Child hired famous fretless bass monster Tony Franklin (Blue Murder) to perform bass duties and their original drummer Jay Schellen (ex-World Trade, ex-Sircle Of Silence) has been helping out his old friends by reuniting once again with Unruly Child.
Not sure if it is because of the input of Franklin and Schellen but Unruly Child sounds re-energized and at times quite heavy as well. Opener ,,Poison Ivy'' is a typical Unruly Child song with a beautiful melody line and Free singing her heart out. The next track ,,Say What You Want'' is an up-tempo heavy rocker with pace, driving forward on a big riff and Free in a much more aggressive singing mode. Gorgeous track! A few more songs like that follow later on with the very intriguing track ,,Underwater'' as prime example.
I think the mix between these more upbeat songs and the stylish approach on tracks like ,,Glass House'' really suit the band and makes this album actually pretty damn good and full of variation. On ,,Freedom Is A Fight'' Gowdy just plays this super nice acoustic intro before the song starts rocking. There are some duels between the keys of Allison and the guitar of Gowdy (,,The Wooden Monster'' again a hard rocking song) and Free still has got that prolific and oh so superb voice. Add to that some super cool arrangements plus the two remakes of some of their finest compositions ever and it turns out that 'Our Glass House' has become a belter of an album, one that I did not think the band would ever be able to make again.
These veterans have fooled me completely by delivering a real tour de force. Don't you be fooled and get acquainted!