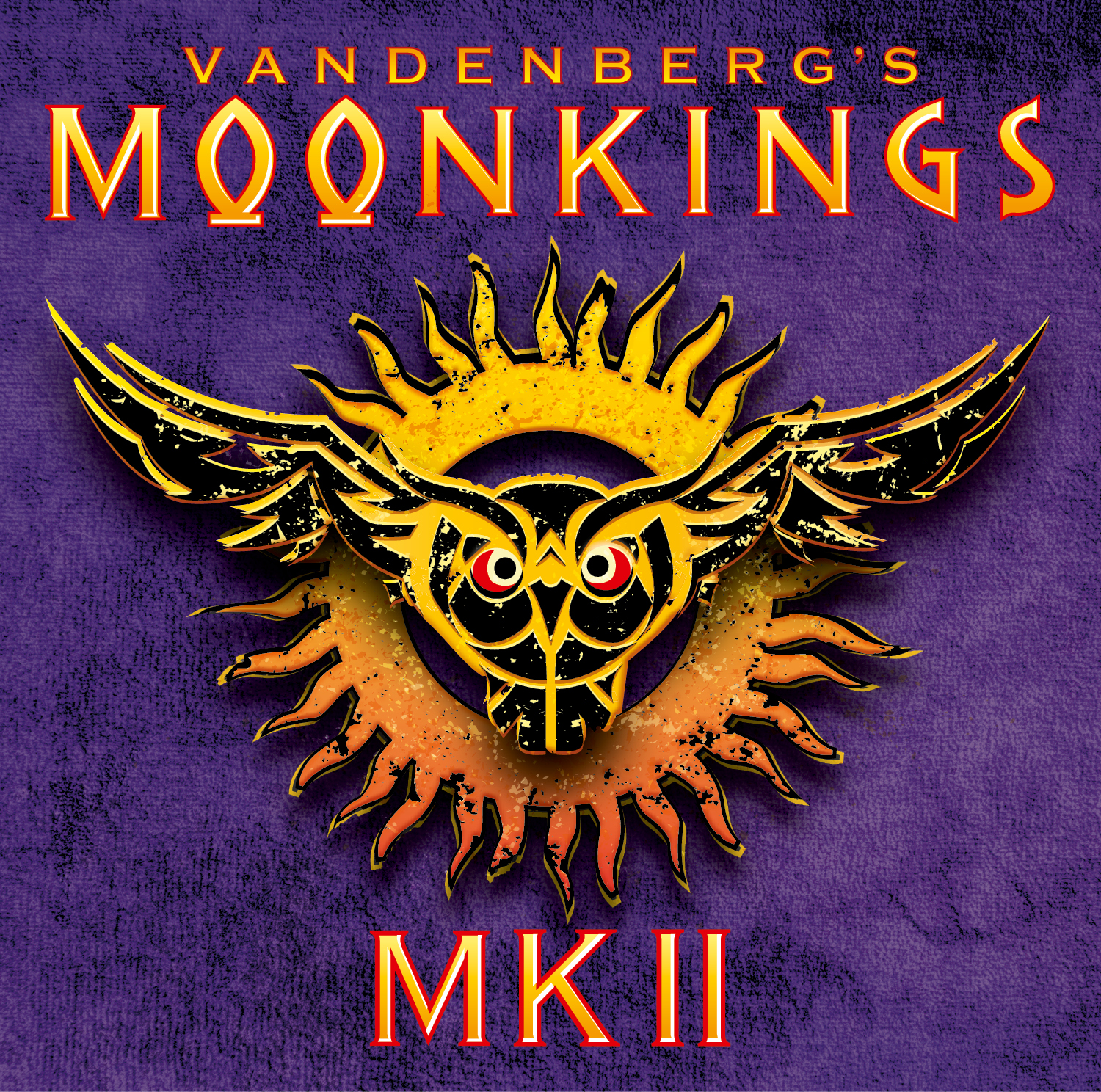 VANDENBERG'S MOONKINGS-MKII
Provogue Records/Mascot
"Keep your finger on the trigger… your eyes on the target!"

Adrian Vandenberg called to arms again 4 years ago with his ravishing Moonkings and ditto debut I welcomed with easily overthrown prejudice upon release. The album walked the fine line between Vandenberg's impressive past successfully fusing his Whitesnake heydays of bluesy glam rock with extraordinary shreds pawed in blues rocks widest varied past. `MK II' is the follow up to the ravishing delight presented on the debut and it is not suffering from second-album-syndrome. Adrian and his Moonkings pick up where they left off 4 years ago with a blistering collection of bluesy rock swagger.

An old school nasty guitar workout that revs into a full-blown blues rocker with a killer chorus with Vandenberg shining brightly on instrumental bridge. ,,Tightrope'' ignites the spark of the debut on the spot and the song oozes a comfortable, yet driven reminiscence to 70's classics etched deeply in the grooves of these reoccurring vinyl days. Elements from the past enthuse music enthusiasts worldwide longing back to the tiny scratches etched in vinyl while enjoying classic rock and ingredients and experiments from music's elusive past.  Moonkings nods back to the past while staying grounded in the present as proven by the downright balsy rocker ,,Reputation''. The calamitous bass riff laid down by Sem Christoffel is punishing and ravishing, holding up the framework for some of Vandenberg's blunt riff-shreds and impressive short solo. His fingers flying over the fretboard fluently, picking some finger licking gorgeous notes before taking a steep dive into the nasty groove of his A-game riff again.

Occasionally Vandenberg is hearkening back in the Whitesnake era with traces of Coverdale's grandeur delivered by the blues rock moans and screams of Hoving, draped around the blunt blues grooves laid down by the master. The wonderful ,,Angel In Black'' is a perfect example. One of the highlights of the album is the blues oozing ,,The Fire'' with it's moaning intro, bursting into foot-stomping rocker with Zeppelin appeal and Cream magic. Infectious riffs, crunchy and loud, lining up perfectly with the slow churning menace, delivered by the impressive rhythm section. Jan Hoving's thick and resonant powerful voice has the exact level of roughness and swagger for Moonkings' heavy guitar-and-bass approach to blues-rock. Towards the end ,,The Fire'' is lit with rowdy bursts of blues aggression and an overall funky menace.

The toning of ,,Walk Away'' is reminiscent to ,,Breathing'' from the debut. The song is another pristine rock ballad with radio friendly appeal but packing enough gut feeling to radiate sincerity. Keenly added string arrangements perfectly matching the mood and power up the tune midsection after another fuzzy and comfy solo from Adje.  ,,All Or Nothing'' fuses together the guitar-bass again, unloading a deeply guitar-driven blues attack; raw, wild and wooly, but packing severe power. Strings return for the opening of another gem; ,,What Doesn't Kill You", is another mid tempo rocker with clever combination of hit-savvy chorus and authentic blues resignation. Lyrically it is an uplifting tune that rolls onwards in sheer melodic delight, easily matching the larger than life arrangements of the best Whitesnake tunes at hand, even though it is not fair to treat it as such.
,,What Doesn't Kill You'' simply packs too much unique ingredients of Vandenberg's skills as a songwriter and musician. It's his high quality of composing and musical vision transferred onto this blues rooted vehicle taking this record forward with such panache like on ,,Ready For The Taking''. The song explodes into a bone crushing fist-pumping hymn with killer guitar solo and blistering drum execution, much like the rocking delight presented on ,,Hard Way''.
,,New Day'' maintains the tempo with its persistent drum rolls and Mart's scorching usage of crash cymbals. Throughout the song the maestro himself added some interesting guitar loops and effects, and his (sweep) picking is adding to the uplifting tenure of the song. ,,Love Runs Out'' is a more melodic rocker with ear mingling melody and nesting hook, and ,,You Can't Handle The Heat" is another super-sonic hard rocker with tremendous blues tendencies and excruciating power chords and hooks. Mid section the song packs power with screaming solo over bedazzling bass chords. Embedded Led Zep vibes reign from all over the Page catalogue of riffs and licks, but it comes across as a true at heart debut paying homage to classic blues bands in general rather than to Jimmy Page alone. The song concludes an excellent album that rolls forward with tremendous perseverance and drive, all perfectly captured in a heavy-as-shit production, raw and dirty.

Adrian and his troop have sculpted a collection of songs containing a pumping loud foundation, and sturdy melodies dressed in the handsomest threads of the blues rocking 80's. The Moonkinky band, as Adrian likes to refer to his troop, and especially drummer Mart Nijen Es roar like a rampage of Behemoths on `MK II'. The album picks up the trademark ingredients of Vandenberg's masterful skills as a songwriter, but the band in the meanwhile evolved into a high power-rocking machine.
Blues boogies proceeding at a rapid clip, but it is the steadiness of groove that makes the quartet seem heavier. The deliberate wallop from the extravagant rhythm section as rock solid foundation building the carcass of songs with a loud rock 'n roll war troop delivering and firing on all engines. `MK II' is an staggering album, not redefining the genre but certainly putting a new face and name on the lost grooves from times past.