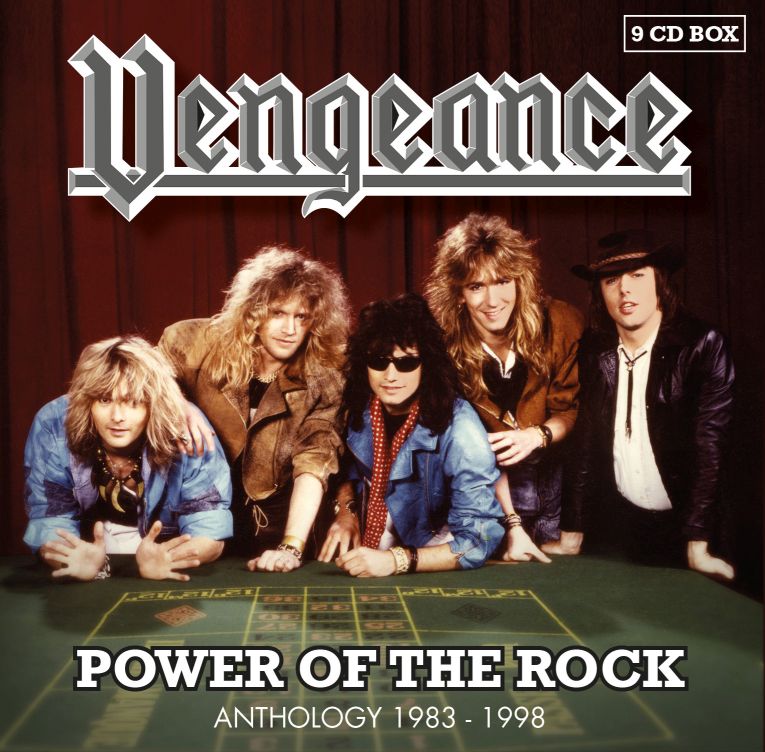 VENGEANCE-Power Of The Rock-Anthology 1983-1998-9CD-BOX
Pseudonym Records/Centertainment
Well, does Pseudonym Records have something to offer for you here? I think they do, because there never was a band shirt more sold in the Netherlands then the one with: "Do You Hate Hard Rock? Guess You Never Saw Vengeance". In the early eighties we had some fine Dutch Metal bands like Bodine, Martyr, Picture, Vandenberg, Highway Chile, Helloïse and Pete Young and the Dutch Flag, although the last one only released two singles. And we, yes we, had Vengeance! This box is what you might call The Ultimate Vengeance! which is also the title of the 2CD compilation that coincides with the box release and features classics and rarities HQ remastered from the original masters and featuring band members John Snels, Oscar Holleman (producer of Within Temptation, After Forever, Krezip, Kovacs), Jan Bijlsma (The Last Element), Jan Somers, Ian Parry (Hammerhead, Elegy), Peer Verschuren (Lana Lane), Arjen Lucassen (Bodine, Ayreon) and power vocalist Leon Goewie!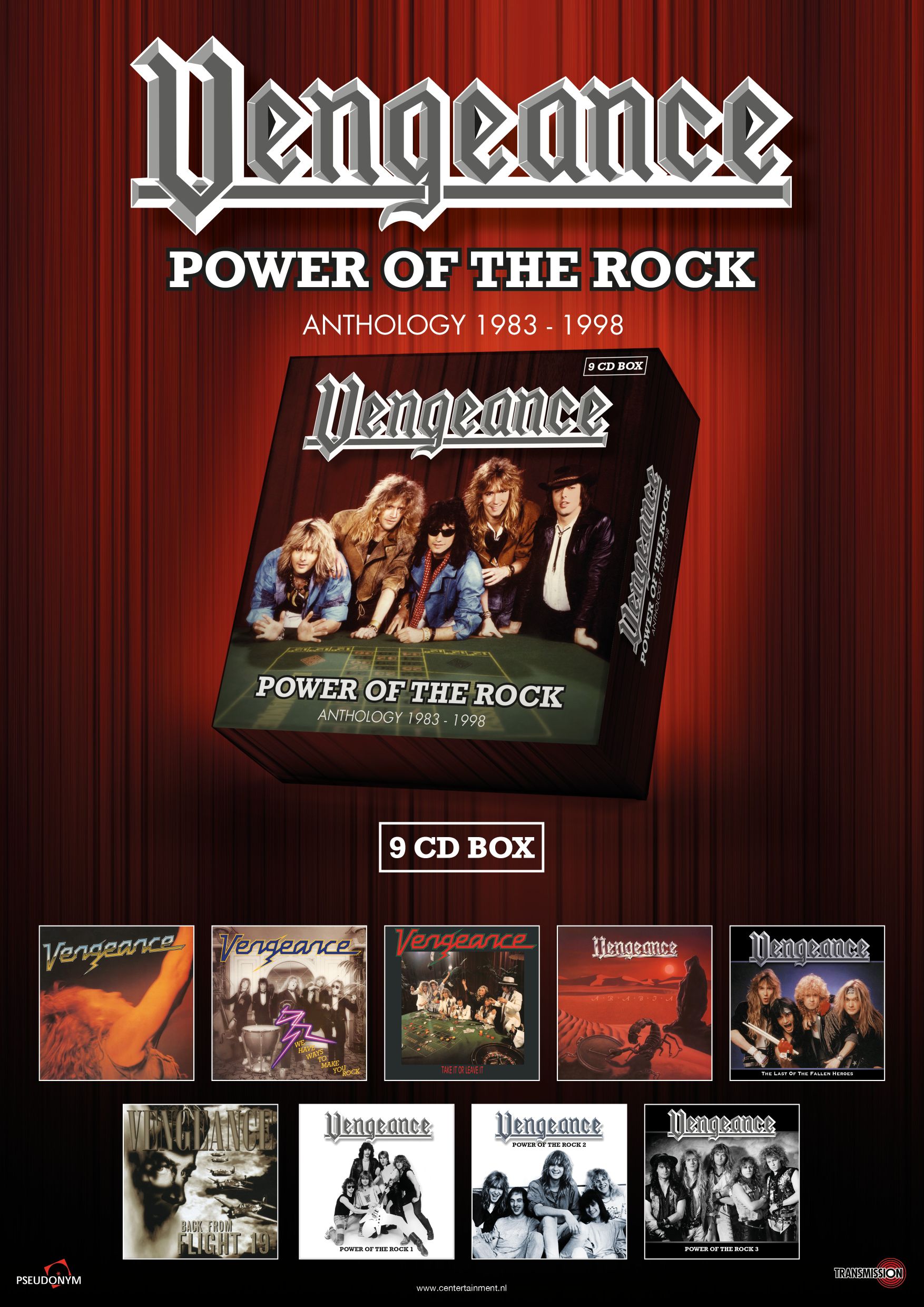 The box I have before me is filled with no less than nine (9!) discs from the period 1983 till 1998 and contains 510 minutes of divine rock metal music. The band still exists but their latest albums are not really worth mentioning if you compare them to this boxset. What we got here are the finest, greatest, breath taking albums from one of the greatest hard-rock bands in the Netherlands… period. The first three discs are the well-known debut 'Vengeance', their breakthrough album in Holland and abroad, 'We Have Ways To Make You Rock' and the album 'Take It Or Leave It', which reached an even bigger audience because the song ,,Rock 'N Roll Shower" was the intro of a popular Dutch radio metal program Vara's Vuurwerk with DJ Henk Westbroek. All this was followed by 'Arabia', on which a more progressive side of Vengeance was revealed. But when John Snels and Leon Goewie left for different reasons the end was near for the band.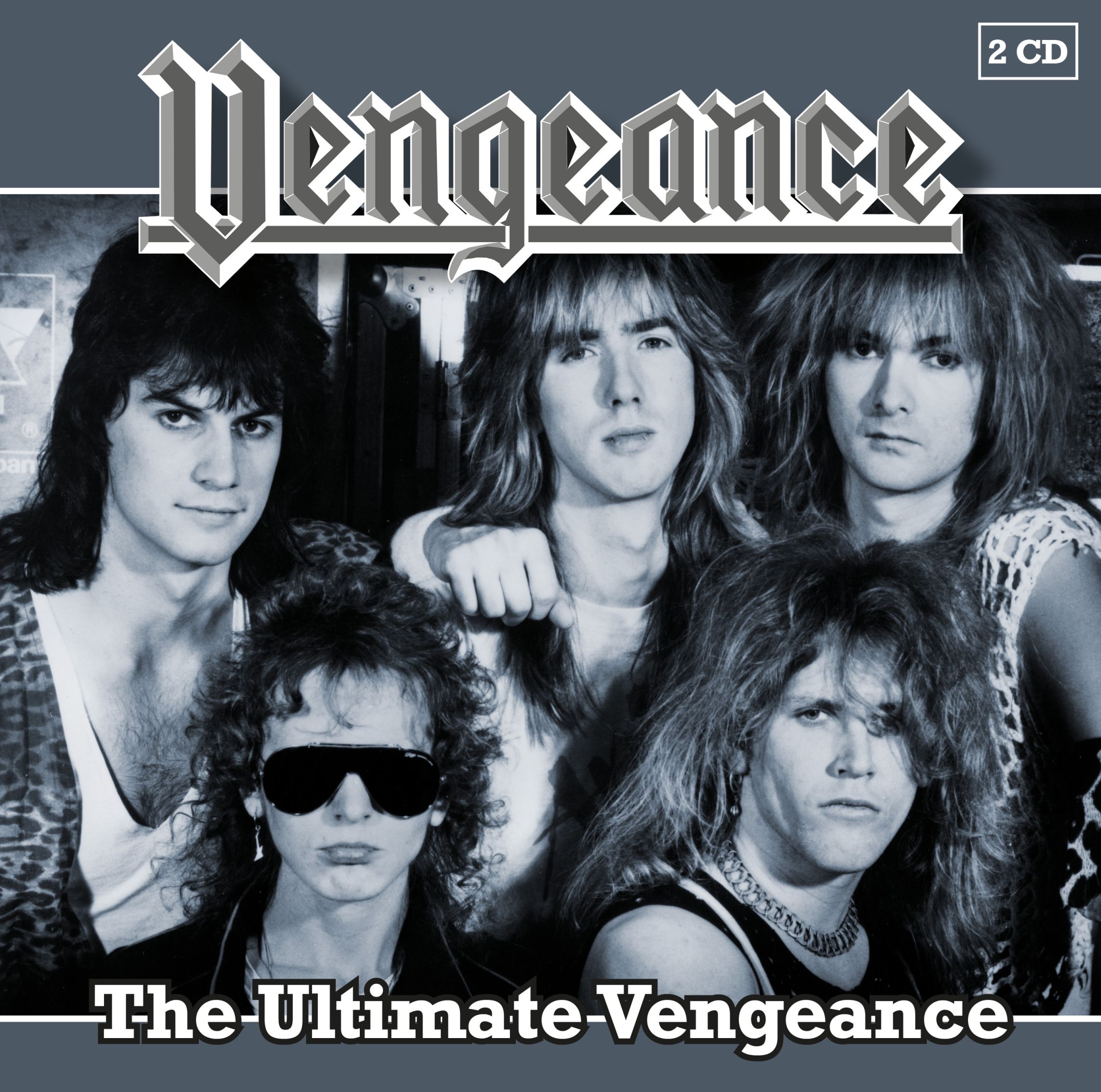 They couldn't find a record deal in the Netherlands but with Ian Parry on vocals and Ernst van Ee on drums 'The Last Of The Fallen Heroes' was recorded but only saw a release in Japan. The last studio album, disc 6, in this box was their come-back album 'Back From Flight 19' (with Leon back on vocals). The other three discs are titled 'Power Of The Rock 1', '2' and '3' and are packed with demo's, live recordings and other rare, never before released, material. When I listen to this music my childhood comes back alive. On a bicycle to concerts nearby or a nice daddy bringing us to the gig and picking us up after it. The first beers, the first girls and the first guitar riffs. And we are talking about some serious riffs. We can't ignore songs like ,,On The Run", ,,She's The Woman", ,,Dreamworld", ,,Take It Or Leave It", ,,Rock 'n Roll Shower" and ,,Take Me To The Limit" for example. And what do you think about one of their finest songs in my opinion ,,Death Ride To Glory". This one was never released on an album but the studio version is from the single ,,You Took Me By Surprise" and the live version is taken from the single ,,Only The Wind". There is so much to enjoy and (re)discover in this boxset that I strongly advise you to go get it while you can and enjoy the past of Vengeance because you will never know what the future will bring us. I did have tickets for their comeback show this year. Unfortunately it didn't go through. Rest me to sum up what you might expect inside. This box consist exclusively restored dynamic HQ 24 bit remastering from the original masters at FineTune.nl, 121 tracks including unreleased versions/tracks on 9 CDs in a wallet and extended booklet of 44 pages – original album artwork – rare memorabilia, photo's and info included. It has a fucking great sound!!! Play It Loud !!!


#vengeance #dutch #metal #headbangerslifestyle #hbls #awayoflife