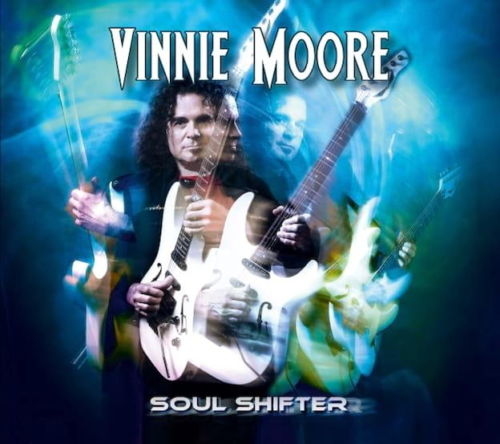 VINNIE MOORE-Soul Shifter
Mind's Eye Music
I still cherish Vinnie Moore's debut album 'Mind's Eye' (1986) – by the way I have got the vinyl version – as it still is one of my favourite instrumental guitar albums ever. Vinnie's guitar playing is unique, very recognizable and his tone, his sequence and his melodic precision are all part of his amazing technique and guitar trademark. I still feel that Vinnie Moore is highly underrated and I hope that this will change with this new spectacular guitar album.
'Soul Shifter' contains ten brand new compositions of which ,,Same Sun Shines", ,,Mystified", ,,Brother Carlos", ,,Gainsville Station" and ,,Across The Ages" are the absolute gems! ,,Same Sun Shines" is extremely melodic with breathtaking goose bumps guitar melodies while ,,Mystified" is a highly romantic guitar ballad with very high arpeggios; by the way, this one is also a tribute to the deceased singer/guitarist of Soundgarden, Chris Cornell. Another tribute song is called ,,Brother Carlos" and that one is of course "dedicated" to Carlos Santana and the song indeed sounds 'Abraxas' or 'Caravanserai' like; In other words: really awesome.
Another high light song ,,Gainsville Station", a southern rocking track, being a tribute to Steve Gaines, the famous Lynyrd Skynyrd guitar picker who died in 1977. This highly recommended guitar monster album ends with ,,Across The Ages"; an in your face melodic hard rock guitar instrumental that really defines the sound of Vinnie Moore.
'Soul Shifter' is also produced by the master himself and for me this is the best instrumental guitar album of this year; man, this guy can play a mean guitar!!!!


#vinniemoore #soulshifter #mindseye #headbangerslifestyle #hbls #awayoflife