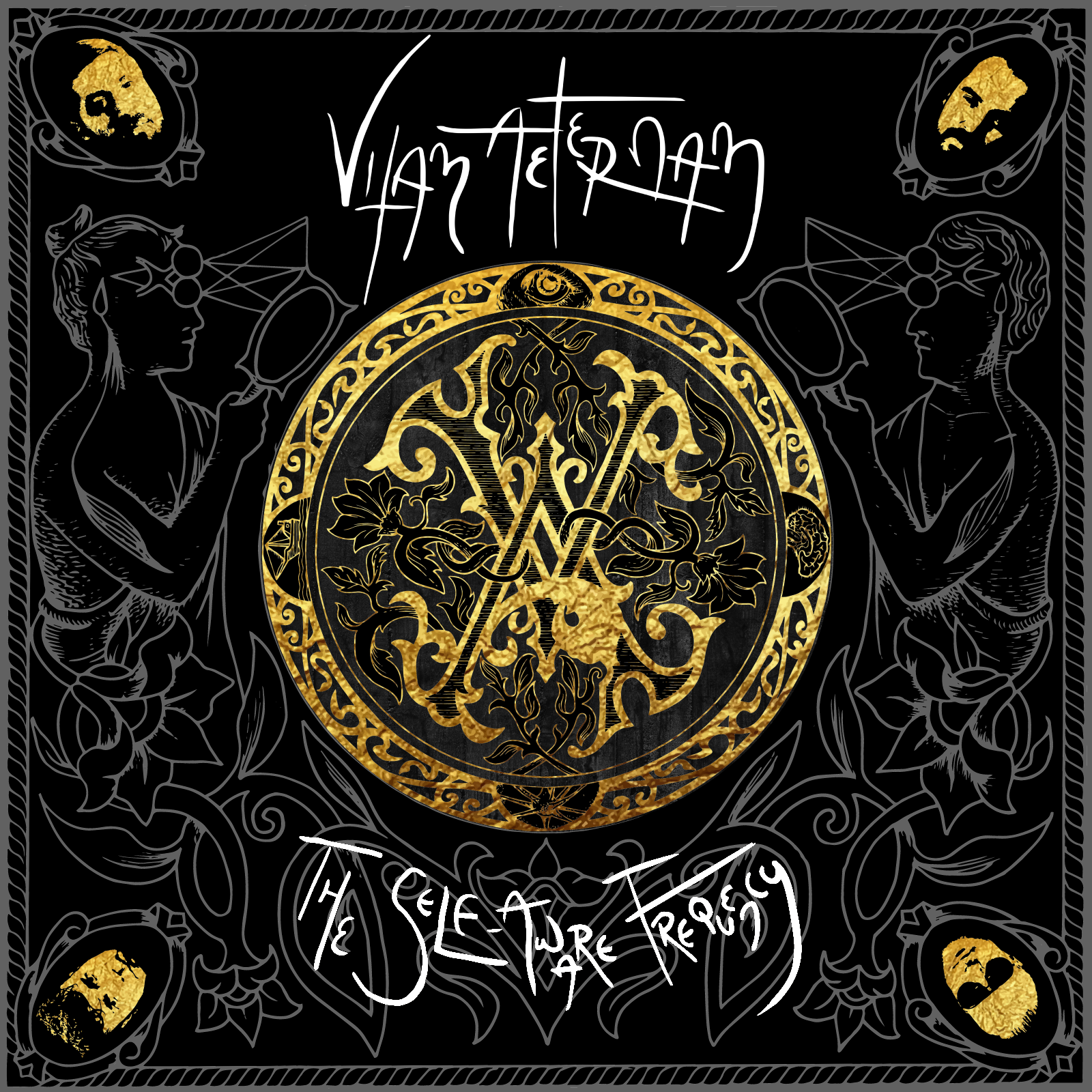 VITAM AETERNAM-The Self Aware Frequency
Crime Records
Music connects people and it happens on many different levels. That's the beauty of music. But sometimes a connection flourishes to something unexpected, unusual and special, something extraordinary and surprising if you will. Like Jake Rosenberg [keyboards, piano, programming, sampling], Râhoola [vox, choir, keyboards, piano, orchestration, programming and sound design] and André Aaslie [piano, orchestration, Moog, Mellotron], who connected via a Devil Doll Facebook group, sharing mutual respect and admiration for the ART of Mr. Doctor, the voice and creator of Devil Doll. So it happened these three musicians started the experimental musical project Vitam Aeternam to channel their common musical passion and vision into something that is really close to Devil Doll on purpose, but done in a very respectful and delicate way.

Being a Devil Doll fan and collector myself since the very early 90s, let me start by saying that never in a zillion years I expected to ever hear a vocalist sounding so close to the illustrious Mr. Doctor. Râhoola does it and it blows my mind! Just listen to the video single ,,Human''. Since Mr. Doctor and his Devil Doll are inactive for way to many years now, it is Vitam Aeternam armed with this debut `The Self Aware Frequency' that can ease the forever craving for new DD music. Not only because of how arrangements are made, particular details and sounds, the typical [schizophrenic] vocal expression and vibe reminds strongly of the Italian/Slovenian cult band, it is also the total package; the presentation of the artwork, the lettering, graphics, photos and lyrical content that does the trick.
`TSAF' has become a wandering mind trip with cinematic eerie melodies, complex and dynamic structures, exciting tension, symphonic, progressive layers, a dramatic approach that capture different sounds, all connecting the nine tracks into one concept. This journey is accompanied by a few guest musicians; Juan Manuel Flores (Cuarteto Cromano) plays the emotional violin parts, Oyvid "Mustis" Mustaparta (ex-Dimmu Borgir) handles piano on ,,Death'' and a few folks do the choir on ,,Transcending''. But the most important and biggest surprise is having original Devil Doll guitarist Bor Zuljan in the game, who plays all the electric and acoustic guitar parts. There is no doubt his typical guitar sound and fabulous playing style leaves an important mark on the comparison with DD.

To not make this a pure DD show, I want to point out that Vitam Aeternam also integrates electronic beats, industrial, synthetic elements and chaotic eruptions like in ,,Coward'' for instance, that brings to mind Mike Patton, Devon Townsend and Arcturus. There are also some spacy and pop moments to be find and Râhoola also leans sometimes to a more symphonic and musical approach, adding a slightly different spectrum to the album as well.
A few tracks are actually short and are more like interludes, so the total playtime is around 35 minutes. In all honesty I wish it was longer, but it doesn't diminish the fact that this album is an impressive introduction of a passionate collaboration. It is clear that the arrangements are made with care and dedication and I am super curious what else they have in store for us in the (near) future.
`The Self Aware Frequency' is a must-have for Devil Doll fans and I also challenge fans of experimental, progressive and theatrical rock and metal to dive into this.
You can pre-order `The Self Aware Frequency' in various limited edition formats [out 23 October 2020] here


#vitamaeternam #crimerecords #devildoll #mrdoctor #headbangerslifestyle #hbls #awayoflife