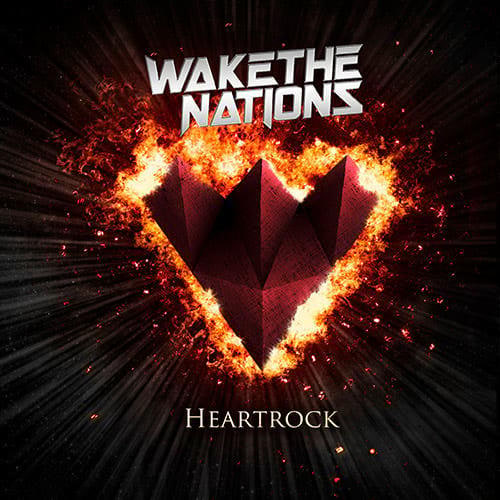 WAKE THE NATIONS-Heartrock
AOR Heaven Records
`Heartrock' is the second album for the Finnish melodic rock outfit Wake The Nations, which name twist title sums up the bands intentions. Their melodic catchy hard rock balances on the fine line between melodic rock and AOR, and more than once radiates heartfelt passion. Rock from the heart?

Wake The Nations picks up where Creye left off. Though not topping the remarkable Creye debut, the band has set out to embark onto new ground with this second effort. Their highly melodic rock blend is kept pretty much in line with expectations, but their typical slick melodies are morphed into a much more appealing modern production, making them radiate more excellence than their debut. `Heartrock' is a step up in terms of production, but also in terms of arrangements. Adding more depth with modern intros [,,Now You're Gone"], female vocal interaction and multi layered choruses, the band moves fast forward. The guitar interaction is fierce and slick, keyboards are dosed in pompous chops of swirls as well as more spacy synth dominance. ,,Midnight Lover" is a prime example. Its tacky melody is over the top, but the pumping keyboards and spacey midsection, dissecting the lurking predictability with harsh riff interaction and quirky guitar solos, makes it memorable instantly. This memorability is key with these Fins, and they deliver the 80's arena potential more than once. Rousing arena rockers and melodic sterling notable melodies. Preventing their tunes from tipping over to the burnt down wastelands of predictability, Wake The Nations opens all registers at hand, but occasionally can't prevent to ward off this haunting genre-ghost. ,,Fallen Angel" is an elegant example, with bold guitar firepower laid down, the melody and chorus are so slick, they have the urge to either nest inside your heart, or to make one dwell in disgust. This depends on your standing and personal favoured genre spearheads. It's that polished overall appeal defining the likeability of this album. More than once…

The genre mandatory tearjerker is also present on `Heartrock'. ,,All My Life" is a slick and mellow heart rocker indeed. Overall the pace is uplifting as is the spirit [,,New Day"] transferred to the listener. Adding a bit variety in musical bodywork, Wake The Nations adds a higher pace pulling forward ,,Higher", and the elevating somewhat cinematic ,,This Is Over" with instant live pretentions.

Though variety is key musically, the melodies and choruses are crisp and memorable. For some it may be a bit too much to bear, but fans of eighties giants will likely favour this band. Wake The Nations definitely delivers a solid and pleasant album, which is held up firmly due to keen musical mastery fused into an impressive crisp and transparent production, modern and appealing.


#wakethenations #headbangerslifestyle #hbls