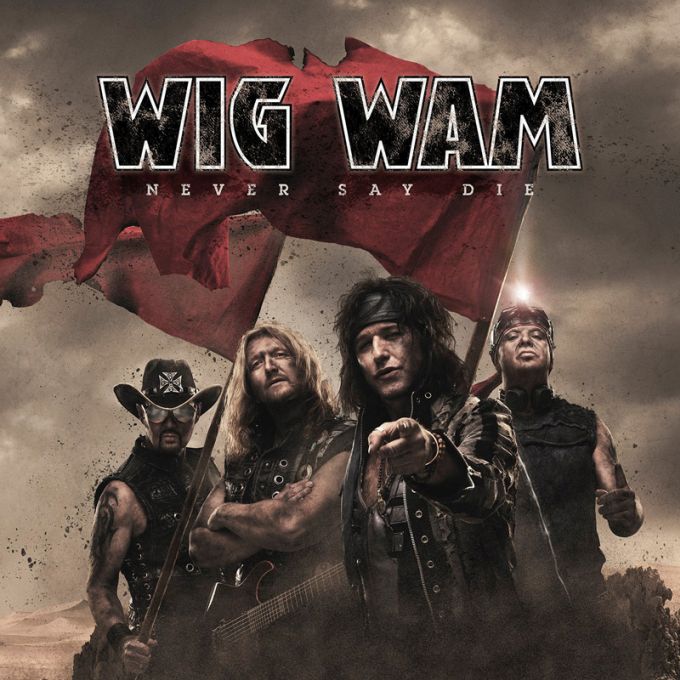 WIG WAM-Never Say Die
Frontiers Music srl
After an absence of almost 5 years, the Norwegian rockers of Wig Wam decided to pick up their instruments again in 2019.
'Never Say Die' is the first release in 9 years, since 2012s 'Wall Street' and because they already made quite a name in the genre during their first run, expectations of fans could be high. So the question is, does the band live up to that?
Yes indeed, Glam (Åge Sten Nilsen) – vocals, Teeny (Trond Holter) – guitars, Flash (Bernt Jansen) – bass & Sporty (Øystein Andersen) – drums, did without a doubt, deliver a well produced, catchy & melodic rock album.
The thing I like about this album is that the band (that is new to me) immediately sounds familiar. And I'd like to think that is a good thing. No, it is not the music that will shock the world because of the new grounds they have explored. But why should they, this is what they do best. After giving this album a few spins, I also listened to the older work and 'Never Say Die' to me is one of their finest works.
After a short intro the title track ,,Never Say Die" of the album hits the speakers with a great guitar riff and through the verse it finds its way into a killer chorus. The kind of chorus that just lingers in your brains for hours and hours. ,,Hypnotized" is a groovy song that opens with, yet again, a great riff, that could be easily written by Nuno Bettencourt, and another sing along chorus. If by now it is not clear that the Wig Wam guys are talented musicians that can write songs that stick to your brains, ,,Shadows Of Eternity" will take all the doubt away, because yet again this is a easy on the ear, melodic guitar driven song with a recognizable chorus. ,,Where Does It Hurt" starts off with a much darker guitar riff, and the chorus somehow does bring The Cult to my mind. ,,My Kaleidoscope Ark" is the first ballad on the album, yet to be followed by another slightly darker song named ,,Dirty Little Secrets".
To me "Never Say Die" is a well balanced melodic rock album with great guitar work by Teeny, that grows on you with every listening session. It would be way too easy to dismiss this band as a copy of bands like Firehouse, Warrant, because I think they managed to write and capture great new guitar driven melodic songs, with a fresh vibe to it and always in the spirit of bands like the above mentioned. I would love to see this band live when I get the chance, because I am sure it will be a great experience. When you are into catchy melodic 80s / 90s rock, and might not be familiar with this band, this is a absolute must add to your music collection. And the fans that already know the band will NOT be disappointed by this album at all!!