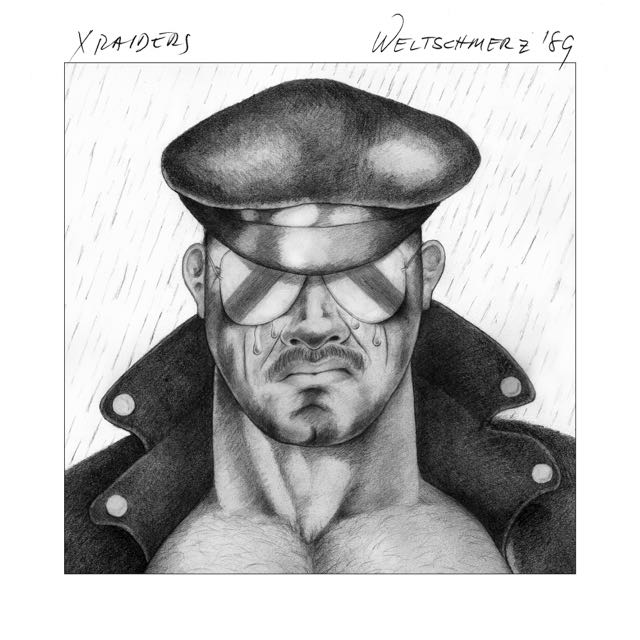 X RAIDERS-Weltschmerz '89
Suburban Records
Dutch X Raiders are taking the lowlands by storm and gear up to overthrow the world. Their new (2nd) album `Weltschmerz '89' is an album seamlessly aligning with their live performances establishing their names as a powerful rock force to be reckoned with. Recorded by none other than Attie Bauw (Judas Priest) at the infamous Dutch Wisseloord studios, this album rocks like a Swiss clock and captures their pure and raw energy.

`Weltschmerz '89' is an album full of pointy roots rockers with punky attitude. It is splashing with power and storms from your speakers delivering body blows by the dozen. It is short focussed and pointy, much like Ramones' and Danko Jones' best tracks. Perhaps not on par with those genre defining giants, it comes close and lets with the same intensity and sincerity. Considering the fact that 1989 points out the members' year of birth, we have to stand astound by the maturity of content and style. ,,Wasted" was their debut video single and sums up perfectly the key elements of their potion. With vocalist Polman roaring like a steamroller, they spit serious fire. The combustion of their tracks is as powerful as punk's most elemental tracks but it is impressive to see how they manage to keep it all melodic and infectious at the same time. With ,,Train Man" coincidentally being released on the day Dutch training network's management siding a press release, the band jumped on the wagon to seize the moment and create headlines. The track itself as in-your-face as ,,Wasted" and even more explosive. Whether you play ,,Fleshwolf" or ,,Meat Market" the wallop of the music is impressive and it packs serious balls and attitude. Personal highlight is the odder tuned ,,Ride East" which is insanely nesting.

Though the pace remains rather high and Turbonegro comes to mind frequently, X Raiders have enough to blow you off your socks. It is a more cocky version of the above and DankoNegro would definitely cover the load. `Weltschermz '89' is sheer memorable and breathes insane power and sincerity. Listen in and be amazed…
For those about to thrash: X Raiders salute you!



#xraiders #suburbanrecords #headbangerslifestyle #hbls #awayoflife