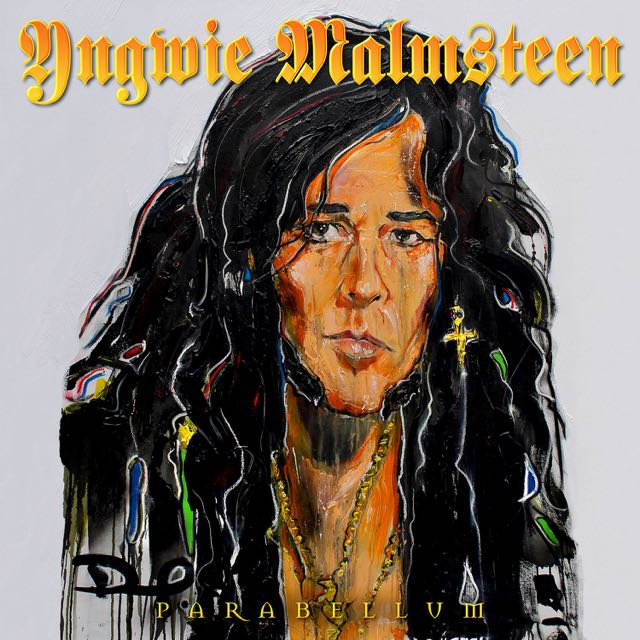 YNGWIE MALMSTEEN-Parabellum
Music Theories Recordings
As I have always been a die-hard fan of Lars Johan Yngve Lannerback, aka Yngwie Malmsteen, it is always a pleasure and a privilege to review his new album. Although his previous CD 'Blue Lightning' [2019] was a bit of a disappointment, I can truly say that 'Parabellum', Yngwie's 21st studio album, is guitar bliss all over. It definitely earns a place in my favourite Malmsteen top 5 albums next to 'Rising Force' [1984], 'Trilogy' [1986], 'Odyssey' [1988] and 'Alchemy' [1999].
On 'Parabellum' only four of the ten songs feature vocals, which are by the way also done by Malmsteen. His singing is okay, but he certainly is no Joe Lynn Turner, Jeff Scott Soto or Doogie White!
Killer track ,,Wolves At The Door", being the 1st single, opens this awesome album and it includes a clever reference to the famous violin player Paganini. ,,Presto Vivace In # Minor" is the first highlight, a neo-classical guitar song, filled with speedy arpeggios, awesome hooks, riffs, solos, and melodies; in other words: Yngwie at his best!
,,(Si Vis Pacem) Parabellum", ,,Toccata" and ,,God Particle" are three other magical guitar instrumentals featuring amazing, ferocious, speedy guitar work, which show Malmsteen's unique style!
,,Eternal Bliss" is a beautiful ballad with very "decent" vocals by Yngwie. This song reminds me of one of my all-time favourite Malmsteen ballads ,,Dreaming (tell me)" from his 1988 album 'Odyssey'. However, Malmsteen, saves the best for last. Clocking just over eight minutes ,,Sea Of Tranquillity" is a guitar orgasm from the first minute till the last; awesome indeed as Yngwie really nailed that instrumental track.
Play it at maximum volume and you cannot believe your ears; this guy can play for sure and his 21st album is really a blast; featuring uncompromisingly guitar excellence! Malmsteen is the new Paganini on guitar and 'Parabellum' is a MUST for all neo-classical guitar lovers; it can hardly get any better than this!