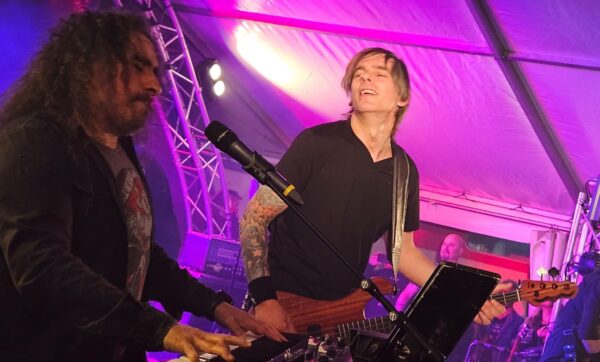 Blog | Hardline – The Inside May 2023 tour story
By Dutch bassist Alex Jansen
LESSON IN HISTORY
So here we are again, one month after Rock Meets Classic I am back on the road again. This time with Hardline. I go back with Hardline a long time, so follow me for a short lesson in history. Back to 1992… there was no Internet, hard rock was still dominating the airwaves. Next to radio we had MTV. They were playing music from all sorts and Sunday night had Headbanger's Ball presented by Vanessa Warwick. So before Jackass (although I loved Jackass) and Cribs and all the dating formats they turned them into later on. As in where the M was still for Music. I was always recording Headbanger's Ball on my VCR so I could watch it later. They were broadcasting it way too late on Sunday evening and Monday was a school day…Yes I was still attending school in 1992 (I graduated 92).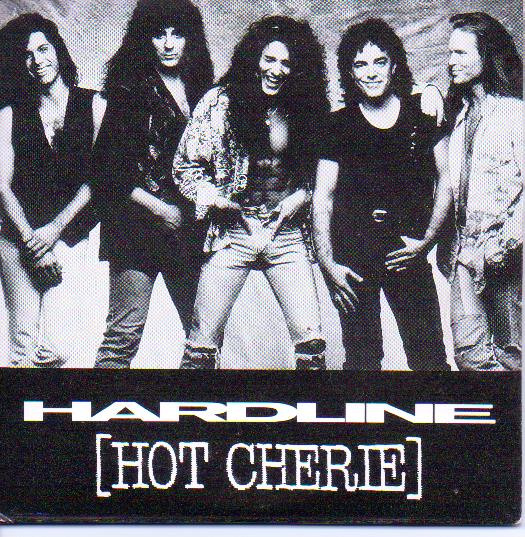 HOT CHERIE
There was this time where I watched the episode of Headbanger's Ball and all of a sudden there was a video of a band I didn't know (yet). ,,Hot Cherie'' was the track and man I was hooked from the first minute hearing the voice. (Don't worry Johnny is paying great dollars to me writing this). The band was Hardline and all I could do was heading to the record store the next day. Not so easy as I had to cycle (yes on a normal bike, e-bikes haven't been around that long) and cycle 20 kilometers to the next town. A real challenge as I didn't know if they had the record, there was no Internet… I got to the record store and there it was. 'Double Eclipse' it was called. I bought it and went home. I had a Walkman but no Discman so I still had to wait to listen to the album. Arrived home and this record turned out to be one of my faves for a long time. I didn't know the names of the guys (hell I didn't know from what bands they came from). I lost the CD one day, years later.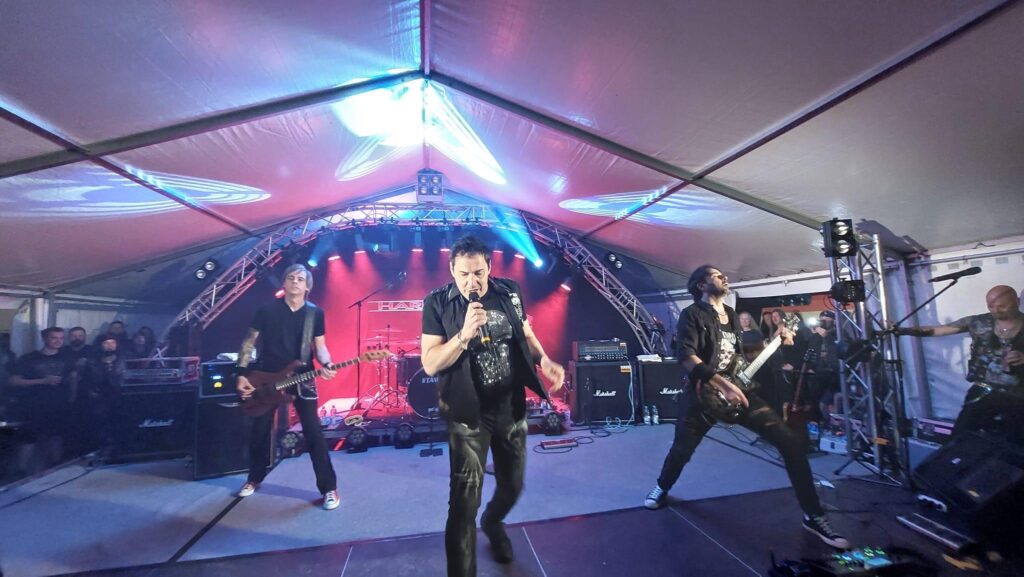 ROCK OF AGES
Fast forward to 2017 getting a phone call from my dear friend Alessandro Del Vecchio. "Bro, would you be able to play a show Saturday?". That show was Rock of Ages, a big festival in the south of Germany. So without any rehearsal and by watching videos on YouTube and after a search for my Hardline CD (which I found back), I had like 3 days to study the set and get ready to jump in for Anna [Portalupi] who had to travel back to the USA. I arrived in the hotel one day before the show and met the guys and the man himself, Johnny. The next day we had the show and it went pretty good. Three weeks later I did it again, this time in England on a festival and again a great time and a lot of fun playing those classic tracks.
BACK AGAIN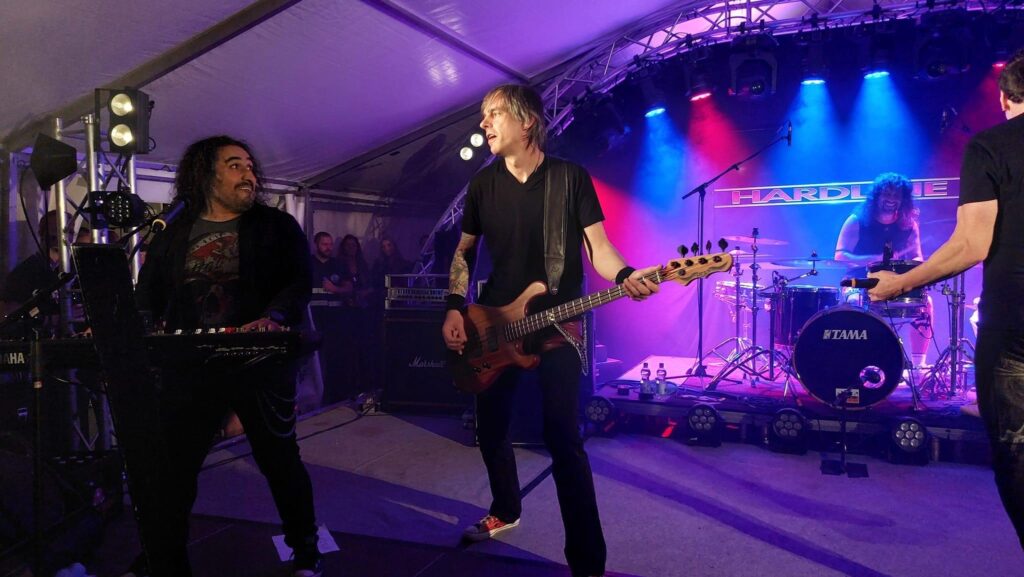 Fast forward to 2022, I was asked to fill in some dates again, so I travelled to Norway, Slovakia and Spain for shows with Hardline. Now we talk 2023 and I am back on the road with Hardline for a few shows. HeadBangers LifeStyle asked me to write a tour diary for Rock Meets Classic and after reading and publishing they asked me to write more if I have the time. So here I am in my hotel typing on my IPad before I watch soccer and prepare for the show.
DORO
The tour started Wednesday. Johnny just got back from a successful tour with Axel Rudi Pell and flew from Germany to Switzerland. The other guys travelled from Italy and I drove from Germany. So we met at the hotel and then went to the venue to set up. I finally got to meet my brothers again and it was great to see them again. We have a new (I write 'we' although I am just helping out in Hardline) face on the guitar, Luca Princiotta! You will know him from years with Doro. Fun fact, last December I jumped in at a Doro show last minute and Luca jumped in on that show too. So we shared the stage already before and when we said goodbye we didn't know we would be hitting the stage 5 months later.
A WHIRLWIND ON STAGE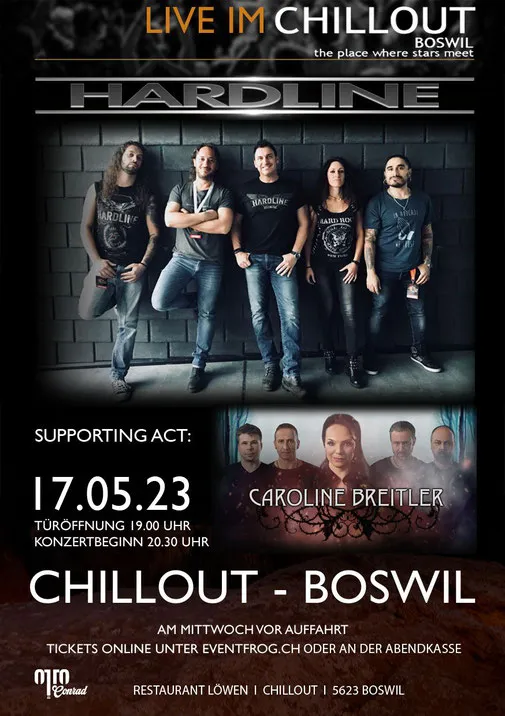 The first show was in Boswil and the club was packed! 400 people and it was hot. We had a great support from Caroline Breitler, then it was time to take over. We played songs from 'Double Eclipse', 'Danger Zone', 'Heart Mind And Soul'. The later albums are as good as the 'Double Eclipse' record, although that one is a classic in melodic hard rock, the other ones are not to be forgotten. Johnny is a whirlwind on stage no matter how small or big it is. He gives everything.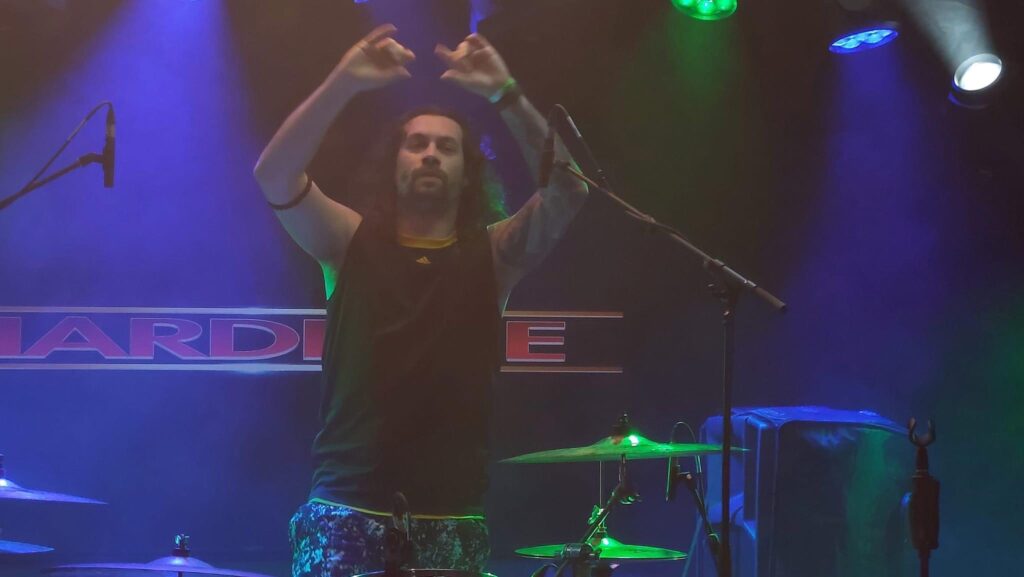 Marco is an animal of a drummer and just to watch him is a pleasure. Luca delivered like a king, such a pleasure hearing him play! Alessandro is on my side and hearing him sing and play is a real pleasure too. We had so much fun rocking that show. We pull jokes and still rock. Rock 'n roll is supposed to be fun. So from ,,Fuel To The Fire" to ,,Taking Me Down" or ,,Rhythm Of A Red Car" or ,,Hot Cherie", seeing the smile on people's faces was great.
NICE HOTEL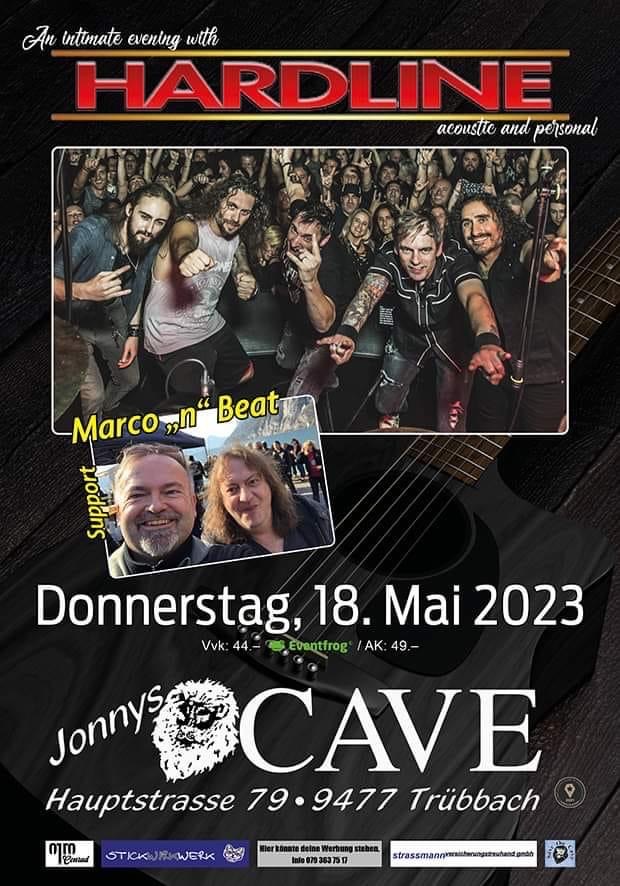 After the show we had some chats with fans and friends. Some people drove 400 km to see this show on a Wednesday evening. A good sleep in a nice hotel with view on the mountains and then we travelled to Jonny's Lion Cave. This is a special club. It is very small, I have played there before with a Swiss band years ago. Hundred people fit in there and then it is really full. We rocked that place, we were supposed to play acoustic but we wanted to rock so we did. We electrified and did the normal show.
After the show again hanging with people but I had to leave as I had to go back to Germany to do some stuff I couldn't cancel. Last night I drove to Bavaria to a nice hotel on the land side and now I am write this for your reading pleasure.
CHINA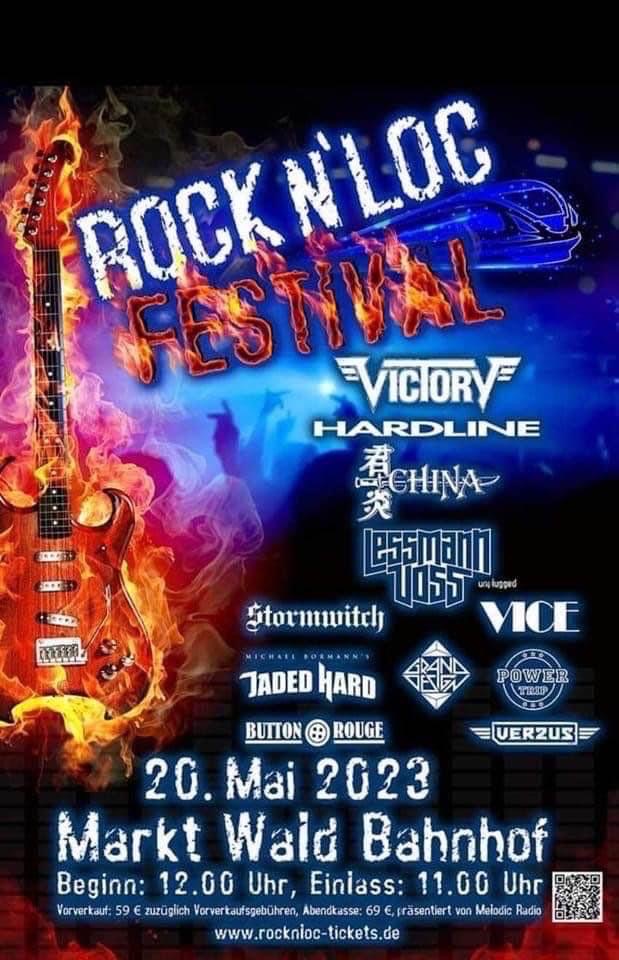 So after watching some soccer and getting ready for the travel to the festival we got a message that the festival was experiencing delays. So we travelled a bit later, when we arrived we met tons of people we know. It is always fun to see colleagues that we have known for a long time. We did some catching up and I watched half of Gotthard play in Swiss band China. Our dressing room was in a train wagon, well that was a first. China finished their set and then it was time for us to set up our gear. We used some of the provided back line (which is common these days on festivals).
Nowadays when lots of bands fly to shows and can't take their own gear and with the fact that most gear is getting smaller, which makes it easier to have your own sound in a lunchbox, we use what is on the festival. I brought my own gear though, so a quick set up and then we did a line check. A line check is the fastest way to get to test the signals that go to the sound system and that is what you hear. Hardline travels light so we don't have a crew and we do it all ourselves with help from local stagehands.
WAITING FOR HARDLINE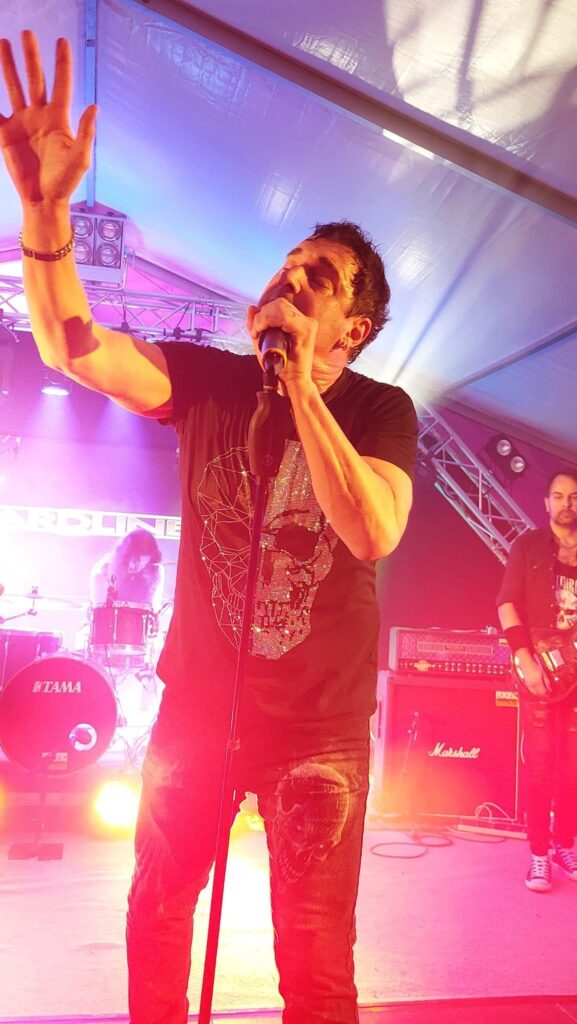 We were ready to start the show in 15 minutes. We decided no intro and just hit it off, we played an intro but that is the intro we always play ourselves. The people were waiting for Hardline obviously, the tent was full and they screamed and sung along with the songs. We did a one-hour show filled with the hits! It was hot and sweaty, we had so much fun doing this. The response was so great and that made us going the extra mile. Johnny showed me his shirt during the show it was as if it came straight from the washing machine. He always gives it all. We made a nice jam during ,,Hands Of Time" and we then finished it off with ,,Rhythm Of A Red Car" and instead of leaving the stage and come back on for the encore we skipped that part and fired ,,Hot Cherie" directly after it.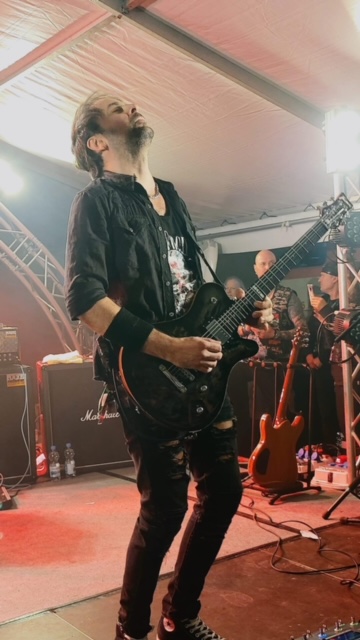 Then the hour was over and we were done. Short bow for the audience and taking down the gear so Victory could set up their gear. After the show a small snack and then some socializing, signing stuff and taking pictures. Back to the hotel, 7:30 lobby call.
DEAR FRIENDS
Loading gear in my car and the Italians started their journey back to Bella Italia, Johnny had a driver picking him up to Munich to fly to New York. I got in my car and drove home… that is where I write these lines. Still happy to be able to do this! The brothers in Hardline became dear friends and Luca makes no exception. Playing his first three shows with Hardline but it felt like he has been playing with Hardline for years. I will miss these guys dearly as it is always fun hanging and rocking with them. Even when I am the sub I feel home. So let's see when we do this again, until then I will be rocking the stages and hopefully one close to you!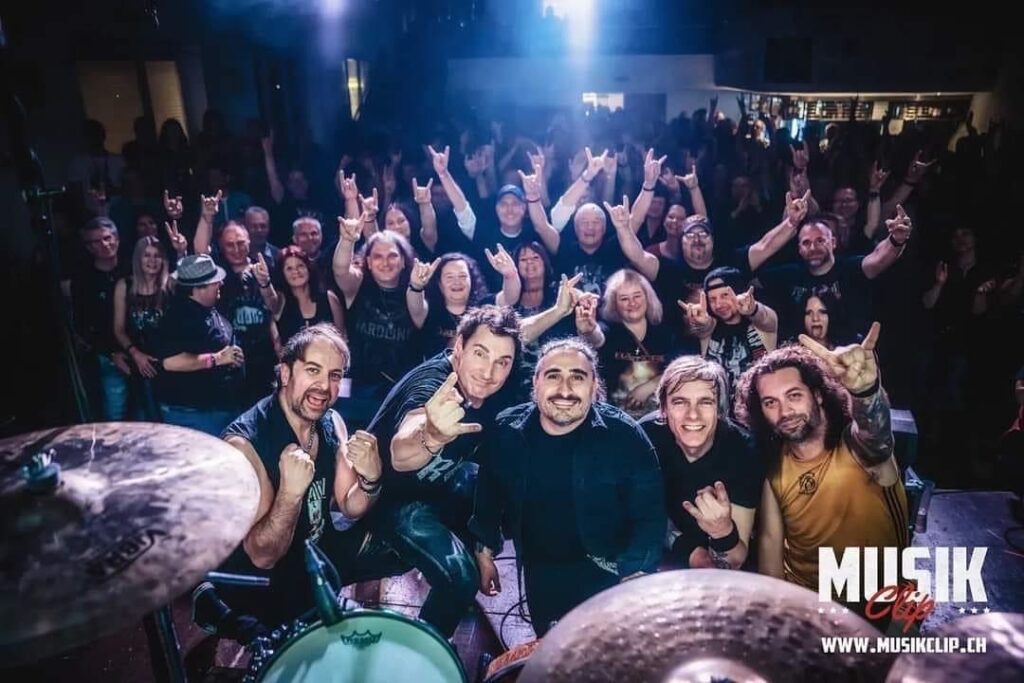 And…. there might be a new diary around the corner too… sooner than you think.
AJ
Photos provided by Alex Jansen
Header photo courtesy of Marty Punch