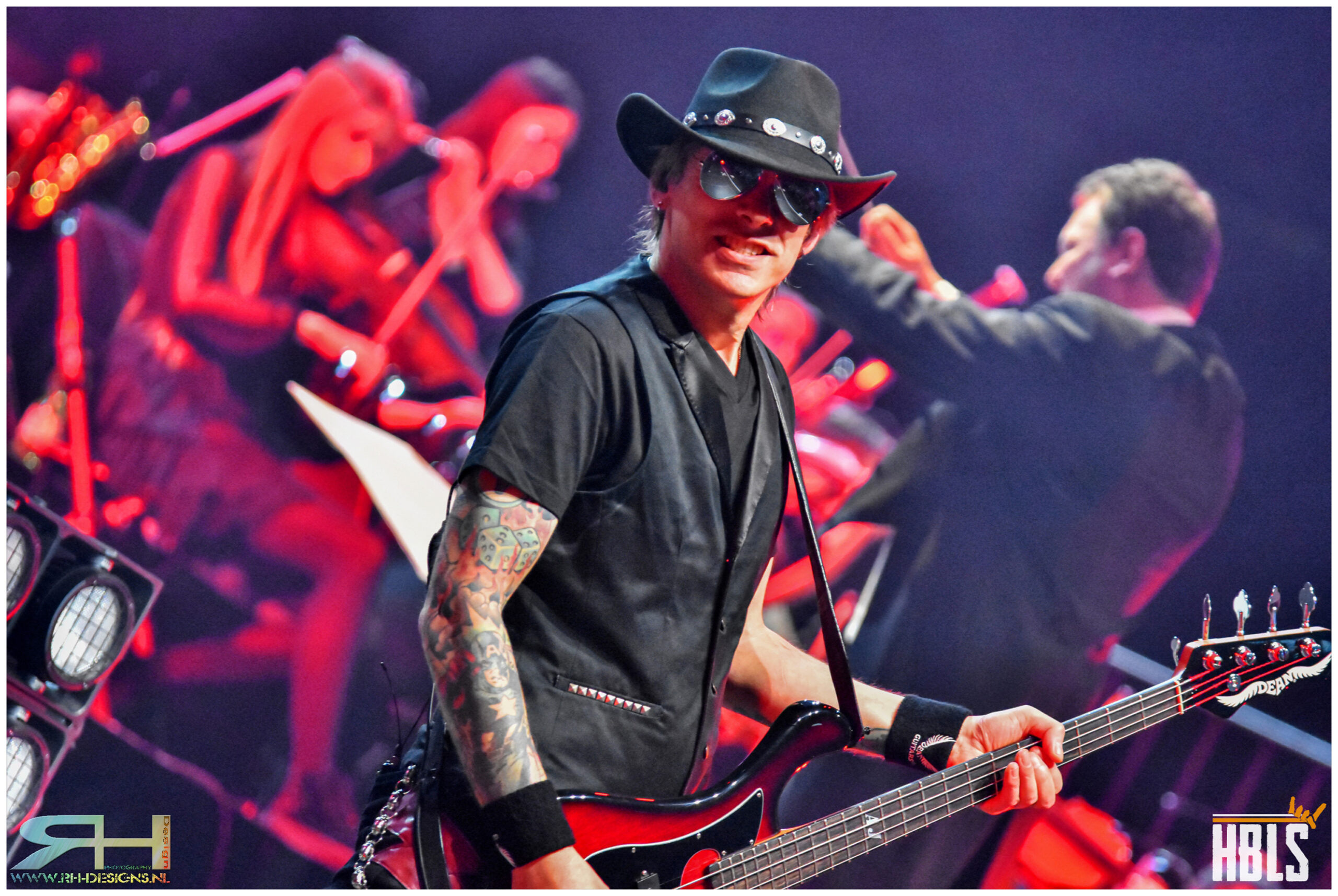 Blog | Rock Meets Classic – The inside story
Tour diary by Dutch RMC bassist Alex Jansen
The Rock Meets Classic tour is a huge event in Germany with top musicians and an A-list of guest vocalists. This year they had Dee Snider, Joey Tempest, Mike Tramp, Ronnie Romero and Maggie Reilly, with a special spot for Uriah Heep's founder/guitarist Mick Box and singer Bernie Shaw, who celebrated the 50th Anniversary of the band. Bassist of the RMC band was Dutchman Alex Jansen, who replaced main-man and founder of the Rock Meets Classics event Mat Sinner, who is still recovering. HeadBangers LifeStyle asked Alex if he wanted to write a tour diary, which he agreed doing.
So, enjoy the inside story of the Rock Meets Classic tour 2023!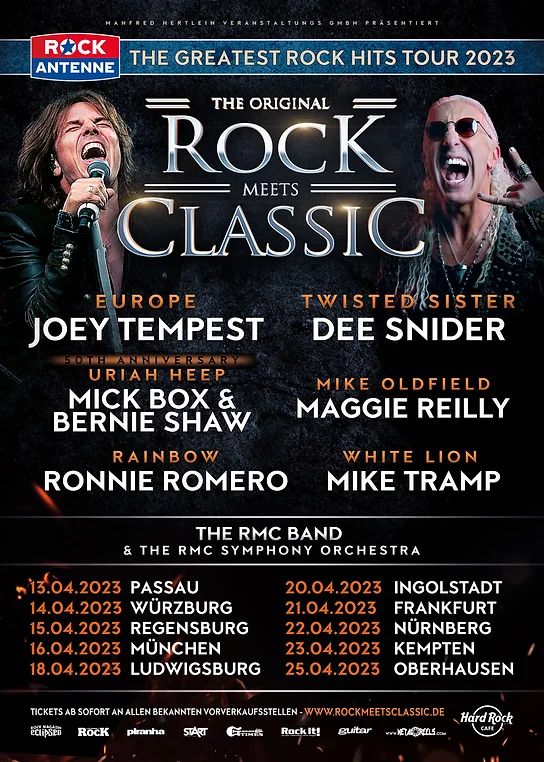 INTRODUCTION
This tour has existed for 30 years and with the necessary breaks it would have taken place again and again. The concept is comparable to what people do in The Netherlands at Night of The Proms. The difference is that this production really goes on tour with the whole thing. We are on the road with this entire circus for about 3 weeks through a large part of Germany. Unfortunately, after the pandemic, a number of cities dropped out, partly because the costs for this production are really huge and partly because promoters simply do not have this budget (yet) after the pandemic. You will of course also notice it yourself when you go shopping. Now imagine that you are on the road with 100 people, then a hotel stay that is 20 euros pricier will of course make a big difference.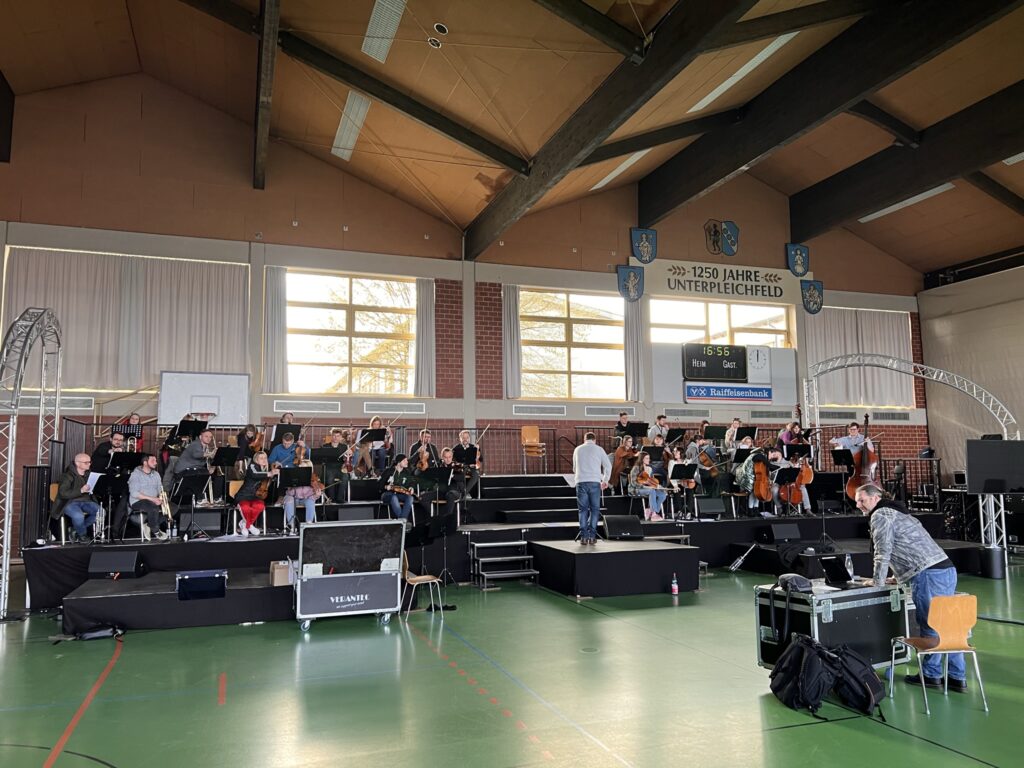 THE START
The whole Rock Meets Classic story started for me about a month and a half ago. I've done a lot of sessions and a lot of shows over the last few years, mainly in Germany where I've been living for a few years. I was on tour with Hardline, jumped in with metal queen Doro and then last year with my friends from Primal Fear. As is well known, Mat Sinner has a long history of health problems behind him. Then I got a call from Mat (whom I've been friends with for about 25 years now) asking if I could play Primal Fear shows until he's fit again. I didn't have to think long about it and I said yes.
MAT SINNER
About 1.5 months ago I got another similar call from Mat. "Jansen, goddammit…I thought you could play Rock Meets Classic, would you?" Well…. I was a bit dazed there at first. It's not a cover band and we're talking about venues with audience numbers between 3.000 and 10.000. Of course, I immediately said yes.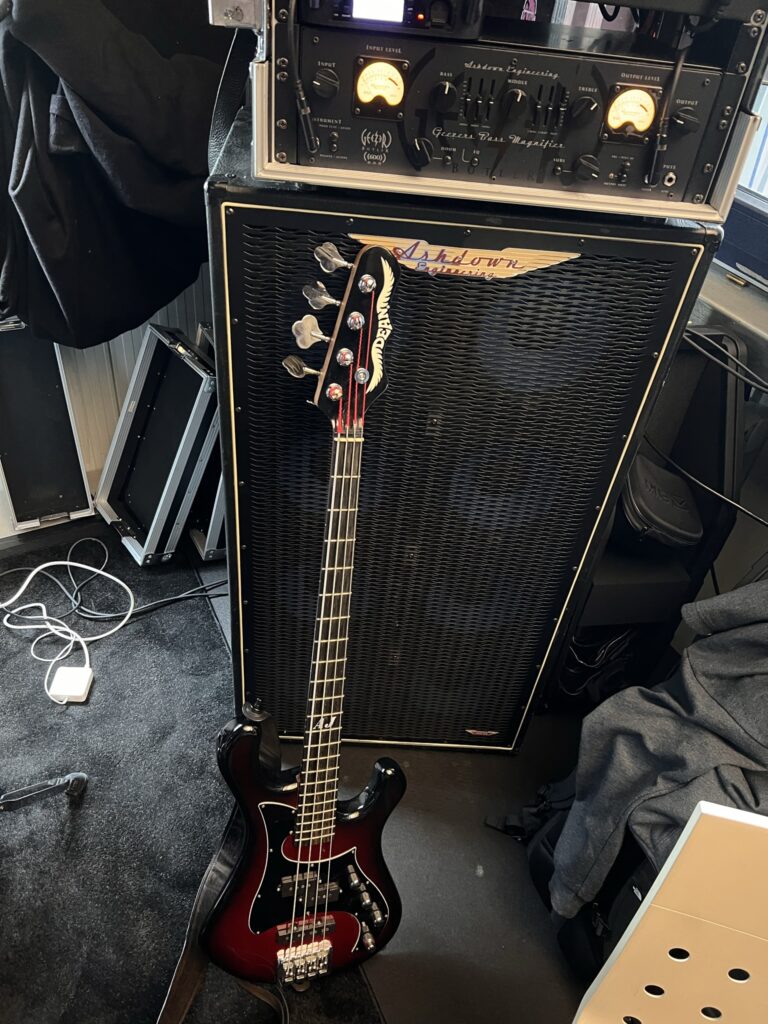 Well, how does it work… you get a list of songs and the key. Then you start working. In between I was still musically on the road in the USA, but just had my equipment with me to practice there. When I came back it became more and more concrete. Tour confirmation, updated track list. Of course, I know the band, it is actually Primal Fear, without Mat and with a keyboard player who is also the musical director.
THE MUSICIANS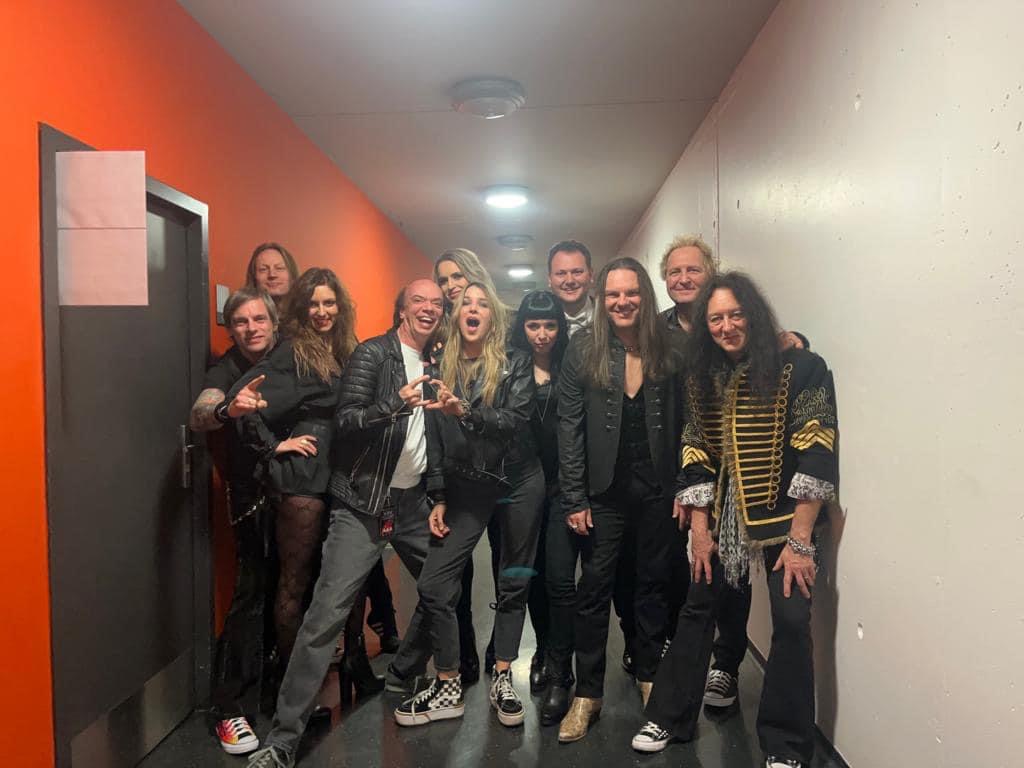 They are all the best in their field! The keyboard player is Lisa Müller, who also plays with Peter Maffay and No Angels, among others. Michael Ehre drums at oa. Primal Fear, Uli Jon Roth, Metalium, on guitar Alex Beyrodt of Primal Fear, Voodoo Circle, Tom Naumann of Primal Fear, How We End and Sinner. The choir consists of Sascha Krebs [We Will Rock You musical and The Queen Kings, Tanz der Vampire], Gabriela Gun [Trans-Siberian Orchestra, Rock Meets Classic], Giorgia Colleluori [Sinner, ITs a Lie] and Sara Fox [singer/songwriter, Rock Meets Classic]. The orchestra mainly comes from Poland and the Czech Republic and is conducted by Mario Gebert. And me on bass [big smile]
THE REHEARSALS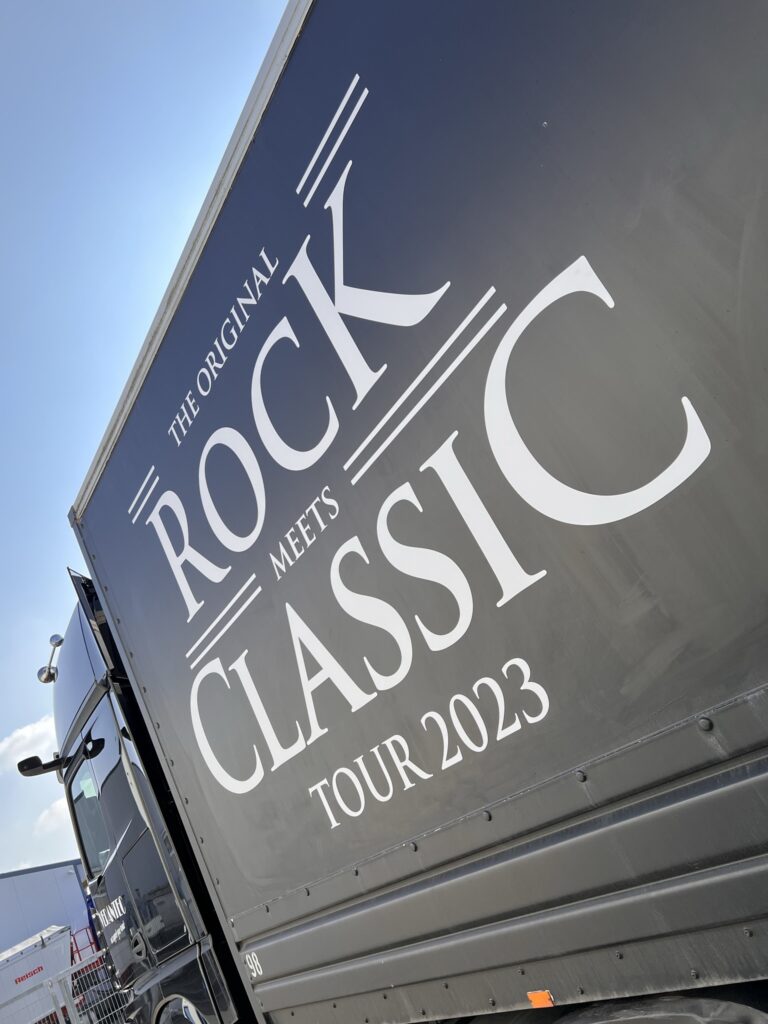 The adventure started Thursday, April 7. That was a day of travel, we all gathered in Würzburg. All the equipment was taken by car to a company for event technology. There the band rehearsed the material for 2 days. Everything was played and changed where necessary. In the end, it comes down to the fact that the musical director has a certain idea and wants it to be implemented that way. Lisa does that very well. We really had a very pleasant atmosphere and we played and worked well together. On Saturday, the choir members slowly joined us. Two from Germany, one from Italy and one from Los Angeles, but staying in London for the past three weeks. So, it continued on Sunday. Band and choir. It was Easter weekend, but we didn't notice much of that except for a chocolate bunny we got.
THE ORCHESTRA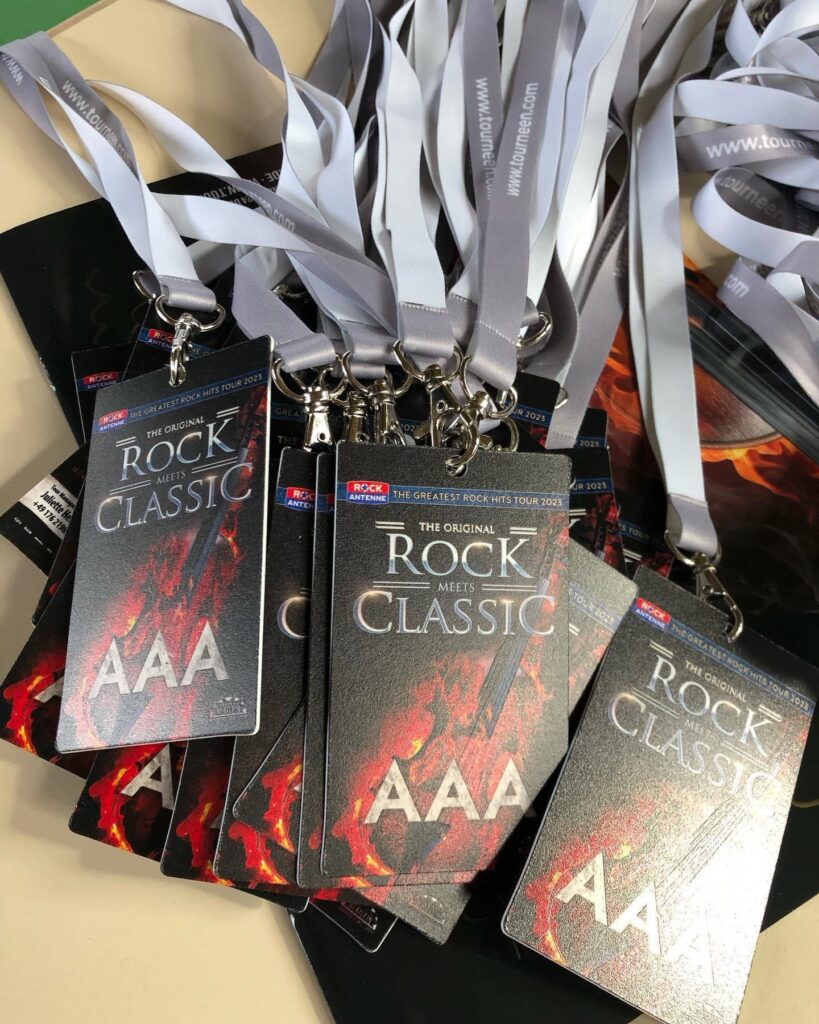 Monday was the first day of rehearsal with the orchestra. Before that we went into a large sports hall. Part of the stage was built there. The orchestra consists of 33 people and they need a bit of space. Of course, it was not just about the orchestra, the equipment was also tested there and the settings for the light, video, etc. were made. Almost all of us play with in-ear and it takes a bit of time to set it up, especially with so many different people.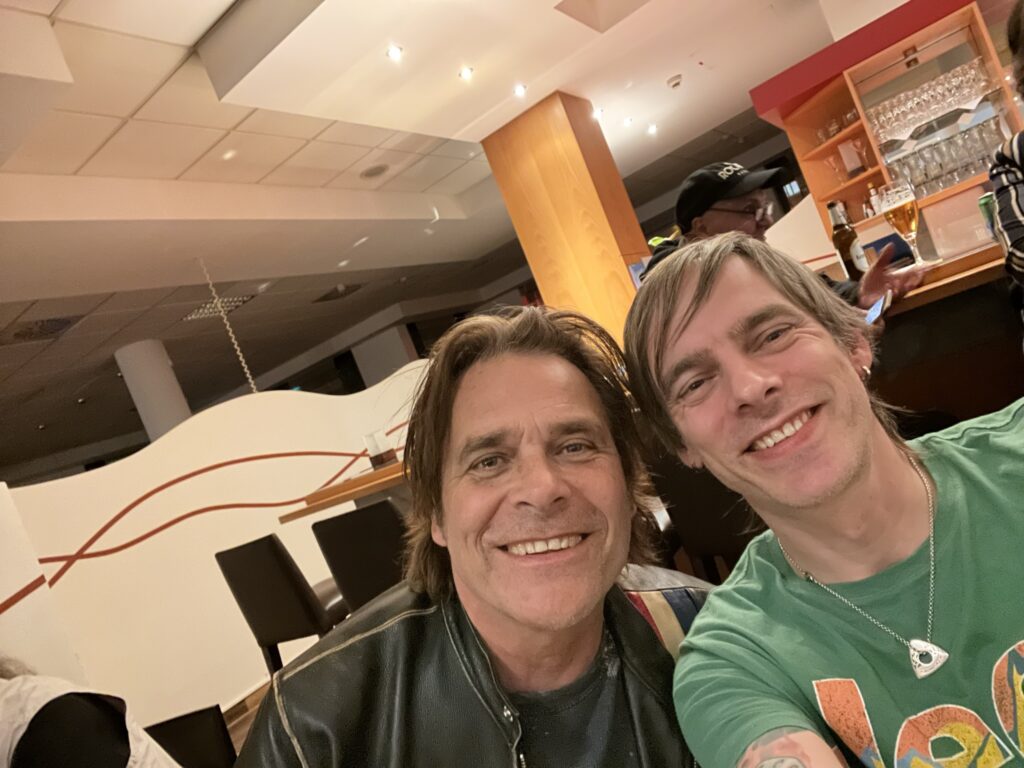 A long day of rehearsals. The next day, (Tuesday afternoon) Mike Tramp from White Lion, Freak of Nature, came to rehearse. We had already had a rehearsal in the morning. When Mike came, we played his program. That actually went very smooth, he was quickly satisfied and so were we. A few things were discussed with the orchestra and that's it.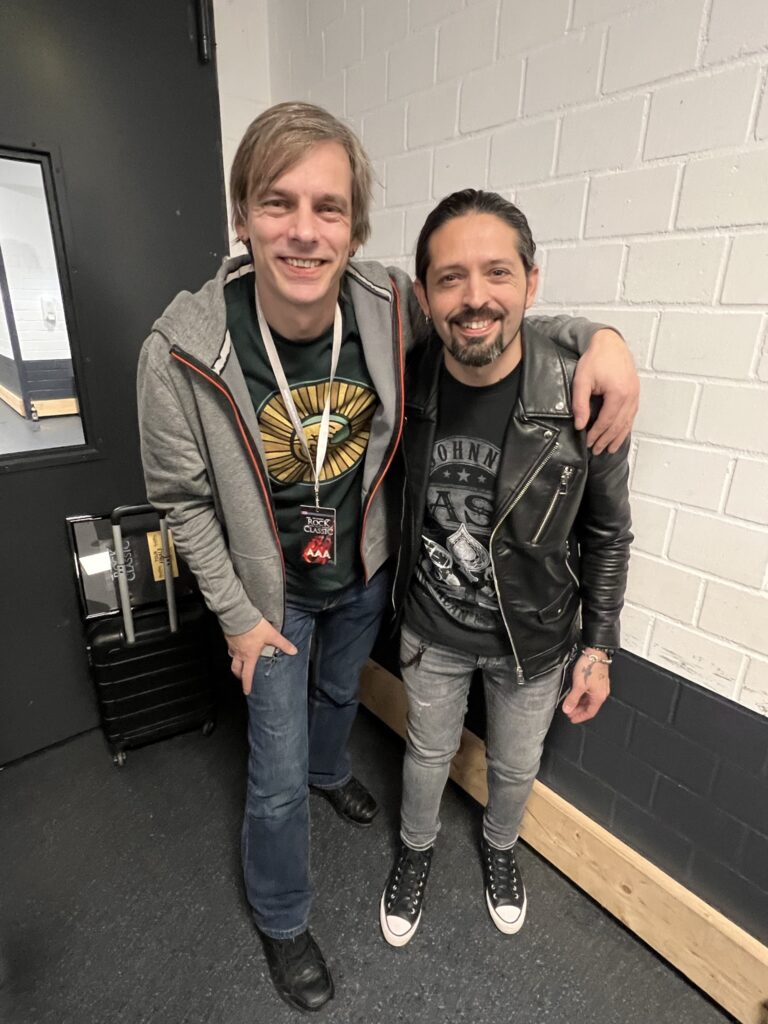 Next came Ronnie Romero from Rainbow, Sunstorm, Lords of Black. He's doing a set of Rainbow songs. Well… we played it through. We asked if he was happy with how it all sounded … and yes he was. His question was if we could do it again so he didn't feel like he had only sung for 2 minutes. So, it was a very quiet day with a lot of work, but work that was really satisfactory.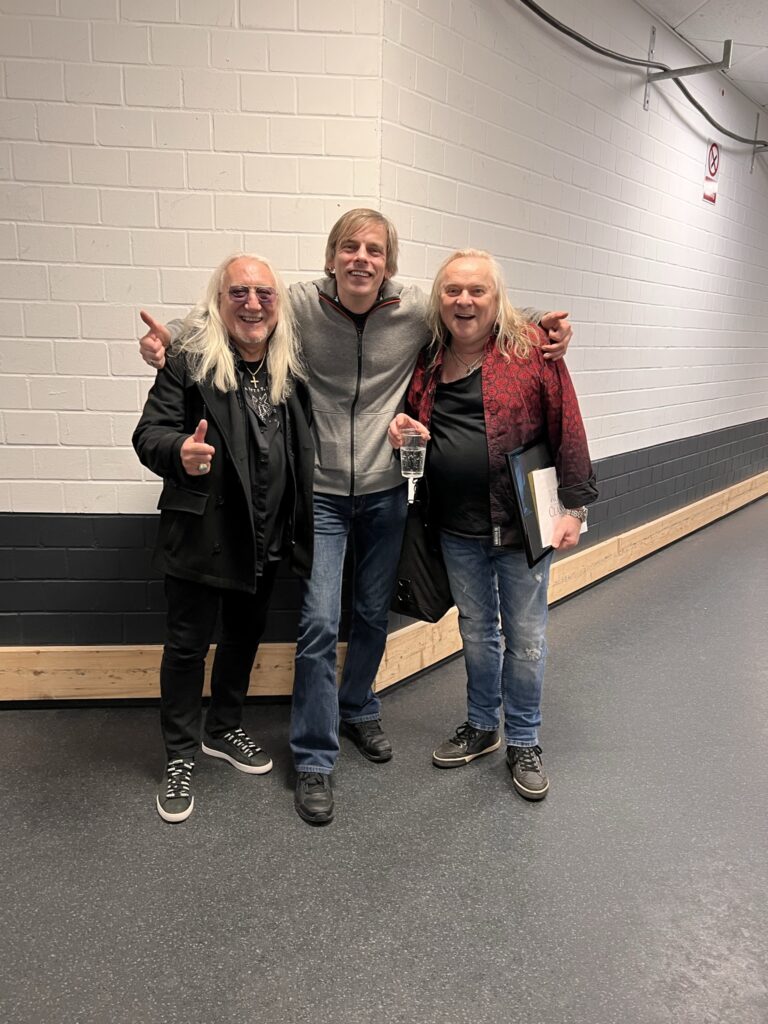 Wednesday was the day that the Uriah Heep men came in the morning, one thing in advance… if you want to know what good mood is… when they come in the first word is happy days! Very cool people. It was also very easy here. Played through some small things and hop away they were.
DEE SNIDER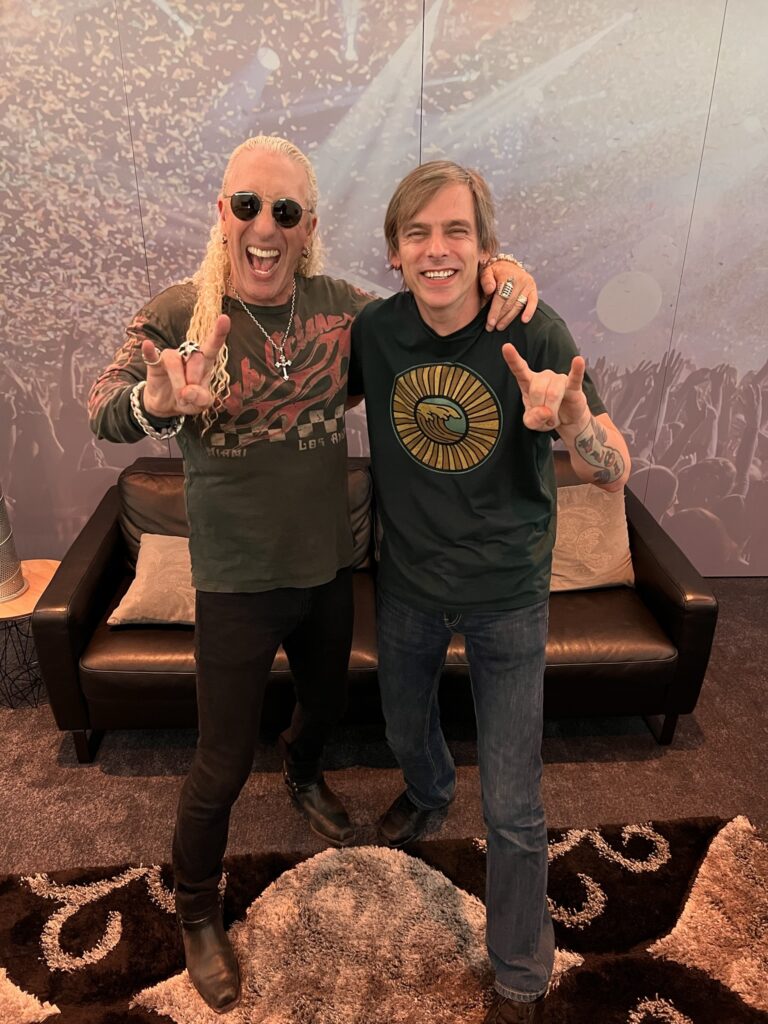 Then came Dee "fucking" Snider, introducing himself. We played the songs. Dee immediately had a plan how he wanted it and how he wants to shape the show with it. So, we rehearsed that a bit, but with an unguided missile like Dee it's not always easy. But here too, absolute professionalism stood out.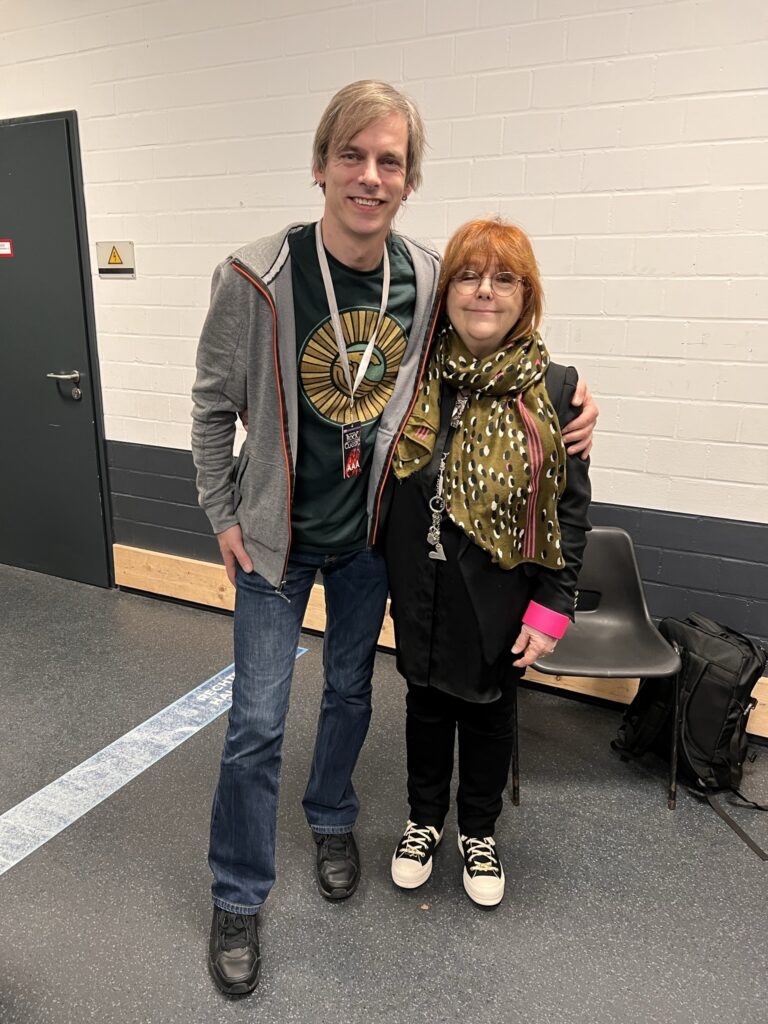 In the afternoon Maggie Reilly came, who of course has world hits to her name. Well, she sang through those songs for a while and only wanted to adjust the ending a bit. Here too it was easy and very cool.
Then the dismantling started. We are in the hotel and our crew has finished everything. We are talking about 3 trailers full here and that is quite a lot. Those guys are arriving first in those halls (around 07:30) and they are also the last to leave. (Usually, they are ready at 1 am and the bus leaves at 2 am) so you can only respect what those men do.
FIRST SHOW DAY – 13 APRIL 2023 – PASSAU
Thursday, April 13 2023 was the first show day. Everything is very tightly planned, but unfortunately it doesn't always work out. We left Würzburg for Passau at 9 am. That is about 4 hours away by tour bus. We came from Würzburg, and immediately found ourselves in a traffic jam, with one autobahn closed off. Those 4 hours became 7 hours. After arriving at the Danube Arena, we had just under 10 minutes to prepare. So, we went immediately on stage and well there you see everything in real life. We are talking about halls like a large HMH and partly Ahoy, very impressive when you see all that. Also, the entire production with video tapes, fireworks, etc.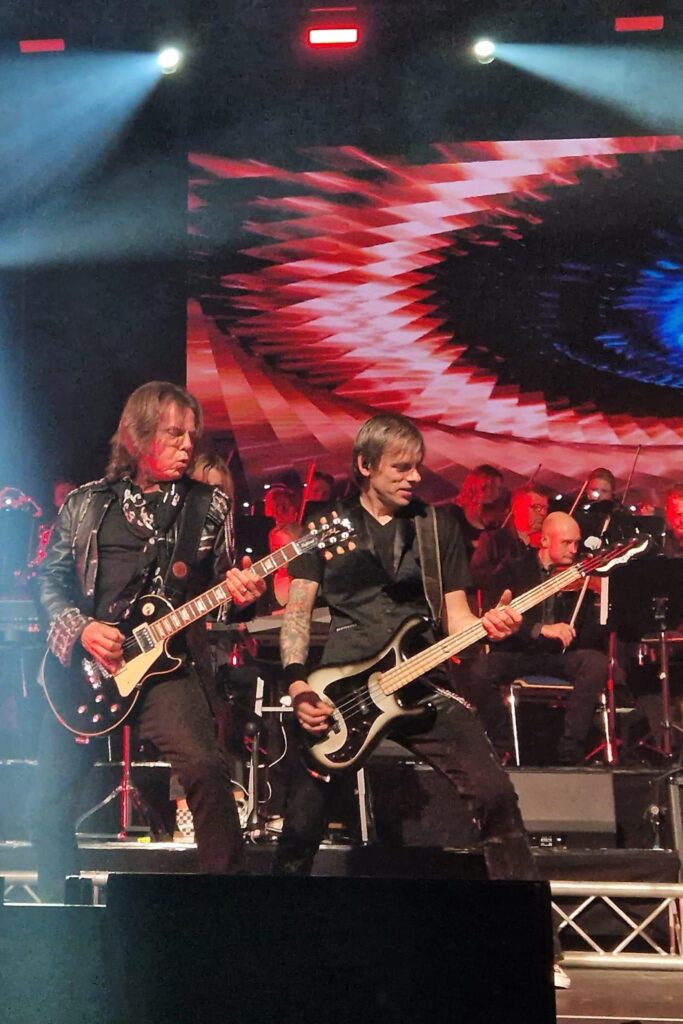 That's where Joey Tempest joined for the first time. Well, here you are with one of the heroes of your youth. We also played through his songs and with a few minor adjustments he was also very satisfied.
After that rehearsal we immediately went to the catering and ate. We have our own catering with different food every day. Then it was time to change and 10 minutes before showtime we go to the stage.
SHOWTIME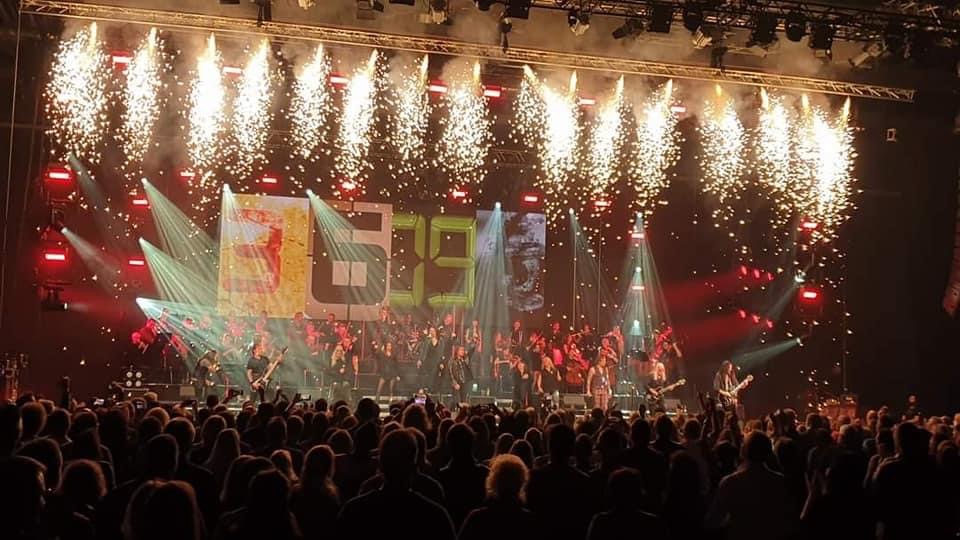 We have a nice intro and then we play a medley ourselves before the first guest arrives. I don't want to reveal too much about the songs, I think it's always better if you still have a surprise if you come to the show. Oberhausen is the only show close to the Netherlands. Apart from a few minor technical problems, everything went really well. It will of course remain a live show, and there can always be something different than during rehearsals. There was a bass that failed due to a problem (Twice!). The other problem had a monitor that was not working properly et cetera. But everything was very good for a first show.
SECOND SHOW -WURZBURG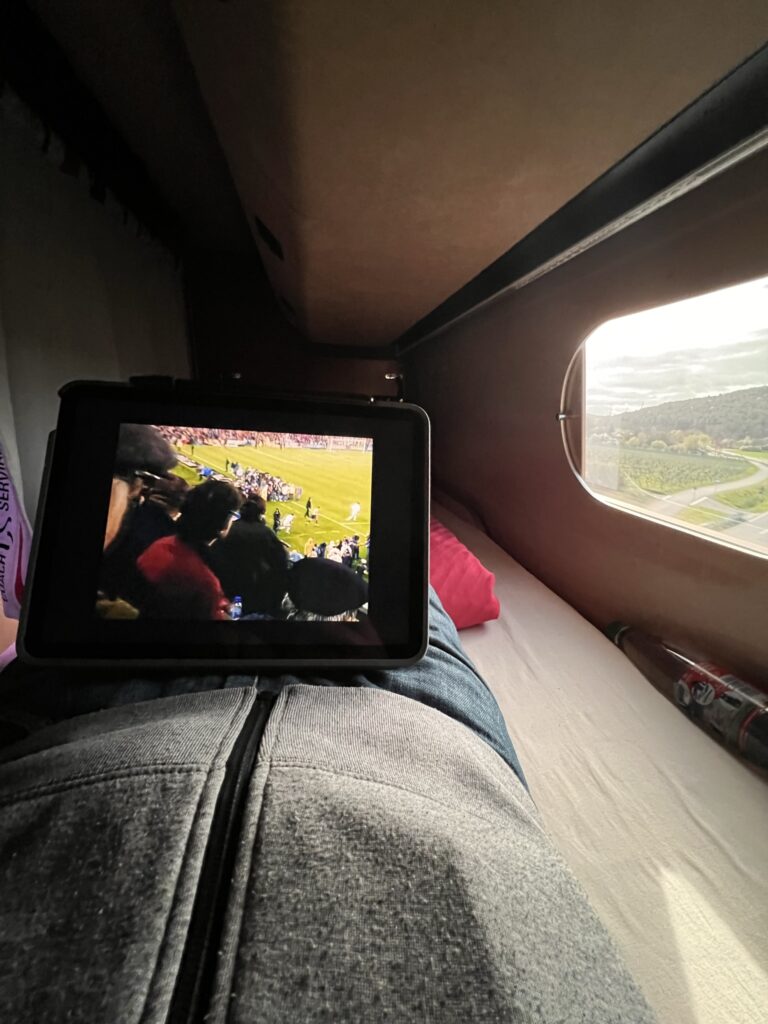 Today we are on our way from Passau back to Würzburg for the second show. After a 4 hour drive, we arrived at the arena. Although we don't drive very long distances, we still drive with a nightliner. Along the way we watch a movie and we listen to the stories of the guests. Very cool to hear the stories of Maggie Reilly, Mike Tramp, Ronnie Romero. Dee Snider and Joey Tempest ride separately. The atmosphere is very good and we have a really good time together. When we arrive at the arena in Würzburg there are already some fans and we sign autographs and take some pictures. Then it's quickly inside and after a short tour through the hall and catering we go on stage to sound check. Everything is built up by the crew and when we arrive, they have already completed an 8-hour day.
It's the same every day. My stuff is in the same place every day and when I stick out my arm there is also a Dean bass guitar hanging. Urs is the roadie for Tom Naumann and me. That guy really does a great job.
BASS SOLO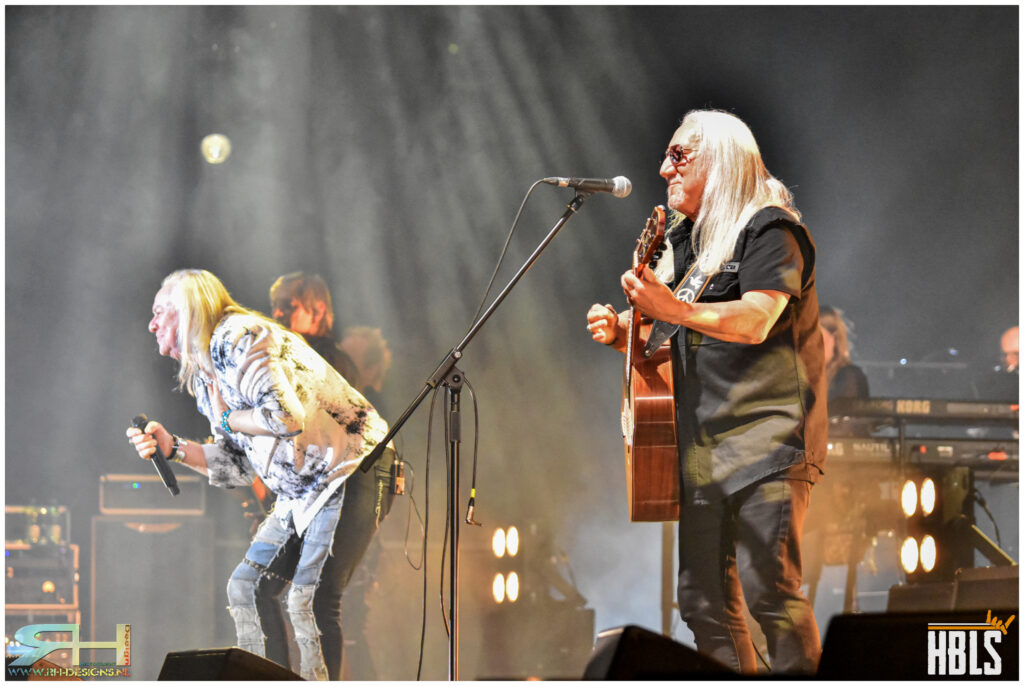 On the bus today, Bernie Shaw from Uriah Heep came up to me and told me he was missing something at the first show. Yes, there and there we normally play a bass solo. Maybe it's too hard for me? Eh…..mmmm okay…. I then watched a few recordings of their live shows. Not so easy though. At the sound check I tried something, improvised … during the rest of the sound check, those other guests only came very briefly. They are all happy with how we play.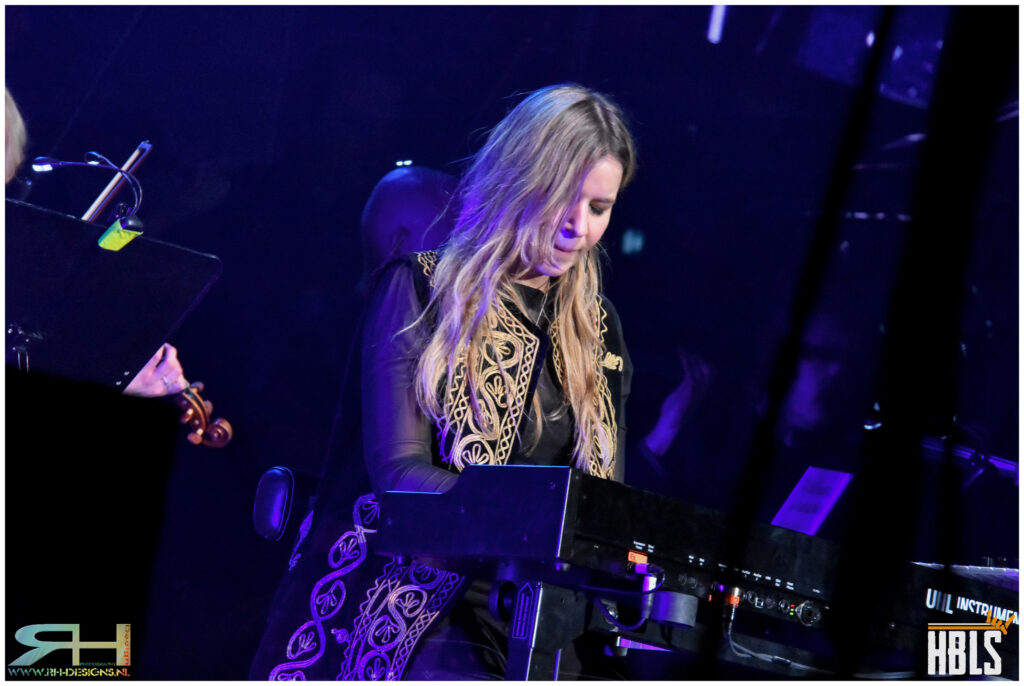 After the sound check it was time to eat quickly, our own catering is a pleasant surprise every day. Then we have another hour to change. Shortly before the show we had a meeting where we discussed some things before the show. Things we want to change to make the show even better.
The show today was a whole lot better than yesterday. During Uriah Heep I had my moment. Bernie immediately pulled me up and said ''The stage is yours''. It was really cool to do and the audience thought my solo was cool too and I got a big round of applause.
REGENSBURG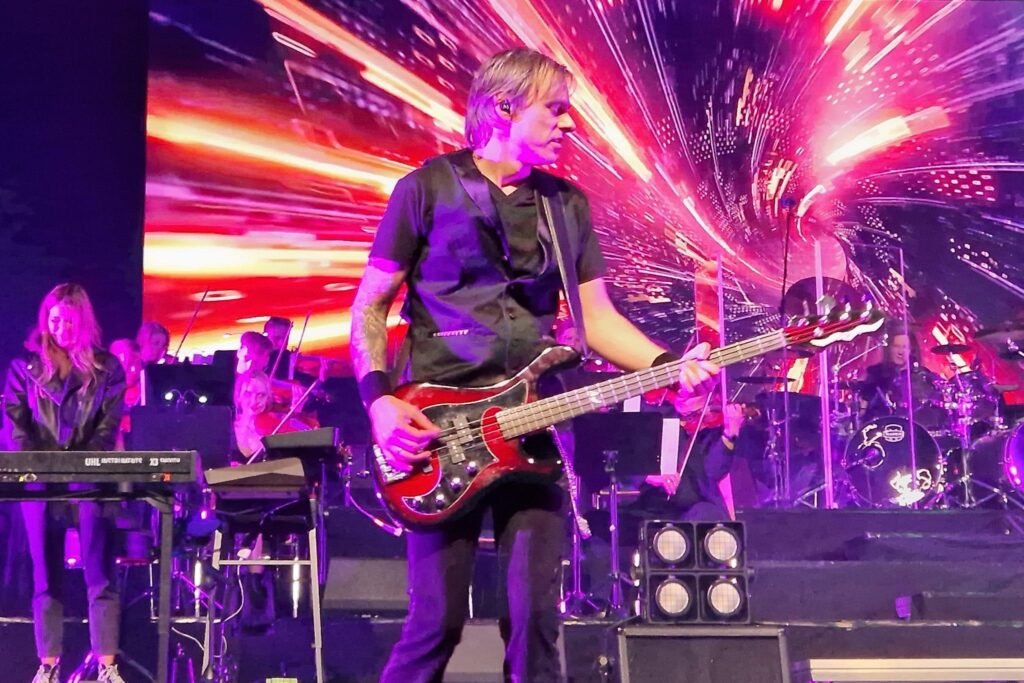 Now we are on our way to Regensburg where some recordings are also made. Regensburg is an ice hockey hall and when we arrive everything has been rebuilt. Today I received a new bass from Dean Guitars and I will test it during the sound check. We still have a few small changes, but everything is going smoothly.
The show is again a pleasure to play tonight and we are looking forward to it. We start again with Mike Tramp and the atmosphere is good again. What makes us very happy is the fact that many people have a ticket that they kept during the pandemic. Tonight is sold out again. Ronnie Romero comes on stage after Mike and what a pleasure it is to hear this man sing. He delivers 3 Rainbow songs and does it with verve.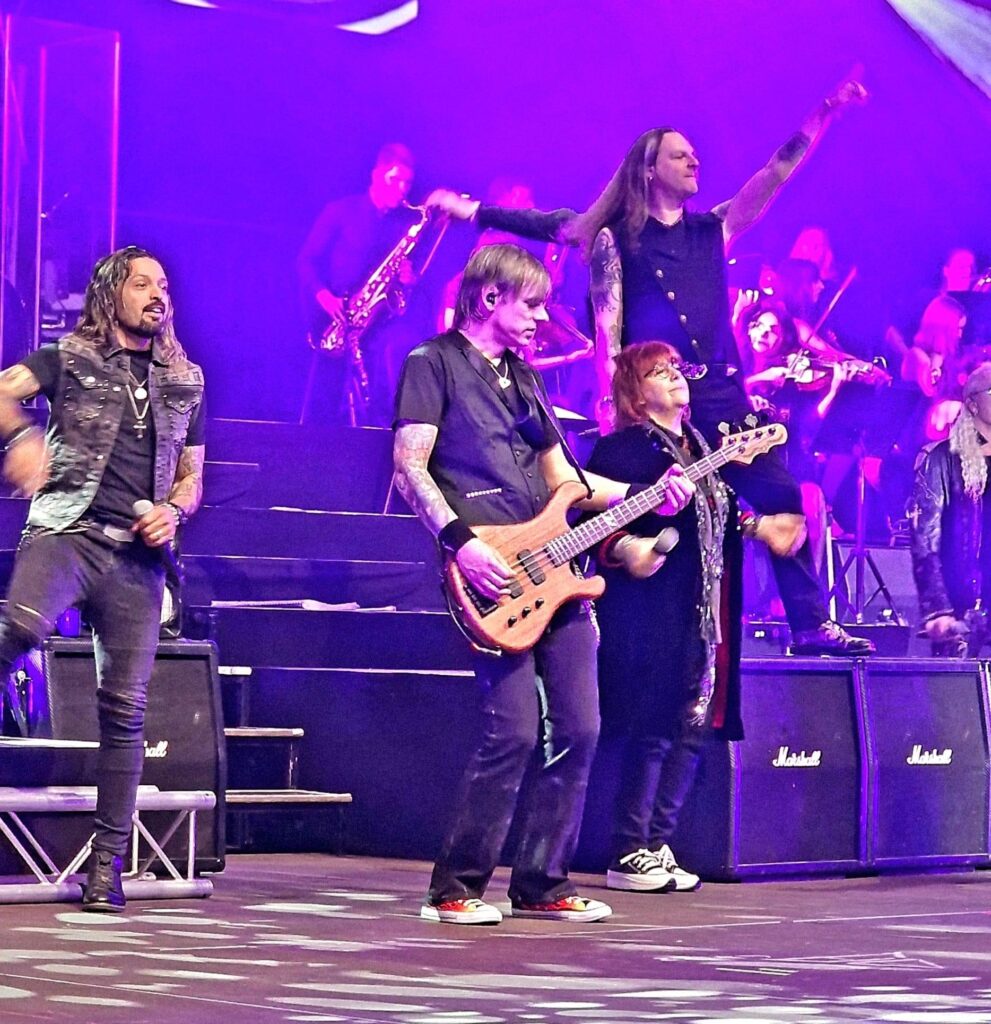 After Ronnie Romero comes Maggie Reilly. What can I say about this woman. She is sweet! She is absolutely professional and delivers a top performance every night. It's so beautiful to hear those hits from the original voice. It's also a respite in the show after all the violence from Mike Tramp and Ronnie Romero. After the 3 hits she also sings a folk song alone, that was the first time today, she did it spontaneously. She had already done it a few times at the sound check and we liked it so much that we asked her if she could do this for us.
The intro of Uriah Heep comes up and it gets bombastic. We play the hits and for me the highlight is when Bernie directs me back to play my solo-spot.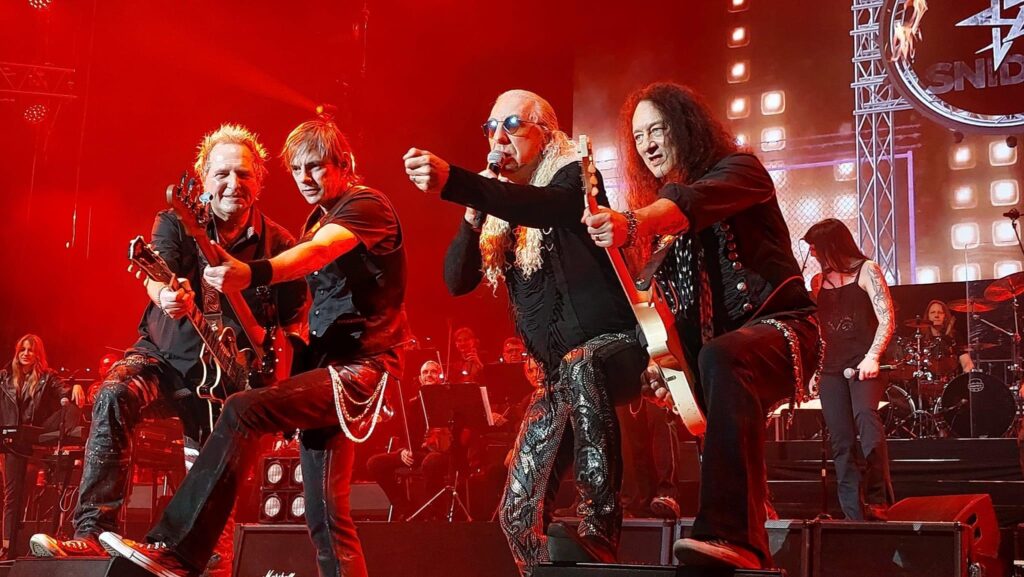 Then comes Dee "Fucking" Snider and that's like a bomb exploding. The atmosphere is immediately gigantic and he really controls the audience from the first second. Joey Tempest makes his entrance and sovereignly he goes over the stage and pops out one hit after another.
MUNICH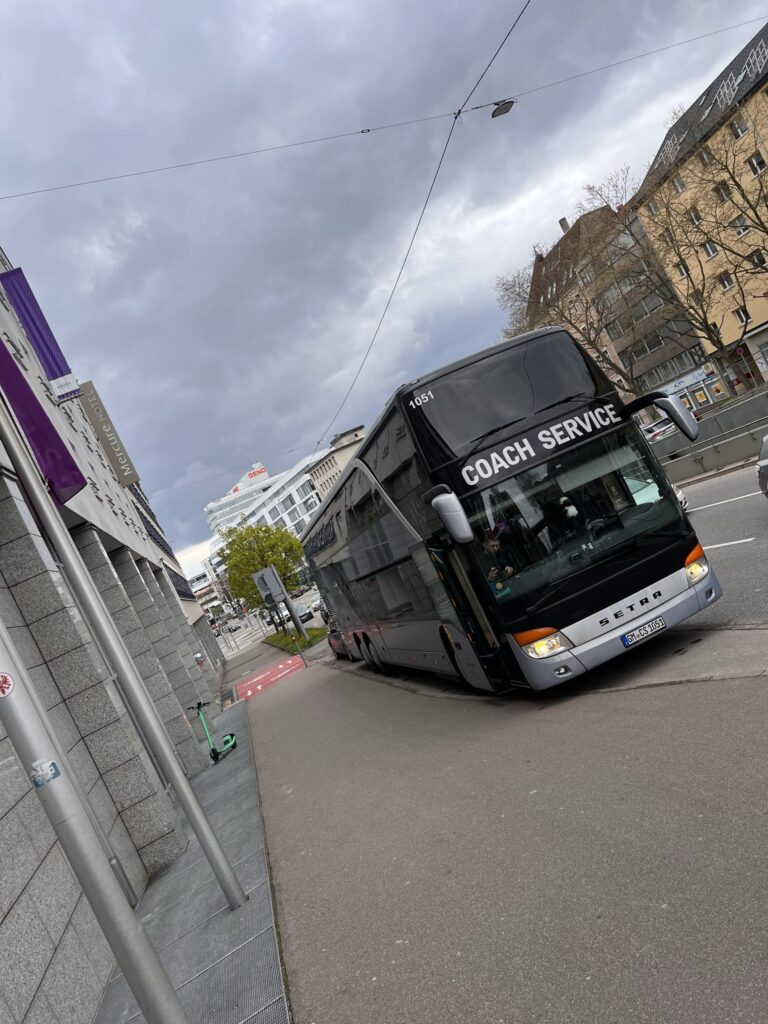 We have a nice after party at the hotel and now we travel to Munich. The road to Munich was nice and quiet, I had the chance to listen to the new Metallica. Arriving at the hotel, there are again a number of signature hunters. Some are real fans, there are also those who do a lively trade on eBay and associates. We have an hour to freshen up and then we drive to the Olympia Halle. That's not just a hall. Legendary concerts have been there, Rainbow, Deep Purple, Scorpions etc. etc. It's a hall with a name like Ahoy or Wembley, or Madison Square Garden. Of course, not directly from the big one, but from name. So, this really is a bucket list thing.
We arrive for the sound check and cameras are also set up. Recordings are also being made today and the entire Antenna Bayern team is present. It is the largest transmitter in Bavaria. All very exciting. Sound check goes very fast and we are all easily satisfied. Then quickly into the catering and then it is already time to change.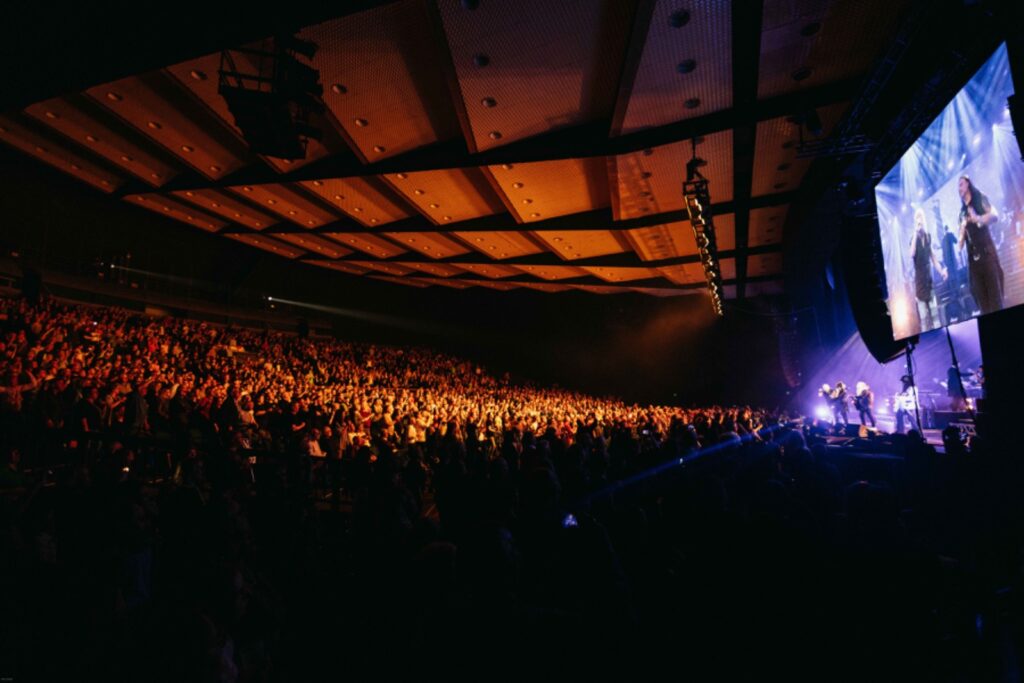 The audience goes along with it from the first note and that gives us wings. All artists give a top show and we have so much fun and enjoy every moment. That is a really nice feeling. We've laughed our ass off at Dee Snider when he pulls us out during an audience segment. He makes statements that really make us laugh, so he does too…. Man what fun.
JOEY TEMPEST
Then it's Joey Tempest's turn and he too is completely absorbed in his show. A really cool moment is when we play ,,Ready Or Not" this time and during the solo he walks over to Tom Naumann (who's on my side of the stage), Joey looks at me, and gestures for me to come too. Well, at that moment you become a big fan again. Today we also have the Grand finale and it gets better every day. Those stars are increasingly agreeing with each other how they can all do a large part with it and that makes the atmosphere even better. Ronnie Romero comes up to me during the song and tried to turn my machine heads, the rogue 🙂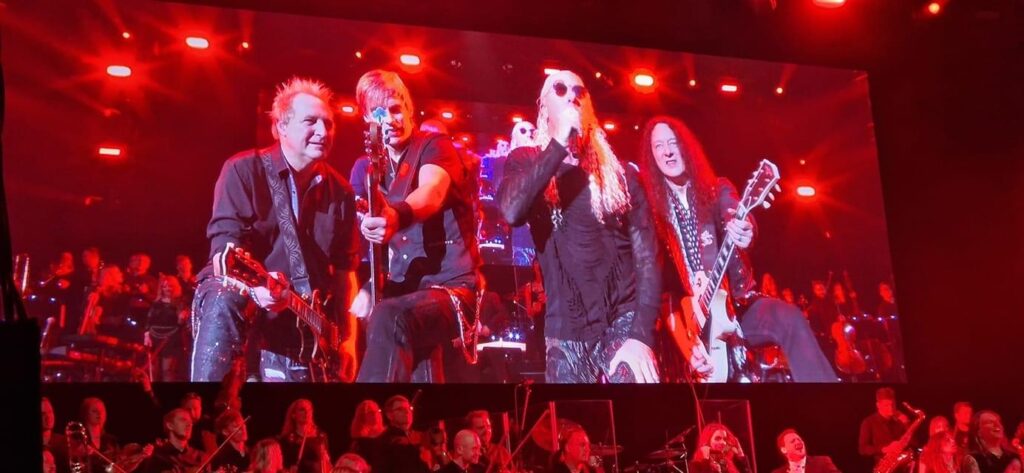 We have another after show party at the hotel. It's very busy. Besides the aforementioned signature hunters, there are also many acquaintances of the band and the artists. The families of the Heep boys are there and they are all just as enthusiastic as the Heep boys themselves. People from Genoa have flown here, which shows how big the whole thing is.
DAY OFF
Today is a day off. We do need them after being on our feet for 1.5 weeks. Count it out, the rehearsals and then 4 shows in a row. So today it's a bit of Travel to Stuttgart and a quiet evening. Tomorrow we will play in Ludwigsburg.
LUDWIGSBURG
On our day off we rested a bit and ate something. Today it was Ludwigsburg and it was an exciting evening. You arrive completely relaxed after a day off. Yet it was a bit more exciting from entering the room. We did a short sound check and afterwards it was time to eat. Many family and friends were here. Many tour musicians come from this area. Mat Sinner also came by. As is known, Mat has been ill for a long time and is still on his way to full recovery. I am very grateful to him for this show and I could tell him so again. There were people who do (or did) my management, but certainly also my family and many acquaintances.
So, there wasn't a lot of time, you want to show them everything and introduce everyone, but that all has to be done quickly. After all, we're here for the show.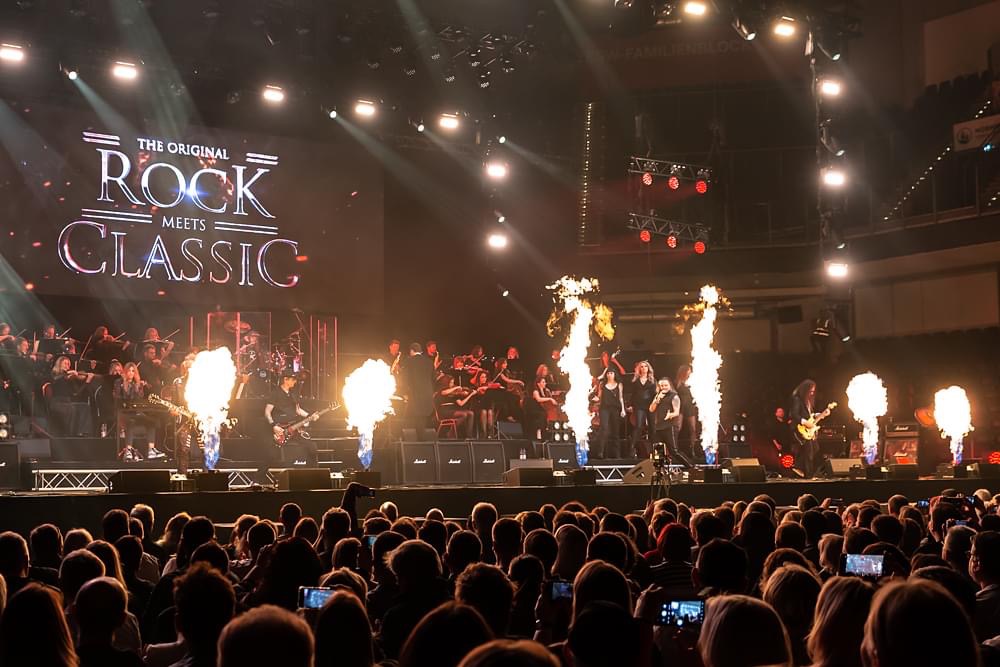 The stage was built a bit differently today and the runways were a bit longer. But that was the biggest "problem". The show started and we were reborn after a day off. We really feel like we're getting better and better at what we need to do to make the show even better. Today Mike Tramp came out so well. From his first note, people stood up and sang along to White Lion's hits.
That was with every part of the show, but the people here were maybe even hungrier and we noticed it right away. We get so much gratitude back from the audience, and that gives us even more energy. The whole show flies by and today we changed the encore a bit and that made it even better. The public may not notice that, but we do. Today we have a travel/day off to Ingolstadt. We have the show there tomorrow.
We had a very good hotel this time. It was a wellness hotel so we really enjoyed the pool and whirlpool and steam bath. We ate well and then the day was over.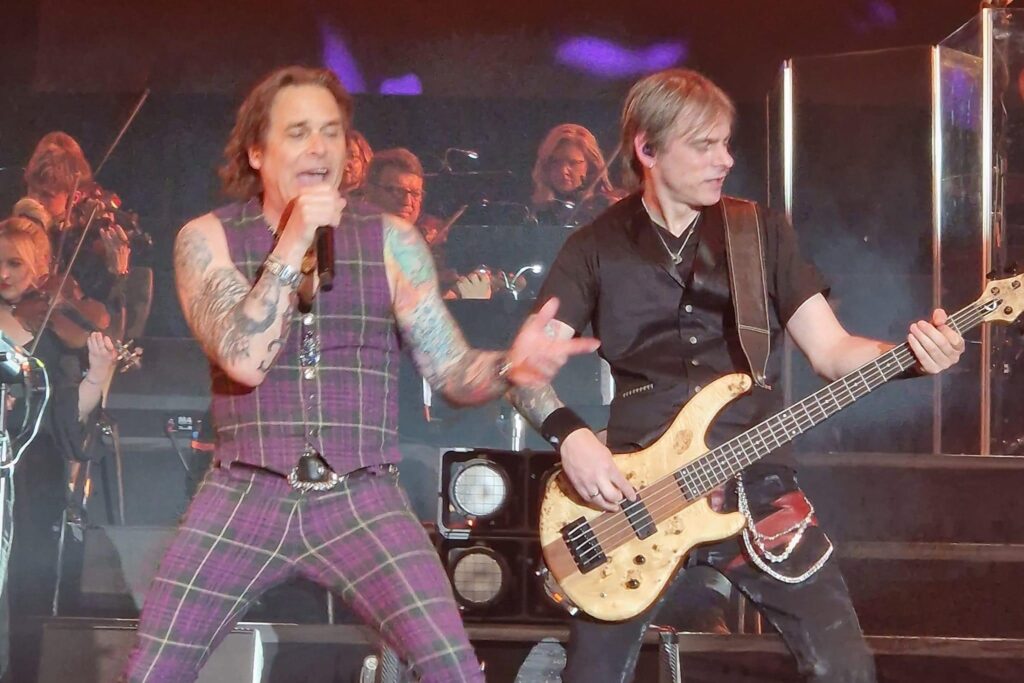 We drove to the ice hockey arena for about 4 hours and after a normal soundcheck with Maggie, Ronnie and Uriah Heep and a short one with Mike we were done quickly. Onwards to the catering to have a snack. Then a quick greeting to some people and we changed for the show. Today it was very warm for the first 4 songs despite being in an ice rink. We have a good start and we have so much fun that the show is over again in no time. Just like in Ludwigsburg, there are also a lot of people waiting for us at the bus and there are also a number of people at the hotel.
EBAY COLLECTORS
There are real fans, but also a number of eBay collectors again. Well, it's part of it, shall we say. It is also striking that there are a number of people who have visited all shows so far and a number who visit at least several shows. Unbelievable what people do. People flew in from Japan for one show. That makes us very grateful. I am writing this in my bed on the tour bus on my way to Frankfurt. Still a short 4-hour drive. I slept a little and now I write these lines. So tonight, Frankfurt's Jahrhunderthalle. That's also a bucket list thing. Tonight is show seven out of ten… it goes by very fast.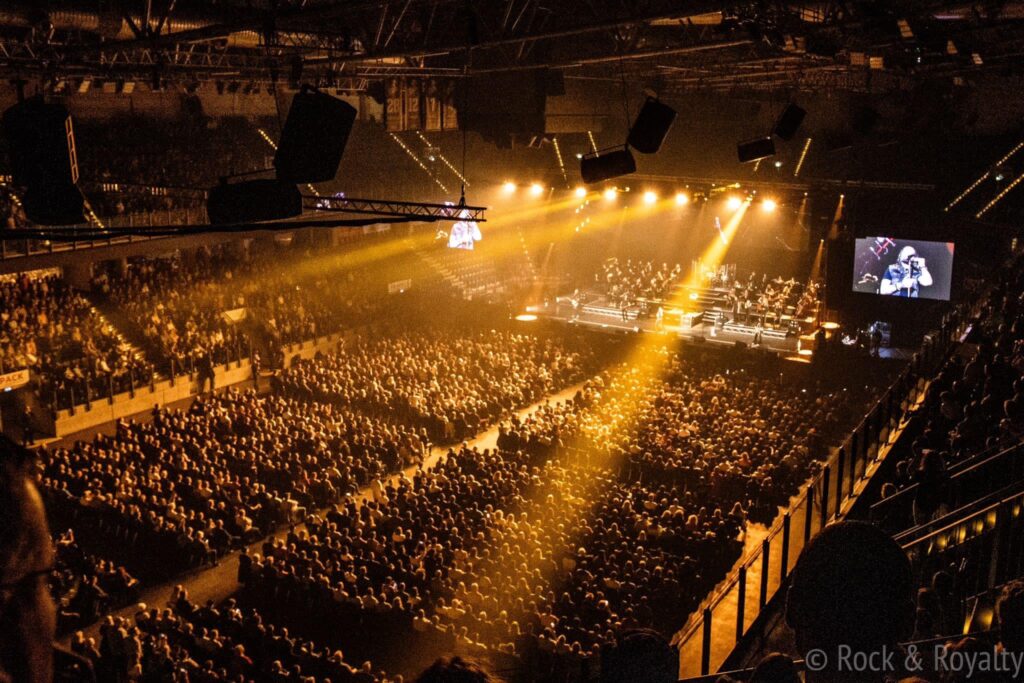 Again, today there was a lot of family present and also many partners from the music industry. This usually means that there are other agreements in addition to the sound checks and catering. Whether that is an interview or photos that are taken. So that is sometimes stressful. Finally, the show starts at 8 pm and you still have to change clothes etc.
The Jahrhunderthalle is a hall specially built for concerts and so we had a very different sound on stage than at the ice hall shows. Everything was great again today. Those 2.5 hours fly by and I can't declare one direct act as the winner today. Everyone delivered a top show.
NÜRNBERG
We are now on our way to Nürnberg for show eight out of ten. The end is coming so slowly and it's amazing how fast everything else goes. After this comes Kempten and finally Oberhausen. Last thing is a travel day home.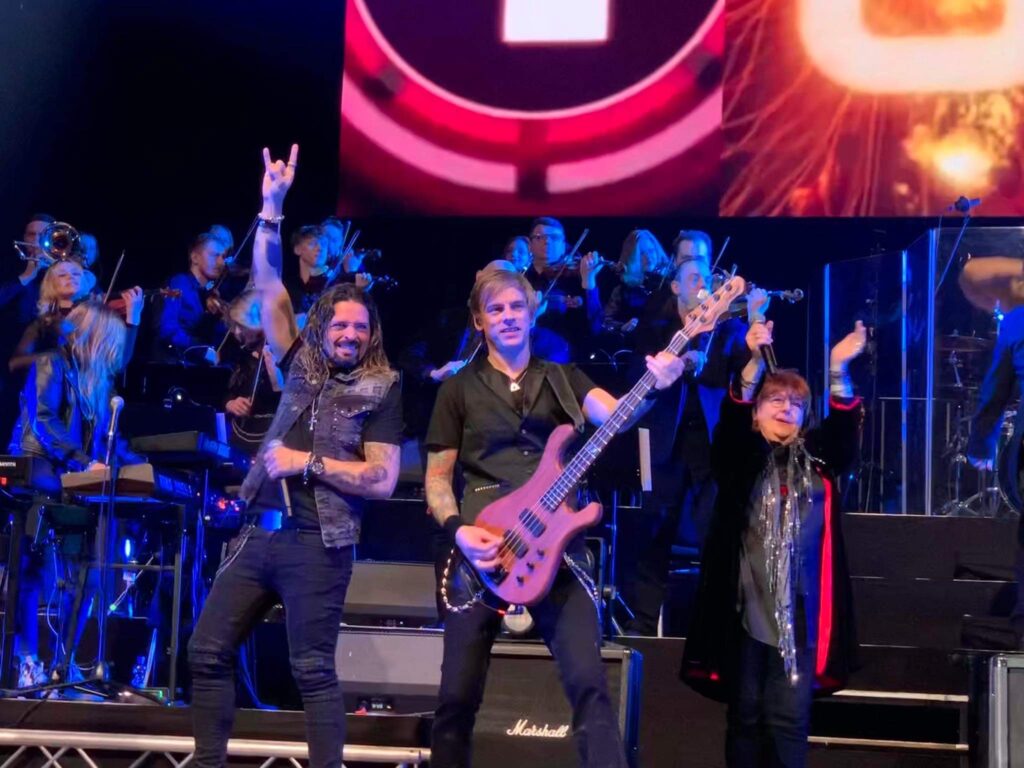 Yesterday it was Nürnberg's turn. We got through the traffic very well and were therefore early at the hotel. I watched TV there for a while and tried to take a nap before it was time to go to the hall. Again, it was an ice hockey hall (arena). We also had a quick sound check here. We only do this one with Uriah Heep and Maggie and Mike. It's really just a matter of controlling the monitor and the acoustic guitar.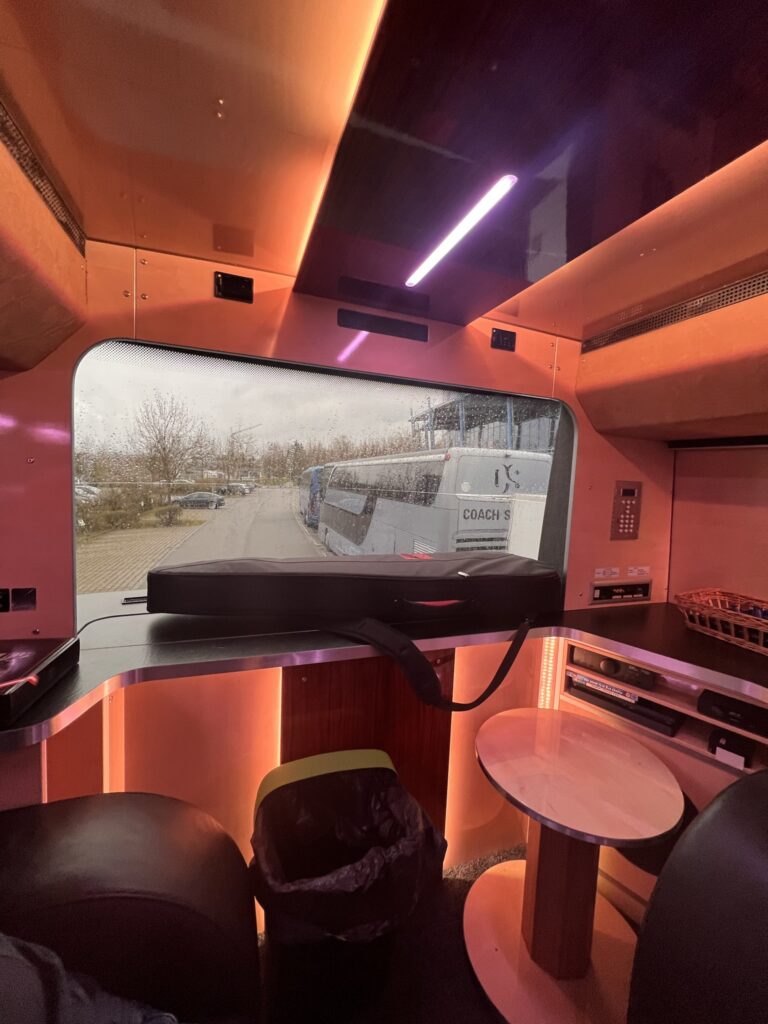 At 6 pm we also had a photoshoot with the entire production. What really does us good is that everyone is always in a good mood and we really have a great time. The show was sold out and it was so nice to see all the seats taken. When the venue light comes on and you see that, it really is a dream come true. I am therefore grateful every day that I can do this. Today Ronnie was in good shape with the vocals, unfortunately he had a fall earlier in the day and that left him in a lot of pain.
DOCTOR
A doctor comes to the tour to see if anything needs to be done. So, he was not very mobile but was able to sing his songs with a lot of pain and effort. That singing really gave me goosebumps again, but when you know that he was in such pain, you can only have more respect for him. The final was great again. When we walked off stage, Joey Tempest was waiting for me. He embraced me and said "man, you were so great tonight" and despite my 1.85 cm I still grew a head taller haha.
After the show we had a small party in the hotel, not long but very nice. I'm in my room and watched a report about the Netherlands. I've been living in Germany for 15 years now, but I'm still happy when I see something from Home.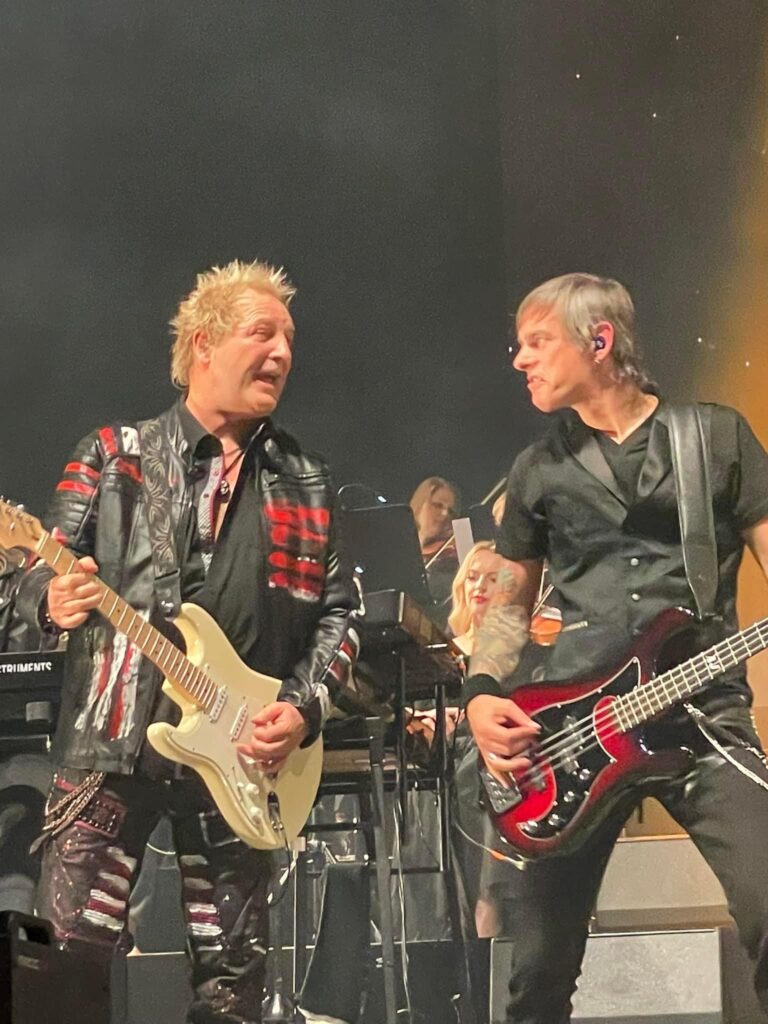 KEMPTEN
I write this in the nightliner, waiting for the rest of the party to continue to Kempten. The penultimate show. It's unbelievable how fast it goes and we're all a little sad that it's going so fast. It fits, shall we say.
Yesterday was the show in Kempten in Allgau. What a beautiful venue. Sold out and for that all stars received a cow bell with their name on it as a sold out award.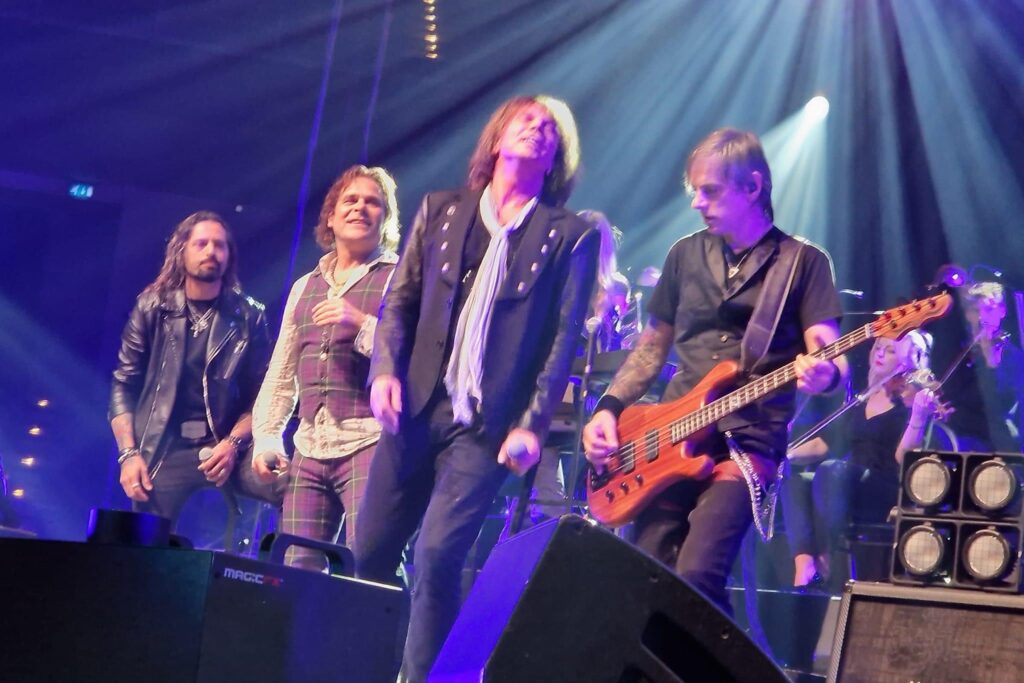 It was the first time where we had some technical problems during the sound check. We thought they were resolved fairly quickly, but during the show one problem came back. At the intro I noticed that my in-ear monitor was not working. At least on off, on off… I then took my in-ear out of my ears and played like that. This is very tricky because there are no monitors on stage. So, you really have to concentrate on what you hear from the stage. The drums are very far and high back and the orchestra is in front of them. You can't hear the singing. Fortunately, I stayed calm and played through the first songs, a queen medley.
PARTY
Then I have some time before Mike Tramp arrives to change a bass. Unfortunately, no time to change the monitor because it goes fairly quickly. So, I had to be careful there too, between the changes of Mike Tramp and Ronnie Romero I luckily had time and after that everything worked properly. The show went very well again and the audience was so enthusiastic and we had a lot of fun on stage again. After the show we had a nice party in the bar next to the hall. A few good friends and old acquaintances were there.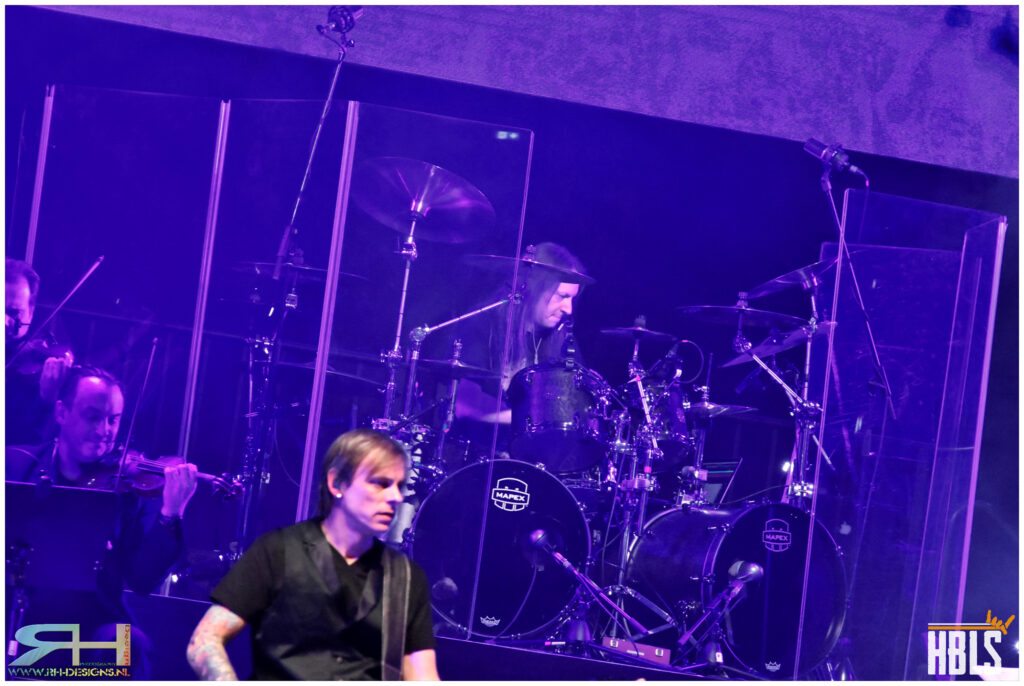 At 2 am we were back at our hotel. Very nice if you are awakened at 07:40 by a fire alarm. We evacuate the entire hotel and wait for the fire brigade to release the hotel again. In the end, we remain a rock band and have therefore set off this alarm ourselves. The hotel is very designed… open bathroom and all… Ronnie Romero had a hot shower and it came to that. Apparently so much water vapor or steam on the smoke detector (just outside the bathroom (but yes it was open)) that the alarm started. Smart architect. At least we had an early bus call as today we drive 650 km to Oberhausen where the last show takes place.
OBERHAUSEN
Avantasia is also playing there today, they have the same hotel and we have also been invited to the show tonight, but I think I'll stay in my room and have a drink at the bar.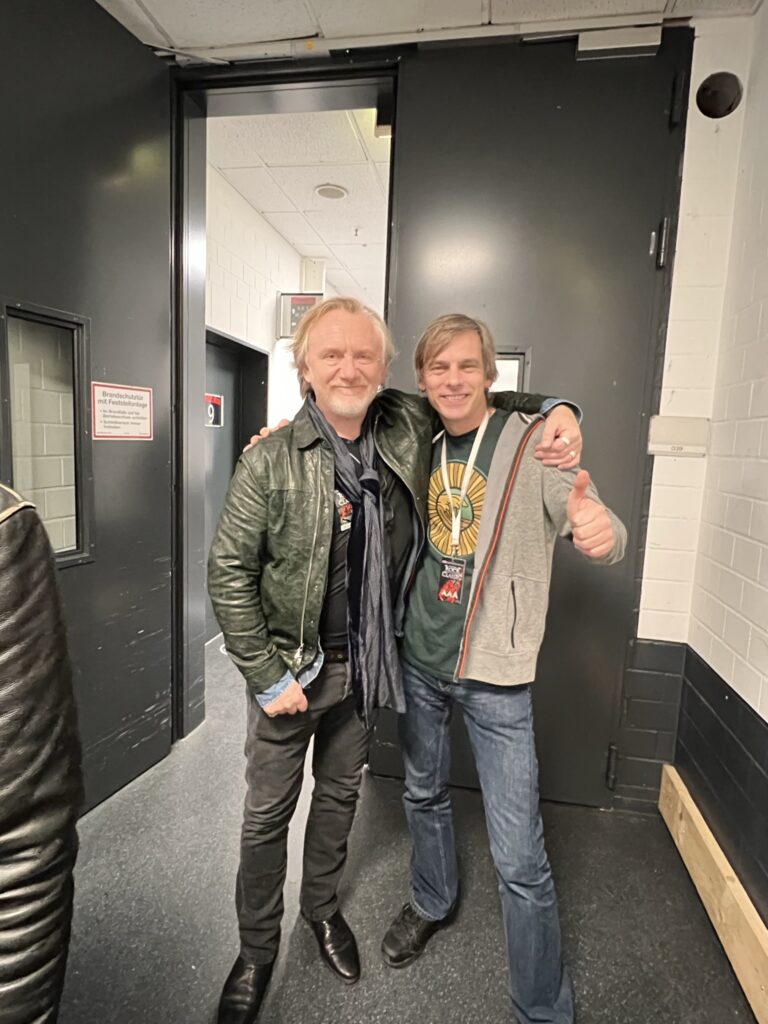 So today really is the last show. The nightliner was already picked up yesterday. We all drive rental cars and train and plane back home or the next tour. Yesterday I stayed in the hotel, after the Avantasia show all the musicians came to the hotel and it was nice to see and talk to old acquaintances.
Luke Morley from Thunder also arrived, he had already told us he would come to watch the show. I hadn't seen Luke in several years. I used to be the support act for Thunder with Mennen countless times and that was always a party. So, we have fond memories of those times. Today at breakfast it was again a mix between Avantasia and Rock Meets Classic. Funny when you see all those familiar faces sitting together and pictures are taken. I'm still in the hotel now and really just waiting for the moment I can go to the arena. It will be a difficult goodbye as we have so much fun and have made real friendships. Soon the show and then everything will be packed and it will go home.
IN THE BOOKS
The final show of Rock Meets Classic is in the books. It was very exciting. Before the show, everyone was in a state of stress. Everyone was still on an autograph hunt and wanted to take pictures. It's not like we had 3 weeks to do that and that it could have been done sooner. You know what it's like… let's do it tomorrow…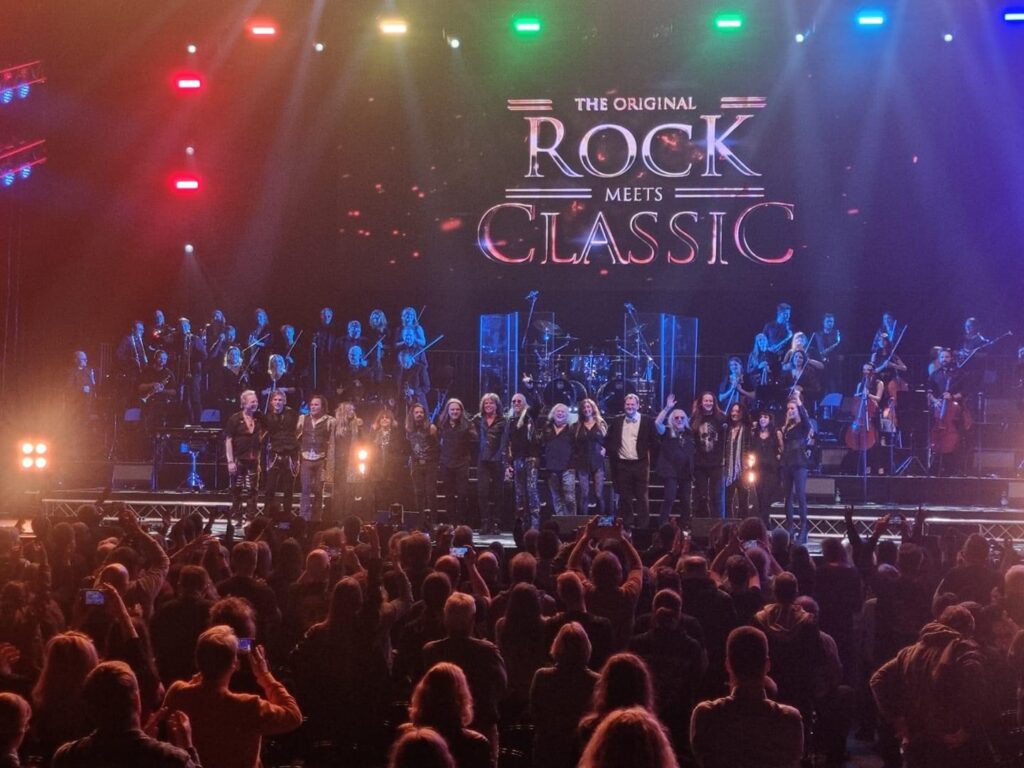 There was actually another interview planned with rock on your radio, but unfortunately, I had to cancel it due to lack of time. I think that is a great pity, since it is a station and mission that I have a warm heart for. The show started as usual, but the audience was very enthusiastic from the first second. During a break Joey Tempest came to me and spoke the following words: "Alex you play so great each night and I think tonight you are going to fly" that is a great compliment. It later turned out to be true. I had wings on the show and loved every second of it. After the end of the show where everyone was thanked, it was still stressful.
All equipment had to be loaded into different cars and buses. A part to Stuttgart, Mannheim, Würzburg, France, etc. Since the crew also had a lot of work and everything was mixed up, it was a bit stressful. After the show and loading, there was a farewell ceremony in the hotel. It was a lot of fun and went on for quite a while.
HOME AGAIN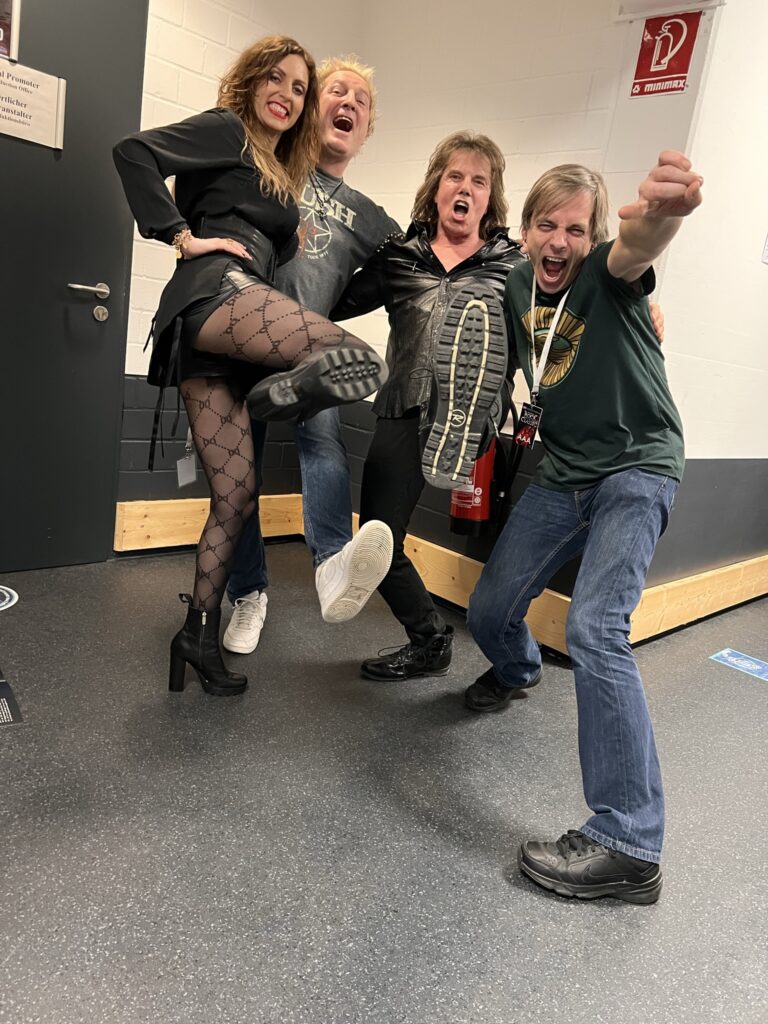 Yesterday was the day we went home, armed with a book full of autographs, a heart full of friendships and a mind full of memories. It was another long day. Before we had unloaded everything and were really back home it was another day of 16 hours of work.
So, this morning I looked for catering and waited for the app with the bus call… it didn't come, which made me realize that the tour is really over. I know it's a long read, but I wanted you to enjoy the adventures as much as possible.
I now have a lot of next projects and who knows, maybe I will tell you about them. Thanks to the Rock Meets Classic family and all of the crew and all the stars that I can now call friends.
Rock hard!
Alex
All photos courtesy of Alex Jansen except where indicated otherwise
Header photo by Raymond Helebrand