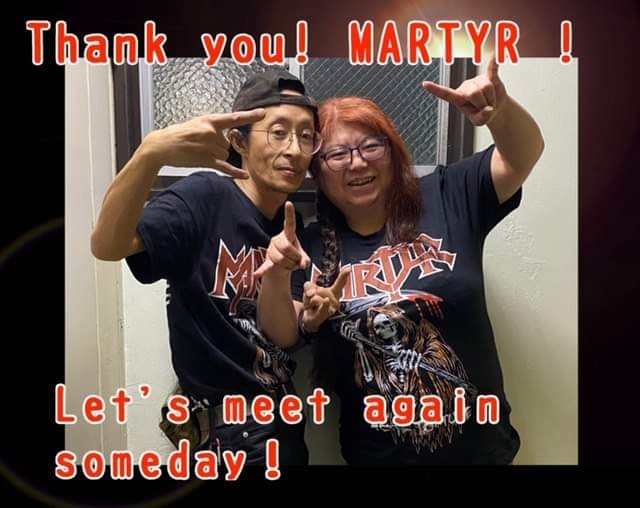 A SUDDEN RETURN TO THE LAND OF THE RISING SUN
MARTYR at True Thrash Fest 2020, Osaka, Japan-PART 2
RECAP: 16th February I got a message from Miki, our promotor, label manager and also organizer of the True Thrash festival in Osaka, Japan. The guy is in panic mode, Sacred Reich and Vio-Lence cancelled their trip to play at True Thrash festival 22 and 23 February 2020, if Martyr can hop on a plane to fill in the gap. And so we did…… On our first day we travelled and did some sightseeing, eating and boozing. On the second they we hang out at the first day of the festival to check out the other bands and meet a lot of fans. On the third day, after hardly having any sleep since we arrived it is finally time to hit the stage.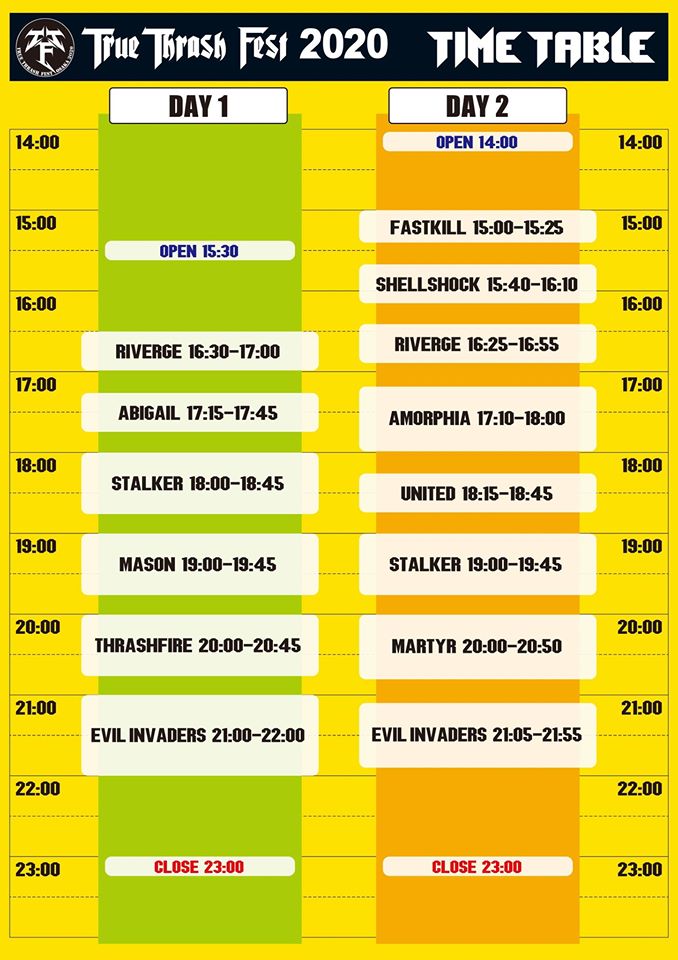 CHAPTER 3 – THE FESTIVAL DAY 2
I decide to skip breakfast myself and have little more sleep and time to prepare my guitar and gear before leaving with the band and crew to Esaka Muse. Of course Nobu is here again to assist us and grab some coffee out of the many bending machines on the street, also serving hot (and delicious!) coffee in cans. As we already know our soundcheck in Japan goes quick, smooth and with great assistance from the venue crew (what a sound)! Geoffrey and I brought our new small BluGuitar AMP1's so it was plug and play and damn how it rocked. The Japanese crew hadn't seen the amps earlier so they were very interested in it.
After hanging around a bit with the guys from Amorphia and some fans we decided to walk around town, visit the casino and the Pachinko (which is a big hall filled with arcade games. Damn that noise is so loud. You just need to experience that). We split up for food at the conveyor belt Sushi (Suhsiro Esaka) and Volks before heading back to the venue to meet up with the fans, friends and bands. Showtime MARTYR at 8 p.m.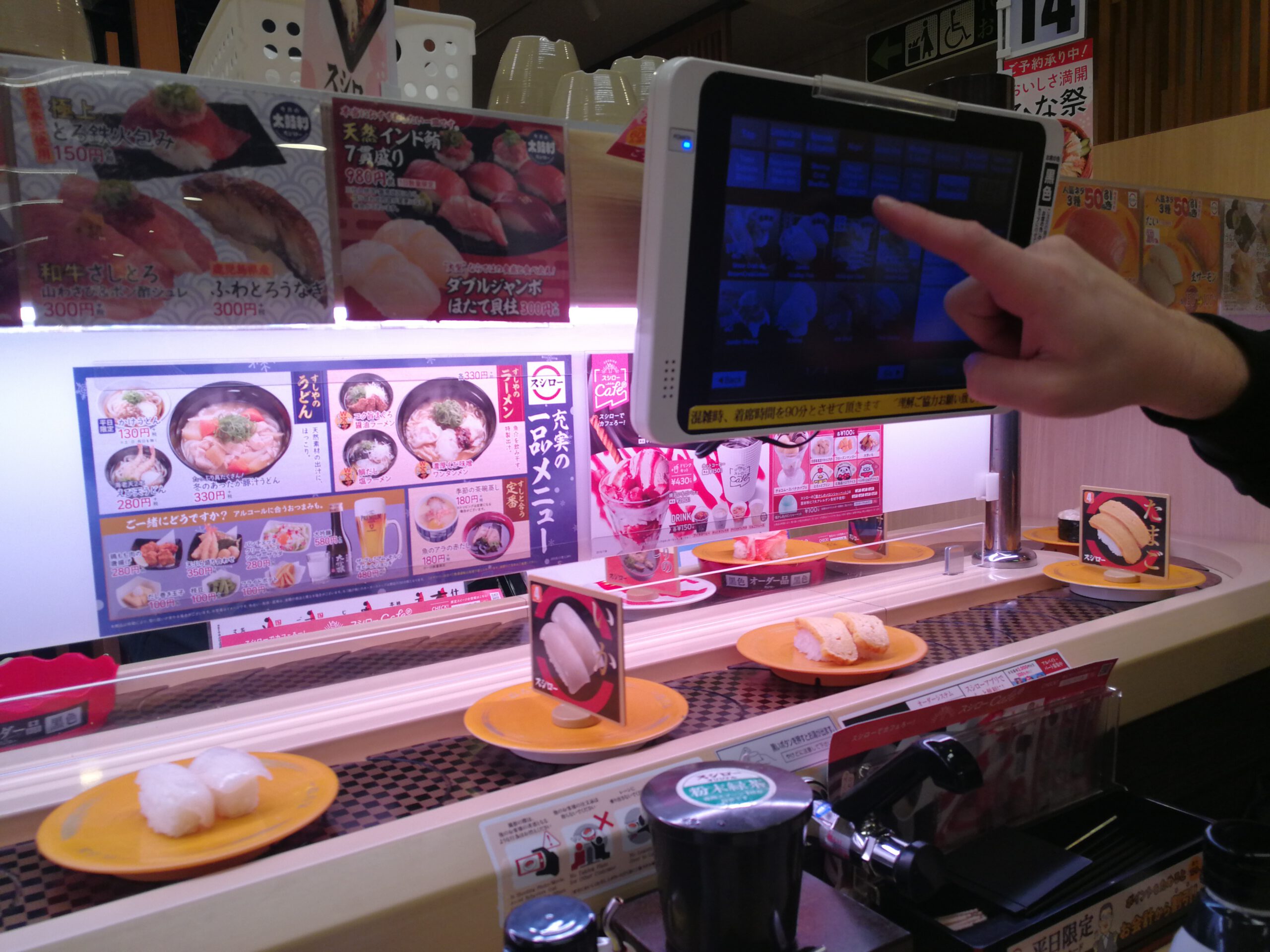 Sushi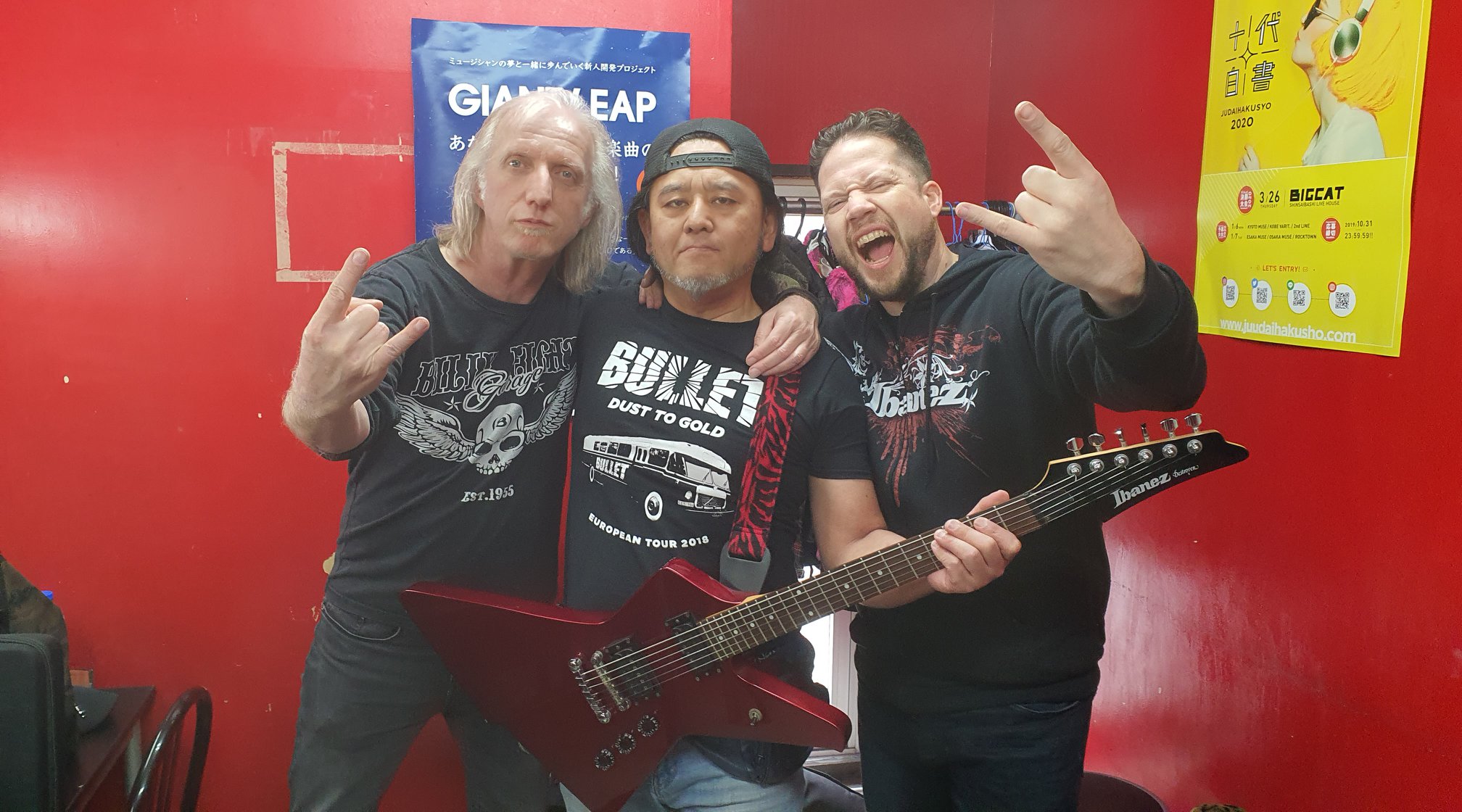 Guitar dude from Abigail

After another warm welcome we watched the bands Shellshock (Japan), one of the co-organizers of the festival Riverge (Japan), Amorphia (India), United (Japan) and watched Stalker (New Zealand) from backstage before hitting the stage ourselves. We already saw that the crowd is insane so this will be promising. All bands are very much thrash and full of blast beats, so even though we say so ourselves, we think we will stand out by having quite a diverse set list with fast songs, more melodic songs and even 1 slower song. Like it or not …..and ….HELL YEAH, Osaka liked it!!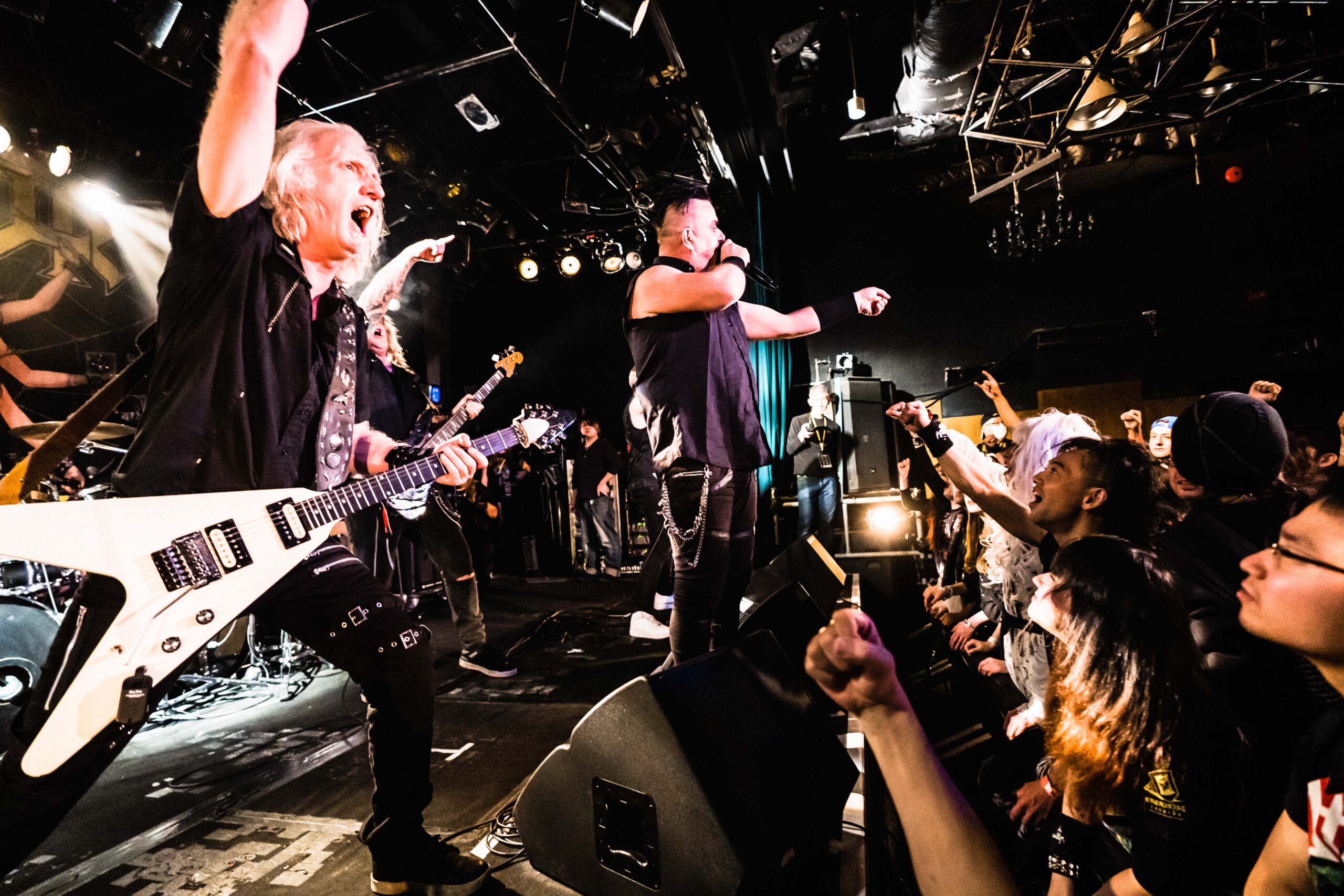 Here we go Osaka!

The curtain opens as the intro starts and we kick off with ,,Into The Darkest Of All Realms". Everybody simply goes insane and sings along, thanks to the `Live In Japan' and `You Are Next' albums released in Japan. Stage divers are all over the place. Next is ,,Infinity" followed by the classic ,,Snow & Fire". A classic from 1984's demo `Metal Torture'. We "kanpai" with the Jägermeister for the first time before I share it with the front row fans.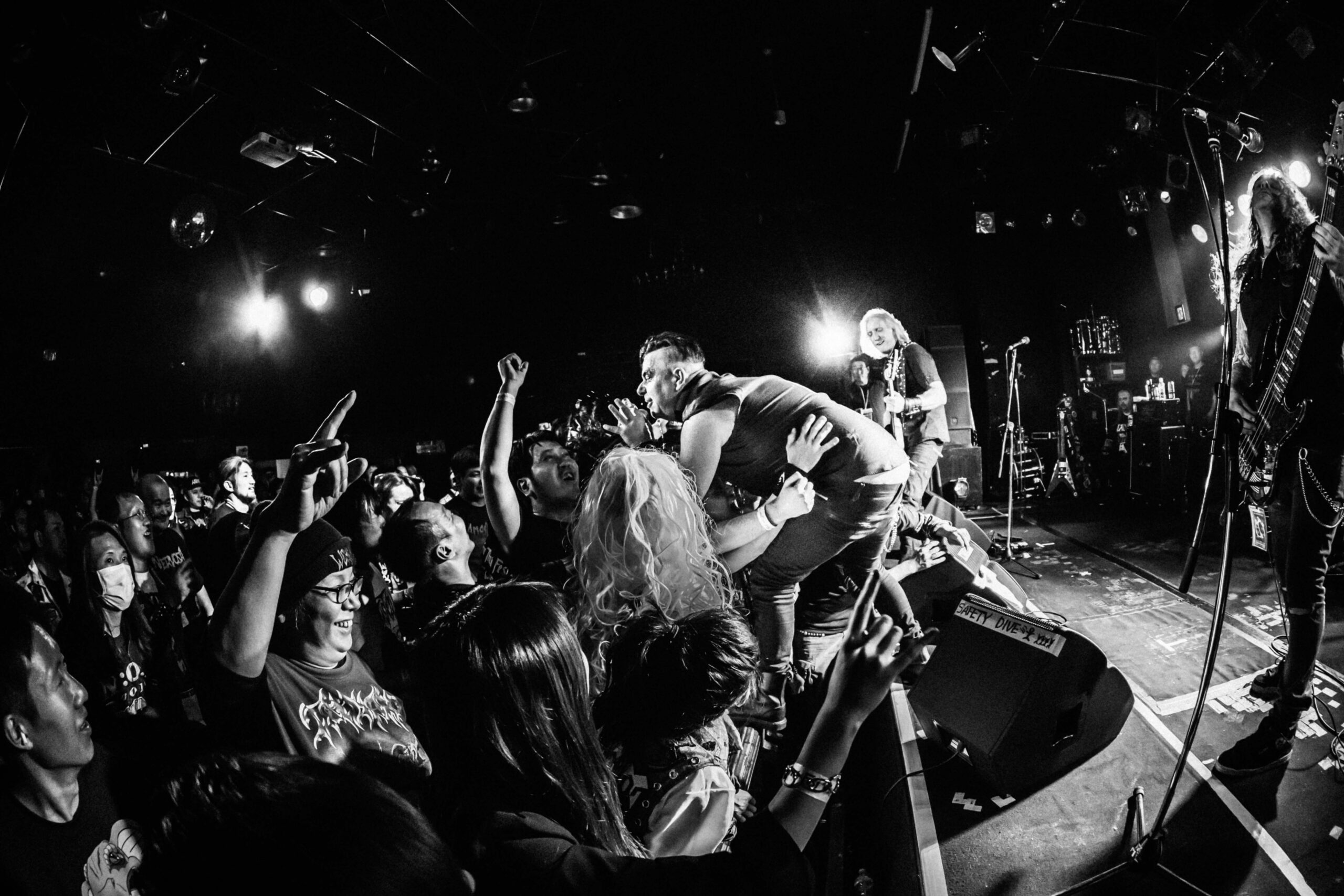 Brian and Nobu are also responsible for making sure fans get on and off the stage properly when they dive. Before the show Brian asked Rop to not throw water over his head, but Rop is unstoppable. And Brian watching him says, yeah man it is OK, you are in the zone!! You guys are nailing it, this is what you do so do it!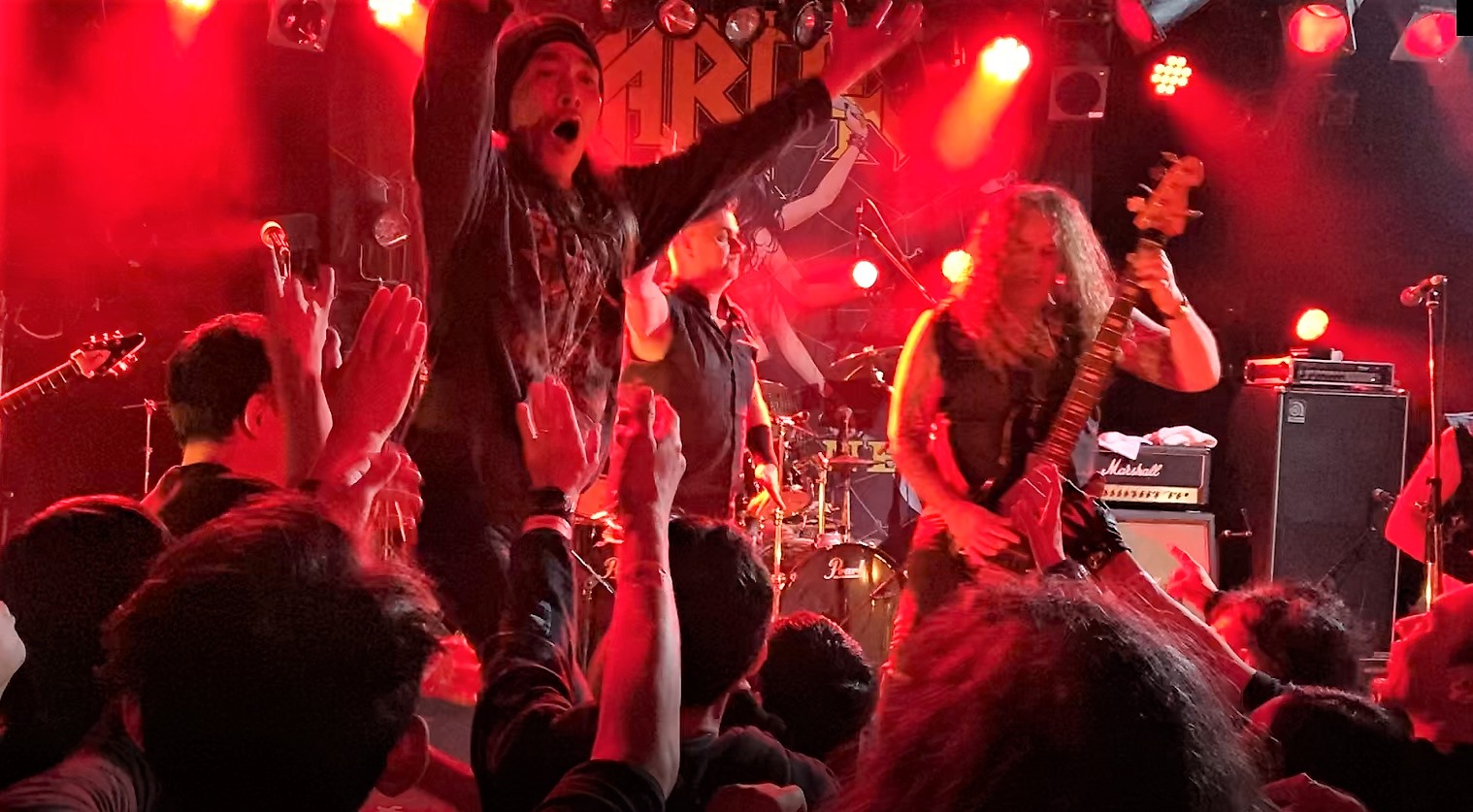 ,,Afterlife" follows and during ,,English Forces", which is a bonus track on the Japanese release of Live In Japan, I spot Tommy in the audience who played the guitar solo as a special guest. Unfortunately he didn't want to join us on stage (due to him leaving Riverge and as a sort of respect for them) but I noticed a little tear in his eye. Such a nice guy and a great musician. When fans sing along at the end of ,,English Forces'' we continue with a slower song called ,,Unborn Evil". A song where Rop jumps off stage and joins the crowd. I assume this is not done very often in Japan as the fans seem to go even crazier than they already were (if possible).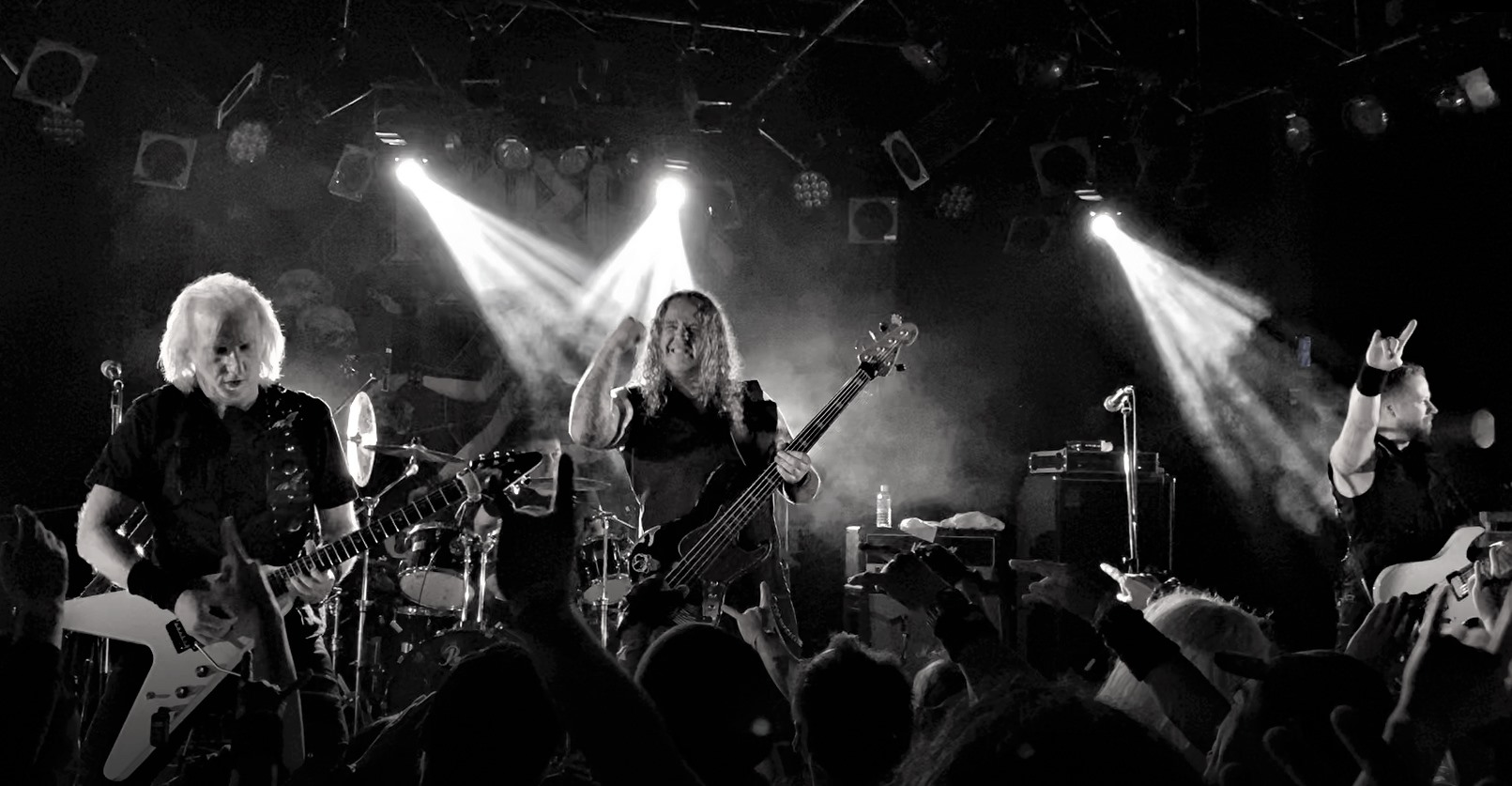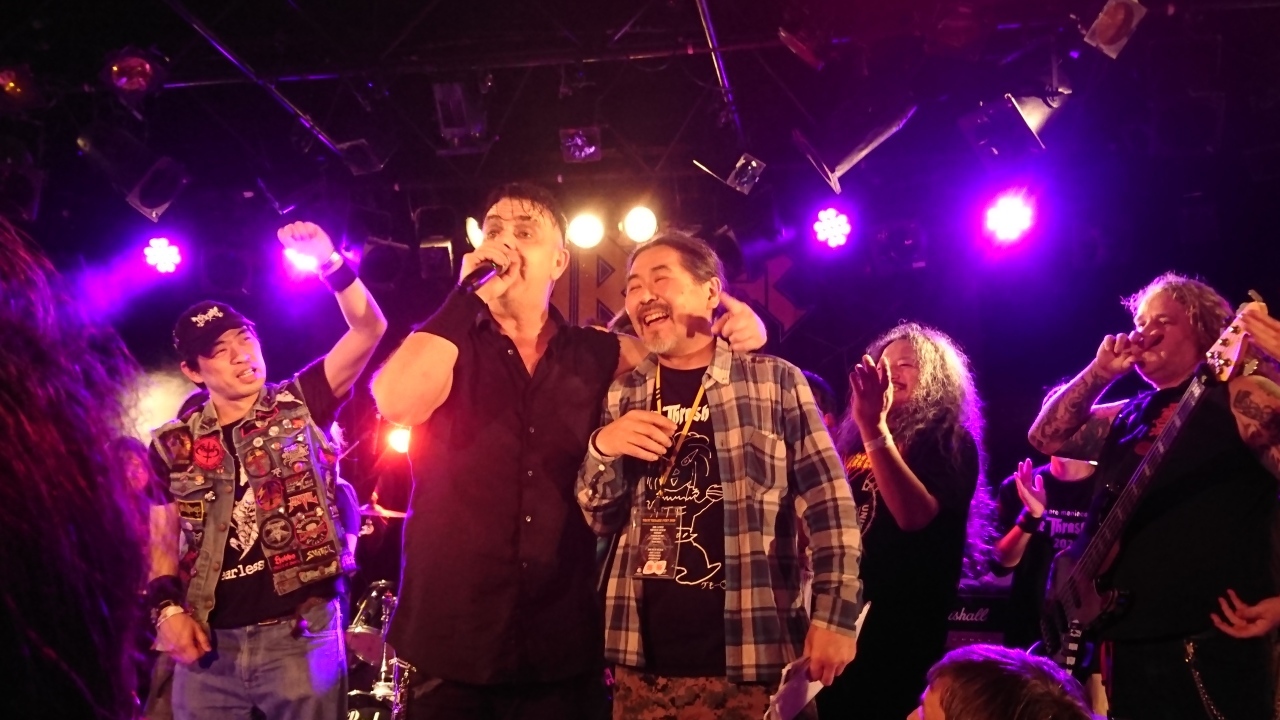 The faster songs ,,Art Of Deception" and classic ,,Speed Of Samurai" follow. This is the song where fans climb up the stage to head bang with us. It was crowded on stage but how much fun was this? Even Miki joined us and we were able to thank him for asking us to perform at (t)his mighty festival again. All MARTYR traditions are in there tonight.
The last song is ,,Monster" where we say goodbye and arigatou from the stage to the fans and make room for our buddies from Evil Invaders. The curtains close and we hug each other. Wow, this may be the best show experience we've ever had.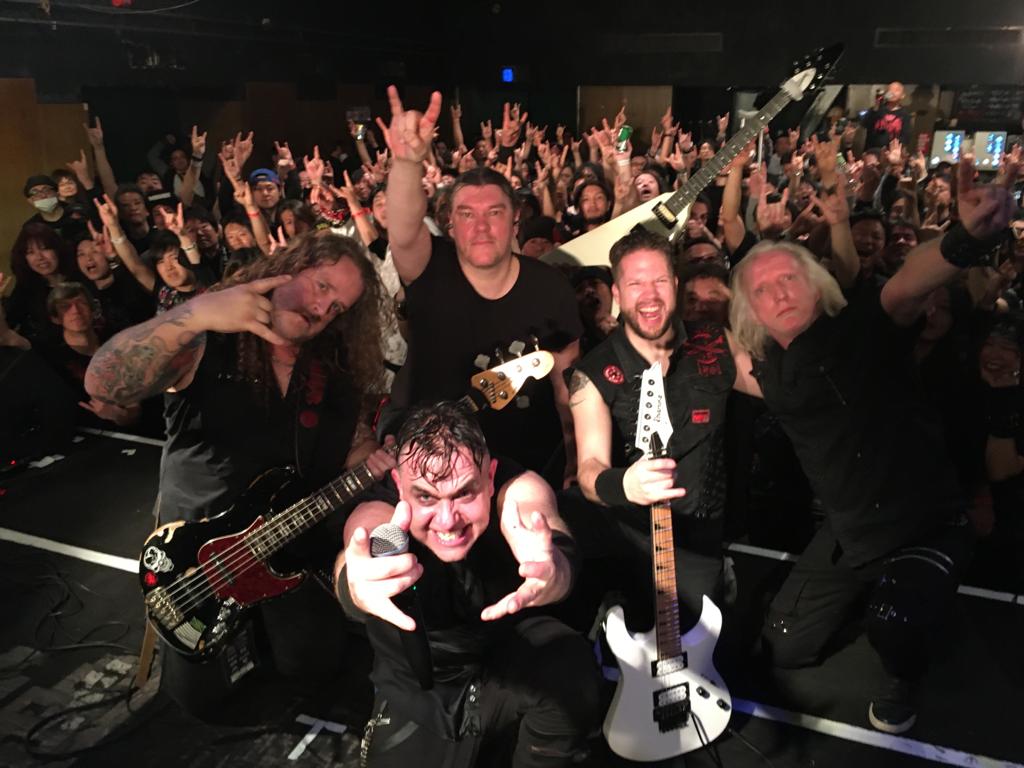 Thank you and good night

Evil Invaders tops of the evening with a killer and dynamic set. Class act!
The party continues backstage and at the merch booth where we drink, talk, hug, laugh with the fans and countless pics are taken.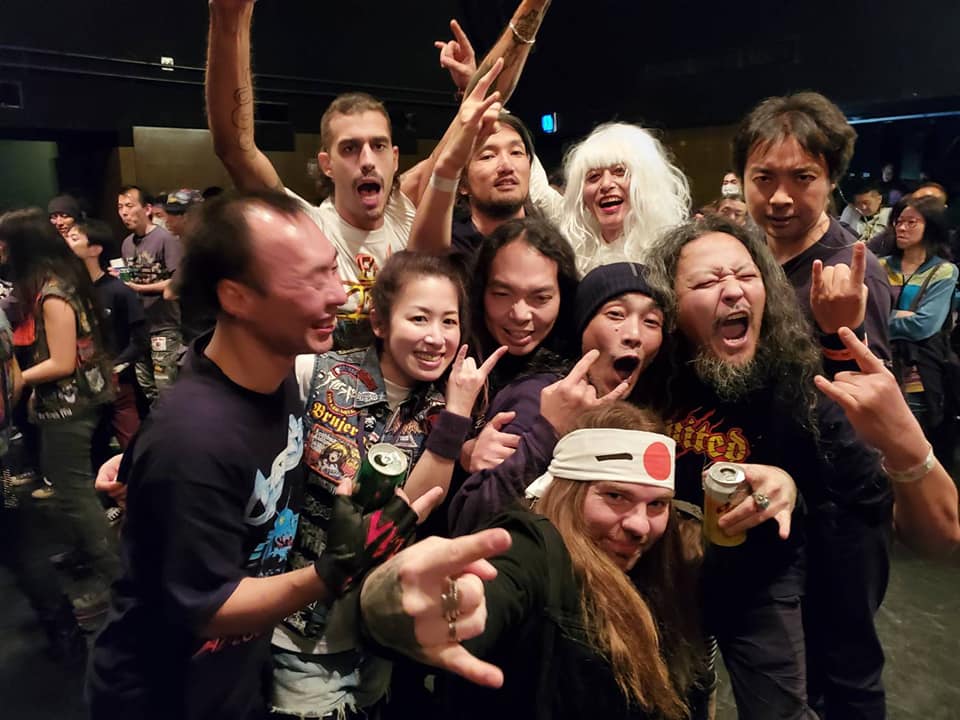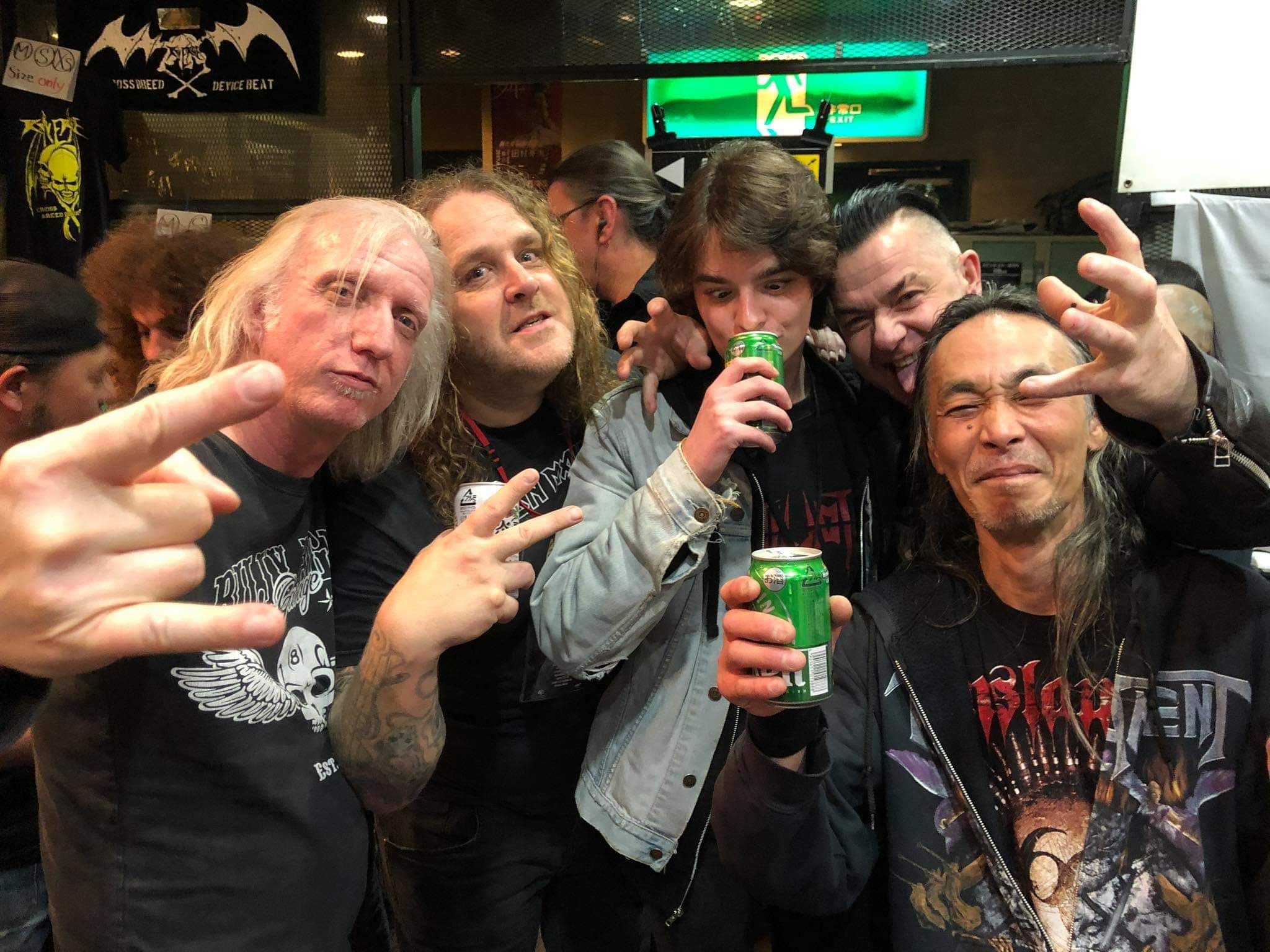 CHAPTER 4 – BACK TO AMSTERDAM
Again a very successful gig in Japan. We go back to the hotel and leave for the after party to do the same as the night before (eat, drink, sing, party). The only thing is we have to get up at 6:30 a.m. to leave for the airport at 7 a.m.
Totally full but happy and pleased we head back to the hotel at 3 a.m.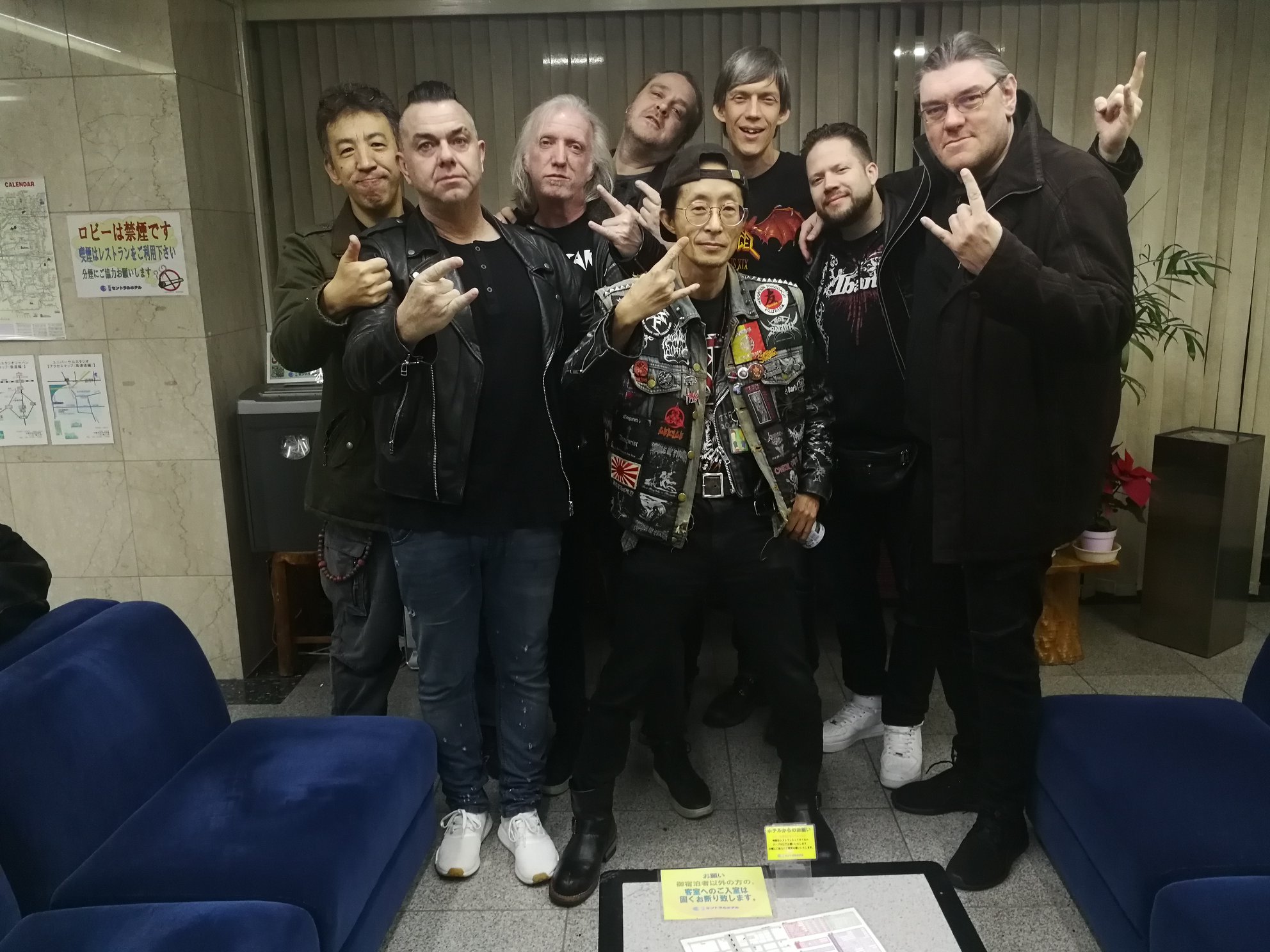 Goodbye

Right on time at 7 a.m. the taxi arrives for us and Evil Invaders and it is time to say goodbye to Miki, Brian, Nobu and Meguru who all came to the hotel.
Back to Osaka KIX airport and back to Amsterdam with KL868. Check in went smoothly again and the drinks from KLM too, haha! Back in Amsterdam at 14:50 p.m. we took our gear and said goodbye to Evil Invaders and crew.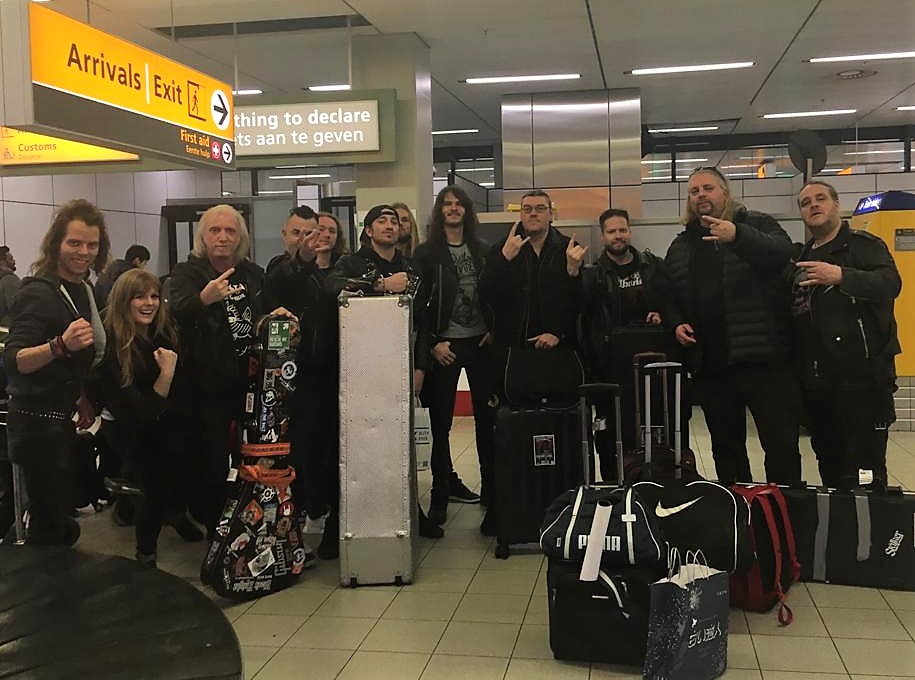 Back home

What an adventure. It was short but very, very powerful. Japan, mata ne.

Arigatou Gozaimasu to:
Mikitoshi Matsuo, Brian Wojtowicz, Meguru aoki , Nobu a.k.a. Muramatsu DJ-vide, Riverge, Mason, Amorphia, Evil Invaders, Stalker, Thrashfire, Abigail. United, Fastkill, Shell Shock, Ami Kaneko, Yasuyuki Nasu (for the extra guitar and help). Azumi Yamamoto, 田中富 a.k.a. Tommy, Nobuaki Veppy Beppu, Toru Matsunaga, Thomas Dargel (Iron Shield Records), Steffi Kröger, Rock Stakk Records, P78 Records, Wayland-Management and KLM.

Cheers,
Rick

`Martyr Live Japan' is available here and here


#martyr #japan #headbangerslifestyle #hbls #awayoflife