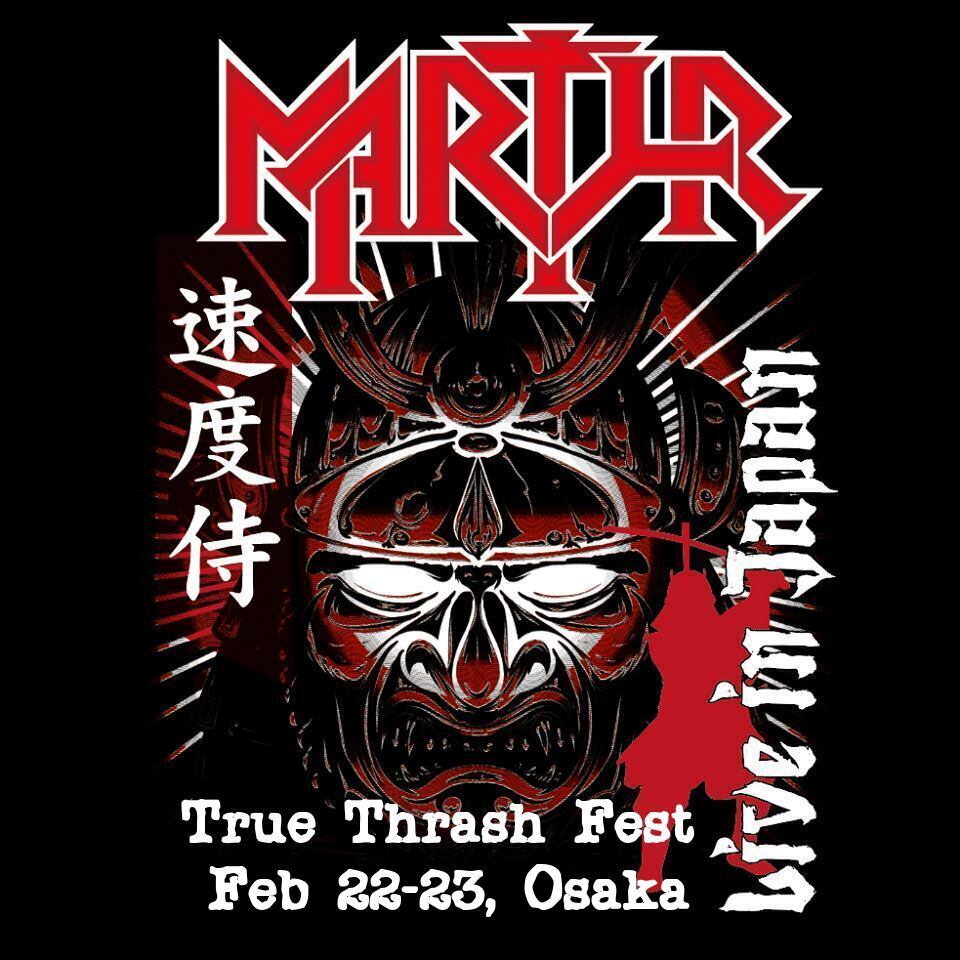 A SUDDEN RETURN TO THE LAND OF THE RISING SUN
MARTYR at True Thrash Fest 2020, Osaka, Japan-PART 1
PROLOGUE-It is an early Sunday morning, 16th February when my Facebook messenger goes off. Our promoter, label manager, but also organizer of the True Thrash festival (Osaka, Japan) Miki is online and is mildly panicking. "Rick, Sacred Reich and Vio-Lence just cancelled. Is MARTYR willing and able to fill in one of these spots at True Thrash Fest 2020 this weekend, 22nd – 23rd February?" Well immediately my memory goes back to 2019 when we performed TTF for the first time and recorded our `Live In Japan' album there. That was one of the most memorable experiences we have had so far with our band so without a doubt I told Miki I will get the rest of the band to sort it out asap.
We all know this is really short notice and without a doubt undoable for many bands but hey, we are MARTYR and we want to help out and for sure rock Japan again. Japan has been so loyal and good to us and we love Japan so much, so let's fucking go for it. Most people probably can't imagine what it takes to perform in Japan. It's not like getting your gear in the van and driving to a local club in the city. It takes time to organize things, time we didn't have. But…hey we believe in this and therefore we made it. All band members simply said: "Damn yes we are going to do this. Get those tickets and let's go." And so we did.
Off for a kick ass weekend in Osaka, Japan and here is what happened…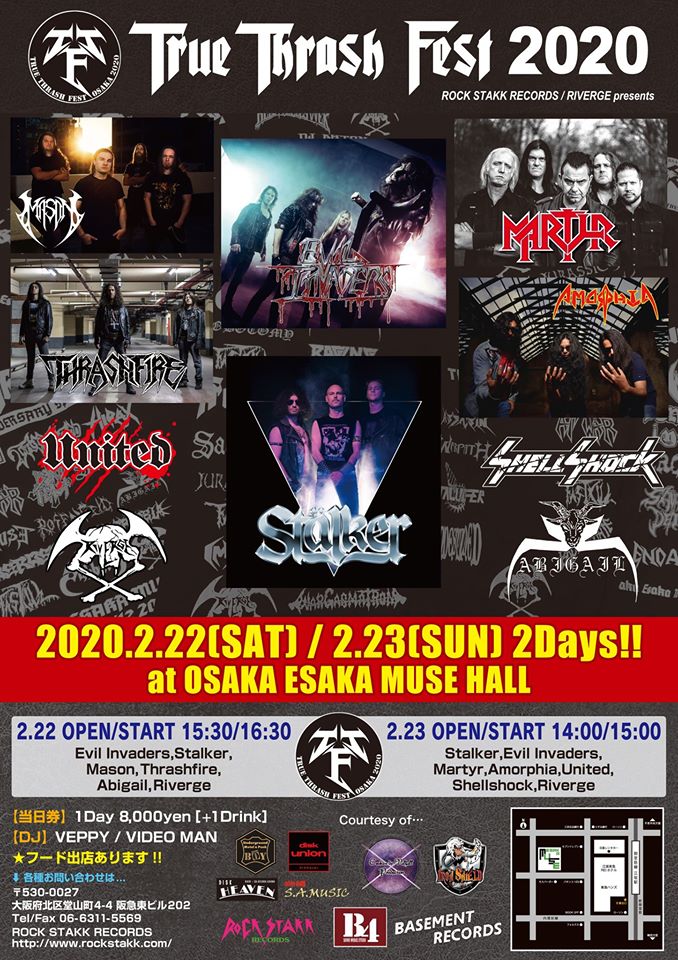 CHAPTER 1 – OFF TO OSAKA
It is Friday 21st February when we gather at Amsterdam Schiphol airport at noon with our gear and merch to check in for an 11-hour flight with KLM KL867 to Osaka KIX airport.
After all necessary controls and a smooth check-in with merch and guitars the first beers are consumed. Kanpai! A routine that will repeat itself many times during the comfortable flight.
Arrival Saturday 9:25 a.m. local time at Osaka airport. It looks quiet, due to the lack of Chinese visitors probably because of the Corona virus (as we are told). Also remarkable that more Japanese are wearing facemasks now, even more than usual. Some necessary checks at customs, always a stressful moment, but all goes well and our friend Meguru is already waiting to take us to the Esaka Central hotel. Same as last year so we know what to expect and that everything is well organized again.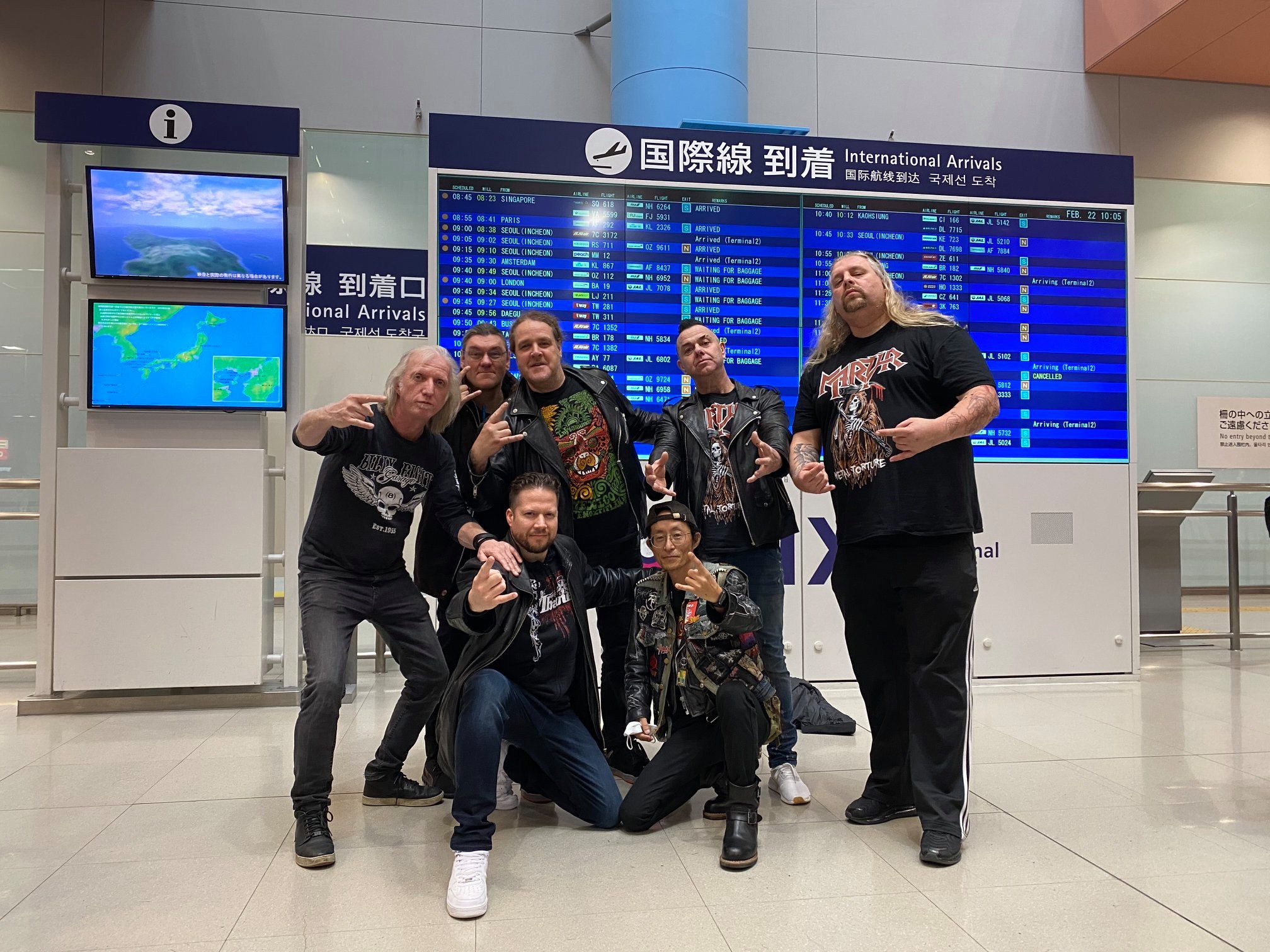 Arrival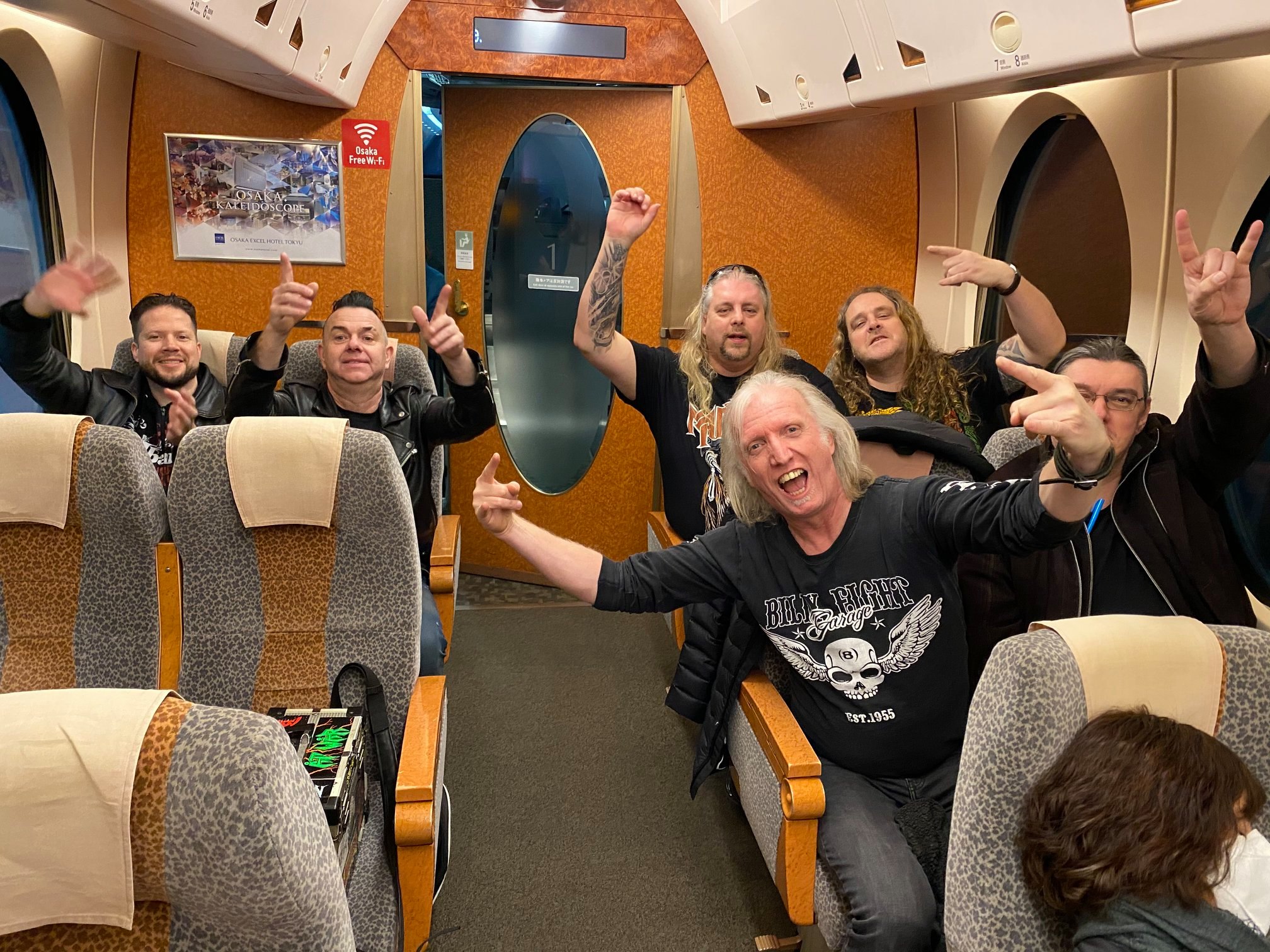 Off to the hotel

At the hotel we are ambushed by a bunch of loyal fans for pictures and autographs. What a surprise and a highlight, some are even crying. It is unbelievable that we get to experience this.
Check in time is at 3 p.m. so we go off for food and beer. What else? After some great Ramen and other food we meet with Nobu and take a short walk to visit the venue Esaka Muse. There we met up with other bands and friends from Amorphia (India), Evil Invaders (Belgium), Riverge (Japan), Abigail (Japan) and many more.
Also our main man Miki is there, still stressed but so happy to see us. And vice versa. We promise him we will kick major ass tomorrow when we will perform as co-headliner right before Evil Invaders.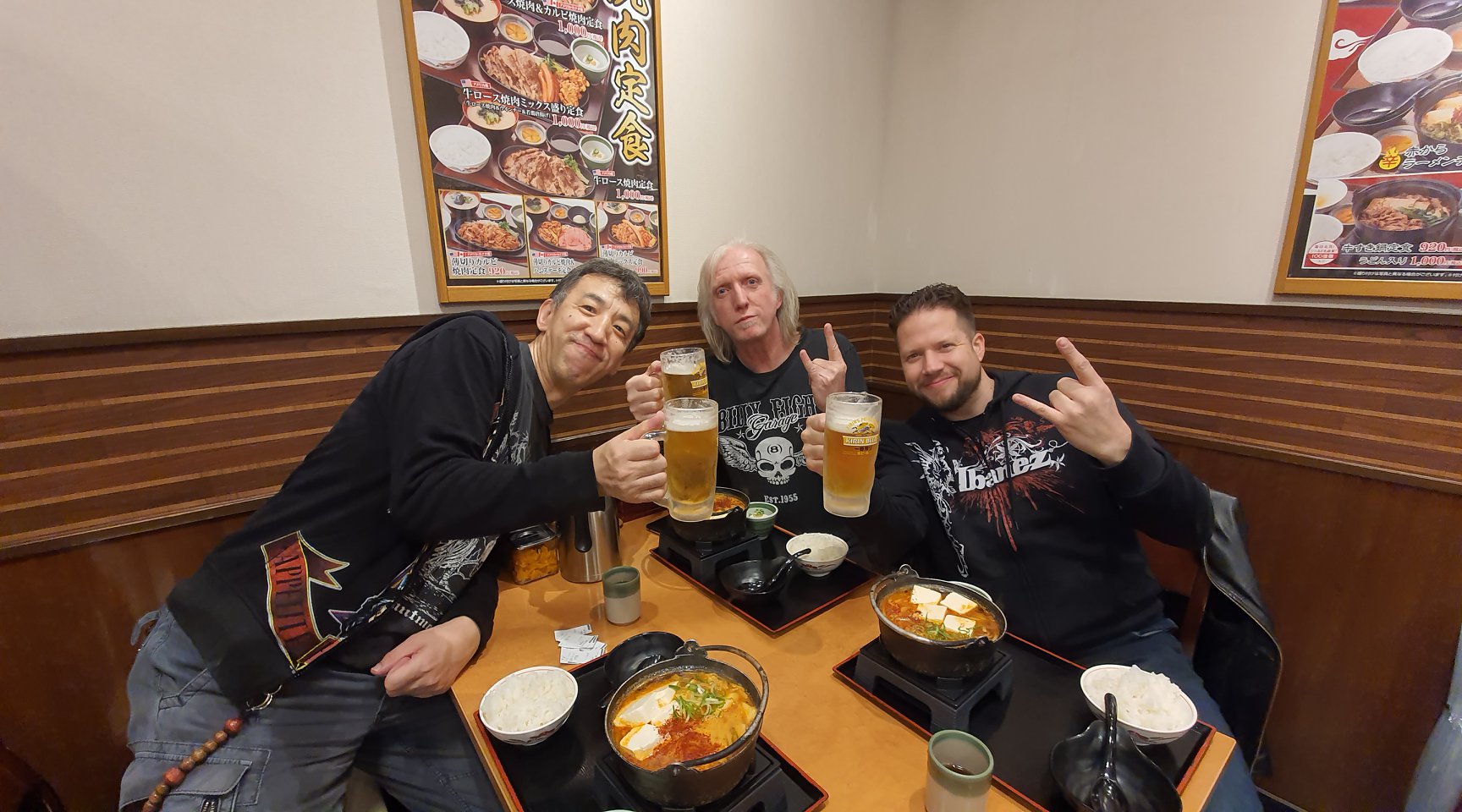 Food & Beer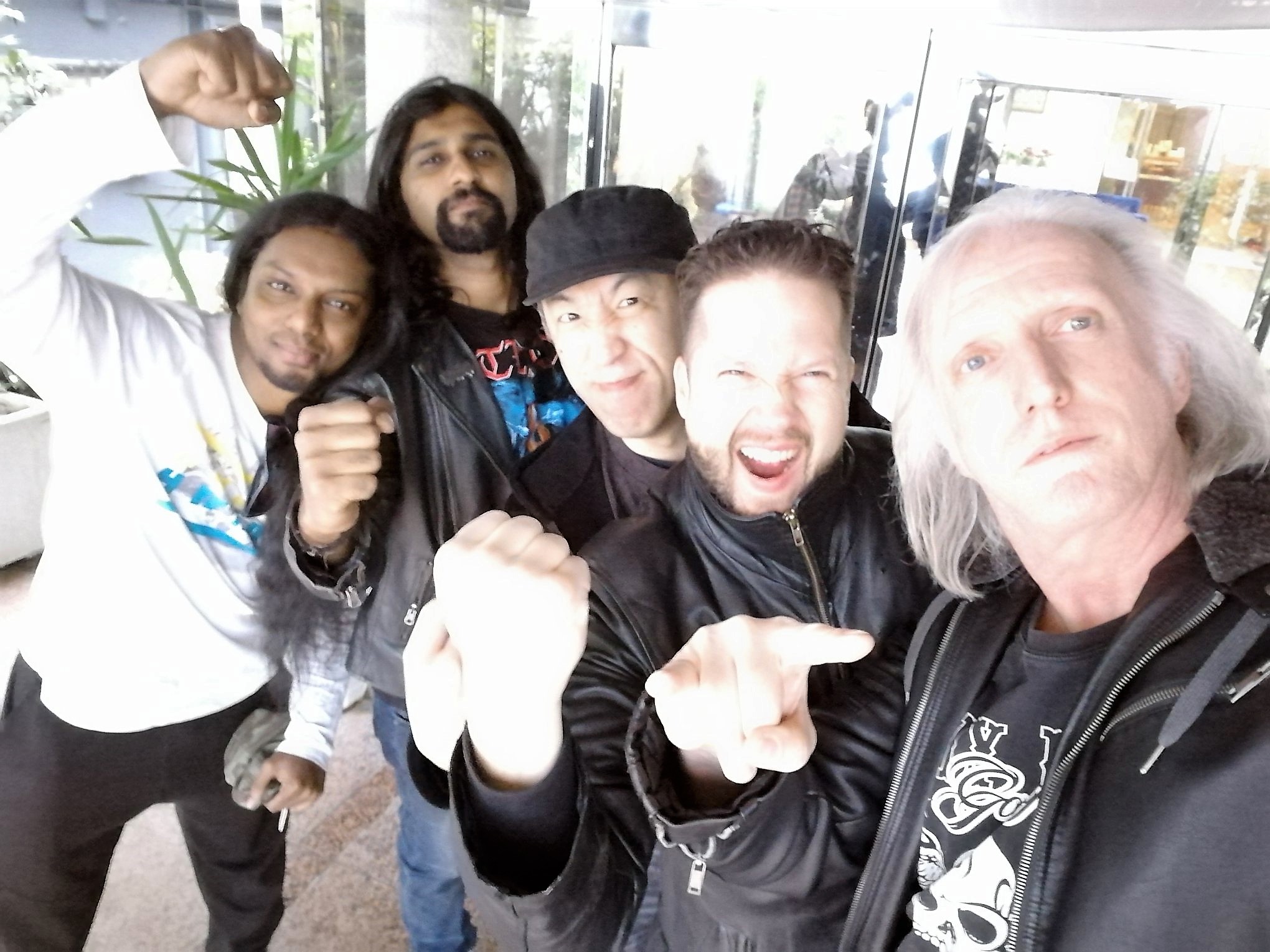 With Amorphia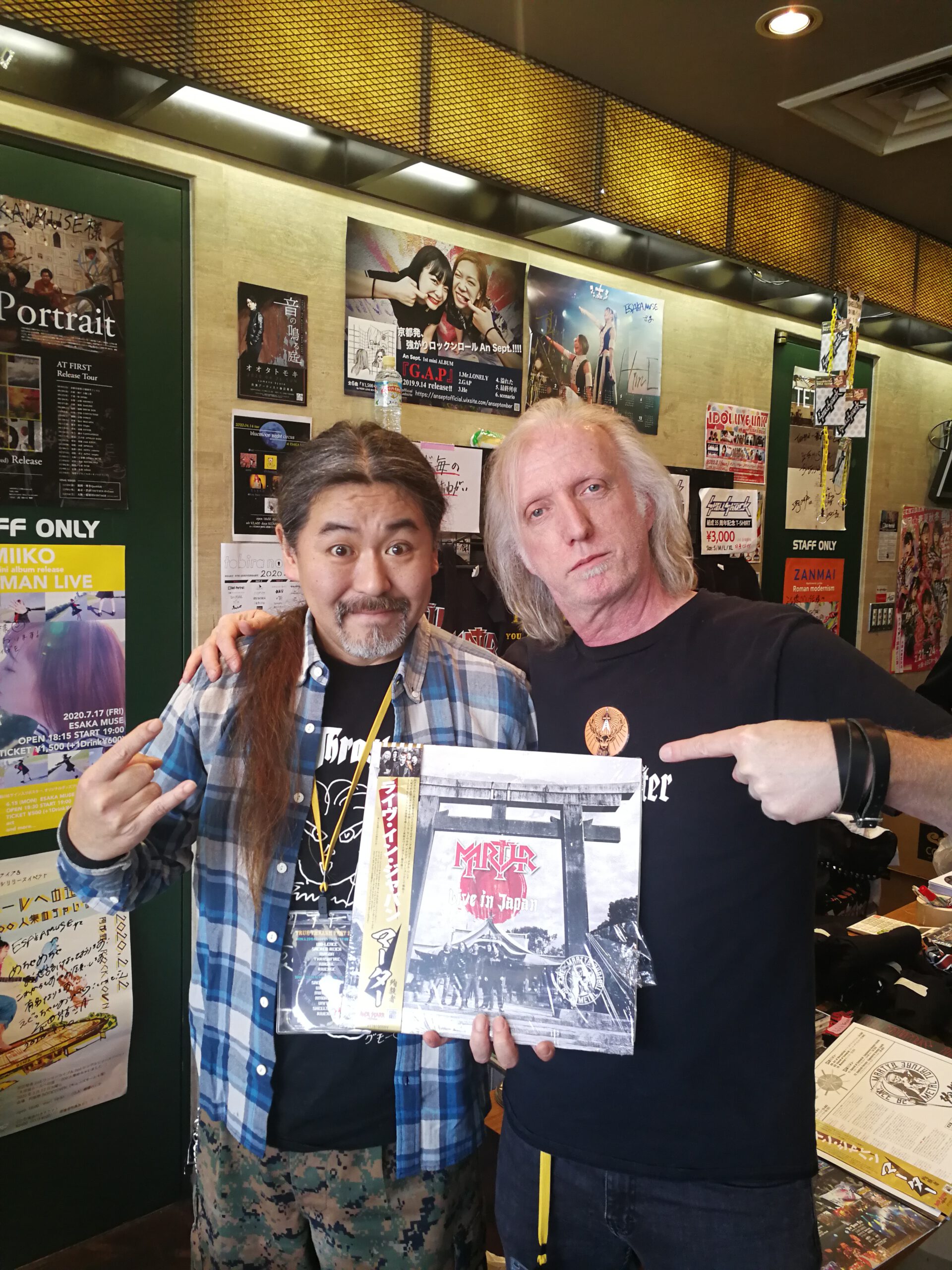 With main man Miki
Our local merch man sets up the merchandise booth, we meet Brian and we have some time off to do whatever we like. Some go back for a nap at the hotel and Koen (Wayland – Management) and I decide to leave for the Emuda area downtown to do a little sightseeing and continue exploring those local bars to drink more Asahi and Kirin. Osaka station is a sight in itself and the metro stations are an underground world you can't even imagine how big. Wander around and you will find some great restaurants and even small temples too.
As we have been to Osaka before we decided to skip the popular Osaka Castle and Dotonbori area this time. Anyway we wanted to see the bands at the festival as well tonight and just be present to catch the atmosphere and meet the people. Walking on the streets of Osaka metal fans come up to us shouting and singing: ,,Speed Of Samurai". What is happening?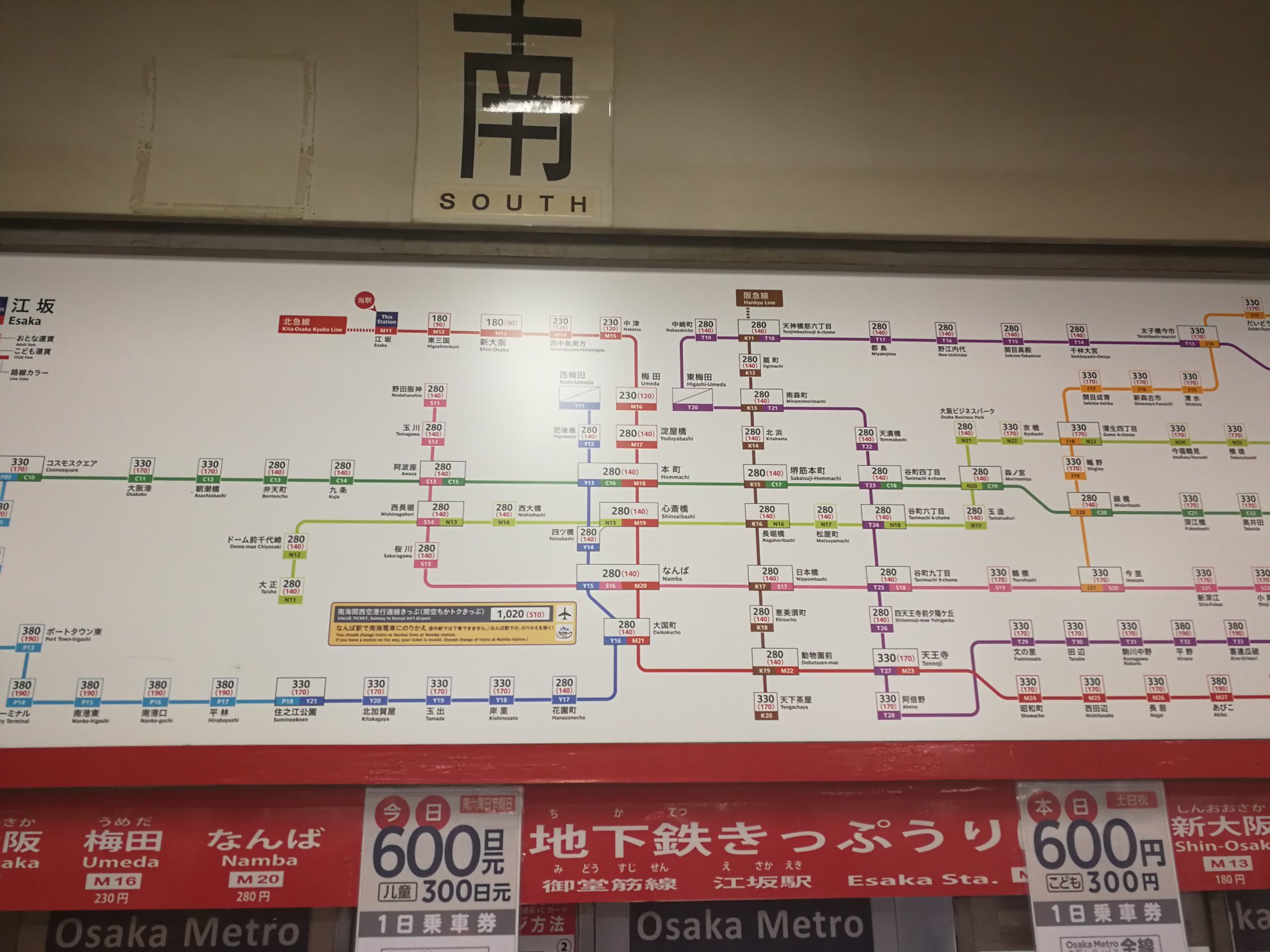 Metro station-A Labyrinth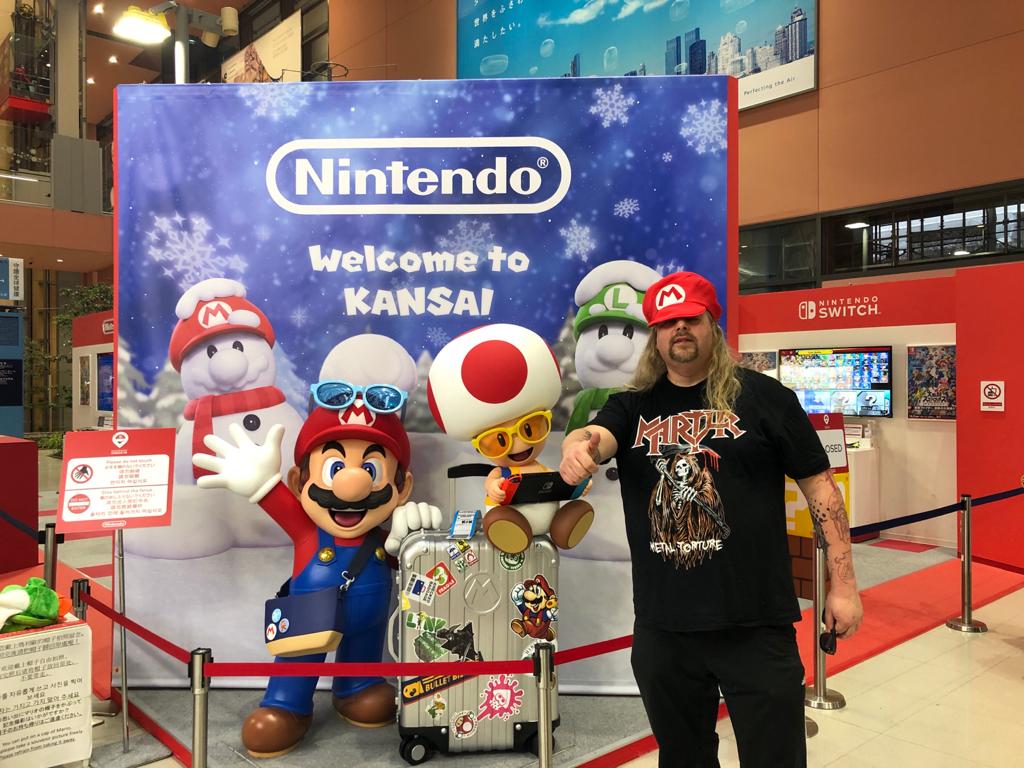 Koen

CHAPTER 2 – THE FESTIVAL DAY 1
We gather at the venue at around 6 p.m. for day 1 of the festival and meet the bands and fans. It is a sold out festival and because we played here in 2019 we are welcomed back very warmly. Pics, autographs, it doesn't seem to stop here in Japan. Even when our show is tomorrow evening merch is already selling, so we are a happy bunch of metal heads.
Checking out the bands after we arrived were Stalker (New Zealand), Mason (Australia), Thrashfire (Turkey) and Evil Invaders (Belgium, doing 2 shows at the fest). They all kicked major ass. The fans went crazy, stage diving, shouting and singing. What an atmosphere again! One of the highlights, maybe due to the fact that the band was yet unknown to me, was Mason. A young and independent very energetic band with a new record out called  'Impervious'. Check 'em out!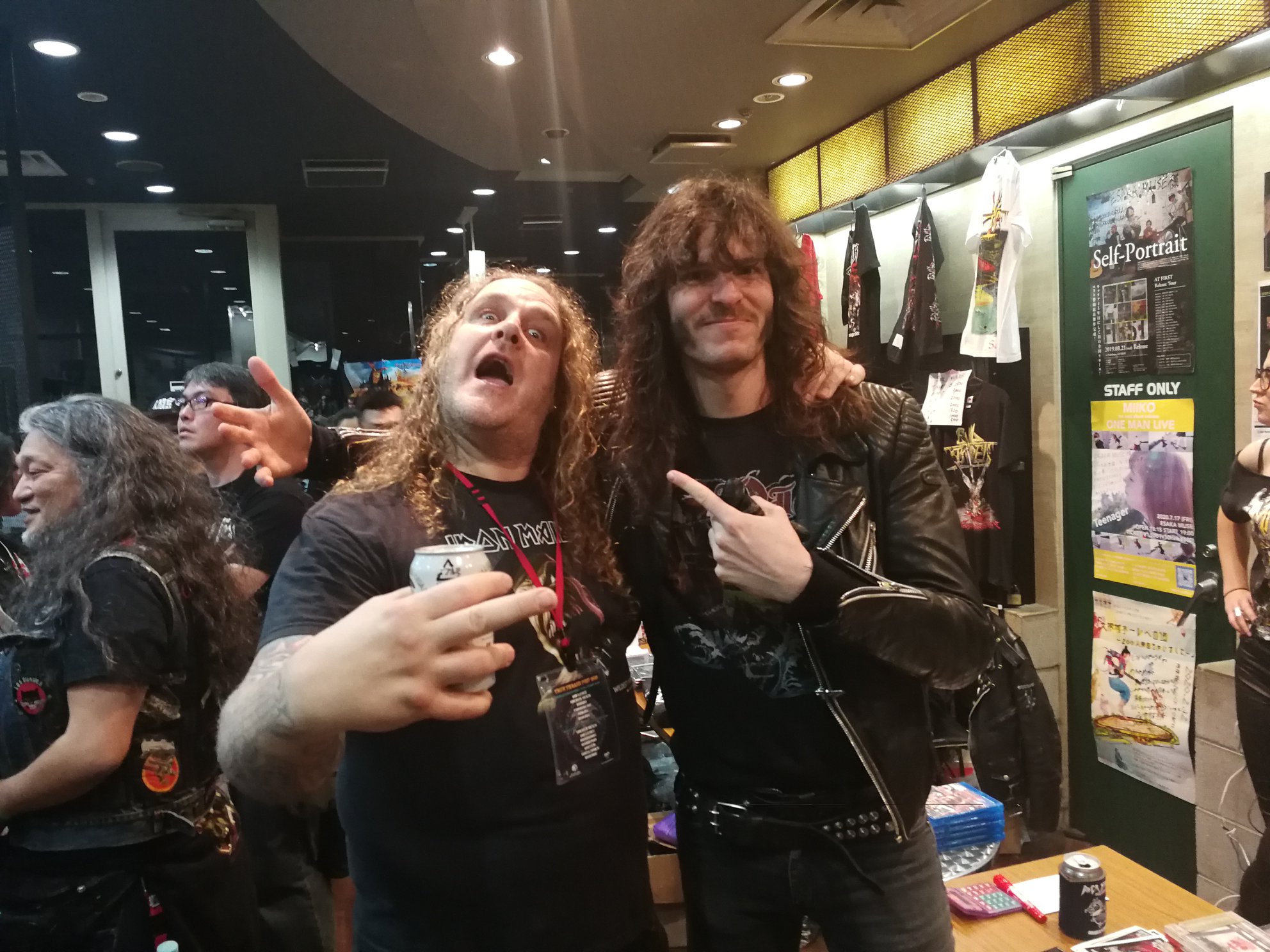 Martyr-Evil Invaders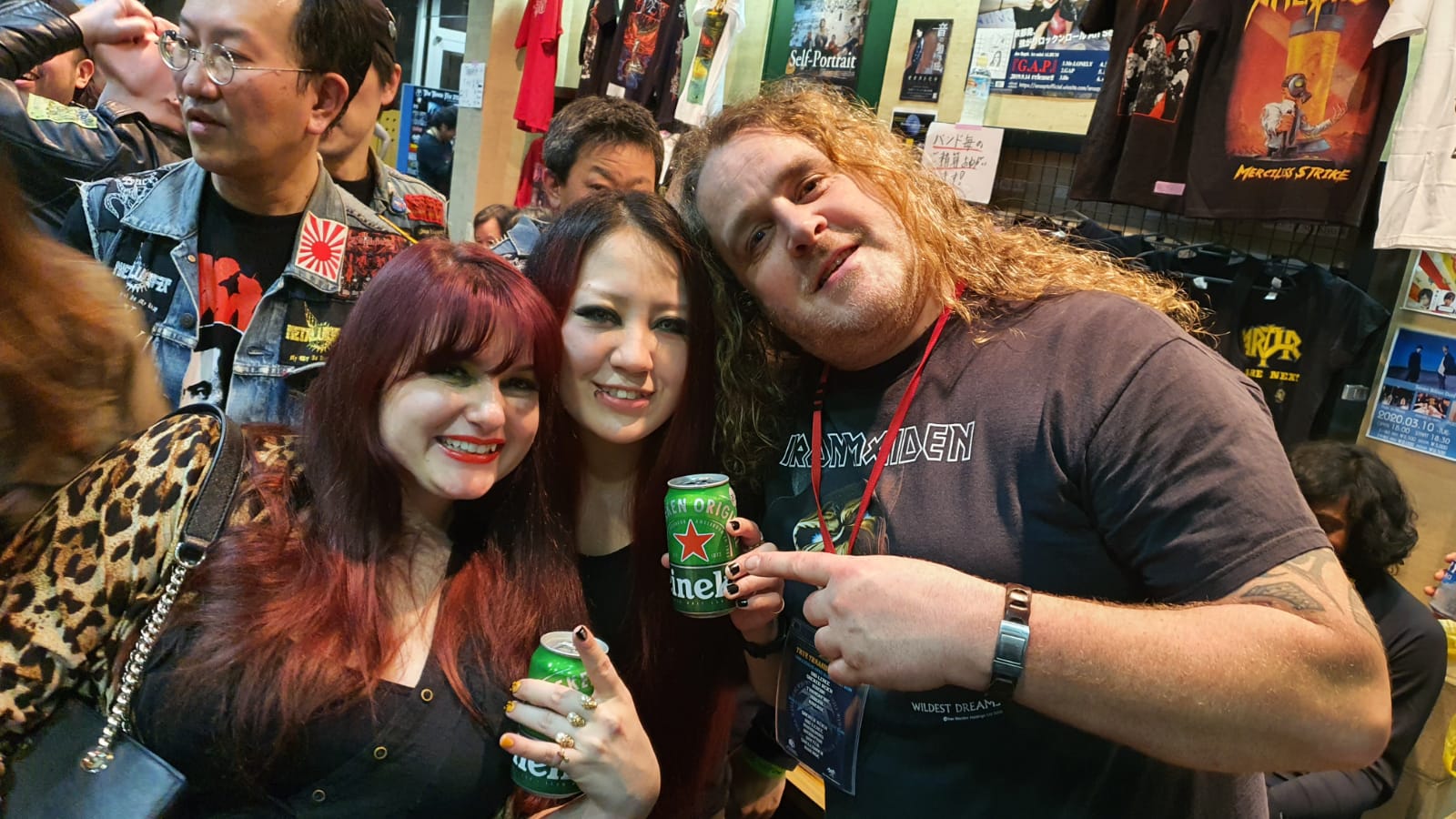 Fans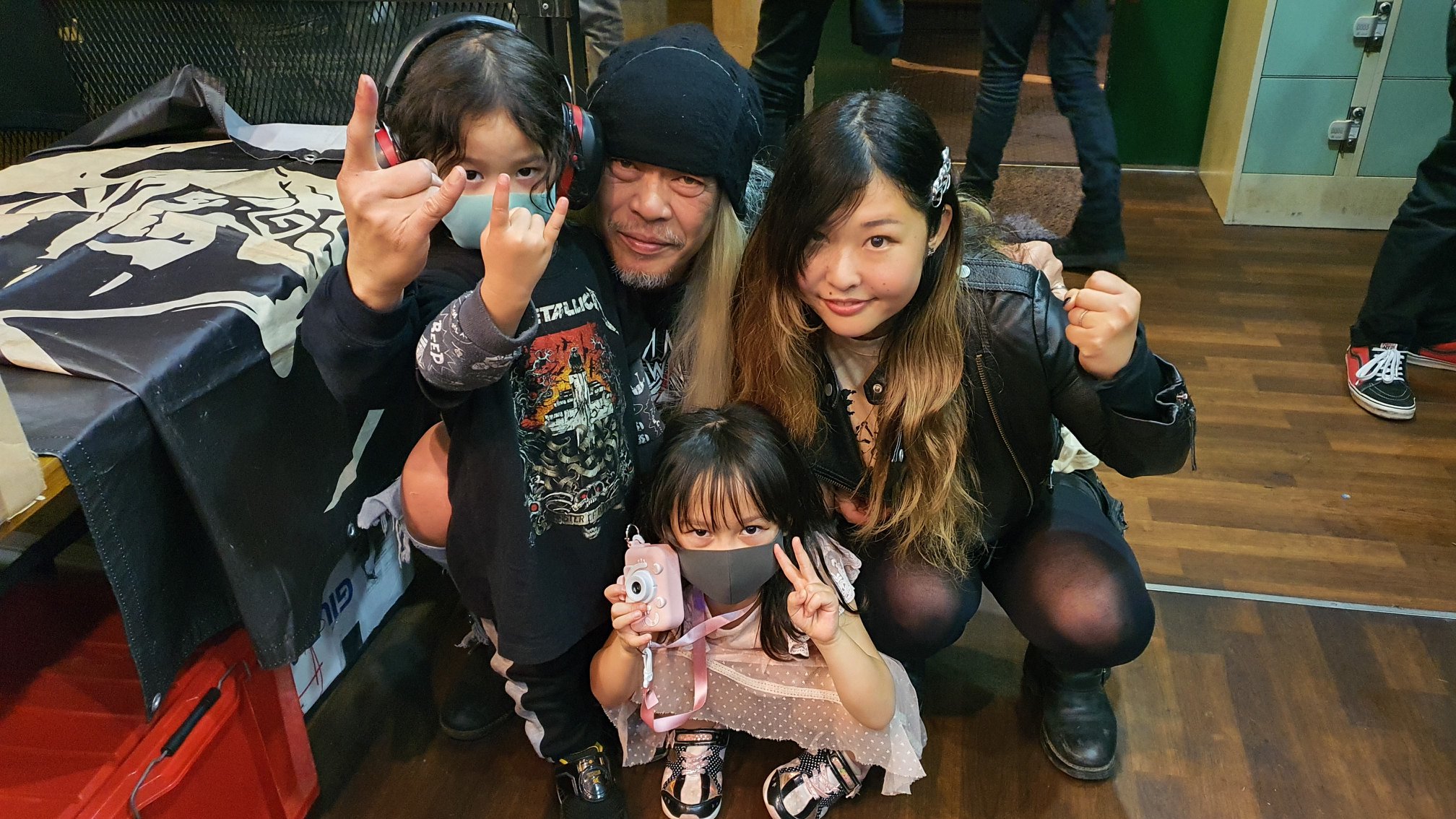 Fans

After beers, sake, shaking hands, hugs, lots of laughs and meeting up with old friends (even Dutchies and the guys from Bullet that played Tokyo the night before) the venue's curfew is strict. Everything is disciplined in Japan. So we leave for the hotel lobby to gather for the (in)famous after parties of Miki at the Noriwo restaurant with the bands and a bunch of fans. What an unbelievable treat. The best of traditional but also non-traditional Japanese food (Noodles, gyoza, rice & curry, chicken, takoyaki, yes Geoffreys favourite, etc. ) and drinks. All unlimited, served by the nicest waitresses around.
After around 44 hours of no sleep at 4 a.m. we decided to leave for the hotel. Soundcheck tomorrow morning at 11 a.m. And yes it is Japan, so we will be on time!



Strike a pose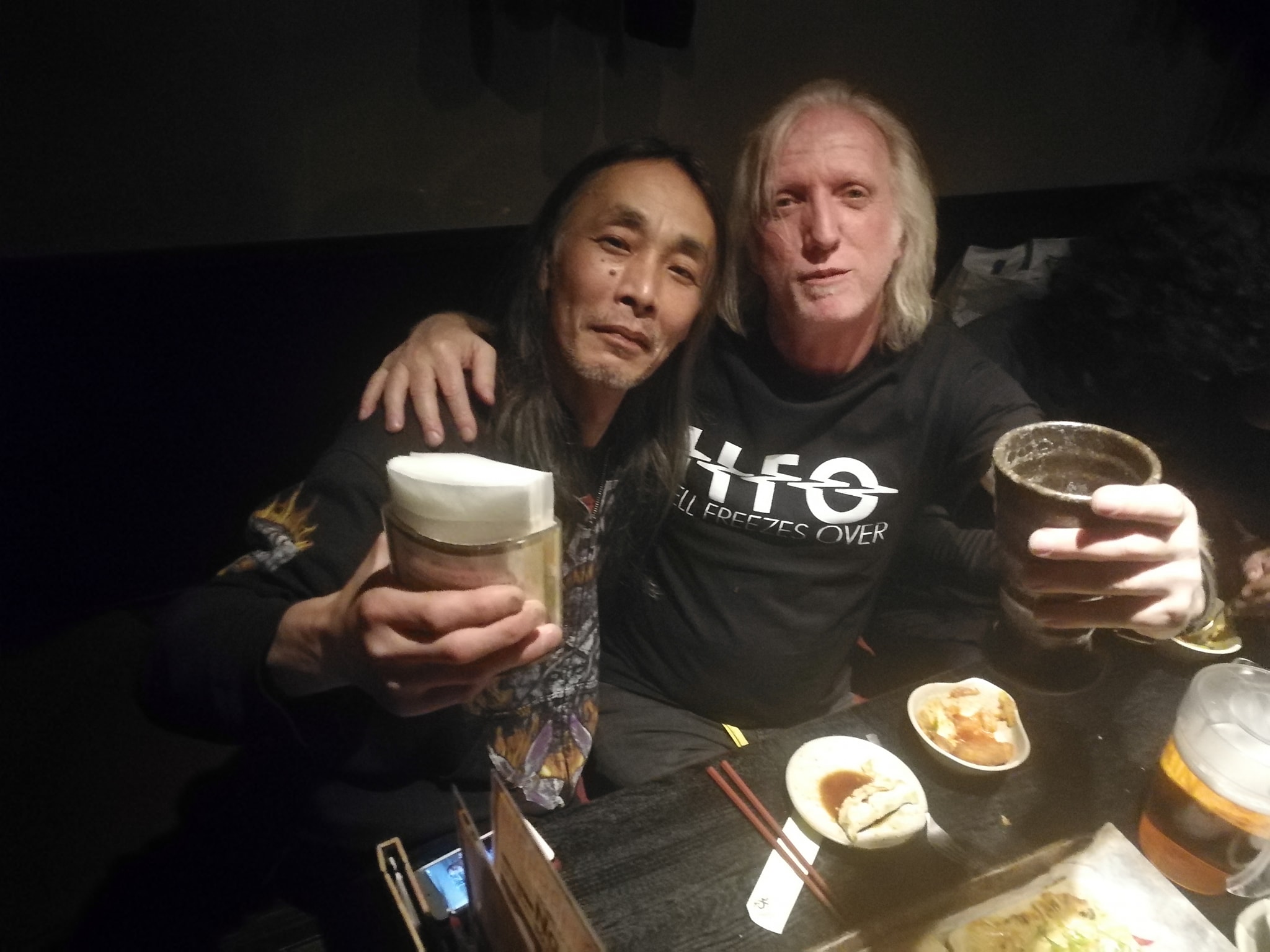 More booz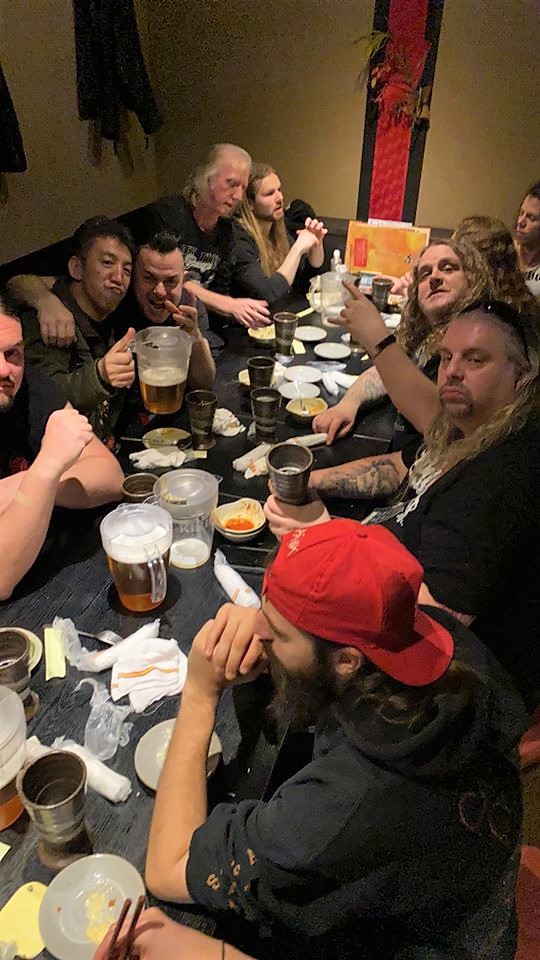 Afterparty…

What happened the day after? How was the show?
To be continued…Part 2……Coming soon …..

Cheers,
Rick