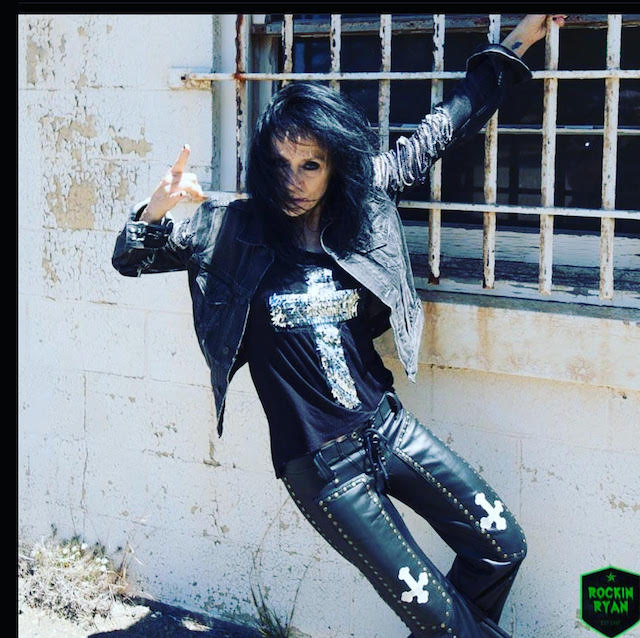 Spotify | 10 Favorite songs of Leather Leone
The Voice of Chastain
HOW THINGS STARTED
American metal vocalist and lyricist Leather Leone is one of those singers that left a huge footprint in metal history. Her career took off in the early 80s, first as singer of the all-female metal band Rude Girl and mid 80s she became The Voice of metal project Chastain being the important sidekick of guitar shredder David T. Chastain. But besides putting out classic Chastain albums such as `Mystery of Illusion' [1985] and `Ruler of the Wasteland' [1986], Leather Leone also launched her first outstanding solo album `Shock Waves' [1989]. For personal reasons there is a hiatus of 20 years in her career but since several years Leather Leone is back in the saddle and as we speak she is working on her third solo album that has the (working) title `We Are The Chosen'.
Leather's powerful, high-pitched, raspy voice is one of a kind and of course we like to know which songs and artists made her the singer she is? Exclusively for HeadBangers LifeStyle Leather selected ten of her favorite songs, which you can find on this week's HBLS Hotlist on Spotify. She also explains why she choose these songs.
LISTEN TO LEATHER LEONE'S PERSONAL HOTLIST HERE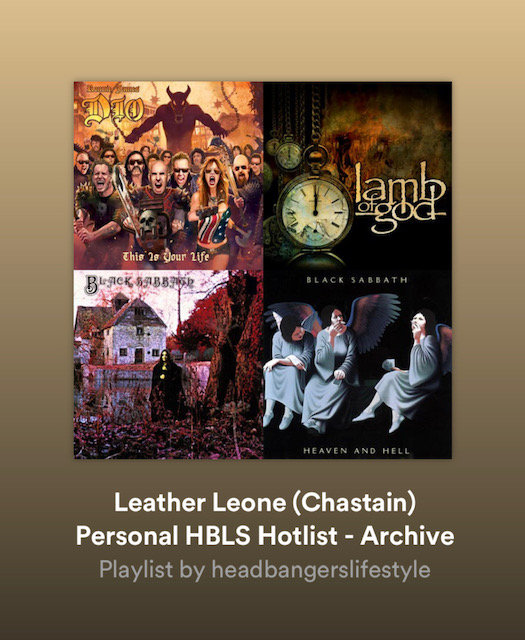 LEATHER LEONE EXPLAINS
HEAVEN AND HELL – Black Sabbath
I was a late bloomer to Ronnie and Metal in general…When I heard this song my musical world changed forever. Dio is the reason I am here in any capacity. Love and Dio.
BLACK SABBATH – Black Sabbath
Such a pure expression of Metal that will never be recaptured.
THIS IS YOUR LIFE – Dio
A monumental time …We we're losing Ronnie from this planet. He left this for us. You could hear the goodbye in his voice….heart-breaking to have to prepare to let him go from this earth…it was his farewell.. I miss you Ronnie.
MOMENTO MORI – Lamb Of God
I am very into extreme Metal. Randy Blythe leading the way for me. His pronouncing and delivery of the genre are such a gift. "Don't waste this day…wake up wake up" …hit me.
STARGAZER – Rainbow
Besides the well-known respect that I have for Dio. When we lost him and I got back in the game…I would drive to LA every weekend and this song of 'Rising' was my muse to push forward for him.
PEACE SELLS – Megadeth
There is something that connects to me with Mustaine's writing. Dig this whole record ….but whose buying?
SCHOOL – Supertramp
I heard this song when I was in Eighth grade and the piano blew my mind. It has stayed with me after all these years…it was of course my pre Metal days.
STAIRWAY TO HEAVEN – Led Zeppelin
This was the first song I ever sang solo in my church, which was the basic of me discovering the magic of the voice. Always inspirational.
NO QUARTER – Led Zeppelin
When I was in high school someone left `Houses of the Holy' by the mailbox for me. To this day I don't know who…but I played it until the grooves wore out. This is an in credibly haunting mystical song.
CRAZY HORSES – The Osmonds
As a young person, I listened to the sugar pop of The Osmonds. As I grew older, I was taken back when I heard ,,Crazy Horses''. Quite heavy and advanced for them. It made a huge impression on me.
Stay tuned….another Leather Leone feature will come soon…
About
American vocalist, lyricist and active since the 1980s. She is known as The Voice of metal project Chastain and as a solo artist.
Genre
Metal, Heavy Metal
Website
https://www.leatherleone.com/
Social
Related links
Tags