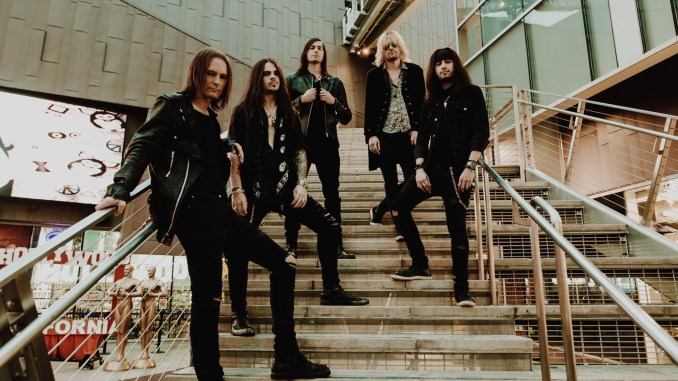 Interview | BUDDERSIDE
No More Bullshit
Not only experienced singer, guitarist, songwriter and rock 'n roller Patrick Stone life on the road as roadie for rock 'n roll legend Motörhead, it also meant a bond for life with the Motörhead family. The moment that Patrick was ready to pursue his own dreams, the Hollywood, CA based musician got all the support he needed and it was Lemmy Kilmister himself who signed Patrick's new band Budderside to his own new label Motörhead Music. The self-titled debut album, produced by Lemmy's son Paul Inder Kilmister, was released on July 22nd, 2016 and happened to be the perfect kick-start for an extensive US tour, not only to support Motörhead, but also bands like Slayer, Anthrax and L.A. Guns, followed by gigs on several international festivals.
Recently Budderside released its second album `Spiritual Violence', featuring ten cool tracks, which also introduces new guitarists Sam "Bam" Koltun (Faster Pussycat, Dorothy) and Logan Nikolic, bass player Gabe Maska and drummer Jeff Debray. The album serves high-energy driven rock 'n roll, but the guys also like to flirt with grungier and alternative rock as well. Patrick and his new gang managed to take Budderside to a new level, sounding more focussed and more cohesive, showing that the band is ready for the next step in their career.
HeadBangers LifeStyle's Lilo contacted Patrick to talk about the new album, the guest appearance of the legendary guitarist Phil Campbell and Butcher Babies shouter Carla Harvey and of course the influence of Motörhead.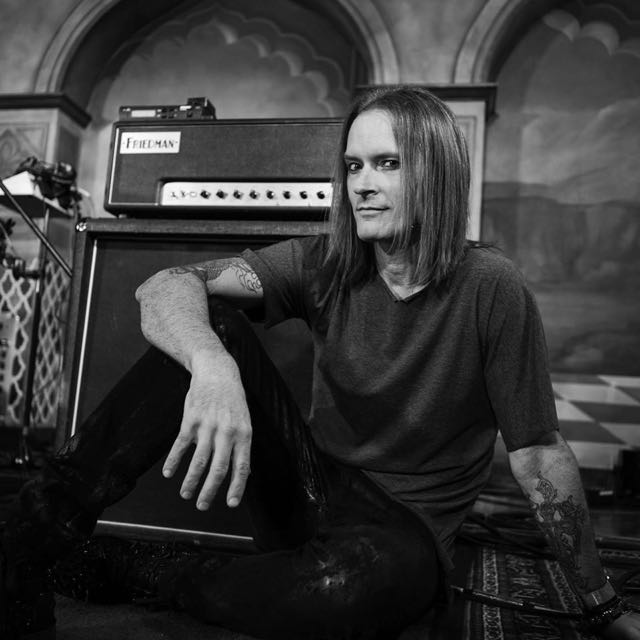 ,,Nothing gets recorded until worthy of being recorded.''-Patrick Stone

Budderside started as a 4-piece band, though `Spiritual Violence' features a 5-piece band. What was the motivation for expending the line-up?
,,Ha ha, yes! Attempting a guitar solo in front of Zakk Wylde, Steve Vai and Slash at Lem's 70th birthday, [LOL], I realized I'll never be as good on "lead" guitar as those guys. It was time to get guitarists in the band, that are on that level. It took a little time to find the best, but I have them now. I always felt a bit caged as a guitar player. I can go toe to toe as a singer and a frontman with anyone, now the band can back that up. I'm free…''
On the first album we could hear the band kind of switching between styles and flavours. `Spiritual Violence' seems to be more balanced. What were you looking for when you were writing the songs for `Spiritual Violence'?
,,Great observation. Having genre freedom was great, but leaves your audience all over the place emotionally. Touring the first album made this obvious. Feeling the crowd react to our heavier, faster material and us having more fun during those songs allowed us to connect more to our true sound. So evolution took course. It just happened naturally. Working on songs until it sparks that feeling. Jay Baumgardner, our producer, was chosen for this very reason. Nothing gets recorded until worthy of being recorded. The bands he produced and worked so closely with before, gave birth to my attraction to working with Jay. I knew he would refine our sound and we were going to learn so much along the way. `Spiritual Violence' is the result.''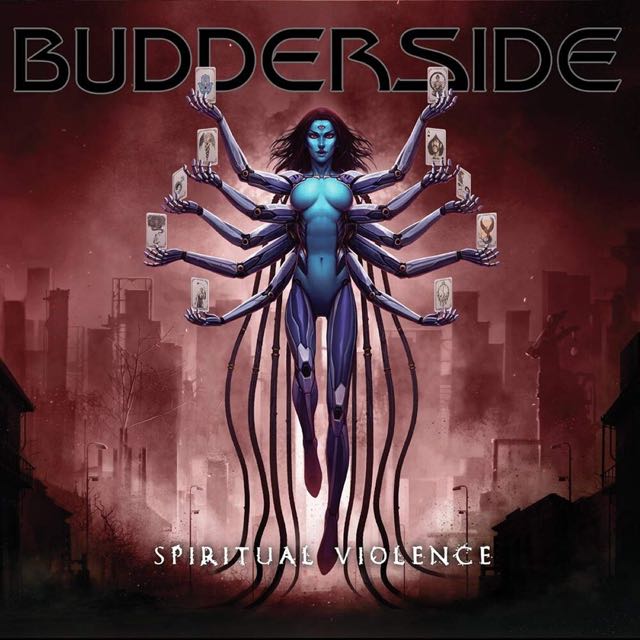 ,,Our version just blows the roof off of every venue we play.''-Patrick Stone
The song ,,Folsom Prison Blues'' is definitely a different piece. How did you come up with this composition and what is your relation with the old rock 'n roll blues style?
,,Johnny Cash is The King! I can listen to JC all day. One band, Ektomorf, a Hungarian black metal band, did a version much like the one we did on this album, back when I toured Europe with them. I stole the idea as soon as I got home. I figured out how I wanted it to go in my own way but stayed true to their version quite a bit. I knew the crowd would freak out when they heard our version of this song. Many people have tried to redo Johnny Cash and never live up to anything close to how it should be. Our version just blows the roof off of every venue we play. It's just so much fun. Putting it on the album was a great decision. The piano you hear on our track is the same one Johnny Cash used when he recorded at NRG Studios with Jay.''
Butcher Babies vocalist Carla Harvey joins you in ,,Amber Alert''. It seems this is a song with a message and awareness perhaps. Can you tell me about this song and why you choose Carla to be your partner in crime?
,,Carla is the fiercest vocalist ever. She railed evil into the track like no one else ever could. The song is about a true to life infatuation and desire for someone. That fire inside. Passion. Created completely in my head, a story played out about someone I had only met ever so briefly, but deeply inspired, a fantasy worth writing about came to life. Her name was Amber and the alerts went off like crazy. You've heard of "red flags"? Well these went up everywhere but like a bull, I charged at them, full speed. What a ride this song is and truly was to live out. Make no mistake, the cage is REAL. Carla and I used to sit in her Corvette before Butcher Babies or Budderside were legit, talking dreams and listening to each other's demos. We often talked about doing something together, something shocking, sexy, musically. This song was screaming for her, I asked her if she would, now she's screaming all over it. I am so grateful for her time, energy and spirit and I am so grateful for our friendship. I (we) absolutely love and adore Carla to death. This song fucking kicks ass. Carla steals the show in the video, Matt Pinfield joins in the fun as the devil… you have to watch this video. It's unreal…''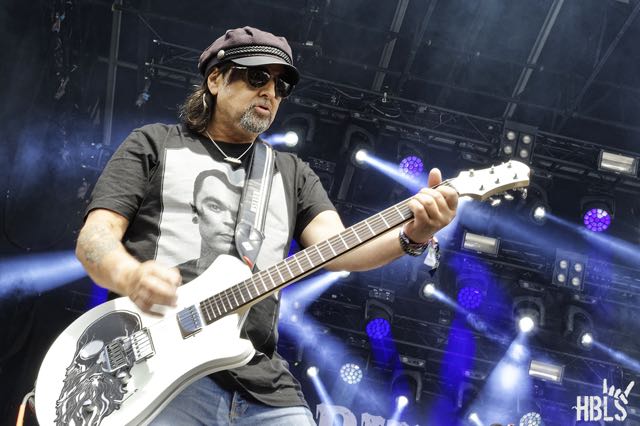 ,,The chorus riff for ,,Pardon Me" is just pure Motörhead.''–Patrick Stone

Besides the energy and rock 'n roll part of the band, does the entire album have a more serious undertone, as the album title might suggest?
,,These songs are very serious. Real to who we are. Each one is like a child to us and they all have a different message and story. Lessons for ourselves and for you to relate to. There is much to learn from the paths we've walked and an amazing perspective to see things from. These songs don't play victim. They own the karma that's being collected and wear it like a suit of golden armor. Turn it up and trip out.''
What makes the song ,,Pardon Me'' the right fit for Phil Campbell's guitar playing style?
,,What isn't Campbell's style? [Laughing] Phil is the most underrated guitar player ever! What style can't he play? Obviously anything, considering he creeps into the song floating over a symphony. But, YES, he lands effortlessly on top of the chaos for this track. The chorus riff for ,,Pardon Me" is just pure Motörhead. It claws and tears at the very fabric of existence. A perfect place for Phil to drop in and surf upon the flames of Hell… the song was written for Lem, so there's that excuse, as well. MOSH!''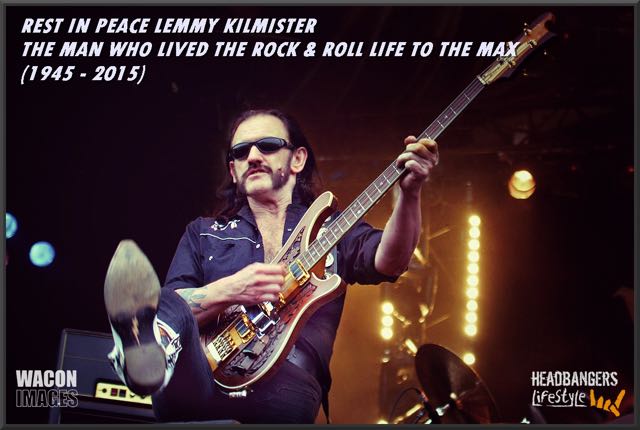 ,,We owe a lot to Motörhead for what we've become, definitely.''-Patrick Stone

You have a long history with the Motörhead camp and like on the first album, was it a no-brainer to have guitarist Phil on board again? Also, has this bond with the MH camp a big influence on what Budderside has become?
,,Yes, never second guessed that one. Humbled and forever grateful for all the time Phil has pushed me and stepped in to make a difference, tracks and friendship. He's one of a kind, like Lem and Todd, Mikkey too. They have shaped the way I see true success and have paved the way on how to achieve my own. The things I learned from them have placed me beyond what this life can ever give me. It's the thing that will live on, long after I'm gone. We are far, far from done. In fact, BUDDERSIDE is just getting started. The best is still coming. We owe a lot to Motörhead for what we've become, definitely. But, all the guys, Lem included, will be proud to see us take on an identity of our own.''
You were very close with Lemmy. What are your most fond and crazy memories while spending time with him?
,,Looking through a million dollars worth of guitars while the SOB was in his speedo underwear. LOL. Picking him up to be a part on an HBO show (Deadwood) I was working on. What an amazing day that was. Sharing lyrics together for `Black Magic', like bats out of Hell, as the tour bus screamed from city to city on a the Everything Louder Than Everything Else Tour. Endless benders that led us to Cheetahs, Jumbo's or Sam's Hof Brau. Going over songs at Matt Sorum's place, getting Lem back in shape for that final tour. Franken-feast (Thanksgiving) at Lem's with Cheryl and Paul… priceless.''
The album is supported by 4 great looking videos. It seems you've put quite a budget on the table to promote the new album. What can you tell about this visual aspect?
,,It's an addiction, really. I just really love the process and the results. Just like song writing, creating videos start with a spark, an idea in your mind, once they've taken hold there's no stopping them. If it's not going to be epic, to me it's not worth doing. So, they just keep getting better and better. It's never before the mountain that I notice it's size, it's always after, when I look back and I say to myself, "whoa, that was insane". What's next? [Laughing!!!]''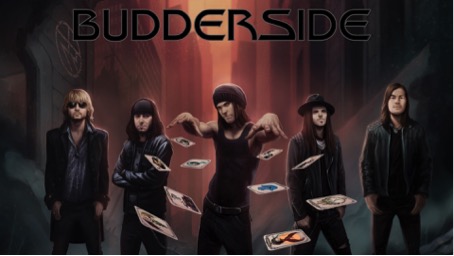 ,,You know, Kurt Cobain sat in that same chair listening back to the masters of `Nevermind'.''- Howie Weinberg

This time you also were able to work with the legendary producer Jay Baumgardner [Bush, Godsmack, Papa Roach], which is not cheap either I guess. Why this choice and not continue working with Paul Inder Kilmister who produced the first album?
,,Paul moved to another country. I think he took a hiatus to be honest after his dad died. Paul Inder Kilmister is one of the most talented people I've ever met and he worked pure magic with `Budderside'. But, it's important for a band to grow and work with new producers every chance they get, I believe. Jay Baumgardner is a legend and has had his hands on my favourite bands and shaped them into what I have loved and respected for years. That studio and the spirits in the walls, it's all him and every star he's ever worked with in that place. His vision and his dream come true. Working with him there at NRG was pure heaven on earth. Like a dream I was constantly pinching myself to prove it was real.''
How was it working with Jay and what has been his influence on the outcome of the album?
,,Jay stripped away a lot of BS. Useless lyrics, bad song structure, he took the "try hard" right out of us. Dani Pampuri IS THIS ALBUM! Make no mistake. He and Jay worked note for note to get this band and this album to their level.''
The mastering process is very important for the final outcome of an album. Grammy Award-winning engineer Howie Weinberg [Nirvana, The Smashing Pumpkins, Garbage] did the job for `Spiritual Violence'. How did you experience his studio magic leading up to the final result?
,,Matt Pinfield, Howie Weinberg and the guys from Papa Roach all visited us while we were recording with Jay at NRG the same night. I was drawn to Howie, only because he's such a sweet and cool guy. We got to talk and Jay let us know that he was the only choice for mastering the album. Howie was really into the songs. We couldn't have been more excited. The guy's resume is unbelievable. Going up to the compound where he does his work at his studio was mind-boggling. Every inch of every wall in this huge place is covered in framed, platinum albums. Every name that you've ever looked up to in music is on those walls with Howie's name on them, as well. While listening back to our tracks, Howie leaned over and said; "You know, Kurt Cobain sat in that same chair listening back to the masters of `Nevermind'.'' The word Nirvana came to mind. Pun intended! I was in the clouds…''
You have been able to promote the first album live a lot. Right now the situation is totally different. How are you handling that part of the band's career at the moment? And what are the plans for the near future?
,,The pandemic has been a great excuse to get creative. We've written an entire album, already recorded half of a new one, established a stronger content flow and presence on social media, shot and released four brand new videos, released our new album `Spiritual Violence', we've done over five live stream events, we've begun editing a fifth video, gearing up for what should be an epic Fall 2021, full of touring the U.S. including Rocklahoma, Europe and Japan already on the books.''
About
Budderside are a five piece based in Hollywood, CA and signed to Motörhead Music personally by Lemmy Kilmister himself and who previously employed Budderside front man Patrick Alan Stone as a roadie.
Genre
Modern Rock 'n Roll
Website
https://www.budderside.com/
Social
Related links
Tags