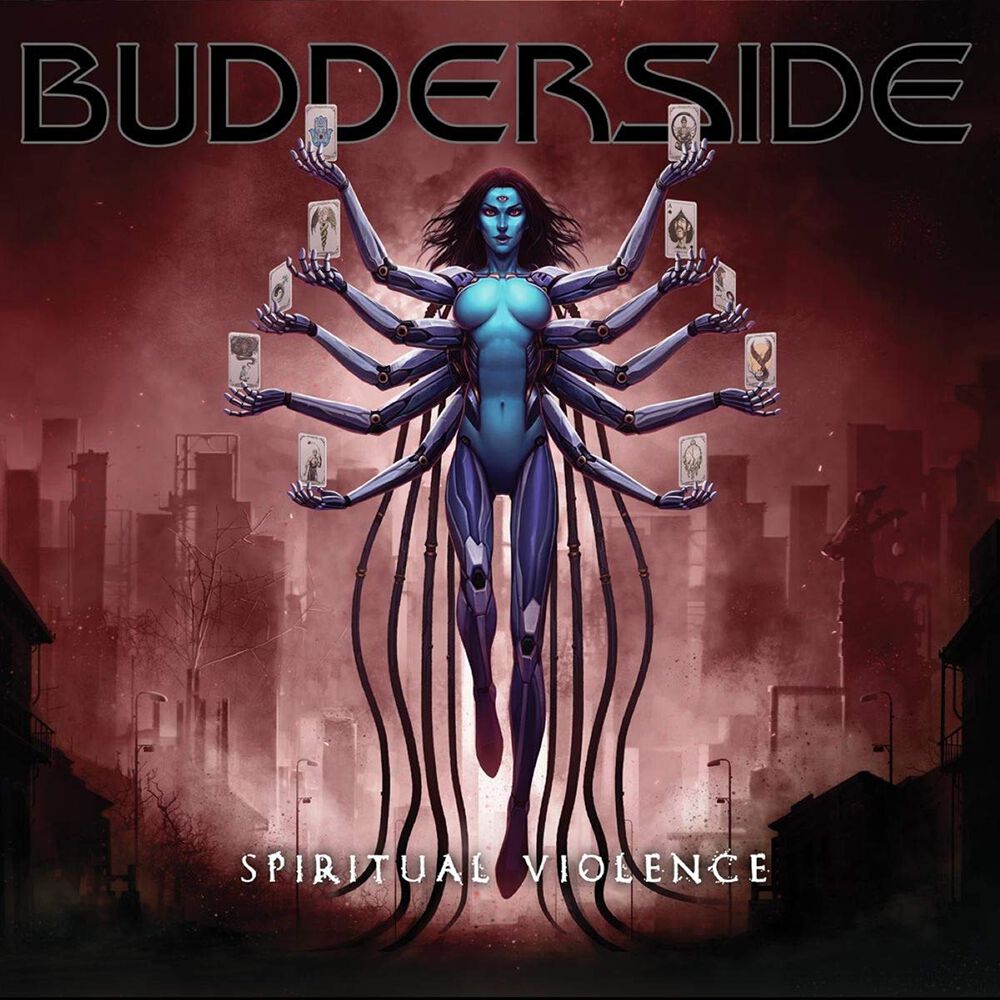 BUDDERSIDE-Spiritual Violence
MotörheadMusic/Silver Lining Music
After the self-titled debut album from 2016, Budderside is back with `Spiritual Violence'. The album was recorded by producer Jay Baumgardner [Bush, Godsmack, Papa Roach] and mastered by Grammy Award-winning engineer Howie Weinberg [Nirvana, The Smashing Pumpkins, Garbage] and features guest appearances from Motörhead guitarist Phil Campbell and Butcher Babies vocalist Carla Harvey.
Budderside has clearly found a way to build a bridge between the Hollywood Sunset Strip and the well-known Seattle grunge sounds. Personally I do really love the high energy these five guys, Patrick Stone [vocals], Logan Nikolic [rhythm guitar], Jeff Dewbray [drums], Gabe Maska [bass], Sam Bam Koltun [lead guitar], put in their songs. It is an energy that kind of reminds me of Stone Sour, but it may just be that this feeling has to do with the similar vibe that Patrick's vocals have, compared to Corey Taylor. And this is simply meant as a compliment.
The album opens with ,,Wide Awake", a great up-tempo guitar driven kick ass rock n' roll song that makes sure you are awake right away. Provided with a beautiful chorus, the fans who want to sing-along during a concert have also been taken into account.
,,Zen" is built around a slower pace, but that does not mean that the song is less heavy. ,,Amber Alert" is the first song on the album with a guest appearance and it is Carla Harvey who adds her sauce into the mix of this mid tempo killer song. Next up is ,,Pardon Me" in which Motörhead's Phil Campbell is plucking his six string hard and this is a song that actually starts mid tempo but has an aggressive chorus section.
The track ,,I'm A Man" definitely shows a more subtle side of the band, because this is a more mellow song that actually leans against their grungier side. ,,Folsom Prison Blues" has a beautiful rhythm and blues sound to it and somehow I can sense a bit of a Volbeat vibe in this one. ,,Things We Do" has a very nice melancholic feel and the contribution of The MUSYCA Children's Choir along the way helps build up the climax of the song towards the end. ,,Feels So Good" is yet another song that pops out of the speakers as soon as the fat chorus has started. ,,Soul Searches" takes it a bit easier again, while ,,Daygobah" manages to finish the album in a groove-driven way.
Clearly a lot of blood, sweat and tears have gone into this release. Also the fact that no less than 4 extensive videos [,,Zen", ,,Pardon Me", ,,Wide Awake" and ,,Amber Alert"],were shot to support the album, bears witness to this.
`Spiritual Violence' has become a nicely balanced album that the band can be proud of. I definitely recommend this one!
About
Budderside are a five piece based in Hollywood, CA and signed to Motörhead Music personally by Lemmy Kilmister himself and who previously employed Budderside front man Patrick Alan Stone as a roadie.
Genre
Modern Rock 'n Roll
Website
https://www.budderside.com/
Social
Related links
Tags