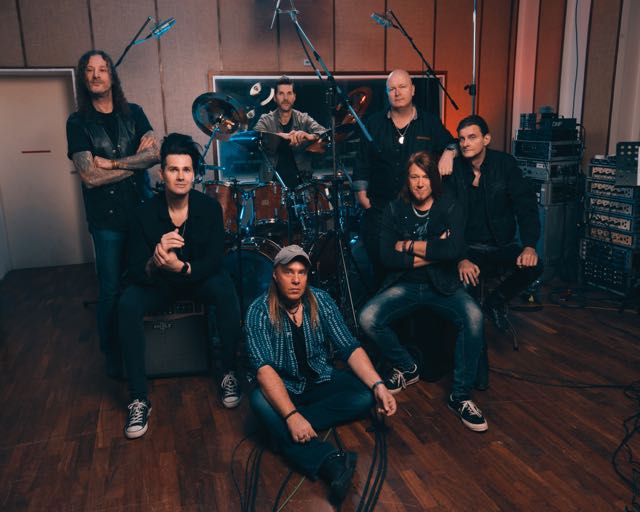 Interview | HELLOWEEN
The Complete Package
German powerhouse Helloween will make 2021 absolutely memorable by releasing their killer new studio album simply called `Helloween' [June 18th, 2021] as a 7-piece. Andi Deris [vocals], Michael Kiske [vocals], Michael Weikath [guitar], Kai Hansen [guitar, vocals], Markus Grosskopf [bass], Sascha Gerstner [guitar] and Dani Löble [drums] not only make a huge statement with this after already doing the successful `The Pumpkins United World Tour 2017-2018', the guys also show they cared for the ardent wish of their fans. This is undeniable the ultimate wet dream of every heavy "pumkin" metal fan and proves that everything is possible in the universe of Helloween. To get the buzz going, recently record label Nuclear Blast organized an exclusive online press event to give some insight on the new album. Dani Löble, Michael Kiske and Kai Hansen are also zooming in from their homes to answer the questions and among the 48 music journalists worldwide, HeadBangers LifeStyle's `Lilo' was present as well.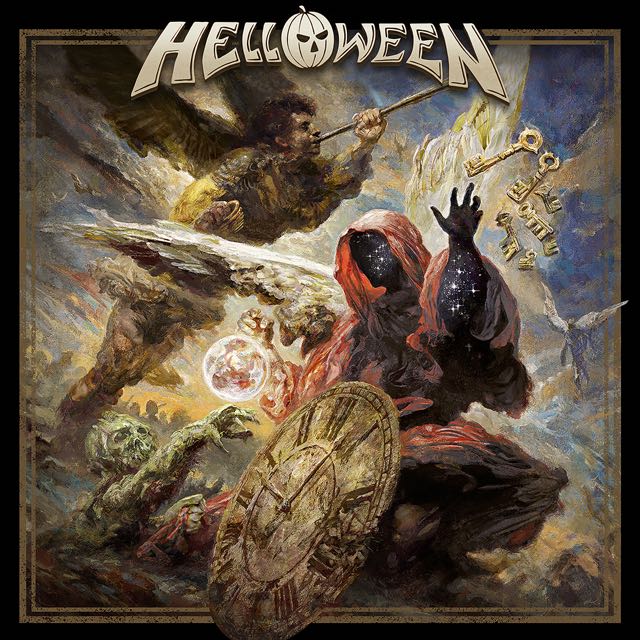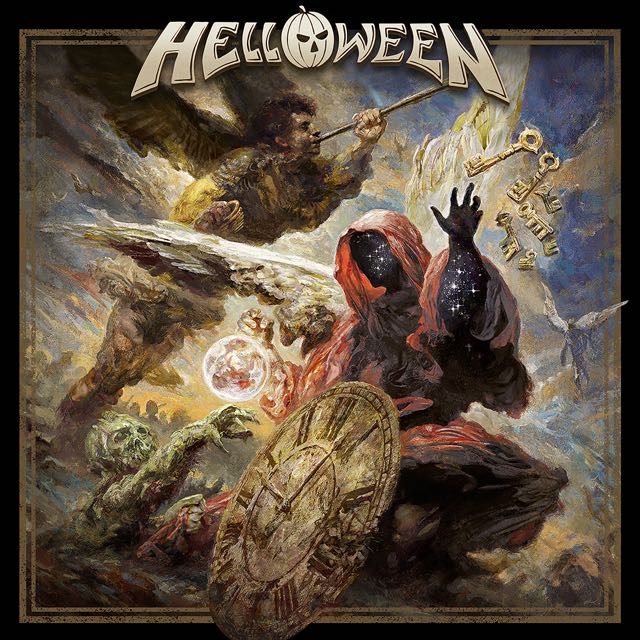 FIRST REACTION ON `HELLOWEEN'
,,It's like my head is exploding, there is so much information to take in.''–Michael Kiske

After we are welcomed to this historical event, we buckle up for a listening session and wow the twelve new tracks blew us all completely away. They sound high-class, huge, exciting and energetic, there are such great dynamics and hearing three different vocalists and three guitarists is a real game changer. The nonstop guitar fireworks and riffing is a blast, tempos are a real work out, every era of the Helloween history is present and the production is top-notch. We can conclude that Helloween sounds stronger than ever and future proof. Although we all agree on that there are no weak moments at all, it seems that the 12 minute epic track ,,Skyfall'' [also the first video single] is the absolute winner here.
Dani: ,,Without the fans this album wouldn't have happened, so first of all we really want to thank you all! To me the keywords for the entire process are patience, effort and passion. We also spent a lot of time to get the right sound.''
Michael: ,,This is actually the first time that I'm listening to the entire record. It's like my head is exploding, there is so much information to take in. I like Andi's songs a lot. He has a very unique style of writing and it is always working. You can feel his Kiss influences to a certain extend, having all these hooks. I definitely love ,,Skyfall". At first I didn't understand Weiki's songs ,,Robot King'' and ,,Down In The Dumps'' at all because they are so insane, but now I do understand them after this listening session. It's interesting…''
Kai: ,,Skyfall'' was a special baby. I think we recorded this song a hundred times on the mix and I still wasn't satisfied. I will probably never be satisfied anyway and actually I like my demo better [laughing]. There was a lot of re-tweaking, it was a long hard walk.''
How do you feel about such an important step in your career in this pandemic situation that also put the music world on hold?
Michael: ,,It really sucks but it sucks for everybody. It's a worldwide thing and this is not how we wanted to do it. We wanted to release the album last year and go on tour right away. Playing in other countries is the best part of the job. Right now I am glad we can do at least something this year as a band.''
Dani: ,,We have to go through this all together. The tour has been postponed and I doubt we are going on tour this year. Releasing the album is also a business decision, at some point you have to release your work.''
THE ROAD TO `HELLOWEEN'
,,I could see the other side of Helloween and understand why the band is still out there.''–Kai Hansen

When did you realize it was time to make a new record together?
Michael: ,,It was in the back of our minds anyway that it was a possibility, but touring first was essential, to see if we would kill each other or not. Touring is one big test because you are under stress, you don't have a lot of sleep and you are in it for a few months. It worked out very well on a personal level and making a new album together was a natural next step. If we would have done it the other way around I am sure we wouldn't be here today.''
Was it easy to jump back in the game?
Kai: ,,After I left Helloween, over the years I noticed the band was running good, but I didn't know every song they put out since then. When I got back there was definitely a time gap for me, but because of this tour I was able to experience the buzz of these songs by playing them. I could see the other side of Helloween and understand why the band is still out there.''
Michael: ,,After I left I was disappointed how everything went down and for a number of years I refused to listen to anything they put out because I was hurt. The moment I was back with the guys I had a completely open mind and I listened to all the music they had done and like Kai, I now understand why the band is still around. They did a lot of great stuff and did it very right. Instead of cloning themselves they took in a different type of singer that Andi is and found their own sound and spirit, like Van Halen did with Sammy Hagar. Today Helloween is a totally different band, more colourful and we have so much more possibilities with this line-up. Also we are not the same guys as we were in the 80s. I am better in a band because it is such a different dynamic and energy and much easier and fun. I'm really glad to be back.''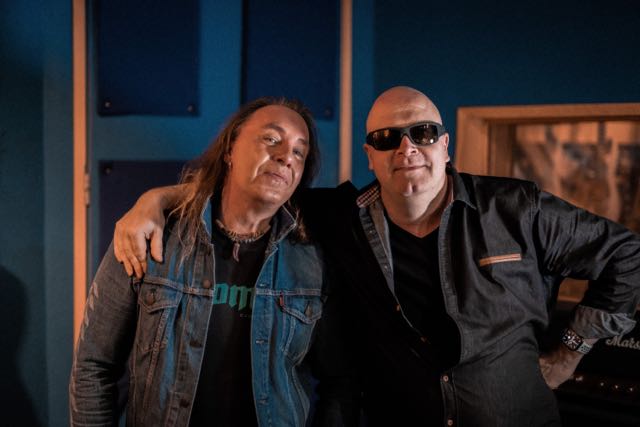 THE MAKING OF `HELLOWEEN'
,,The idea taunted me thinking it would be cool to take Ingo's drum kit into count for the next album.''– Dani Löble

What was it that you set out to do in the beginning? Bring back the good old days, make a modern Helloween masterpiece or just have fun?
Michael: ,,We were never that type of band that could pre arrange where a record was supposed to go. Everybody is just writing songs, you play around with it and in the end it turns out what it turns out to be. You have ideas and they have their own kind of will. But I was surprised how quickly we had too many songs for this album and it didn't take long to get it all together. Though the mixing took forever, that was the longest part.''
Kai: ,,I surely had a focus on the golden age of Helloween, the old era where I was part of, but we definitely were not trying to recreate another `Keeper…'. To me the song ,,Skyfall'' represents Helloween. That's how I see Helloween sound wise and song wise. All the tracks on the album were written before the pandemic and the lockdown. We simply didn't afford the luxury to sit down in the studio and go jamming, writing songs together from zero because that takes a lot of time. We had a few sessions in the studio, listening to every song that was presented by all of us with the whole band and the producer and we voted and decided by majority what fits and what not. We worked on the chosen songs as a band but the songwriter always gives the direction where it should go. Although it is sometimes hard as a songwriter, you need to be open for input and at least try to listen to what others come up with. It is a process that takes patience and understanding. I am always super critical towards myself and everybody else, to every song that is written, to every part that's done. I want the fucking best and I want to feel it, which makes me very radical sometimes. Even now I still don't have enough distance to really judge the album honestly. I love it but I still cannot judge it because I am still overwhelmed by the whole process. Hearing the entire album makes me think a lot of things, which makes me feel confused. I think it's good [laughing] but I still need a lot of more distance because the finalizing of the mix feels just like yesterday.''
Who came up with the idea to use the old drum set of original drummer Ingo Schwichtenberg [r.i.p.] for the recordings?
Dani: ,,Actually after the last show of the Pumpkins United Tour, which was in Hamburg, we hosted an after show party. A guy named Mike came up to me and mentioned he now owns Ingo's old drum set. I thought lucky you. Afterwards, over time until we got together for this album, the idea taunted me thinking it would be cool to take Ingo's drum kit into count for the next album. When we got together with our producer Charlie Bauerfeind he coincidentally came up with the same idea because apparently he had been talking with this guy too. Charlie and I both agreed to bring in such an old spirit as well as that old specific 80s sound we were looking for. It is a distinctive feature on the album and it felt really cool recording with that drum kit. It couldn't be better because it suits the songs, it fits really into the wall of sound and I am actually still blown away and thrilled about the drum sound. It is recorded completely analog and what you hear is pure air from a speaker or from a real drum kit. I think this album contains all of the distinctive features that make Helloween. It has all the voices of all the Helloween eras and all the trademarks and you hear an evolution. The album is simply called `Helloween' because this is what Helloween is now, having seven band members.''
Kai: ,,The drums were recorded on a 24 track recording machine and we used analog pre-amps, analog tube compressors and stuff like that to really get into the buzz there. Only the ballad is missing. Helloween always had a ballad and now we don't.''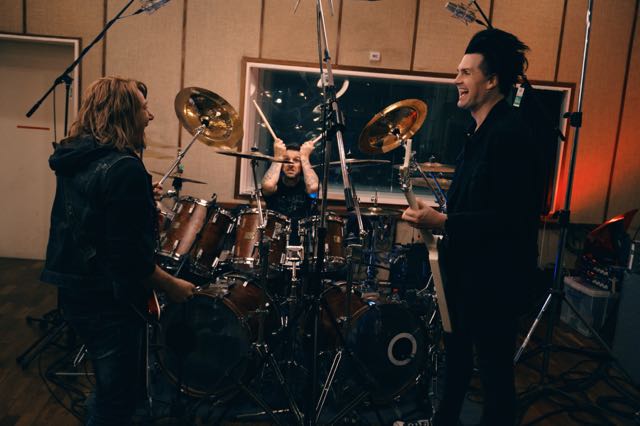 Having three guitarists and three vocalists must have been a big puzzle to organize who does what?
Kai: ,,This time we decided that the songwriter plays the first rhythm guitar part and the second part is done by one of the other guitarists so there are always two guitarist playing the rhythm guitar parts. Solos are kind of given by the songwriter, otherwise we were open to deliver or offer in overdubs and of course we ended up with both me and Sascha doing a million overdubs on one song. Although Weiki wasn't that ambitious there at some point we had too much so we had to cut out things. The main solos were given out and harmony solos are sorted out by processing the song. It was not that complicated, the most complicated thing was this freedom of offering overdubs, these little bits and pieces of guitar work that add up to a song. Everybody of course had ideas, sorting out which is useful at that moment is where the producer comes in or the songwriter. It is just natural progress.''
Michael: ,,We all gave every vocal part a try and went for what was most comfortable, what sounded best and more convincing and that worked out really great. The only thing is that I shouldn't have taken a tube microphone. It bugs me because it's too soft sounding. I should have used just the standard Neumann U87 that I've always used in the 80s. It is no big deal but it could have added a little more edge.''
Kai: ,,And if there is a part that needs a dwarf on acid it would be me [laughing]. Andi and Michael are the main vocalist and I see myself as their side kick. I am Robin and they are Batman and that is fine with me. If I have any ambition to sing more I can do a Gamma Ray album and do it there. That's fine enough. I like singing but I also have to think about the live situation and there I am so fucking glad these guys have to do the job so I can use my powers in some places and don't have to focus all the time.''
Dani: ,,Now we have all the distinctive voices of all the three Helloween eras together combined in songs on one record. That's the crazy thing here with the new Helloween line-up. It doesn't matter with what song we come up with, we always will have the suitable voice for it. We actually spent a lot of time arranging and balancing the vocals.''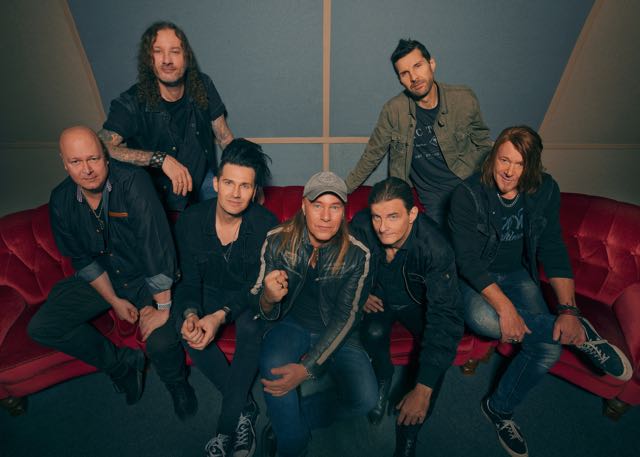 `HELLOWEEN' LIVE PROMOTION
,,As soon as we go on stage, the seven of us, it is like unleashing a monster and the pure energy goes on.''– Dani Löble

Are you planning to do live stream shows to promote the new album?
Michael: ,,I don't think so. We just wait until we can tour for real because it is not the same thing you know. At least I don't want to do that. The energy that comes from the audience really makes the gig and you never experience that with a YouTube broadcast. It has nothing to do with a live concert; it is just another video shoot to me, which I hate anyway. But I do what I have to do, but I hope we don't.''
Dani: ,,I don't like this artificial due to the pandemic festival online shows. It's not a good way you know. It is not for us. I only want to do it if there is another year of lockdown and fuckin' us up. Then I guess we have to.''
Kai: ,,I did this world wide streaming live show with Gamma Ray. We only had about a hundred people up in the VIP lounges but they were screaming really loud and they made the day, otherwise it would have been very sterile. You get through it but it definitely feels weird for sure. It is like the final rehearsal you do before a big show.''
Having such a huge repertoire, how do you remember all the bits and pieces and lyrics?
Michael: ,,We don't. Some of the songs appear simple and very catchy, but the guitar arrangements underneath are usually very complex and even pretty crazy. It is partly what creates that energy and vibe in our music. I play enough guitar to see how complicated it is and not that easy to play. When you play for an audience that is there only for you, you experience so much positive energy. It is so powerful, almost like a drug. And starting of the show with the song ,,Halloween'' like we did, you are right in.''
Dani: ,,Yeah, indeed remembering it all is the hard part. I actually don't know how we do it, but it is a long time of preparation and a lot of practice for sure. As soon as we go on stage, the seven of us, it is like unleashing a monster and the pure energy goes on. The smiling and everything that happens among us on stage, it makes me feel still stunning, still proud that we have such a cool band. To see that the energy we have on stage goes directly on to the audience and then comes back to us, feels amazing. We have so many must haves to play that maybe two or three of the new songs find their way into the set list. It's a shame but if you have a band like Helloween with so many legendary songs it's hard to play all of the new songs.''
Kai: ,,As an artist it is important that some parts of your brain still works and remember. If you are not able to do that anymore you have a problem. But as complex as our songs might be on an album, I always trust that a good song works reduced in a live situation as well. If the basic picture works, you're fine.''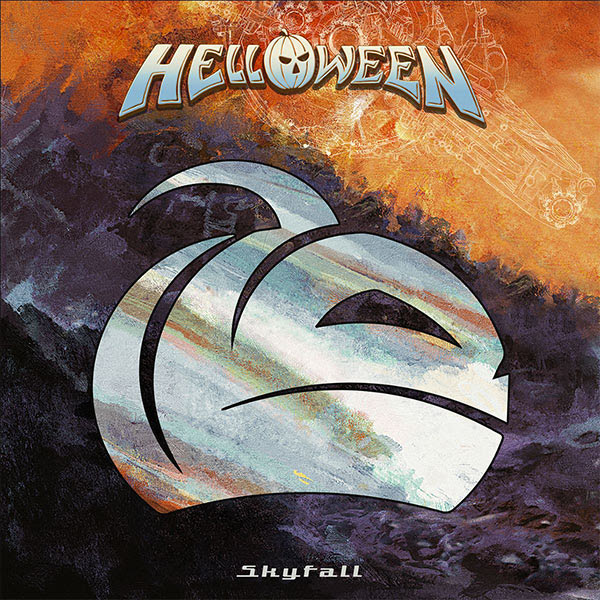 How do you feel about also reaching a new younger generation?
Michael: ,,I had over 20 years off live playing and when I started to play again with Avantasia and later on with Unisonic, I was surprised how young at least the front rows were. I think this is the kind of music that attracts younger people. I don't know if the new album is going to make that even more, but I have the impression they are at least at the gigs.''
Kai: ,,I remember back in the day when I was playing gigs with Gamma Ray, thinking my god it's the same faces, the same audience of old people again, but that has changed again. I grew up with Slade, Sweet, the glam rock shit. Then I discovered the old masters like Deep Purple, Led Zeppelin, Jimi Hendrix. My son and his friends really surprised me what they know about the old stuff from the 70s and 80s, even from the 60s. When I asked them why do you know that, they said because we like it and we have been kind of looking for it. It's great and it means music is kind of perpetual, it is eternal, if you create something cool it goes over generations. If you listen to Elvis for instance, everybody loves it, even young kids. There's a reason for that because that is perpetual music. The cool stuff, the good stuff, the unique stuff that does have a big spirit doesn't die.''
About
HELLOWEEN is one of the most respectable German metal exports and pioneers of German melodic speed metal. On the road since 1984, HELLOWEEN performed on all important festivals globally: Rock in Rio, Wacken, Loudpark in Japan or the Polish Woodstock, thrilling more than half a million fans as the headliner. Looking back on a more than three decades lasting world career, the band toured the world countless times and delivered spectacular shows with fellow musicians such as Iron Maiden, Scorpions or Ozzy Osbourne. HELLOWEEN released 15 studio and 4 live records, achieved and was honored with 14 Gold and 6 Platinum-Awards and sold more than 10 million albums. The "Keeper" records are counting to one of the most successful German metal records of all time and are reckoned internationally as absolute milestones of power metal.
Genre
speed, heavy, power metal
Website
https://www.helloween.org/
Social
Related links
Tags