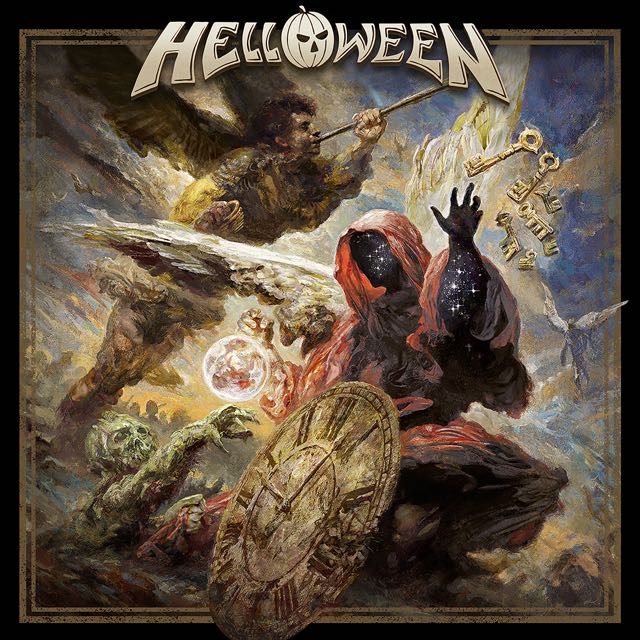 HELLOWEEN-Helloween
Nucear Blast Records
The 'Keeper of the Seven Keys' albums, released way back in 1987 and 1988, are iconic melodic speed metal records, which I still cherish, love, and listen to a lot; especially songs like ,,Halloween", ,,Twilight Of The Gods", ,,Keeper Of The Seven Keys" and ,,Eagle Fly Free" are real headbanging addictive tracks! However, as time marched on, the next Helloween albums never reached that high musical level and after 'The Time Of The Oath' (1996) I kind of lost track of the German "speed" masters. But now, 37 years after the band was founded, Helloween is back with full force and with an amazing line up!
Of course, I already saw Helloween on their Pumpkins World Tour (20-11-2017 in Tilburg), which was a reunion of the original band and the crowds that witnessed that tour only had one wish: "please stay together". And they did, so now we all can enjoy the 16th studio album of Helloween, with the amazing band line up consisting of: Michael Kiske (vocals), Andi Deris (vocals), Kai Hansen (guitars, vocals), Michael Weikath (guitar), Sascha Gerstner (guitar), Markus Grosskopf (bass guitar) and Daniel Loeble (drums). 'Helloween' features twelve brand new "speed" metal songs and if you compare this new album with their previous 'My God-Given Right', released six years ago, then 'Helloween' is a true killer album! Opening track ,,Out For The Glory" sees the band shine at full glory, as it is a true classic metal Helloween track; in your face and a future live staple for sure; check out the awesome vocals by Kiske, who is my favourite Helloween singer by the way…. Follow up ,,Fear Of The Fallen" is again a super metal track featuring a top-notch vocal duet between Deris and Kiske. One of the shorter tracks, ,,Best Time'', actually reminds me of the classic ,,I Want Out" from the Keeper Of The Seven Keys album Part 2, so good old metal times again! The Andy Deris song ,,Mass Pollution" is a bit grimmer but that one will also turn out to become a huge live staple song for sure. Another highlight for me is the song ,,Angels", featuring again awesome vocals by Kiske and Deris, but the fabulous guitar solo is also worth mentioning here. But Helloween definitely saves the best for last, as the epic ,,Skyfall" is probably the best Helloween track ever. Written by Kai Hansen it clocks just over 12 minutes and ,,Skyfall" is absolute sheer speed metal bliss, truly reminding me of the Keeper Of The Seven Keys albums, but then more modern and up to date. ,,Skyfall" features all the three lead singers, Kiske, Deris and Hansen, all take their turns brilliantly and the song is filled with killer speed metal riffs, hooks, and melodies; so, in short, an awesome speed metal opera with lots of twists and turns. What a way to end this truly amazing album; speed metal album of the year 2021 for sure.
Buy or die and be sure to play it F….. LOUD !! Love it, Helloween has set the tone for speed metal again; not to be missed!!!!!
About
HELLOWEEN is one of the most respectable German metal exports and pioneers of German melodic speed metal. On the road since 1984, HELLOWEEN performed on all important festivals globally: Rock in Rio, Wacken, Loudpark in Japan or the Polish Woodstock, thrilling more than half a million fans as the headliner. Looking back on a more than three decades lasting world career, the band toured the world countless times and delivered spectacular shows with fellow musicians such as Iron Maiden, Scorpions or Ozzy Osbourne. HELLOWEEN released 15 studio and 4 live records, achieved and was honored with 14 Gold and 6 Platinum-Awards and sold more than 10 million albums. The "Keeper" records are counting to one of the most successful German metal records of all time and are reckoned internationally as absolute milestones of power metal.
Genre
speed, heavy, power metal
Website
https://www.helloween.org/
Social
Related links
Tags